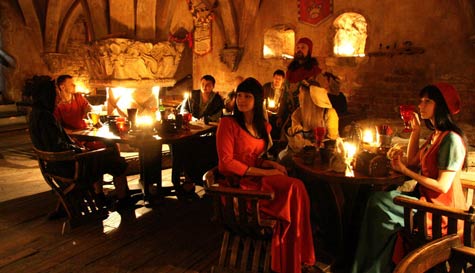 Hold tight, medieval banquet?!? Sounds a bit family-friendly "Florida" at first but this is actually one of our top surprise tips for things to do in Riga. The surroundings are amazing, the food is nothing short of epic and if you like to eat hearty amounts of great food then you're in for a taste sensation!

Riga is an absolutely formidable stag destination, it is a city that has everything; amazing nightlife, awesome activities and of course, wonderful restaurants. If you have the foresight to book a weekend in the Latvian capital then you can certainly trust us here at StagWeb to deliver you the finest in Baltic cuisine! As we are all too aware, dining is a critical element of any successful lads' weekend away from home; it is absolutely essential that you get this right.

With that indisputable fact in mind, we have ensured that only the best is waiting for you legendary stags in Riga! You will be treated to a 3-course banquet in an authentic medieval restaurant in the heart of the Latvian capital. Exclusively using ingredients that were around in the thirteenth century, you will be able to tuck into dishes such as rabbit meat with prunes and cedar nuts and barley cakes.

Everything within the venue is designed to transport you back over 700 years the remote Middle Ages (including some of the groom's jokes). With staff in full medieval costumes, authentic live music, dim candlelight and a preserved ancient well in the restaurant, it is a truly unique and authentic experience and a real kick in the Baltics.