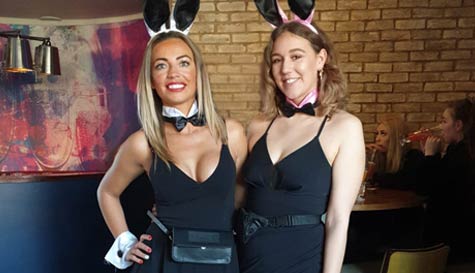 This isn't your average pub crawl! Accompanied by 2 - 4 sexy pub guides who come dressed in hot beer maid outfits, you'll head to between 2 and 4 different pubs/bars with plenty of fun along the way on a night that could go down in stag legend!

The booze beauties will have the whole night planned, all you need to do is turn up on time, looking good and smelling great (these are ladies, after all, chaps so make sure you're dressed, smelling and acting like true gents at all times). The beer babes will also act as chaperones to help round up all the lads and keep everyone moving so that no stags get left behind.

The pub crawl will be planned out by the babes in advance with:
Drinking Games
Stag Challenges
Stag Forfeits
Yes, as well as the games themselves, there will be the inevitable forfeits which the girls will oversee and administer personally. We've all been on pub crawls - the good, the bad and the ugly - but a pub crawl with hot babes to take charge of events? You will indeed be creating a new high that all future pub crawls will be measured against and it will elevate you to the status of "Best Man Ever!" during what will be a stag night like no other. It's sure to be something the guys will be talking about for years to come.