Prague is a pub lovers paradise (after all the Czech's drink more beer per capita than any other nation). So, in tribute to the city that sobriety forgot, we've planned the ultimate Czech bar crawl, spanning 8 kilometres, 4 districts, 29 pints and potentially one group of very thirsty stags. But please drink responsibly and by that we mean try not to spill any or order anything with the word 'lite' in its name.
And never be afraid to say "Actually I'll just have an orange juice thanks."
Good luck, we'll see you at the finish line.
29 Best Pubs & Bars in Prague
Lokal
If only this was our Lokal back in Blighty. Pull up a chair gentlemen. Take a seat. Gaze over towards the bar and see the very tank from whence your freshly brewed pint will come foaming forth. Watch in awe as your brew of choice comes wending its way up the pipe before it flows freely from the tap into your pint glass. The freshest beer you've ever enjoyed? Definitely. The most delicious? Definitely. A must on any weekend in Prague? Definitely. Definitely? Definitely.
Come here for… The freshest pints. EVER
Stay for… A brilliant roof terrace and pop-up kitchen
Where? Dlouha 33, 110 00, Prague
Website | Facebook | Instagram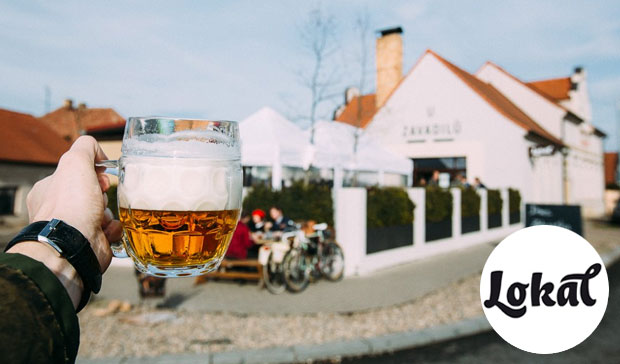 ---
James Joyce Irish Pub
Here's a startling fact about Prague; this city ruddy loves it an Irish pub! Real recognises real. And one nation of beer drinkers, recognises another nation of beer drinkers. But instead of beating them, they've actually joined them with the James Joyce. A strikingly authentic take on the traditional Celtic boozer with Magners on tap and plenty of the Liffey water to fill your Guinness quota for the weekend. Fantastic craic.
Come here for… The craic!
Stay for… Perfectly poured Guinness. In PRAGUE?!?
Where? James Joyce Irish Pub, U obecního dvora 4, Prague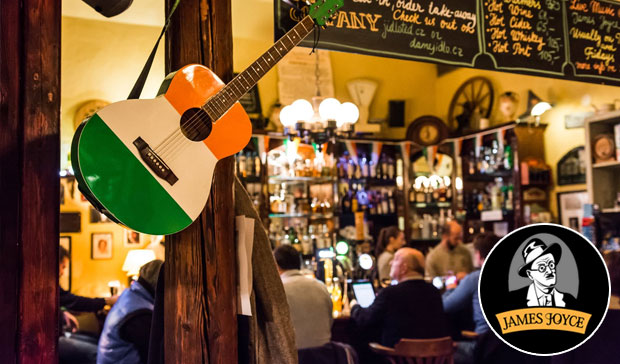 ---
The Dubliner
Don't be surprised to hear the sound of Irish folk tunes blaring out as you wend your way around Prague's Old Town Square, as merely 100 metres away you'll find The Dubliner – a raucous Celtic watering hole with all the sweet Guinness, Magners and Jameson's that your craic-loving heart desires with the weekend's best Premier League action on telly too. A rare thing in the Czech Republic indeed.
Come here for… The weekend's best live football
Stay for… A dangerously tempting variety of whiskies
Where? The Dubliner Irish Pub, Freagra s.r.o., Tyn 1 – Ungelt, Prague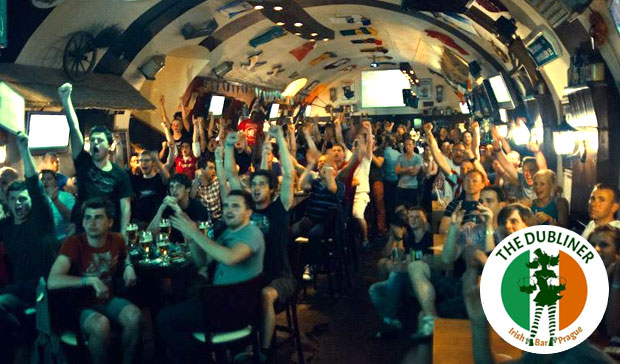 ---
Caffrey's Irish Bar
Caffrey's Irish Bar has the very special place in our hearts as being the only place in all of Prague that actually imports an authentic English breakfast from our sausage and bacon loving shores. #ThankYouCaffreys. But there's so much more to love about this brilliantly authentic Irish pub with live music, sport, and more whiskey than you can shake your empty tumblers at.
Come here for… A full English… In an Irish pub
Stay for… Foot stompin' live Celtic music
Where? Caffrey's Irish Bar, Starometske Namesti 10, Prague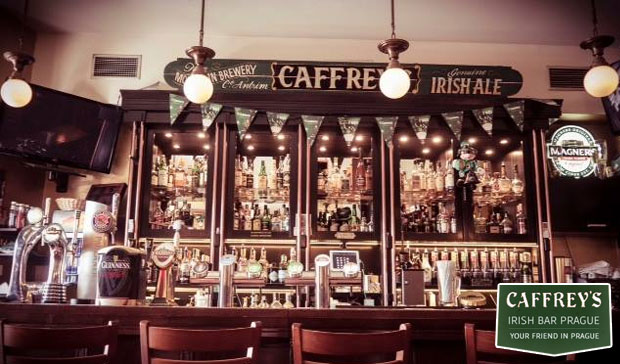 ---
La Bodeguita del Medio
A Cuban cocktail bar in Prague, it'll never work, they said. It's too niche, they said. Too zany. "Hasta la vista, haters!" said La Bodeguita del Medio as they launched what has since become one of the hottest party spots in town, and the haunt of visiting slebs as they look do go "upside, inside, out" faster than Ricky Martin – Elijah Wood, David Copperfield, Edward Norton and Pierce Brosnan have all drunk here. And if it's good enough for Bond…
Come here for… La fiesta baby!
Stay for… The Havana-inspired Cigar Club
Where? La Bodeguita del Medio, Kaprova 5, Prague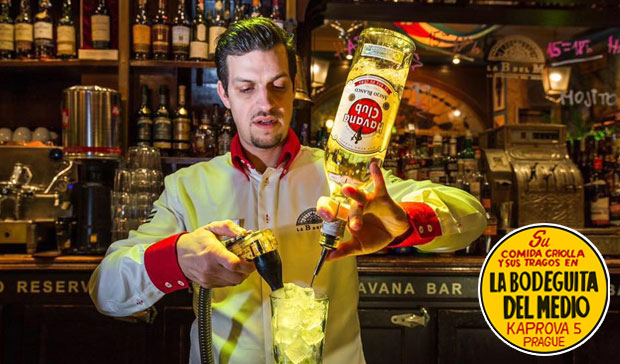 ---
Hard Rock Prague
London. New York. Las Vegas. Los Angeles. Prague. The Hard Rock Café has spread its wristband wearing, burger flipping, beer swilling arms around the world to spread the religion of rock and roll to every corner of the rock god's green Earth. And so their will be done in the Czech capital's edition of this storied venue, with rock memorabilia hanging from the walls, an all-American menu and a unique marriage of US and Czech brews that turn the beer taps up to eleven.
Come here for… The historic rock memorabilia
Stay for… A food menu that wouldn't look out of place in Vegas
Where? Hard Rock Café, Malé Náměsti 3, Prague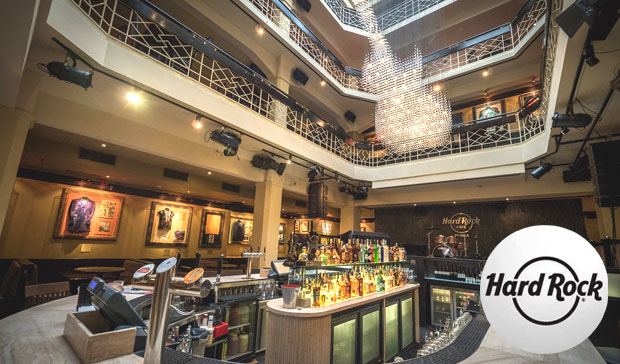 ---
Coyotes Prague
We think every city should have its own Coyote Ugly themed bar and make no mistake, you too would struggle to "fight the moonlight" after a night in Coyotes Prague. This "hell-no-H20!" bar is here for a good time, a long time and hopefully all-time so we can soak up the raucous atmosphere and have one last good look at those gorgeous coyote bar babes.
Come here for… All the noughties nostalgia you can handle
Stay for… A coyote dance show. You won't regret it
Where? Coyotes Prague, Malé náměsti 2, Prague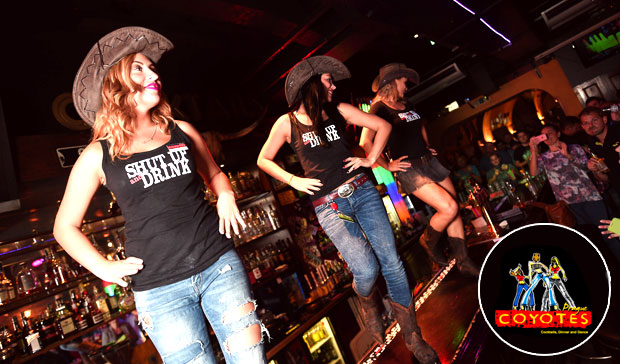 ---

---
Double Trouble
"WE PARTY HARD". So, Double Trouble said it, and so thy will be done. This hedonistic bar is all kinds of awesome and claims to be the wildest old joint in Prague where drinkers can dance on the tables, chairs, bars and anything else that isn't holding some of the precious, precious pilsner on offer. Health and safety gone mad! And we bleddy love it.
Come here for… Some of the city's top DJs
Stay For… The ENORMOUS cocktail menu
Where? Double Trouble, C 74511 vedená u Městského soudu v Praze, Melantrichova 17, Prague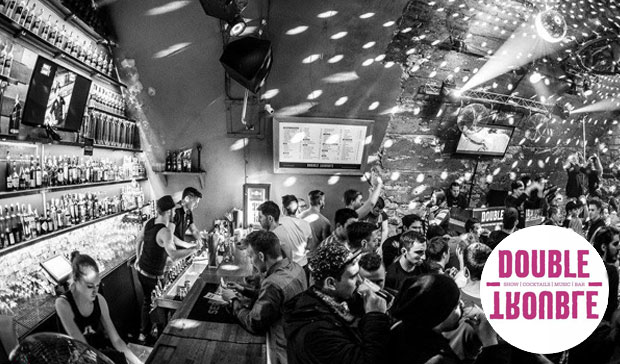 ---
Pivovar U Tri Ruzi
Designed to give Prague's beer drinkers the authentic experience of an old-school Czech brewery, Pivovar U Tri Ruzi is a seriously hearty watering hole where many of the pints you'll be tasting are actually created by master brew masters on the very same premises. And as if you needed any more proof of this building's alcoholic credentials, it was actually granted something called "the status of a monastic brewery of the Dominican Order". Preach!
Come here for… A genuinely religious pilgrimage for beer fans
Stay for… First-hand experience of an authentic Czech brewery
Where? Pivovar U Tri Ruzi, Husova 10/232, Prague
Website | Facebook | Twitter | Pinterest | Instagram | YouTube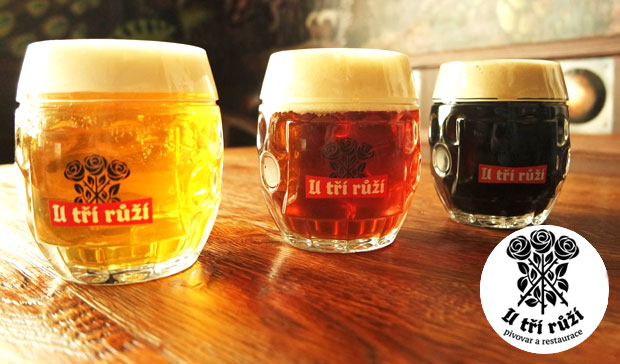 ---
Absintherie
With so many amazing beers to try, one of the Czech Republic's other alcoholic specialities can sometimes go by unnoticed. And that just won't do! So here come the Absintherie to turn you onto one of the hardest spirits man has ever been bonkers enough to blend. This is the farthest thing you could imagine from the pea-green bottle your mate Dave bought from duty-free for larfs on Magaluf 2012. This is absinthe done right, and that means a tasty 70% shot that if you don't respect, you can darn well guarantee won't respect you. Oomph.
Come here for… All your stag forfeits
Stay for… The world exclusive Pernod Fils Absinth. Harsh, but tasty.
Where? Absintherie, Jilská Street 7, Prague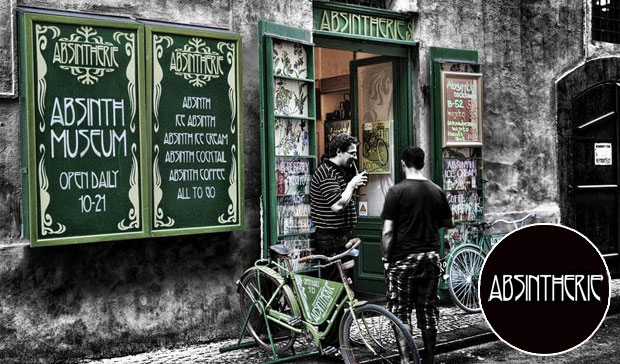 ---
Ice Pub
The coolest pub ever. The most chilled-out venue in Prague. You'd have to be cold hearted to hate it. Out of your systems yet?!? Good. The city's brilliant Ice Pub demands your full attention as this could be the one and only time you get to sip pints from glasses made of the cold stuff itself wearing hilarious silver thermals that bestow upon the wearer the enviable look of a sci-fi eskimo. All before you've even thought about checking out that sweet, sweet ice art. (N)ice. We'll show ourselves the door.
Come here for… A totally unique drinking experience
Stay for… The genuinely "cool" ice art
Where? Ice Pub Prague, Novotného Iávka 200/5, Prague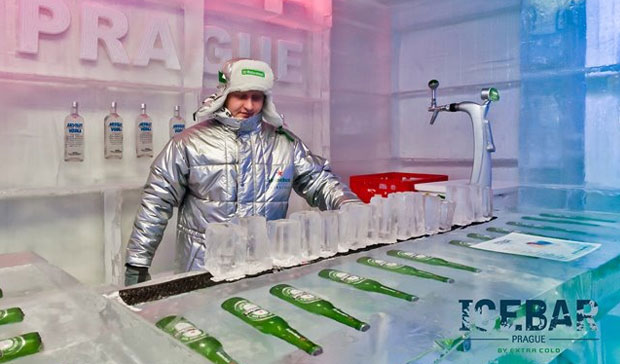 ---
Prague Beer Museum
"OH, WHAT WONDERFUL EXHIBITS!" You loudly quip in your mate's ear as you sip the very best independent alcohol this country has produced in the bustling Prague Beer Museum. He nods in agreement, despite your punishable-by-man-shaming pun – these beers are wonderful. And there's 30 Czech craft brews on tap for your drinking pleasure at any one time. Best. Museum. Ever.
Come here for… An education in what real beer tastes like
Stay for… 30 delicious Czech brews on tap for your pleasure
Where? Prague Beer Museum, Dlouhá 46, Prague
Website | Facebook | Instagram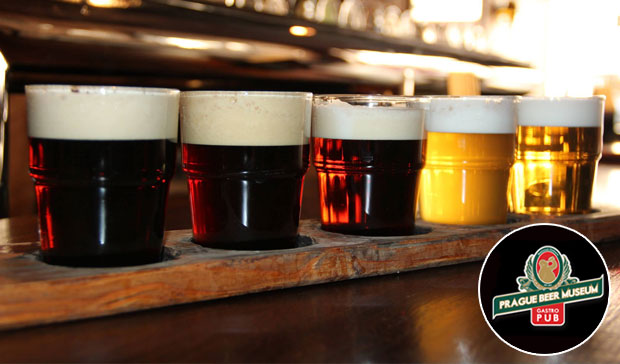 ---
Café-Pub Atmosphere
We all talk a big game about opening our own pub after a few pints in our local, but the beer-loving chaps behind Café-Pub Atmosphere actually went and did it. Al Murray would be proud. More power to them. But also, more power to their variety of frothy, locally brewed lagers and ales. More power to the delicious menu packed with everything from beef burgers to Czech specialities. More power to Pub Atmosphere.
Come here for… Locally brewed lagers fresh from the source
Stay for… Prague's best pub atmosphere
Where? Café-Pub Atmosphere, Smetanovo Nábřeží 327/14, Prague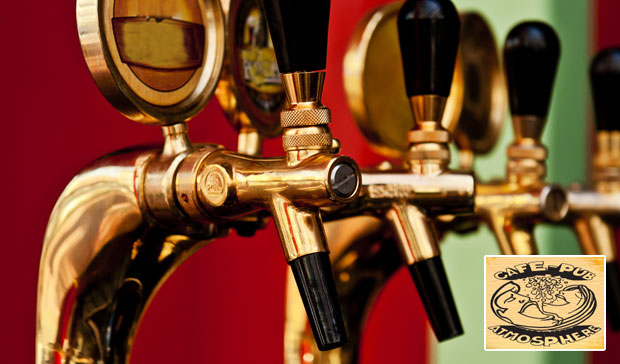 ---
Cash Only Bar
Cash Only Bar is as laid back as laid back can be. Drink what you want, when you want. These alcoholic provocateurs will try their very best to guide you towards the local brews and we wholeheartedly implore you to let them – this is one of the finest collections of Czech beers and spirits in all of Prague. Surely worth shedding a few extra "dolla dolla bills" for.
Come here for… The perfect laid back vibe for afternoon pints
Stay for… One of the city's best collections of local brews
Where? Cash Only Bar, Liliova 3, Prague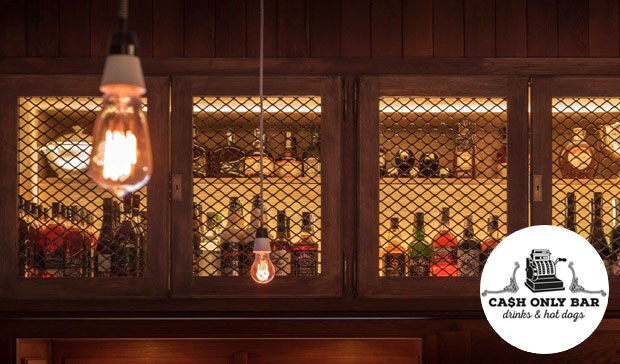 ---
Joystick
Imagine the arcades you loved as a kid. Now imagine them with lots and lots and lots of beer. That's Joystick in a nutshell, a gamers paradise where pinball wizards can rediscover their machine mastery and you can get all nostalgic with games like Sega Rally – All with a delicious Czech lager in hand, of course. Game on!
Come here for… Retro arcade machines from your misspent youth
Stay for… Delicious beers from your misspent adulthood
Where? Joystick, Jindřišská 5, Prague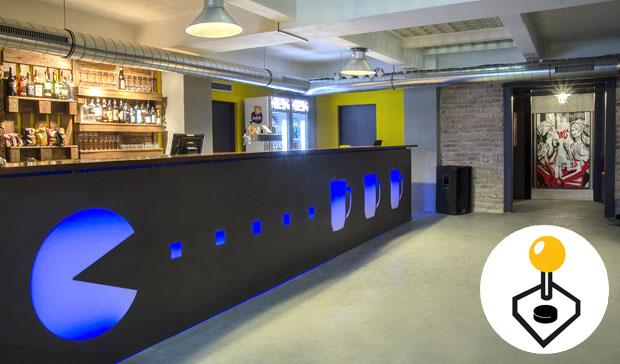 ---
U Pinkasu
Who doesn't love a beer garden? The Germans love them, we love them and even the French have been known to dabble. But there is perhaps no nation that better perfects the humble beer garden than the Czech's and the outdoor terrace at U Pinkasu is yet another fine example of an outdoor drinking paradise done right, with traditionally draft Czech pilsner to freshen up in the Prague sunshine. Bonzer.
Come here for… A pint in one of Prague's best beer gardens
Stay for… …Round 2. When in Rome and all that
Where? U Pinkasu Restaurant, Jungmannovo náměsti 15/16, Prague
Website | Facebook | Instagram | YouTube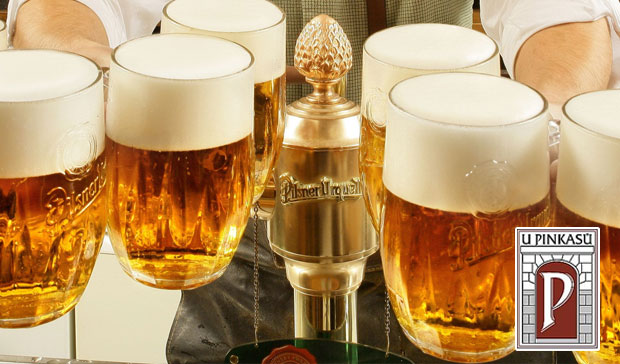 ---
Batalion
Do the words "comic book inspired music pub" get your pulse racing as the spotted teen living inside your brain takes the controls, feeding you memories of a misspent youth, nose deep in the latest Spiderman? Batalion is the place for you my trembling friend. Tricked out with Czech comic book style artwork, this uber popular venue keeps the party going until the early hours with live DJs and a diehard fanbase. May you live long and prosper, Batalion. Live long and prosper.
Come here for… Awesome comic book inspired décor
Stay for… Batalion's superhero alter-ego – one of Prague's best nightclubs
Where? Batalion, 28 Řijna 3, Prague

---
Pivovar Narodni
The proud baby daddy of Prague's Czech Lion unfiltered lager, Pivovar Narodni, has a truly immense bar and brewery for you to check out on your Prague pub crawl. Decked out with cool minimalist décor and a corking menu bursting with traditional Czech cuisine, it's the perfect place to get #onthesesh and post the obligatory selfies with "the boys" before moving on to louder and clubbier things. But you never do quite forget that refreshing taste and the urge for "just one more pint".
Come here for… Prague's most famous beers
Stay for… A beer garden that puts your local to shame
Where? Pivovar Narodni, National 8, Prague
Website | Facebook | Instagram | YouTube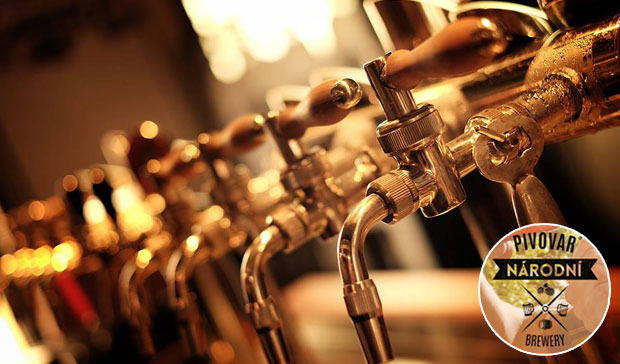 ---
Groove Bar
So, you're a few pints down on the Prague pub crawl and you're squiffy enough to "get yo' freak on". Where do you go? Groove Bar. What do you do? Groove. What do you drink? Locally brewed beers and spirits until you've committed so many crimes against dance, that the lovely, lovely locals perform a citizen's arrest or a loyal friend takes the fall for you. Oh, to be young again.
Come here for… A "haven't heard it for ages!" soundtrack
Stay for… Some of the best touring DJs in the Czech Republic
Where? Groove Bar, Voršilská 6, Prague
Website | Facebook | Instagram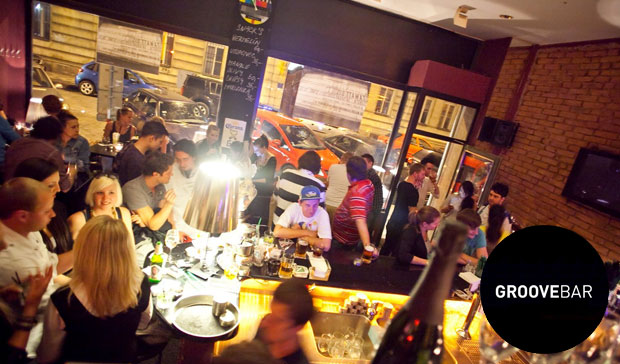 ---
U Fleku
It says a lot about a country's drinking habits when a brewery is considered to be one of the Czech Republic's most visited cultural sights. And seeing as we're not adverse to the odd cultural jaunt ourselves, we wholeheartedly compel you to educate yourselves on the history of this nation's perfect pilsner in the awesome U Fleku brewery, packed with continental charm and a 13% dark beer that's dying to meet your taste buds.
Come here for… The "sightseeing"
Stay for… Delicious home-brewed lagers and ales
Where? Brewery and Restaurant U Fleku, Křemencova 11, Prague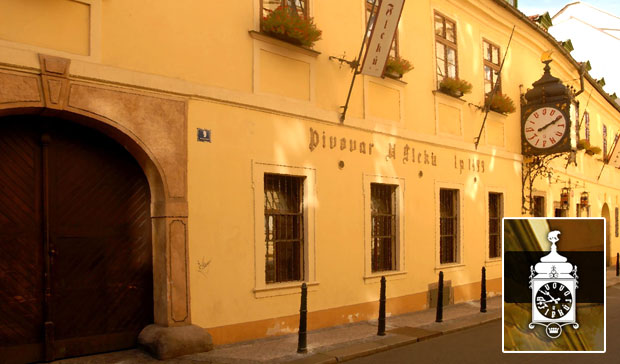 ---
Dutch Pub
Make no mistake, the Czech's are rightfully proud of their beers. But they'll be damned if the world's other brewing nations are left out of the party which is what makes the Dutch Pub essential drinking during any visit to the Czech capital. Packed out with Dutch bric-a-brac, this building is a superb tribute to The Netherland's legendary brewing tradition and certainly worth stopping by for a pint of Heineken, poured as the Hollanders intended.
Come here for… The Czech Republic's best Dutch breakfasts
Stay for… A unique range of brews taken straight from the Netherlands
Where? The Dutch Pub, Vladislavova 1390/17, Prague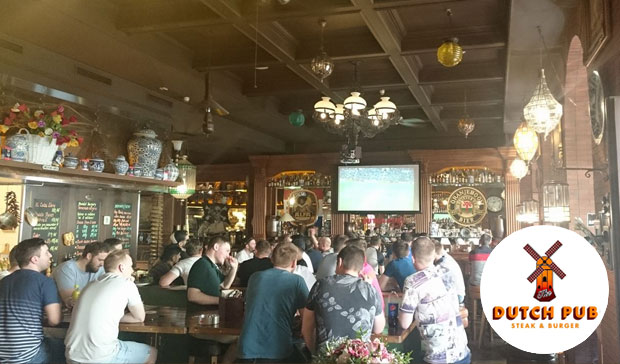 ---
Hooters
You come here for the beer. You stay for the… BURGERS!!! Yep. Definitely the burgers. Sumptuous beef patties. Dripping with cheese. Smothered in bacon, onion and egg. Sandwiched between two voluptuous baps. The best baps ever we reckon. And the waitresses? Oh well. They're, they're lovely. Well mannered, confident, friendly etc.
Come here for… The burgers…
Stay For… The BEER. What else?
Where? Hooters, Vodičkova 5, Prague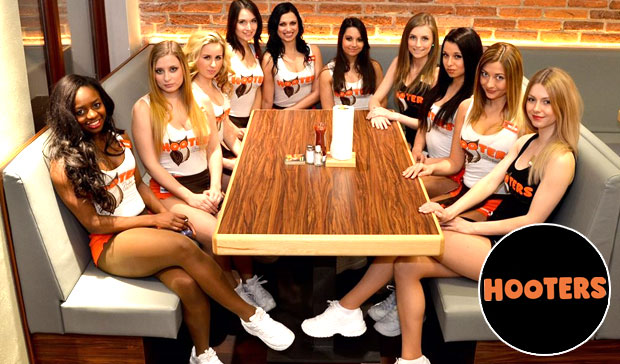 ---
Illegal Beer
"WHOOT, WHOOT It's the sound of tha' police!" But hang on? There's nothing criminal about great beer at affordable prices? And yes, it would be an awful pun to say that drinking in this thoroughly modern bar is a "steal", but we aren't afraid to call a spade a spade, and a bargain a bargain. And Illegal Beer is definitely the latter with a smorgasbord of Europe's best independent brews in bottles and on tap for prices that put so called £6-a-pint "craft ale pubs" in the UK to shame.
Come here for… Some of Prague's cheapest pints
Stay for… A beer menu littered with Europe's best brews
Where? Illegal Beer, In Smečkách 16, Prague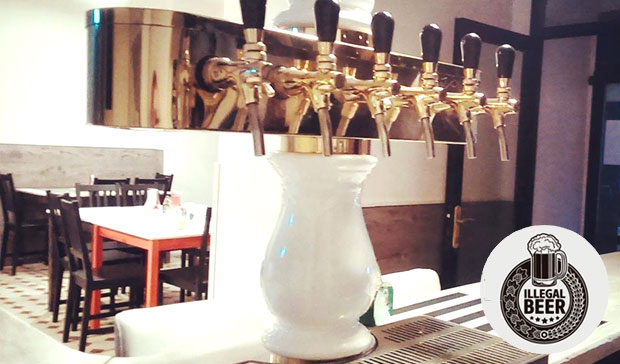 ---
Alibi Music Bar
Prague's premiere attempt at a luxury bar/nightclub in the style of British classics like Fabric and the Ministry of Sound is actually very respectable. Gone are the pretentious Made in Chelsea cast wannabe's, gone are the Shoreditch tropes and gone is the "have fun… Just not too much fun" vibe. Instead you'll find an absolutely bonkers crowd up for a good time until the early hours of the morning with top Czech DJs beneath futuristic LED laserlights. This is clubbing done right.
Come here for… One of Prague's best nightclubs
Stay for… The kind of party atmosphere you wish we had in the UK
Where? Alibi, Zitna 1575/49, Prague
Website | Facebook | Twitter | Instagram | YouTube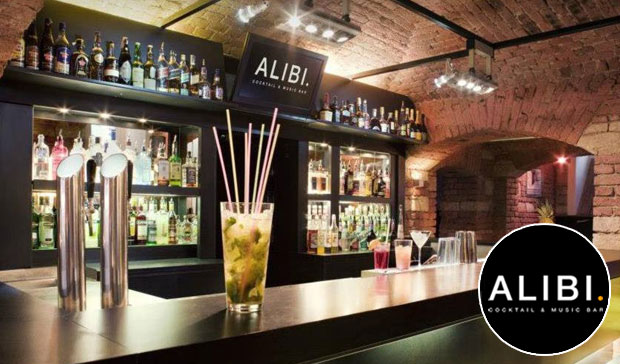 ---
Placebo Pub
Placebo Pub is your typical Prague bar with a big difference. A long, metallic, shiny difference. It holds regular pole dancing nights where Czech beauties perform in all their stretch armstrong glory for your manly cocktail drinking pleasure. While the city's best DJs keep that turntable spinning to keep the party-loving faithful on (and off) the floor until the early hours of the morning.
Come here for… The ever-alluring pole dancers
Stay for… One of Prague's best late night watering holes
Where? Placebo Pub, Mikovcova 581/12, Prague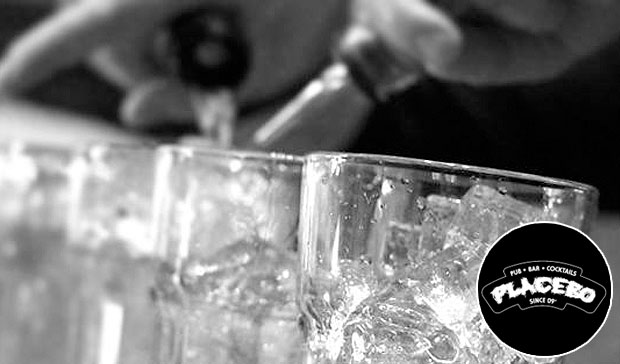 ---
Pivovarsky Klub
A self-proclaimed "beer boutique" with one mission – to introduce your taste buds (the very same ones you abuse with fried chicken and sweaty burgers every Friday lunchtime) to as many beers as possible in the shortest amount of time. How do Pivovarsky Klub intend to do this? A bare minimum of 240 bottled beer variants and a humble 6 brews on tap with a side of unique eats like kangaroo and ostrich. Challenge accepted.
Come here for… 246 beers under one roof
Stay for… A menu with genuinely unique (ostrich?!?) dining options
Where? Pivovarsky Klub, Ječná/Lipová 15, Prague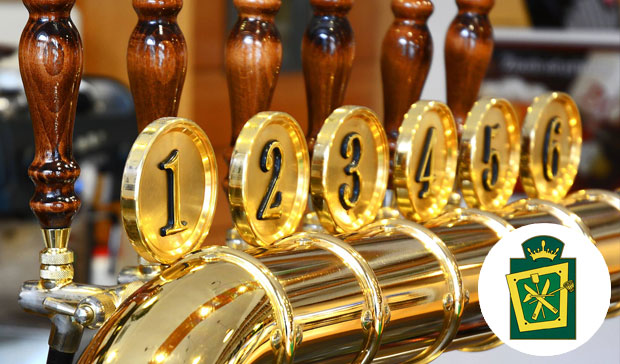 ---
Nightmare Prague Horror Bar
A statue of Jason Voorhees in the corner. Freddie Kruger protruding from the wall. Pinhead watches over the bar, just waiting to punish you for ordering a water. Leatherface hovers above, his chainsaw primed and ready to dismember those who critique the unique in-your-face vibe this Horror Bar commands. You order a round of Spilled Guts Shots. You down them in one. You stand up to leave, before Michael Myers demands you stay for one more pint. You're trapped – and you bloody love it.
Come here for… A horror fan's perfect bar
Stay for… Themed drinks like the "Burning Freddy" and "Texas Massacre"
Where? Nightmare Prague Horror Bar, Záhoranského 7, Prague
Website | Facebook | Instagram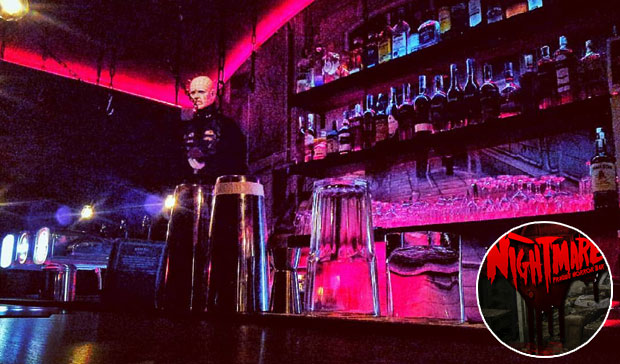 ---
Futurum Music Bar
The future is now! Hear our words. This Prague music bar is Blade Runner. It's Tron. It's Logan's Run. It's brilliant. Catch the Czech Republic's best touring bands in action with a pint of Prague's perfected pilsner in your grasp. Nod your heads to all the tunes. Blush at the beautiful locals and embrace Futurum before you get lost in past "maaaaaaan".
Come here for… The funky futuristic vibe
Stay for… The Czech Republic's hottest new live acts
Where? Futurum, Zborovská 7, Prague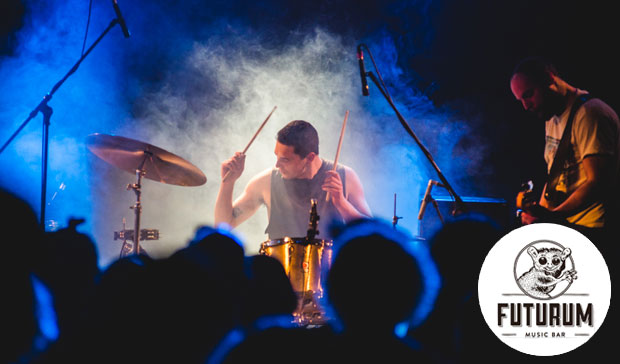 ---
U Buldoka
One of Prague's best "Music Bars" (which in this city is another way of saying it's open 'til late, has cracking live music and awesome drinks deals – result) U Buldoka, or "The Bulldog" is laid back during the day and raucous at night with top DJs providing an epic soundtrack while the Urquell Pilsner flows. "Who let the dogs out?!?" Mystery solved.
Come here for… One of Prague's best late night music venues
Stay for… A barking-mad party loving crowd that refuses to quit
Where? U Buldoka, Presolva 1, Prague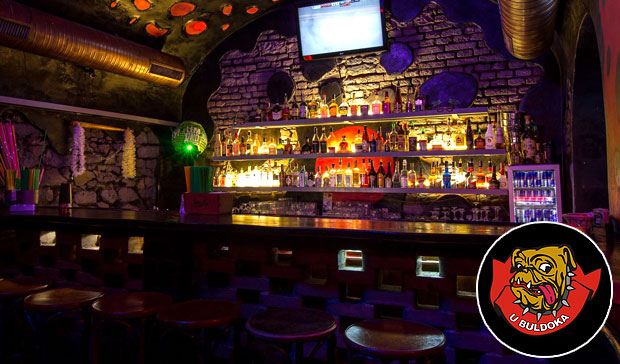 ---

---

---