You're finally ready to pop the question, but casually asking: "So, do you fancy it?" through a mouthful of Pringles in between games on Match of the Day simply won't do. If you're going to do it properly, give her the story she'll be proudly retelling for years to come (and earn yourself eternal brownie/nipping out to play golf points forevermore). That means finding not just the right setting, but the perfect setting. So, here's our rundown of the best places to propose.
The Best Places to Propose Shortlist:
London Eye – "Eye do!" A suitably spectacular venue for that spectacular moment.
On Top of the O2 – Scale this iconic London landmark and pop the question at the top.
The Cat Bells – Britain's beauty at its finest, head to one of the Lake District's best spots.
Loch Morlich – Nestled in the heart of the Cairngorms, a Jewel in the crown of Scotland.
Eiffel Tower – Propose in quite possibly the most romantic destination on the planet.
Venice – Hire a gondola, cruise the waterways, watch the sun go down – fairy-tale stuff.
Central Park – Potentially the coolest city in the world and a special engagement location.
On Top of Sydney Bridge – Good weather, amazing scenery and a day she'll never forget.
Places to Propose in London
London Eye
Take a trip on this iconic London landmark and gaze out across the skyline of one of the most impressive cities on the planet before dropping down on to one knee and popping that all-important question. You can either hop in with other tourists, hire out a pod for yourselves or go all out and book up the private proposal package. The London Eye proposal is romantic, memorable and extraordinary.
Price: £27.00 – £490.00
Find out more about proposal packages at the London Eye.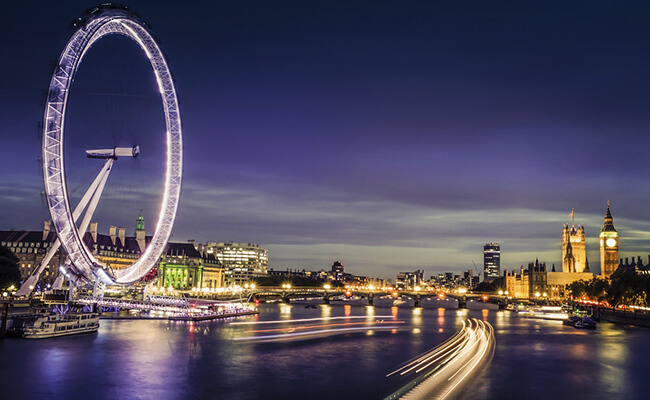 ---
The Shard
As with the London Eye, you can also book up proposal packages at the top of The Shard. You'll get yourself a private section decorated with rose petals and candles, plus you'll have a concierge, romantic music and two glasses of champagne waiting for you whilst you bask in the splendour of the incredible panoramic views from London's tallest building. The Shard proposal is next level and truly unforgettable.
Price: £27.20 – £640+ (Standard entry – the starting price of the proposal package).
Find out more about proposal packages at The Shard.
---
Tower Bridge
With the Tower Bridge proposal, there are no fancy packages available so this one is all on you. However, you won't be needing any extra help as this magnificent feat of architecture and engineering, with views across the city, is spectacular enough in itself. A word to the wise, it can get pretty busy with commuters and tourists so plan accordingly. Hint: it's lit up pretty romantically at night-time!
Price: £0
---
St. Paul's Cathedral
As places to propose in London go, St. Paul's Cathedral cannot be omitted. One look at Christopher Wren's magnificent creation and it's easy to see why it's a special place to drop down on one knee. As with Tower Bridge, you won't have to pay either (result!), just propose on the streets in and around it so that it's visible in the backdrop.
Price: £0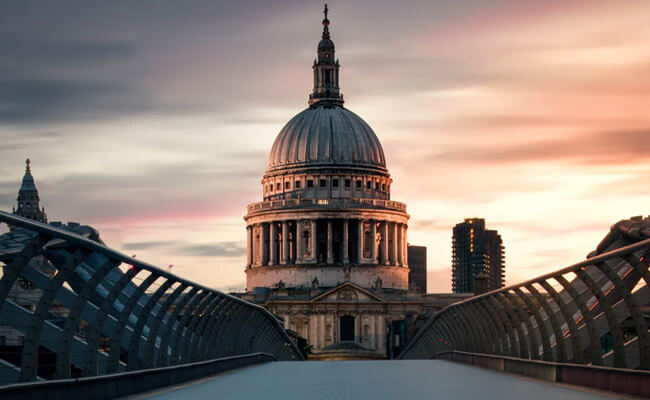 ---
On Top of the O2
This one is a bit of a curveball and one for the more adventurous couples out there, but you can actually scale the O2 and pop the question on top of this impressive building. They have a variety of climbs on offer from standard and sunset to twilight and celebration. Pick the option right for you, suit up and get climbing! Once in a lifetime stuff for that once in a lifetime moment.
Find out more about Up at the 02.
Price: £30.00 – £39.00
---
Best Places to Propose in the UK
Lake District – The Cat Bells
Outside of London, one of the best places to propose is without a doubt the picturesque Lake District. The Cat Bells are the perfect setting for outdoorsy types who enjoy rolling countryside and superb scenery. Park up at Hawse End and take one of the many routes up to the summit for panoramic views out across the landscape.
Price: £0
---
Cornwall – St Michael's Mount
Another idyllic part of the country which is most definitely one of the most romantic places to propose is the county of Cornwall. Take a boat out to St Michael's Mount, an island only accessible by water if the tide's in, stroll up to the top and ask your partner to marry you in the shadow of the magnificent old English castle.
Price: £4-6 for a boat return to St Michael's Mount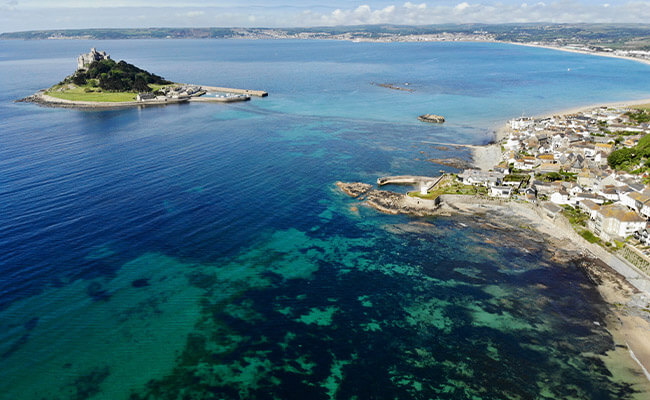 ---
The Cairngorms – Loch Morlich
Nestled in the heart of the Cairngorms, Loch Morlich is a hidden gem and a fantastic place to propose. This freshwater loch is surrounded by sandy beaches and rolling hillsides. The perfect place to drop down on to one knee and utter the phrase, "you've un-loched my heart." (You are very welcome for that one, just remember to send us a few beers when they say yes)!
Price: £0
---
Bath – Thermae Spa
OK, we may be slightly biased as we're based in the stunning city of Bath, but it's undoubtedly one of the best-looking cities in the country and a great place to whisk your other half to for a romantic getaway. Our top tip is to take them to the Thermae Spa where you can have a relaxing twilight soak in their rooftop pool before you ask them to marry you.
Price: £92.00 – £199 depending on the package.
Find out more about Bath Thermae Spa.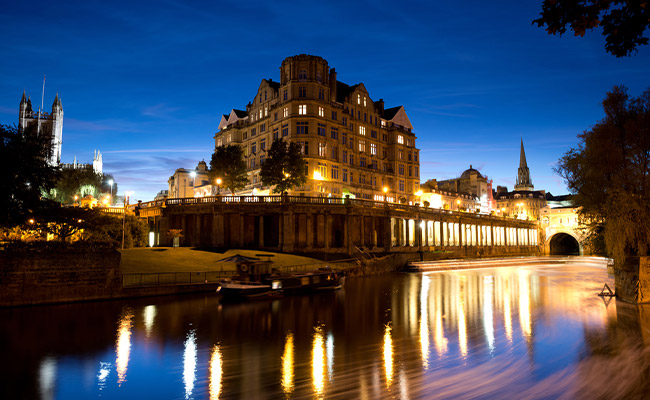 ---
Anglesey – Llanddwyn Island
Located on Wales' northwesterly island of Anglesey, Llanddwyn Island is as beautiful as it gets. Take a stroll along the coast up to the lighthouse which offers you a gentle reminder to keep your ship together (we'll get our coat…) when you ask your partner the million-dollar question. Does it get more romantic than a coastal walk?
Price: £0
---

Places to Propose in Europe
Paris – Eiffel Tower
As engagements go, a Paris proposal is up there as possibly the most romantic thing you can do, and an Eiffel Tower proposal is simply magnifique! Your partner has probably been dreaming of the moment they get engaged for many, many, many moons so you've really got to go all out, no holds barred. Don't actually propose if you go up the tower, though, there'll be too many tourists and you'll be herded around like cattle. Head to Trocadero and find a quieter spot.
Price: Flights to Paris for one person can start from as little as £80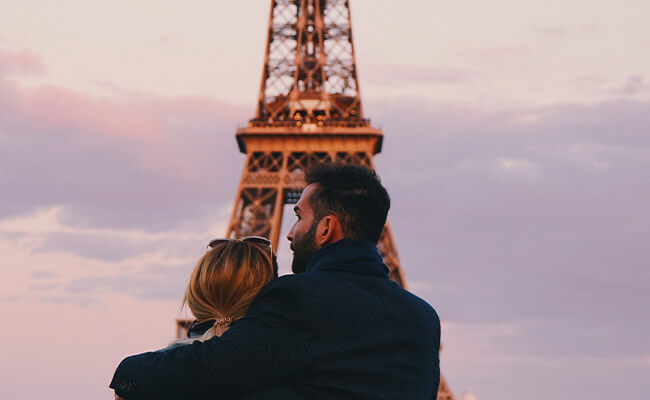 ---
Rome – Parco del Pincio
Trevi Fountain, the Colosseum, St. Peter's Basilica, the Roman Forum, Rome is littered with numerous iconic landmarks which you'd think would make for great places to propose. The only issue is they are so iconic they draw vast crowds and your special moment will quickly descend into chaos as you are bustled and barged out of the way by the hundreds of tourists. Head to Parco del Pincio which has stunning views over Rome's rooftops. It's all sorts of impressive.
Price: Direct flights for one person can start from around £270
---
Venice – On a Gondola
Yet another place in Italy because it's just that brilliant. A Venice proposal aboard a gondola as you cruise the waterways at sunset is the stuff of dreams and gets you off on the perfect footing as you take the plunge into marital bliss. Gondola prices start at about €80 for a forty-minute ride so it's not the cheapest thing in the world, but it is undoubtedly worth every cent.
Price: Direct flights for one person can start from as little as £130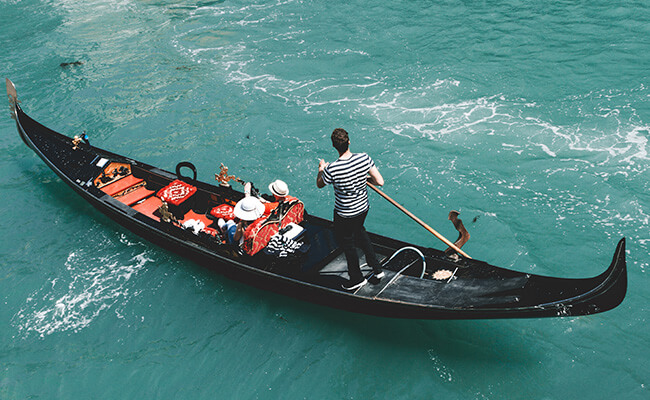 ---
Prague – Charles Bridge
In the heart of the Czech capital, you'll find one of the main attractions, Charles Bridge. Though it does get busy with tourists, if you get there early you can beat the crowds and find a bit of space to pop the question. A Prague proposal is a brilliantly romantic European engagement which won't break the bank. Prague is famed for being easy on the pocket and it just so happens to be one of the most impressive, vibrant cities on the planet. It is win after win after win.
Price: Direct flights to Prague for one person can start from as little as £76
---
Dubrovnik – Mount Srd
A city that lies on the doorstep of the Adriatic, so stunning it was used as the filming location for numerous scenes in the hit TV series Game of Thrones, a Dubrovnik proposal is fantastically unique and breaks tradition from your typical European proposal cities. Take a cable car up to the top of Mount Srd which gives incredible views across the city.
Price: Direct flights for one person can start from around £118
---

Places to Propose Further Afield
New York City – Central Park
New York is the daddy of all romantic destinations and if you're heading there for a couple's holiday and thinking about popping the question, you'll be spoilt for choice for epic places to do so. Central Park is difficult to beat as you'll be able to find a little secluded spot whilst the glorious skyscrapers encase you from all sides.
Price: Direct flights can range from £500 – £1000+ for one person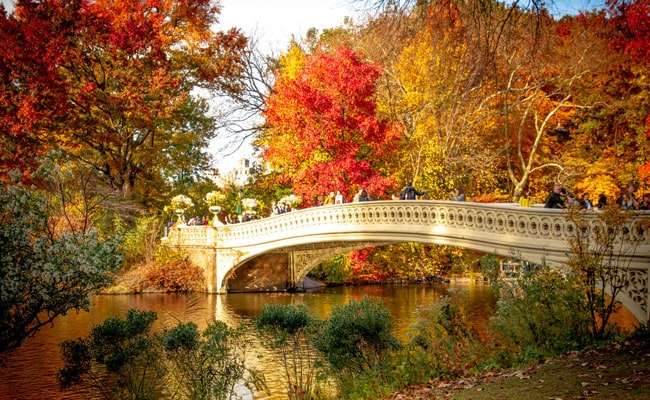 ---
Sydney – On top of Sydney Bridge
The first place which springs to mind when people say Sydney is the iconic Opera House which makes for a spectacular backdrop for that special moment. But let's take that proposal to the next level by asking your other half to marry you at the top of Sydney Bridge, which has spectacular views of the Opera House as well as the Sydney skyline.
Price: Flights start from £801 for one person
Find out more about Sydney Bridge Climb.
---
Peru – Machu Picchu
Another one which is suited more to seasoned travellers and those who love exploring, Machu Picchu is regarded as one of the New 7 Wonders of the World and it's simply jaw-dropping. Throw a proposal on top of that when you reach the summit and you may just have the ultimate wedding proposal. "Engagement? Completed it, mate!"
Price: Flights start from £563 for one person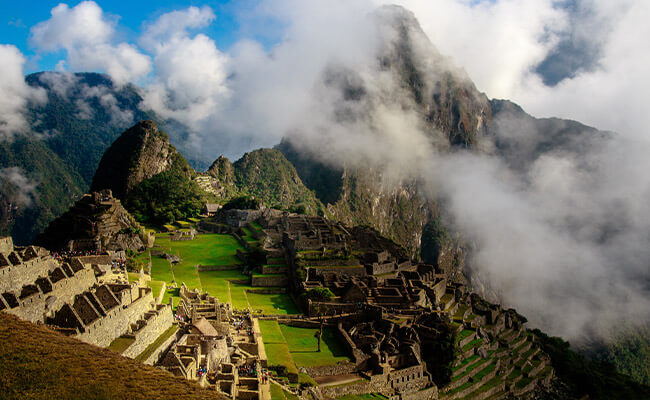 ---
Vietnam – Ha Long Bay
There aren't enough superlatives to describe how stunning Ha Long Bay is. This one is certainly different but an experience you won't forget in a hurry. Fly to Hanoi and take a trip out to Ha Long where you can book up a boat trip to take you around these spectacular islands.
Price: Flights start from £620 for one person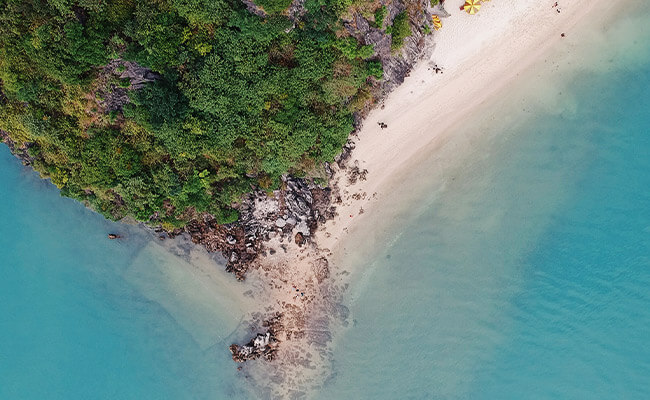 ---
Quebec – Chutes Montmorency
Quebec is an incredible place to visit irrespective of the time of year. No matter if you and your partner are heading out in spring, summer, autumn or winter, this vibrant city looks its radiant best all year round. For something a little bit wow, check out Chutes Montmorency, a waterfall just to the north of the city.
Price: Flights start from £796 for one person
---
Up next…
How to Choose an Engagement Ring
Once you've found that ideal place to propose, there's just the not-so-small matter of picking out the ring. To give you a helping hand, our good friends at ROX have compiled a list of the top ten tips for choosing an engagement ring to assist you in making that special moment even more special. Check them out next:

Haven't picked the ring yet and want to know more? Check out these amazing engagement ring facts from ROX: