2019 was another big year for stag dos with thousands of partygoers heading out for their pre-wedding celebrations all across the globe. But where were they heading, what were they doing, how much were they spending and where was our invite? Here at StagWeb, we decided to crunch the numbers to find out all the answers to the big questions about stag weekends in 2019!
The Cost of a Stag Do 2019
This year we sent thousands of groups out with various different budgetary requirements to various different locations all across the globe, and through all the positive feedback we received, one thing became clear: it's possible to celebrate the groom's big weekend in style without breaking the bank! For example, a thrifty group in Bristol spent just £10 each for an epic half-day paintball session for the main man's big send-off! So no matter whether your budget is big or small, there's something out there for every group!
Stag Do Costs for 2019:
Average Spend Per Group – £2,048
Average Individual Spend – £152
Highest Group Spend – £10,120
Lowest Group Spend – £90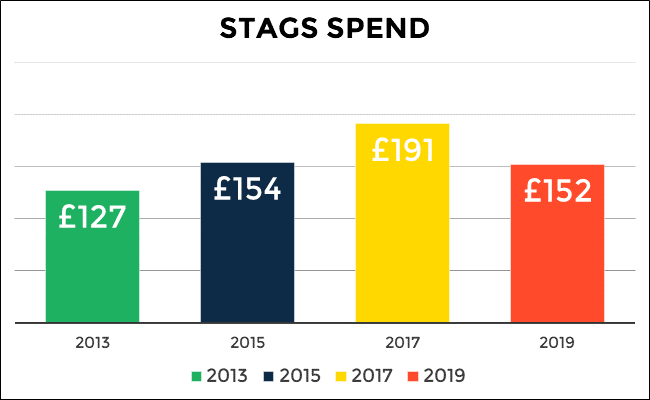 Yes, according to our data, the average spend per person for a stag do in 2019 has fallen by £39 in the last two years which is a significant saving per group and individually.
One group spent a whopping £10,120 on a trip to Ljubljana for one monumental send-off! It did include a fair amount of skiing over a week-long period to be fair to them!
The Best Stag Do Destinations 2019
With Brexit still stuttering along, we've seen little evidence of it affecting people's decision to head out onto the continent for those big celebrations. In 2019, almost half of our groups flew off to Europe and beyond for the groom's epic weekend away.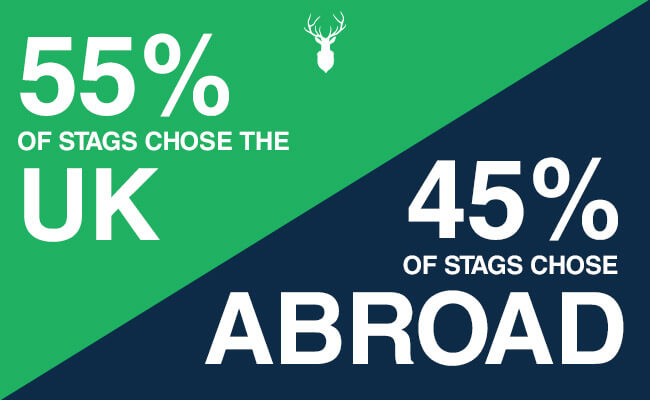 10 Most Popular UK Destinations
Bristol
Bournemouth
Liverpool
Newcastle
Cardiff
Manchester
Birmingham
Edinburgh
Brighton
Bath
The South West is the favourite region for stag and hen groups.
10 Most Popular International Destinations
Hamburg
Berlin
Prague
Amsterdam
Krakow
Lisbon
Dublin
Benidorm
Budapest
Barcelona
For the UK, Bristol came out on top as the most popular destination due to its legendary nightlife scene and epic array of stag activities, with Bournemouth, Liverpool and Newcastle making up the other Champions League spots.
Internationally, stags favoured world-renowned party cities as their choice of location with a German one-two at the top of the tree. Hamburg and Berlin were closely followed by Prague, Amsterdam and Krakow.
What were the Most Popular Stag Do Activities in 2019?
Bubble Football
Paintball
Clay Shooting
Beer Bike
Quad Biking
Rage Buggies
Beer Coach
Escape Game
Go Karting
Foot Golf
Bubble football remains the number one choice for stags since 2017!
It's not a stag weekend without a healthy dose of stag vs. stag competition thrown into the mix and our stats show the stag do classics are still coming out on top.
Bubble Football and Paintball are like the Real Madrid Barcelona of stag party activities (always in the top 2), but boozy related activities are starting to sneak into the top positions with Beer Bikes and Beer Coaches hitting up the top 10.
What were the Most Popular Stag Do Nightlife Activities in 2019?
Nightclub Entry
Gentleman's Club
Bar Crawl
Casino
Comedy Club
Sexy Pub Crawl Babes
VIP Nightclub Package
Strip Boat
Strip Dinner
Female Stripper
It seems you can't beat a classic night out on the town with Nightclub Entry the most popular stag nightlife activity, followed by a trip to a Gentleman's Club in second and a Bar Crawl third.
Take a look at the hen do stats for 2019.