40 burgers. 40 burger joints. 40 belt-loosening, food coma-inducing stacks to tick off the bucket list.
How many have you done? How many will you do? How many can you do before 2022 is over and out?
Look, there's no time to waste.
For groups heading to a UK stag destination for their big celebrations this year, we've got the fuel for your big night out covered!
Get set to drool all over your phone/keyboard/tablet as you check out the utterly stacked and downright delicious UK Top 40 Burger Bucket List – 2022 Edition!!
Jump to section:
South West / South East & East / Midlands / North / Scotland / Wales / Northern Ireland
---
SOUTH WEST
Smiths Of Bourton
📍 Where: Cheltenham (Bourton-on-the-Water)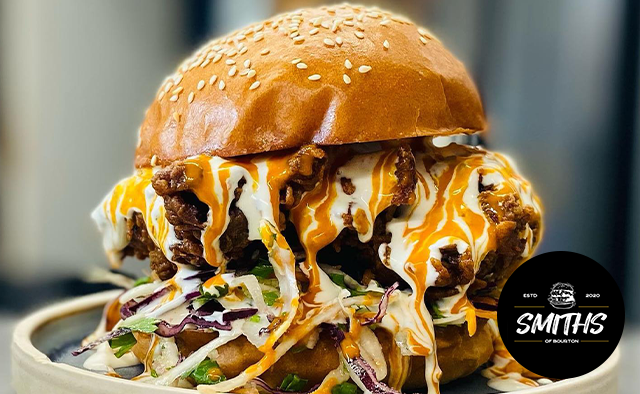 The Joint
This bangin' burger boutique is a family-run venture packed with passion. Their creativity knows no bounds and their desire to deliver means not only do you get the best quality bites but you're guaranteed to be served up something that WOWs.
Our Bucket List Pick
Bacon Butter – Dry-aged patty, American cheese, pickled white onion, thick-cut pickles, bacon & burnt butter aioli
Whatever you do, you need to make sure this burger is ticked off your Burger Bucket List. The Smith family did not come to play with this thumping creation. From the bread to the beef to the bacon and burnt butter aioli, you won't be disappointed with this absolute feast!
Veggie Alternative
Symplicity is Key – Plant-based burger, lollo lettuce, pickles, tomato, red onion, mayo
Website | Instagram | Facebook
---
Sam's
📍 Where: Cornwall (Fore Street, Fowey)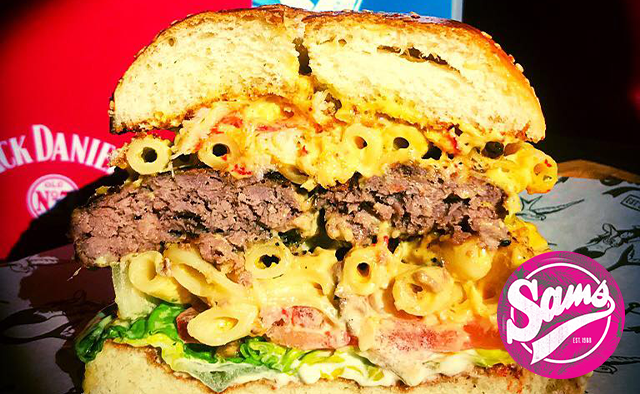 The Joint
Sam's diner has it all. From award-winning burgers to artisan hand-rolled pizzas, and all the shakes, fries, pasta, and wings that you could possibly want/need/imagine in-between. No one leaves Sam's hungry… NO ONE!
Our Bucket List Pick
The Super Beast – A one-pound monster burger with extra melted cheese, loads of smoky bacon, double egg, fries and slaw
This Bucket List Burger is MASSIVE in size and taste. Yes, offering some big, big flavours, it's truly god-like in stature. This chonky fella is not for the faint-hearted or the small-stomached, so ensure you're suitably starving before you even contemplate this guy.
Veggie Alternative
Moving Mountain Burger – 100% plant-based burger, iceberg lettuce, tomato, vegan mayo, gherkin slice, onion rings, fries and vegan slaw
Website | Instagram | Facebook
---
Craftworks
📍 Where: Wadebridge, Newquay, Padstow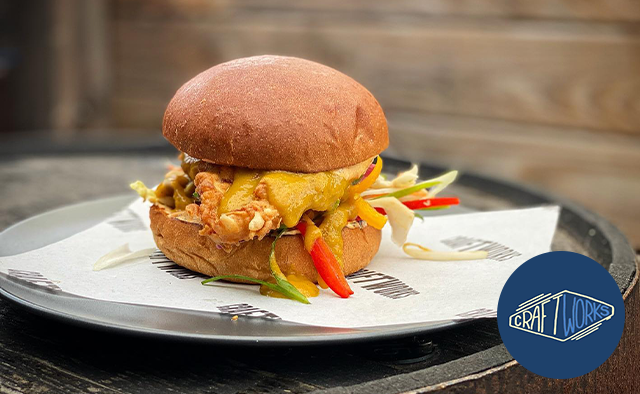 The Joint
These converted shipping containers make for a unique visit. After opening in 2015, Craftworks began delivering global street food to the people of Cornwall. This super chilled venue makes it a great place to hang out with friends as you make your way through some super special burgers.
Our Bucket List Pick
Ain't No Lonestar – Beef patty, pulled pork, hard fried onions, BBQ sauce, cheddar, gherkins, red onions, mayonnaise, and French mustard.
This is how you do burgers, people! This top choice perfectly executes each individual element of patty stacking down to a tee. As if this juice-filled beef patty wasn't enough – with the added pulled pork and that delicious BBQ sauce, our mouths are watering just writing about it!
Veggie Alternative
The Pretender – Craftworks bean burger, Monterey Jack cheese, chipotle mayo, Craftworks chilli jam, lettuce, bun
Website | Instagram | Facebook
---
Burger Theory
📍 Where: Bristol (St Stephen's Street)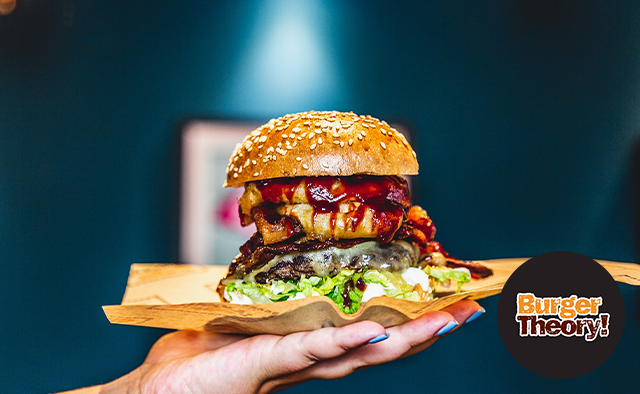 The Joint
This place has been blessing Bristol with the best burgers in town for the last ten years. If you've not had a chance to swing by, you've been seriously missing out. They've been pushing their topping game to the absolute limits and have come up with some OUTRAGEOUS creations in the last decade.
Our Bucket List Pick
Clucking Nuts – Grilled satay chicken thigh, peanut sauce, slaw, crunchy peanuts, pickled cucumbers, red chilli, spring onion
The clue's in the name: it's absolutely 'Clucking Nuts'! This one is up there with the best of the best as it preaches new flavours to the masses with its peanut-heavy content. Not one for the burger purists, this Asian-inspired take on an American classic is for the freethinking burger enthusiasts.
Veggie Alternative
Southern Hippie – Southern-fried portobello mushroom, slaw, halloumi, blue cheese dressing, and Frank's Hot Sauce OR Bourbon BBQ sauce
Website | Instagram | Facebook
---
Three Brothers Burger
📍 Where: Bristol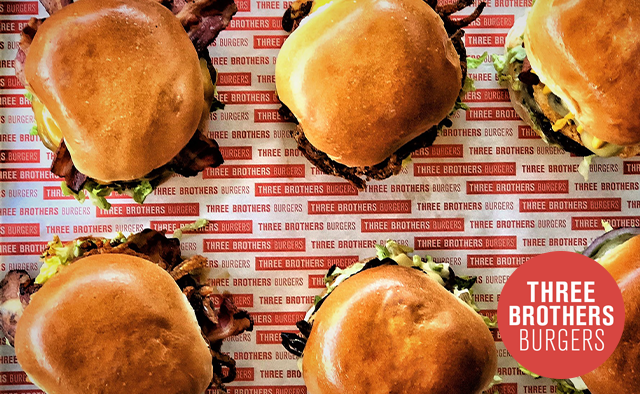 The Joint
This place is burger HEAVEN! Not only do they have tons of glowing reviews, but it's not their first rodeo in one of our burger-related blogs, and it sure as hell won't be their last! They're experts in their field when it comes to meaty goodness and you definitely won't be disappointed.
Our Bucket List Pick
Three Brothers Triple Burger – Triple American cheese, triple sweet cured American bacon and triple patty.
Stacked to satisfy is their mantra, and they certainly practice what they preach. There was no need to choose anything too extravagant here because simplicity is king when done right. HOWEVER, you either go big or go home! We're talking triple patties, triple bacon and cheese in triple quantities!!
Veggie Alternative
Smokey Bro Burger – Plant-based patty, brioche bun, house dressing, lettuce, red onion, smoked Applewood cheddar, sweet cured bacon BBQ relish and crispy onions
Website | Instagram | Facebook
---
WAX Watergate Bay
📍 Where: Newquay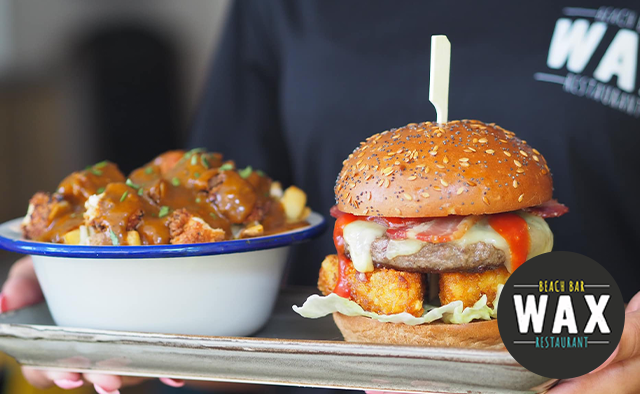 The Joint
The South West became a better place the moment that WAX opened its doors overlooking the iconic Watergate Bay. The burgers are meaty, the fries are crispy, and the beers are most definitely ice-cold. It's 100% worth a visit if you're in the vicinity and worth a trip if you're further afield.
Our Bucket List Pick
WAX Stack – 6oz Wagyu beef burger, chicken breast, pulled beef, hash browns, bacon, double cheese, and wax sauce.
This lot are all about the meat. Yes, the WAX Stack combines not one, not two, but three different varieties as well as throwing in some hashbrowns for good measure. Not only is the patty made from the crème de la crème of beef, but it all comes together with one of WAX's top-secret sauces.
Veggie Alternative
Shaun Bean Burger – Indian-spiced breaded bean burger and vegan-curried mango mayo
Website | Instagram | Facebook
---
Magu
📍 Where: Bath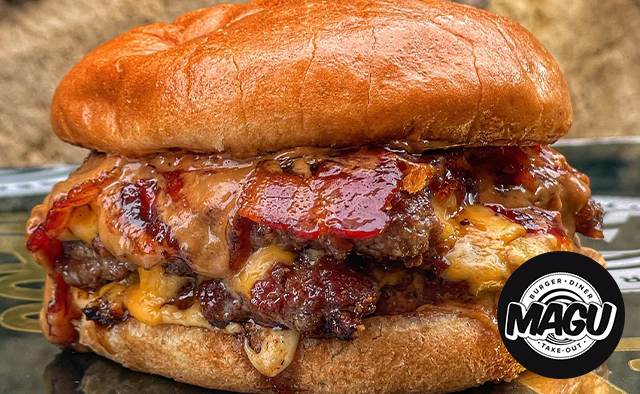 The Joint
Our StagWeb base is just down the road from this independent gourmet burger bar, and let us tell you – this is no ordinary burger joint. These burgers are OUT OF THIS WORLD. Big, bold, even Biscoff-filled – they really push the burger-making boundaries.
Our Bucket List Pick
Flying Lotus – Smashed beef patty, Biscoff Lotus, peanut and pecan peanut butter, chilli jam, American cheese, maple bacon and baconnaise.
WTF! These chaotic flavour combos really do work. Who would have thought that a Lotus spread would slide alongside a beef patty… not us! But it tastes so right with all the other experimental ingredients stacked up and showing off. Photos can't capture flavours, so get yourself down there!
Veggie Alternative
Vegi Smoked Garlic Mayo Cheese Burger – Veggie burger, smoked garlic mayo, lettuce, tomato, onion and American cheese
Website | Instagram | Facebook
---
Dorset Burger Company
📍 Where: Weymouth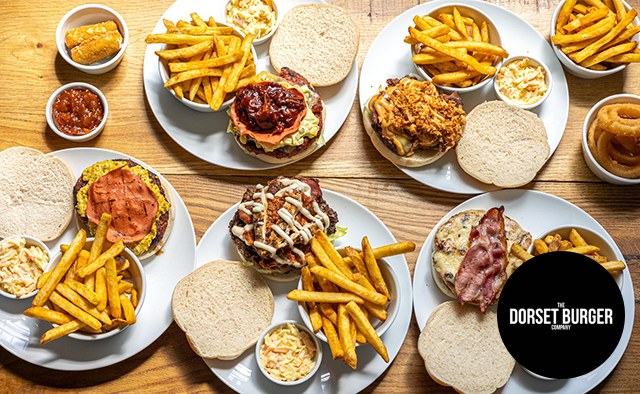 The Joint
This award-winning eatery has been serving up towering burgers to the people of Weymouth for over ten years. With a top reputation for their big specials, there's always something to tempt you here – and you should defo give in to this temptation!!
Our Bucket List Pick
Return Of The Mac – Beef patty, salad, homemade slaw, creamy macaroni cheese, bacon and mature cheddar cheese.
With a huge range of beef, chicken, pork, veggie and vegan options available, it took us a while to pinpoint the perfect burger. However, we managed to whittle it down to this carb-on-carb contender. Pasta on a burger not only sounds a bit of us, but it's truly unique and truly superb!
Veggie Alternative
The Dirty Veggie – Homemade meatless party with Monterey Jack cheese, dirty moo sauce, vegan bacon and BBQ pulled jackfruit
Website | Instagram | Facebook
---