SOUTH EAST & EAST
Jump to section: South West / South East & East / Midlands / North / Scotland / Wales / Northern Ireland
Really Happy Chicken
📍 Where: Brighton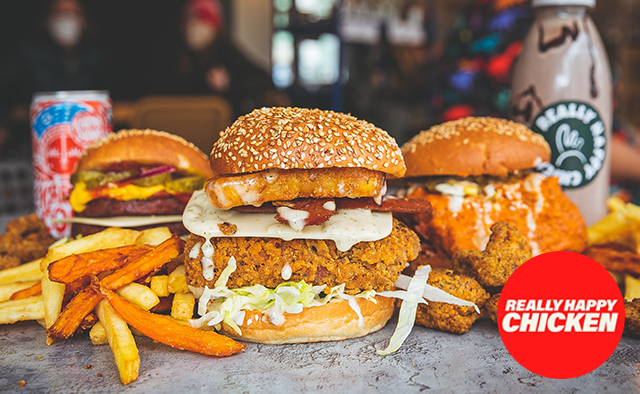 The Joint
Get down and dirty with these 'chicken'-based burgers. Yes, Really Happy Chicken has taken a national favourite and made it wholesome! We're talking vegan chicken and Really Happy are on a mission to make sustainable living more accessible to the masses. And it helps that their food is tasty AF.
Our Bucket List Pick
Sticky Burger – Crispy, golden fried vegan chicken coated in a sweet and sticky Korean BBQ sauce, slaw, mayonnaise, spring onion and sesame
Holy cluck this isn't your average burger! We'd perhaps say this one sits at the top of the pecking order (not sorry!). It's the perfect blend of sweet and savoury with the sticky BBQ sauce and seriously good vegan chicken.
Website | Instagram | Facebook
---
Red Dog
📍 Where: Southampton (Also: London, Nottingham, Liverpool)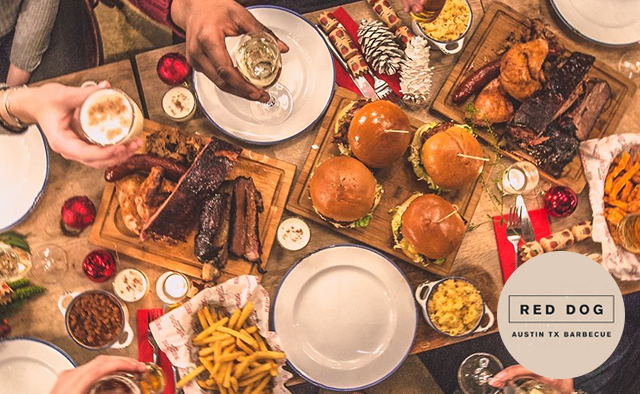 The Joint
This American hickory-smoked Bar-B-Q joint has absolutely nailed the perfect ratio of burgers and cocktails. Their unrivalled knowledge of how to construct the ideal drool-inducing stacks is second to none. Red Dog restaurants are popping up all over the UK, so no excuses, get yourself there ASAP!
Our Bucket List Pick
Buffalo Bill – Boneless thigh, buffalo sauce, American cheese, shredded lettuce, blue cheese dip (Heat Level: Hot)
Cheese lovers, where you at?! We picked this one, especially for you! Yes, if this doesn't get your mouth watering, we're not sure you're a true burger lover. The Buffalo Bill is bound to bring the house down as it takes the humble burger and elevates it to new cheesy heights.
Veggie Alternative
Beyond Meat – American cheese, mixed leaves, heritage tomato, fresh-cut vidalia onion, homemade dill pickles, Red Dog sauce
Website | Instagram | Facebook
---
7 Bone
📍 Where: Southampton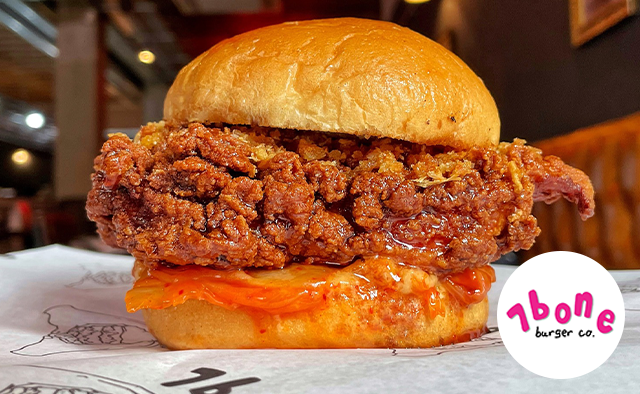 The Joint
Burgers, beers and good times – what more could you ask for in a burger joint?! Yes, with legendary burgers, thick shakes, craft beer and feel-good vibes, this is the perfect place to enjoy a beefy stack. Get. In. Ma. Belly.
Our Bucket List Pick
Frankie Says Rilassare – Smashed meatballs, Nona's marinara, garlic butter mayo, Grana Padano and melted mozzarella
We could play it safe by choosing a classic cheeseburger with all of its usual salady and saucy accompaniments. But no. Here at StagWeb, we take risks, and this risk has more than paid off. Eating is believing!
Veggie Alternative
Katnip Sando – Vegan fried chicken, crustless white bread, dirty slaw, jalapenos and curry sauce
Website | Instagram | Facebook
---
Zak's
📍 Where: Norwich, Norfolk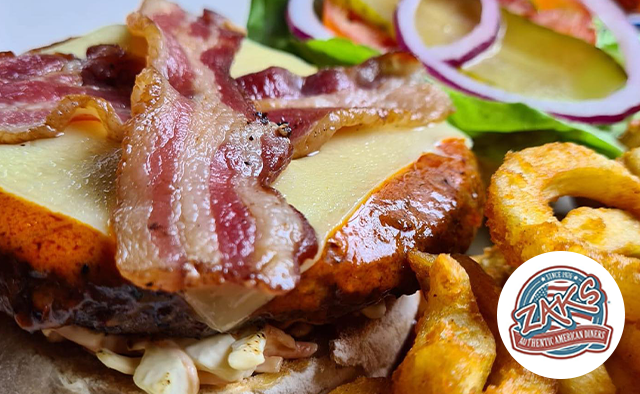 The Joint
Zak's American-style diner has been a part of people's lives in Norwich and Norfolk since 1976 (NINETEEN. SEVENTY. SIX!!) and is often referred to as Norwich's original street food! To be at the top of the food chain that long must mean they're doing something right. And *spoiler* they are!
Our Bucket List Pick
Meltdown – 6oz patty, beef tomato, lettuce, red onion, dill pickle, mayonnaise, crisp bacon, mushrooms, and jalapeno cheese.
If you're looking for a proper sloppy feast to sink your teeth into, look no further than the Meltdown. The clue's in the name, so get set for oozing cheese, crispy bacon and pure burger insanity. Get stuck in!
Veggie Alternative
Veggie Meltdown – The same as above but a veggie burger and facon!
Website | Instagram | Facebook
---
Haché
📍 Where: London (Multiple locations)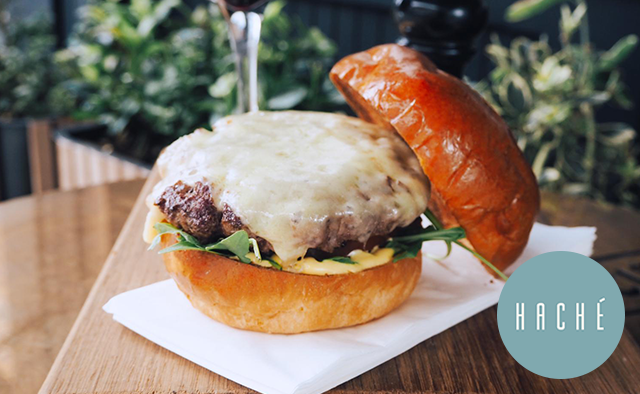 The Joint
Haché (pronounced 'ashay) promises juicy, fresh and damn tasty beef with every topping you desire. The Parisian-inspired settings are some of the most Instagrammable gaffs in town and the burgers – WOW – the burgers are simply sublime.
Our Bucket List Pick
Steak Truffle – Truffle aioli, caramelised onions, Gruyère cheese, truffle shavings
This is burger decadence. It's sophisticated, it's enhanced, and it truly is superb. As much as we love a sloppy number, we're also big fans of something a little more meticulous. The Steak Truffle is a big win.
Veggie Alternative
Hot Cauliflower Cheese Burger – Crispy cauliflower tossed in hot cayenne sauce, melted cheese sauce, mustard mayo, beef tomato, onion, rocket, pickled guindilla chilli pepper
Website | Instagram | Facebook
---
Patty & Bun
📍 Where: London (Multiple locations)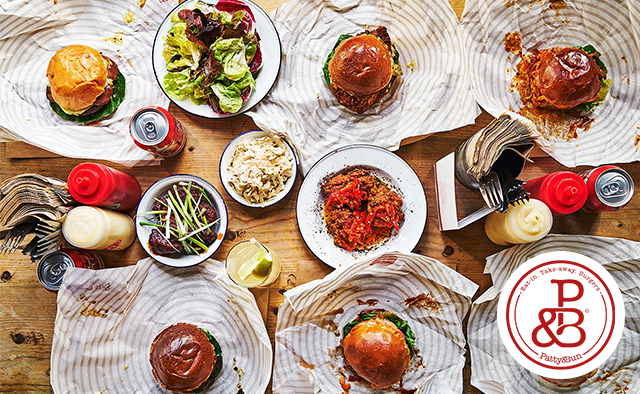 The Joint
If you're looking for some no-nonsense burgers with some cracking sides to accompany them, Patty & Bun are the one! Check out their socials and see for yourselves – these loaded stacks are ELITE. Find your nearest, grab your dearest and fire on down for some top-tier grub.
Our Bucket List Pick
Smokey Robinson – Beef patty, cheese, tomato, lettuce, mounds of caramelised onions, bacon, ketchup, and smoky Patty & Bun mayonnaise.
This one executes each of the most crucial elements of a burger to perfection. With years of experience behind them, they know how to crack the perfect lettuce-beef-bun ratio. Smokey Robinson is a mighty fine example of what we're saying!
Veggie Alternative
Vegan Hot Chic – This isn't fried chicken patty, pickled cucumbers, lettuce, smoked garlic aioli, bun
Website | Instagram | Facebook
---
Flaming Cow
📍 Where: Eton & Windsor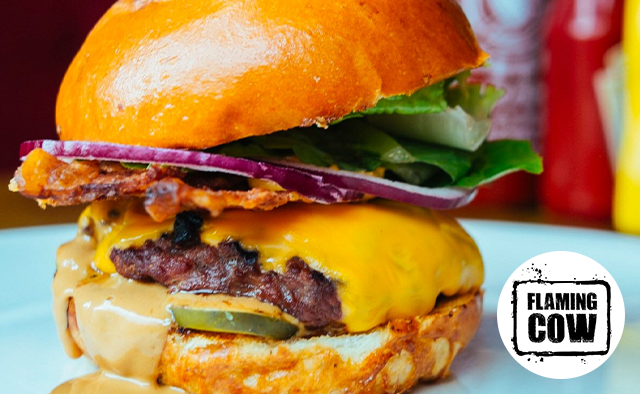 The Joint
With juicy burgers, ribs, wings, speciality beers and killer milkshakes on offer, it's always an epic experience at Flaming Cow. The endless great reviews speak volumes of their super satisfying and supremely unique burgers, and their talents seem to know no limits.
Our Bucket List Pick
Santa Fe – Beef patty, roasted green chillies, Swiss cheese, grilled onions & jalapeno mayo
We're going HOT with this one. Yes, this burger is bringing the noise and bringing the spice with its roasted green chillies and jalapeno mayo for an extra bit of zing. If you're looking for something different and something fiery, you need look no further.
Veggie Alternative
Portobello – Portobello mushroom, two panko-crumbed halloumi slices, roasted red peppers, mixed leaves and homemade pesto mayo
Website | Instagram | Facebook
---
Please Sir!
📍 Where: Kent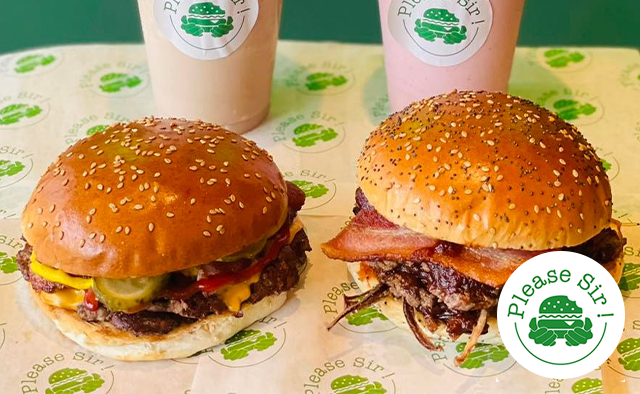 The Joint
Mr Steve Lawrence is the face behind the phenomenal Please Sir and their top-class burgers. His passion for cooking fuels his work, and his team work tirelessly to ensure their bites are "impeccable, not just the first time, but every time." Yes, we'll certainly eat to that!
Our Bucket List Pick
Splash – Steak patties, American cheese, & a pot of beef dripping gravy.
This place truly has made a splash since it burst onto the scene, and the Splash burger is everything we love about 21st-century burger creation. 100% rump steak patties and beef dripping gravy – what an un-bel-ieve-able combo.
Website | Instagram | Facebook
---
Henry Burgers
📍 Where: Essex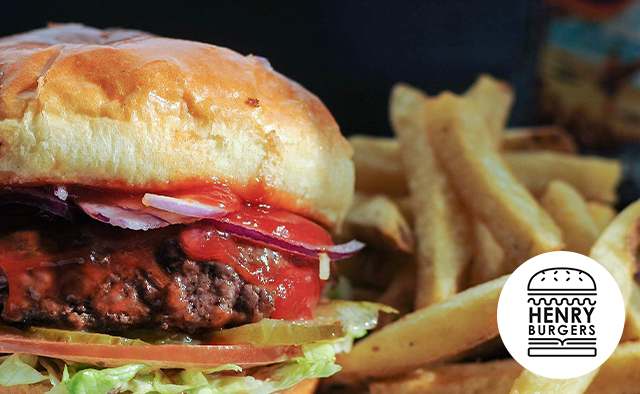 The Joint
There's no messing about at Henry's Burgers – just straight-talking American comfort food. Boasting good vibes from brunch until sunset (and even after the sun goes down), it's got it all at this Essex eatery. Name a better combo than great cocktails and even better burgers. We'll wait.
Our Bucket List Pick
Swiss Toni – 155g beef patty, Swiss cheese, bacon, pickles, lettuce, horseradish mayo, brioche bun and fries
If you're in the Essex area, make sure you pop by to get this top contender ticked off your bucket list. It's stacked high *nod of approval*, it has horseradish mayo *chef's kiss*, and it's insanely tasty *standing ovation*. It's impossible to leave Henry's hungry.
Veggie Alternative
Rueben Not Too – Moving Mountains 100% plant-based patty, vegan pastrami, vegan cheese, sauerkraut, pickles, dressing
Website | Instagram | Facebook
---
Flower Burger
📍 Where: Brighton, London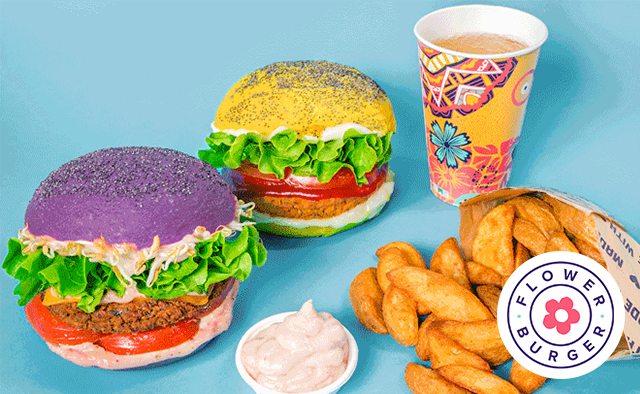 The Joint
Big and bold with some serious burger bravado on show, Flower Burger are seriously UNIQUE. It's all vegan and they all taste as good as they look. Which, quite frankly, is the greatest thing we've ever cast our burger-loving eyes on.
Our Bucket List Pick
Ladybug Burger – Lettuce, tomatoes, red bun with sesame seeds, pea and rice patty, basil sauce and Pomorella sauce.
We're almost certain that you've never witnessed a burger like this before. Not only is it incredibly colourful, but it's also mind-blowingly tasty, too! From the funky sauces to the insane vegan patty, it's nothing short of perfection encased in a bright red bun.
Website | Instagram | Facebook
---