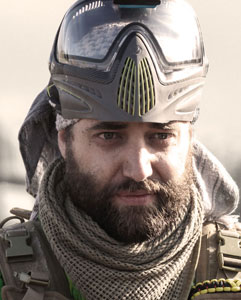 Paintball legend AlabasterSlim is a true weekend hero, his epic YouTube videos have gained a cult following in recent years and it's easy to see why; they're as adrenaline-pumping and action-packed as the first person shooters that they're styled after.
However, unlike video-games such as Call of Duty or Battlefield, there's nothing fake about AlabasterSlim. Everything is real; every hit, every dive, every epic charge and every broken bone…
StagWeb caught up with the paintball gun-wielding assassin to talk noobs, Katy Perry and mid-game dance-offs.
What would be your best advice for paintball noobs?
Let go of the fear of being hit. Never stop moving and changing your position on the field. If you stay in one place for too long someone else will move up on you and take you out. And wear a cup to protect the goods – I've learned that one the hard way.
What's the worst injury you've suffered on the battlefield?
I've broken my humerus, the long bone in the upper arm, when I jumped over a barricade and my arm slammed into the shoulder blade. The doctor told me I wasn't supposed to play for six weeks but I was back on the field in two. We had bad ice in Toronto that winter and I kept slipping and falling on that arm anyway. I figured if I was going to continue hurting it just walking to the car then running around with my friends wouldn't be much worse. It wasn't the smartest decision, but when I went back for my check-up I didn't need any physio-therapy since the muscle hadn't atrophied.
Are there any songs that help you get pumped up before battle?
It's a real mix. Sometimes I listen to Eminem or AC/DC to get pumped up, other times I listen to things like Johnny Cash or Radiohead to relax and calm my mind before a game.
What's your one iPod guilty pleasure (we won't tell anyone, honest)?
Katy Perry. I like that Firework song.
Do you have any superstitions around paintball?
I'm not a very superstitious person. And I've been pretty lucky so far that when I say the equivalent of "hold my beer" things usually work out in an epic fashion.
How did you get started?
I first played at a company outing with my dad when I was fifteen, I was hooked. I didn't get to play for ten years after that, until I insisted that paintball be part of my bachelor party. Once I turned thirty I bought my own gear and started to play regularly. I've been playing steady ever since.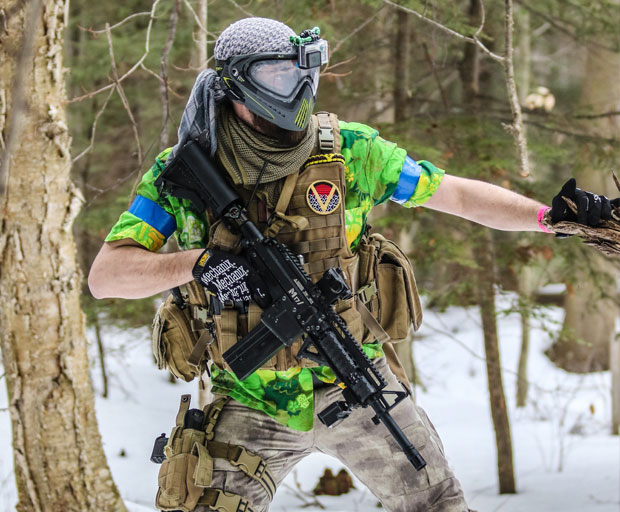 What inspired your signature 'FPS' video style?
When I first started making paintball videos nobody was filming from a first person perspective. A lot of that has to do with traditional paintball guns. With a hopper (the loader) in front of your face the camera is just going to capture that. I started out playing magfed, which means my gun uses magazines instead of hopper to load the paint, like an actual firearm does.
This means I was able to film paintball from a new perspective. But I also wanted a hook. YouTube videos about video games, and first person shooters were, and still are, very popular. If I could make my paintball videos look more like a video game then it would also attract gamers to my videos and the sport. I've since evolved my style to include a "scope cam" and even a night-vision mode.
What's your favourite piece of equipment? Do you have a favourite gun?
I have this leg rig which holds two of my rifle magazines and either three smoke grenades or two pistol magazines. It's very expensive but it fits so well I don't even realize I'm wearing it.
What's the funniest thing you've seen in a paintball game?
A lot of silly things happen during the longer games I play, many times there will be no action and people will start singing or dancing. There's a lot of dancing actually.
Where's your favourite place to play?
I've been fortunate to play in a lot of incredible places all over the world. I've played at an abandoned mental hospital, a 16th century fort in France and I've even jumped off a boat to land on a beach and storm an airfield in Croatia.
However, my favourite place I ever played at was a local field in Toronto called CQB which is sadly no longer around. It was a tactical town built specifically for paintball.
Is this a full-time job for you?
I wish! Unfortunately my real-life schedule means I only get to play around once a month. I'm able to stockpile enough footage to release a video a week with that. Unlike other extreme sports, paintball requires a lot of other willing participants. Even if I had the ability to go and play every day I wouldn't have anyone else to play with. The goal is for my videos and my channel to get popular enough that it could one day sustain me.
How do you relax after a game?
My teammates and I always go out for dinner and a few beers after a game. We call it the VICE (name of our team) dinner. I can't think of a better way of relaxing.
What's been your personal highlight so far?
There's an annual game held just outside of Chicago called living legends, it's a two day event that culminates in a final battle where two teams of 1,000 people fight over a hill which separates the two. On top of this hill are three "slapsticks", a marker can be changed to either show your team's colour or the enemy's. I finally went to this game in the spring and managed to get to the slapsticks twice. Diving through the air while getting shot at by hundreds of people was a pretty big, and painful, adrenaline rush. My arms were black and blue after that.
If not paintball, what else would you do to get your adrenaline fix?
I'm also a big skier, I enjoy mountain biking, and I'd like to get back into white water kayaking.
What's your motto for life?
You can't shovel sh*t without getting some on yourself. It basically means that getting involved in negativity and drama will never end well for either party. It's always better to ignore trolls and detractors; they'll just make themselves look like fools in the end.
---
Follow AlabasterSlim…
You can follow AlabasterSlim's superb YouTube channel here.
Or if you're you want to get into battle and give your friends a Dulux makeover you can find the best paintball sites in the UK & Europe here and create your own weekend Call of Duty go for glory!