While some of us might give sport a miss when the weather turns cold ("I can't play golf in that, it's spitting!") the UK's top winter athletes can't wait for the frost to arrive so they can do what they do best.
These winter globe trotters are performing jaw dropping, high speed, flicks and tricks, racing at adrenaline pumping speeds and generally making the rest of us look like we've gone into hibernation. So sit back and crack open a cold one as we go on the piste and salute the most awesome winter sports men and women.
---
Jenny Jones | Snowboarding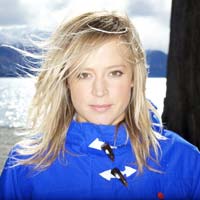 The first Briton to win a medal in an Olympic snowboarding event (slope style) Jenny also has also won gold at X Games USA (2009 & 2010), X Games Europe Gold 2010. Now turned pro she learned her snow styling while working in chalets in France. It turned out to be a shrewd move for the bubbly boarder who spends the off season on a surfboard back in her native Somerset. Check out her shredding vids which are truly epic!
---
Shelley Rudman | Skeleton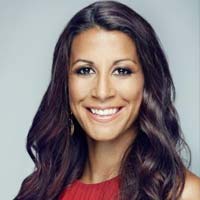 If for some reason you've never watched a skeleton competition it involves sporting down the ice and then launching yourself headfirst at incredibly high speeds. Terrifying but utterly brilliant and Shelley Rudman is the UK's skeleton bob leading lady with a seriously impressive medal collection that includes Olympic silver, World Cups and European Championships.
---
Peter Bowker | Explorer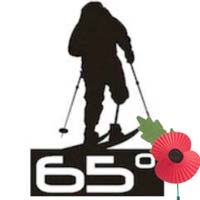 Peter Bowker and was part of the 65 Degrees North team who made history in 2015 by completing the first unsupported crossing of the Greenland Ice Cap by an amputee, proving that 'true Brit' and determination can overcome any obstacle.  We certainly hope that there were a few crisp pints of the good stuff waiting for them at the end!
Website | Facebook | Twitter | YouTube
---
Billy Morgan | Snowboarding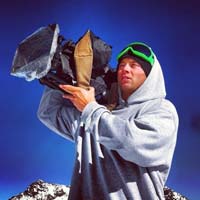 Starting from a young age on a dry slope in his home town of Southampton, Billy Morgan fast became one of the most dominant British forces to have ever set foot on the powder. He performed the world's first triple rodeo flip as well as being the first rider to have landed the truly terrifying 1800 quadruple cork. Legend!
---
John Jackson | Bobsleigh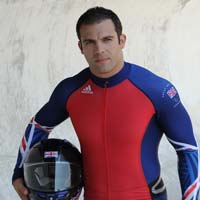 A driving force behind British Bobsleigh, John Jackson is a veteran Olympian having competed in both the Vancouver 2010 and Sochi 2014 games. You've got to have real confidence to take to the wheel of one of these bad boy Bobsleighs, and is the first choice at the helm of our medal hopes.
---
Lizzy Yarnold | Skeleton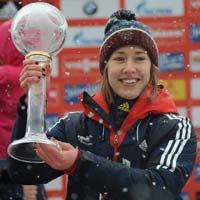 One of Team GB's greatest winter Olympians. The hours/weeks/years of training at Bath university's top class facilities certainly paid off with Lizzy claiming Olympic gold in Sochi 2014, to go with her Skeleton World Cup and is now a household name as well as having been awarded an MBE.
---
Paddy Graham | Freeski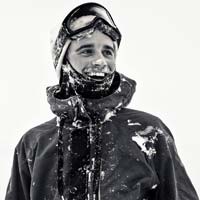 Hailing from Sheffield, Paddy Graham has been skiing since he was a teenager, he's gone on to become an internet sensation by posting awesome videos featuring an up-close-look at some of the most brown-trouser stunts you can pull with a pair of skis attached to your feet. Epic!
Website | Facebook | Twitter | Instagram | YouTube
---
Jack Whelbourne | Speed Skating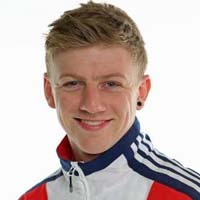 Dancing on Ice, might look cool but when it comes to speed Jack Whelbourne is one regular Usain Bolt. He's gone from being a genuinely exciting young prospect to leading his sport in the space of a few years, picking up plenty of accolades along the way. That being said, he's nowhere near done yet, with the PyeongChang games only a few years away, Jack Whelbourne remains one of Britain's brightest medal hopes.
---
Nick Moynihan | Alpine Skiing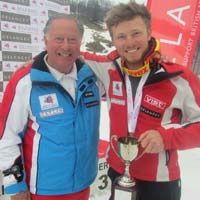 2015 has been a good year for Nick Moynihan having won the both the Jnr and Snr British Championships at the same event. That was hot on the heals of his 2014 National Championship Super Combined title. He's one of our many Team GB hopeful's training at Bath University and a hot tip for the future.
---
Katie Summerhayes | Freeski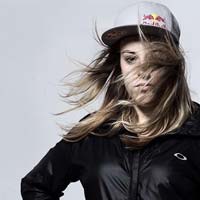 Katie Summerhayes is one of Great Britain's best skiing prospects in years! The Sheffield-born lass is bubbly, bright and full of Northern charm, but once she's hitting the powder her lovely personality gives way to a seriously steely competitive demeanor that's brought her success after success in her career so far. Summerhayes, winter legend!
---
Jenna McCorkell | Figure Skating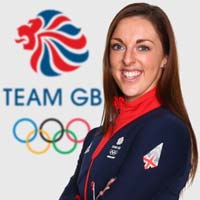 Northern Ireland's most successful female ice skater, Jenna McCorkell is simply beautiful, brilliant and amazingly talented. And are we allowed to mention that she's also a 'total babe' in a sports piece…? We just did. She's a babe!
---
Dominic Parsons | Skeleton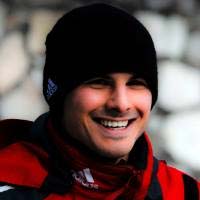 So what do you do for kicks while studying Mechanical Engineering at Bath Uni? Well if you're ex 400m runner Dominic Parsons you put your speed to good use and take up skeleton bob (one of the most dangerous winter Olympic sports). It just so happens he's bloody good at it and one of Team GB's brightest prospects for PyeongChang 2018 and beyond.
---

Jamie Nicholls | Snowboarding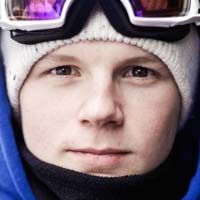 After reaching the Olympic finals in Sochi 2014, the future is properly bright for this Yorkshire lad; he does things on a snowboard that we can only dream of and we're not exaggerating when we say that PyeongChang 2018 could be a golden event for him. Definitely one to watch.
---
Chemmy Alcott | Alpine Skiing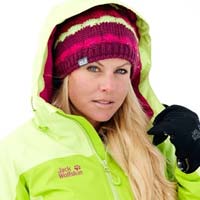 Chemmy Alcott is Britain's number one alpine skier having competed in all five Alpine Ski disciplines (downhill, super G, giant slalom, slalom and combined) and represented her nation in a total of four Olympic Games. She also happened to break her neck skiing aged twelve and carried her X-rays wherever she competes so if she crashes doctors won't try to separate the two fused vertebrae in her spine. Gorgeous and hardcore!
---
Elise Christie | Speed Skating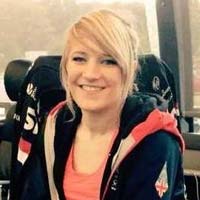 Half Olympian, half rock chick, Elise Christie is one of Team GB's toughest competitors. The 2015 Toronto World Cup 500m gold medalist has become a leading light and poster girl for British winter sports and is also one of the people we would most like to be stuck in a ski lift with.
---
Aimee Fuller | Snowboarding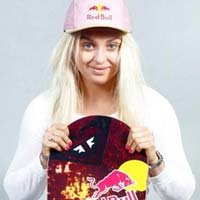 Aimee Fuller has always been a daredevil, starting with motocross where she regularly competed against blokes "twice her size" Aimee decided that if she wanted real air then wheels were not enough. Switching to snowboarding she's become a leading light of her sport and already competed at one Winter Olympics while still finding time to help BBC commentate. There's a definitely more Team GB success to come for Aimee, the future is bright, the future is Fuller.
Website | Facebook | Twitter | Instagram
---
Dave Ryding | Slalom Skiing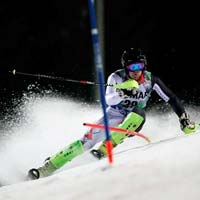 It's one thing to go down a hill at breakneck speeds, but it's another thing to plummet with the kind of control that Dave Ryding possesses. He was the first British skier to win the Alpine Skiing Eupean 2nd tier and is sure to represent Team GB for a third consecutive Winter Olympics in 2018.
---
Andrew Musgrave | Cross-Country Skiing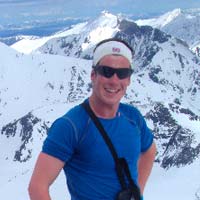 Two-time British Olympian Andrew Musgrave takes Skiing to whole new levels on some of the most challenging courses in the world. Considered to be one of our country's greatest ever cross-country skiers after a record-breaking performance in Sochi 2014 (he's the best British performer of all time in his event), Andrew Musgrave is a-shoe-in for even more British success.
---
Amanda Lightfoot | Biathlon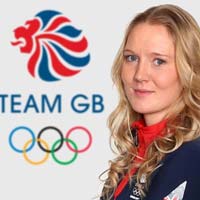 This is one Great British Biathlon star with Olympic victory in her sights. Amanda Lightfoot is an exceptionally speedy skier, and she possesses arguably the best shooting skills out of any winter athlete in the country; making her a great prospect and brilliant Biathlete off the back of an exceptionally positive showing in Sochi 2014.
---
Eve Muirhead | Curling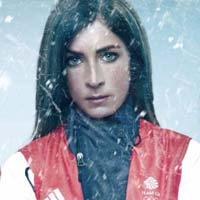 Curling is now sexy, yes folks, it's official and that's in no small part down to the gorgeous Eve Muirhead. Now before we get accused of putting looks before talent we'd like to point out that Eve has already been a bronze medalist with Team GB at Sochi and was World Champion in 2013. When it comes to watching great sport the fact that she's absolutely smoking hot is a fantastic bonus for armchair sports fans.
---
Lamin Deen | Bobsleigh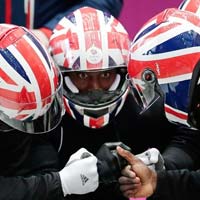 It takes serious guts to drive a fast and furious Bobsleigh, but Lamin Deen makes it all look rather easy. Showing virtually no fear as he plummets down some of the fastest courses in the world, Deen's sheer strength and quick reactions makes him an integral part of British Bobsleigh's hopes for future success.
---
Robert Sircus | Biathlete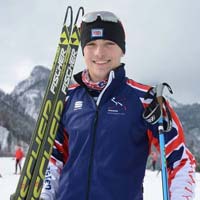 He might not be a household name yet but we're quietly confident of big things for Robert Sircus. Rollerskiing might seem a bit odd to outsiders of the sport but it's a huge part of the training for biathletes (as well as being a sport in its own right) and Sircus can often be seen rolling up and down the hills and mountains of the Cairngorms. Hopefully all the training will pay off in 2018.
---
Darcie Mead | Alpine Skiing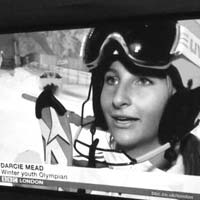 Generally with the girls they get to a point where it becomes a bit dangerous and they find their limit. Darcie… is 100% on gas all the time." So says head coach Paul Telling of the former British Junior Champion, one of the UK's most exciting emerging talents and bright medal hopes.
---
Slednecks – Winter 'Mad Men'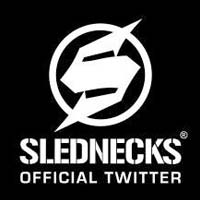 They might not be competitive, or even British but Slednecks are some mad geniuses behind some of the craziest YouTube ever! Most of their uploads fall into the "Don't try this at home… or anywhere else." category. Black flipping snowmobiles, leaping over buildings, off cliffs, mountains, bridges and dozens of other near death experiences. Mad, bad and utterly compelling to watch.
Facebook | Twitter | Instagram | YouTube
---