"Come and 'ave a go if you think you're lard enough!"
So you think you've got game (and an all-conquering hunger)? Well here at StagWeb we know a thing or two about food challenges. But it's not just about eating your own body weight in burger meat, behind these challenges you'll find some of the UK's finest purveyors of man food.
Grab your tasting shovel and stick these in your sat-nav.
Manchester
Infamous Diner – 21 Pancakes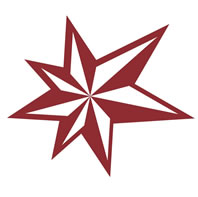 There are just so many reasons to head to the Infamous Diner, if you don't want to take on the challenge then go for the hot dogs. We recommend the 'South of the Border' with smoked bacon jam, it's the mutts nuts! (see what we did there?)
Challenge; Pancakes, 21 of them in fact. 3 stacks of 7 pancakes, each loaded with toppings in just 30 minutes.
Weight; 5lbs/2.2kg
Prize; T-shirt, badge, induction on the wall of fame and no charge for the pancakes.
Where; 3-5 Basil Chambers Nicholas Croft, Manchester M4 1EY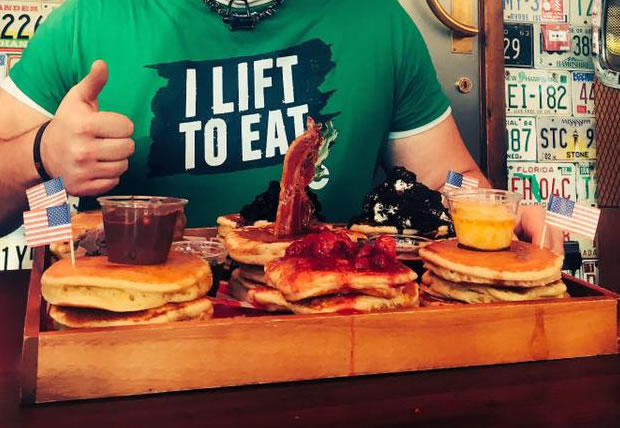 ---
Solita – Hot Dog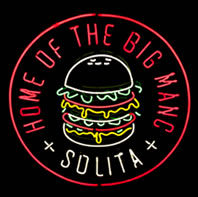 This super funky diner is definitely the kind of place you'll want to hang out with the guys, in fact every town should have its own Solita (came on Manchester, share). Big up to the Big Manc Burger (I miss you…).
Challenge; To consume 21 inches of beef frank, smoked brisket chilli, chow chow slaw, jalapenos, Monterey Jack cheese, sour cream, fried bacon and ball park mustard.
Weight; Unknown
Prize; Pride my friends, you get pride.
Where; School Lane, Didsbury, M20 6RD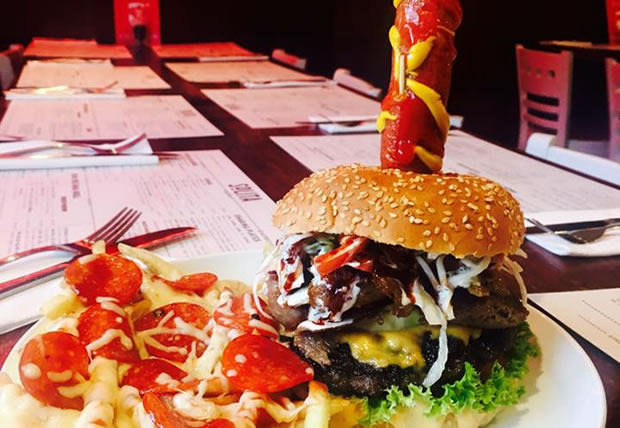 ---
Morley Cheeks – Pizza Challenge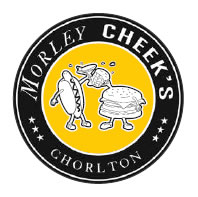 This is a superb challenge, the pizza is well worth the trip but getting to wash it down with a Nuttella milkshake is proof that is there is a God/supreme being/other and that he/she she designed a diner in Manchester.
Challenge; 18″ pizza and large Nutella milkshake in 45 minutes.
Weight; 4.5lbs/2kg
Prize; T-shirt, induction to the wall of fame, no charge for your meal.
Where; 575 Barlow Moor Rd, Manchester, M21 8AE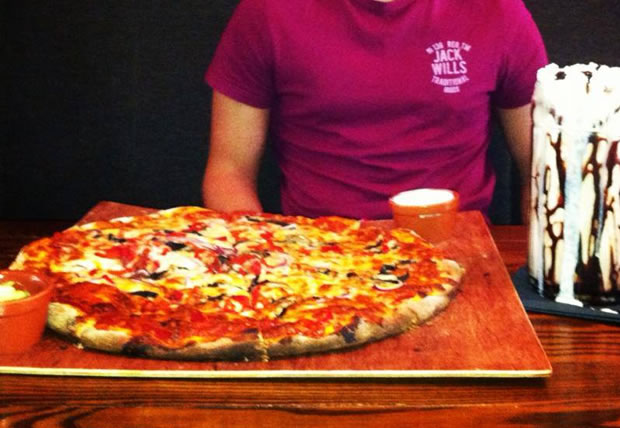 ---
London
Man vs Food – Everything!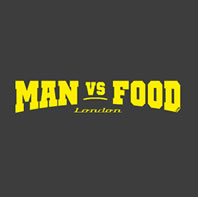 Every conceivable type of man vs food challenge all under one roof (but not actually on the same plate). The best thing is these evil geniuses are constantly coming up with new challenges so you can keep going back for more!
Challenge; Three little Pigs, 3 racks of ribs in 30 minutes.
Weight; Unknown
Prize; Win and you get £50, lose and you pay £50 for the ribs.
Where; 42 Syon Ln, London, TW7 5NQ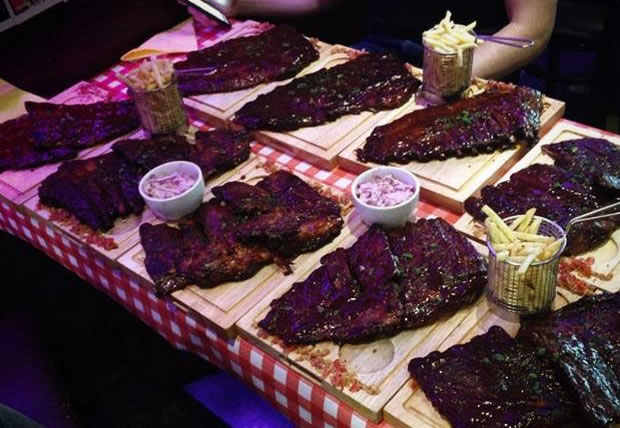 ---
Porky's BBQ – Wings, Ribs and Ultimate Porky Burger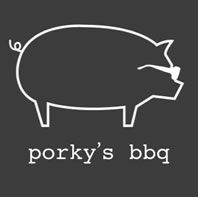 You might want to leave the skinny jeans at home for this one. In fact borrow your grandads 'slacks' ,the ones with the elasticated waist. In fact bring slippers, you might as well be comfortable. Come for the beer pong, stay for the meat coma.
Challenge; 6 Wings, 1 Ultimate Porky Buger, 1 Portion of Ribs in 30 minutes
Weight; Unknown
Prize; T-shirt, inclusion on the wall of fame/leaderboard.
Where; 18 Chalk Farm Rd, London, NW1 8AG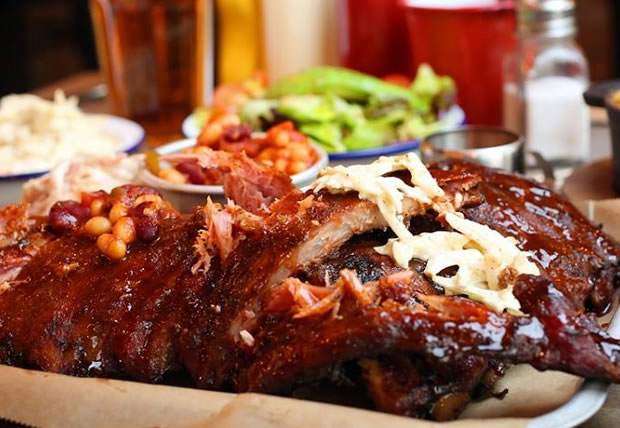 ---
Meatliqour – The Triple Chilli Challenge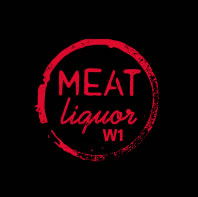 Meat eaters will be pleased to know you can find Meatliqour diners across the UK, and you really should. If you're feeling slightly anarchic you can order a Dead Hippie Burger and wave it at passing vegans. Or man up and go for the hatrick.
Challenge; Green chili cheeseburger, chili dog and chili fries in under 10 minutes.
Weight; 3.5lbs/1.6kg
Prize; Scoff the lot and its free.
Where; 74 Welbeck St, London, W1G 0BA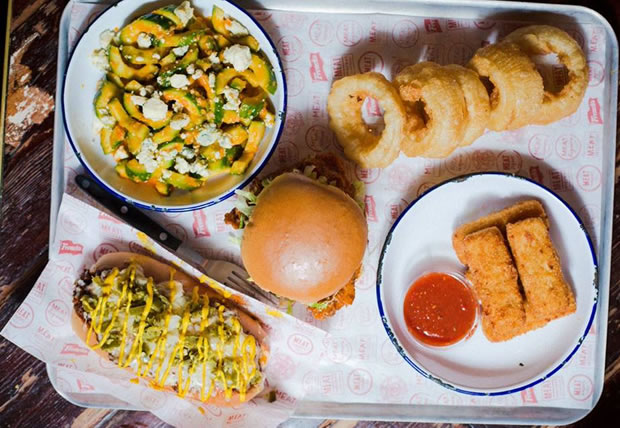 ---
Red Dog Saloon – Devastator Burger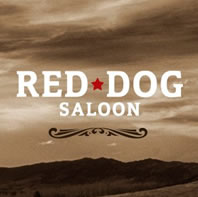 Mosie on in and prepare your rump for a food challenge that only 7% of men complete (good luck!). Red Dog have a fine selection of beers as well as a fantastic Tex Mex menu, we recommend the brisket. Now available in Nottingham too.
Challenge; 1.5lb burger, chips, coleslaw and milkshake in the fastest time.
Weight; 3lbs/1.36kg
Prize; T-shirt and entry on the wall of fame.
Address; Various locations, see website for more.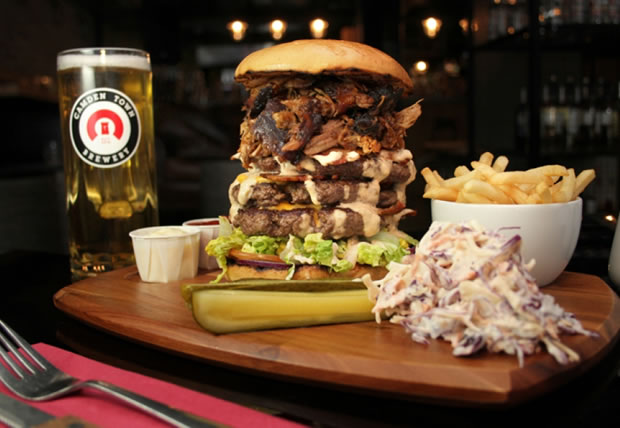 ---
Birmingham
Mission Burrito – El Triple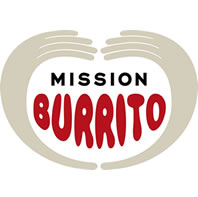 This Pancho Villa of a snack is the all-conquering powerhouse from the kings of Mexican fast food. Weighing in at an impressive 3lbs you can add a few jalapenos to get it kicking like a Mexican mule. "Viva la revolution!"
Challenge; 3 servings of meat, 3 portions of beans and 3 portions of rice all wrapped in 3 tortillas.
Weight; 3lbs
Prize; T-shirt and hall of fame inclusion
Where; Bullring, Leicester, Bath, Bristol, Cardiff, Oxford, Reading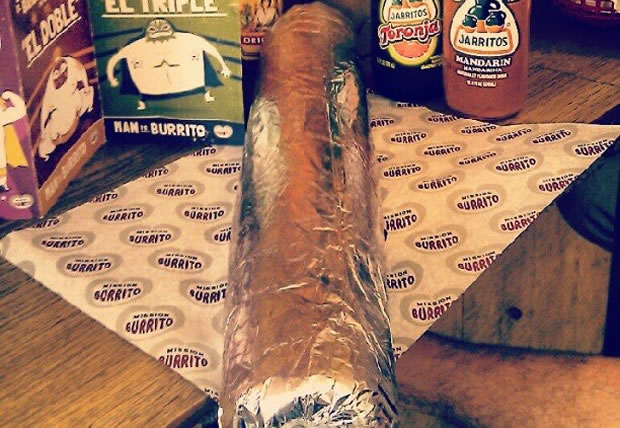 ---
Flaming Grill – Trash Can Challenge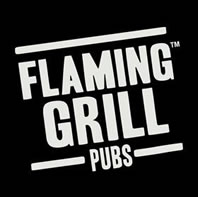 You just know a meal's going to be awesome when it's so big it has to be served on a trach can! The flaming grill actually has four challenges for you to try so grab three mates and stretchy food pants and have at it!
Challenge; Rack of ribs, burger, pulled pork nachos, onion rings, chicken strips, corn on the cob, doubles beans, triple chips.
Weight; Unknown
Prize; Picture on the wall of fame
Where; Yardley Fields Road, Birmingham, B33 8RA and across the UK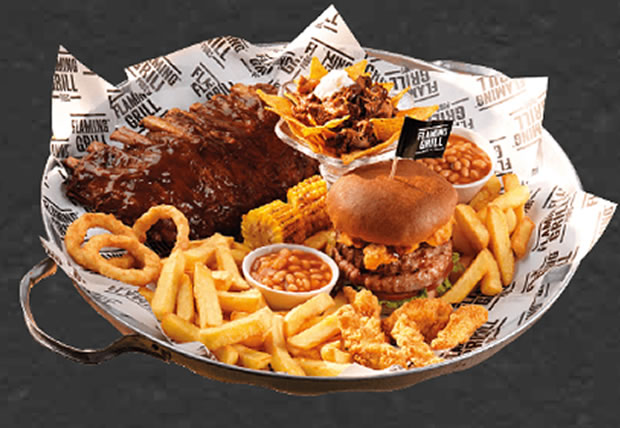 ---
Newcastle
Man vs Food Grillhouse – The Ultimate Burger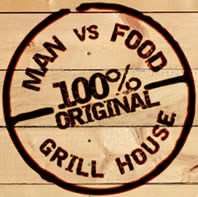 How can you not love a restaurant that's willing to serve you two whole chickens, plus fries, slaw, nachos, beans, onion rings AND chips. It's like we've found our spiritual eating home. "Stand back boys, I'm going in!"
Challenge; 4 x 6oz burgers, Monterey Jack cheese, Mexican cheese, beef chilli, turkey, bacon, and brisket. With… 1kg of fries, slaw, nachos, beans, onion rings AND chunky chips.
Weight; Massive!
Prize; Complete the challenge and eat for free (plus cash prizes on select nights)
Where; 226 Chillingham Rd, Newcastle, NE6 5LP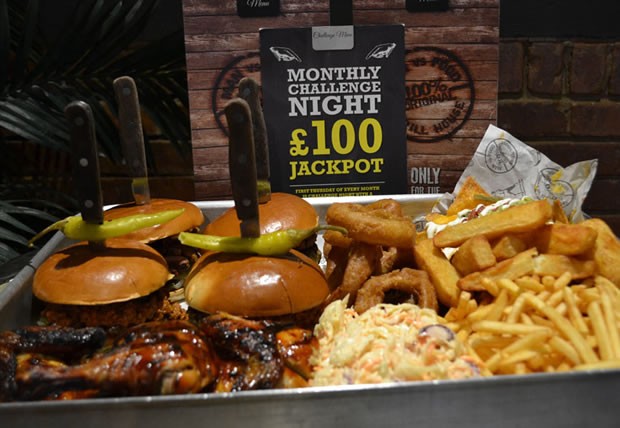 ---
Zapatista – Burrito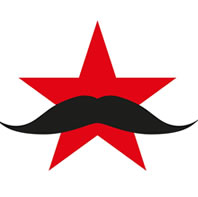 Zapatista's burritos are so good it seems a shame to rush but hell, they made the rules and they're giving you just 10 minutes to fill you face with one of their finest. This friendly burrito bar is one of our top Newcastle haunts.
Challenge; 3x tortillas, meat, rice, beans, salsa, lettuce, cheese, and sour cream in 10 minutes
Weight; 4.5lbs/2kg
Prize; T-shirt, free meal, inclusion on the wall of fame.
Where; 28 Ridley Place, Newcastle, NE1 8JW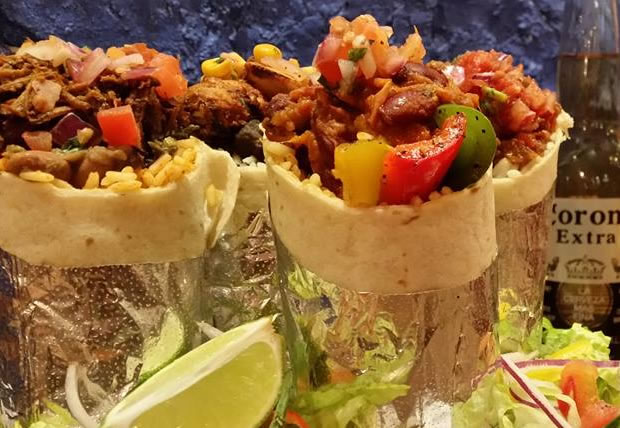 ---
Longhorns – Breakin' Badass BBQ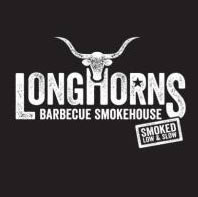 "Look at the baps on that!" From the culinary cunning that invented the 'Tex-ass torture' chilli challenge this is the daddy of BBQ challenges with a massive 7lbs of food to conquer before you're excused from the table.
Challenge; Texas brisket, beef ribs, pulled pork, rack of ribs, smoked sausage, wings, beans, slaw, fries, and brioche.
Weight; 7lbs/3.2kg
Prize; T-shirt and wall of fame entry
Where; 10 Mosley St, Newcastle-upon-Tyne, England, UK NE1 1DE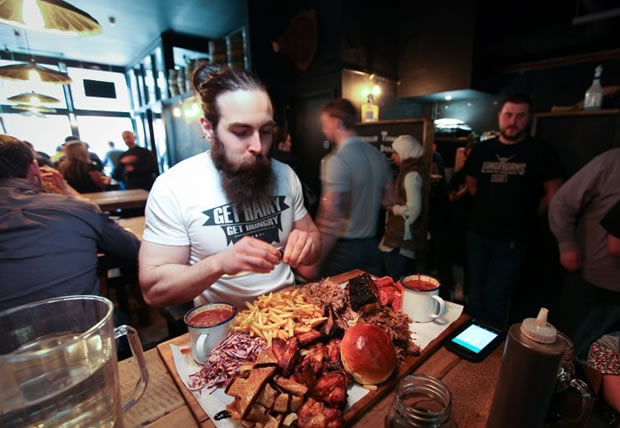 ---
Bristol
Atomic Burger – Fallout Challenge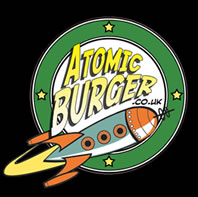 This gigantic manwich is the stuff of fevered food dreams (you know the ones, when you've eaten cheese too late and dream of giant cheeses). Served
with a disclaimer, rubber gloves and triple hot 'fallout sauce' [insert your own ass jokes here].
Challenge; 3 x 6oz burgers, triple cheese, triple onion rings, triple fries, 'fallout' sauce.
Weight; 3lbs/1.36kg
Prize; T-shirt and inclusion on the wall of fame
Where; 189 Gloucester Rd, Avon, Bristol BS7 8BG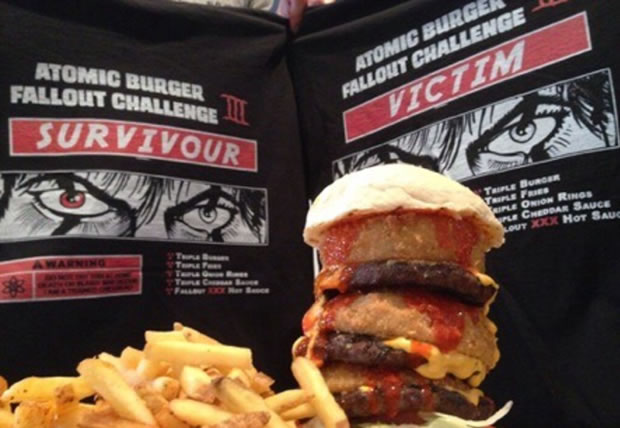 ---
Grillstock – Champion BBQ Challenge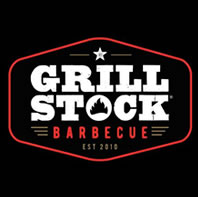 You might think you're a winner until roughly halfway through this beast of a feast. Grillstock are the kings of flaming up amazing flavours but when they put them all on one plate and dare you to pit yourself against over 5.lbs of stunning man meat (stop giggling at the back!) it's enough to break even the strongest will.
Challenge; Pulled pork, brisket, half a chicken, full rack of ribs, mac n cheese, chilli cheese fries, slaw and pickles.
Weight; 5.5lbs/2.5kg
Prize; T-shirt and BBQ sauce
Where; 41 Triangle West, Bristol, City of Bristol BS8 1ER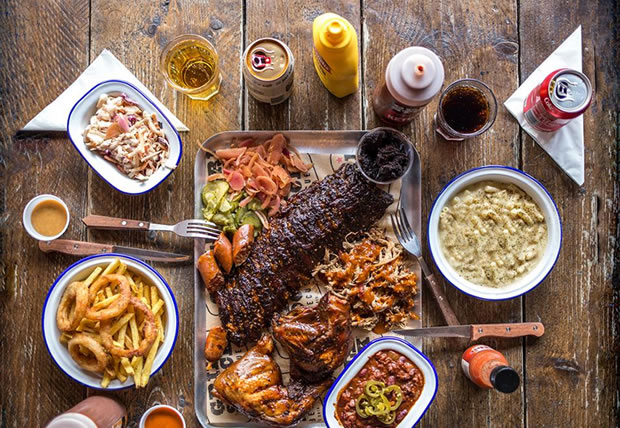 ---
Bagel Boy – Fatboy Challenge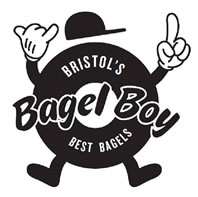 When they're not serving this mountain of man food, the guys at Bagel Boy are using the best local ingredients to make amazing bagels with bonkers names and even crazier fillings. We're huge fans but not mad enough to tackle the Fatboy.
Challenge; 6oz burger, cheese, bacon, pastrami, pickles, salad, hot chilli sauce, more bacon and another burger. With fries, chilli bowl, coleslaw, chicken fingers, and ice cream. In under 20 minutes.
Weight; 4lbs/1.82kg
Prize; Unknown
Where; 39-41 St Nicholas St, Bristol, England, UK BS1 1TP
---
Brighton
The Old Bank – Steak Challenge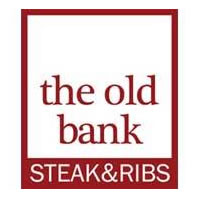 This great little eatery is set in a former bank in a nicely tucked away street (away from the kebab hunters). The specialise in taking prime steaks and ribs and turning them into succulent works of art. If you only have one plate, make it the Tri-Combo, then roll down to the beach and enjoy the sunshine as you digest.
Challenge; Wolf down 2kg of steak in under 45 minutes and you eat it for free. All profits from this giant platter go to local charity Rocking Horse Appeal. "How would you like your steak sir?" "Just cut the horns off and wipe its ass."
Weight; 72oz/2kg
Prize; You eat for free
Where; 120a St George's Road, Brighton, BN2 1EA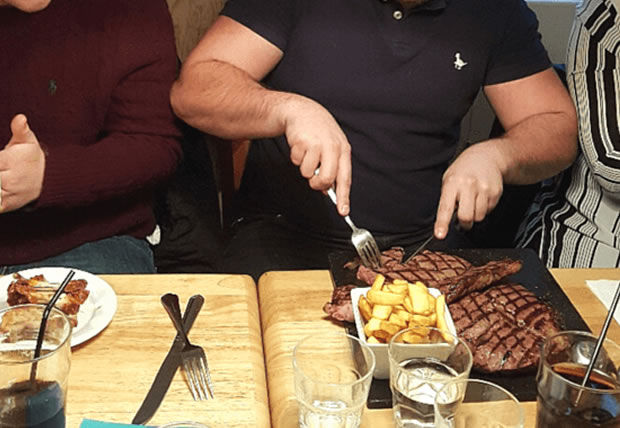 ---
Burger Off – XXX Chili Burger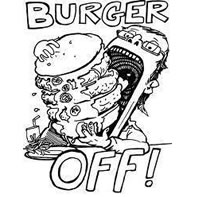 Any restaurant that requires you to sign a waiver before you're allowed to try its most famous dish is always going to have our respect. And the fact this burger has actually hospitalised some unworthy fools who tried and failed. The real kicker here are the chilies which range between seven and nine million on the Scoville scale! Now THAT's man food!
Challenge; Eat uber hot XXX chili burger and live to tell the tale
Weight; Unknown
Prize; Pride and hopefully not a trip to A&E.
Where; 52 Brunswick St W, Hove BN3 1EL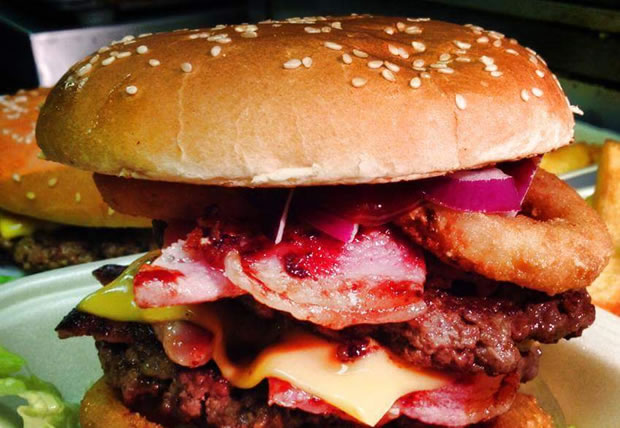 ---
The Lord Nelson – Nelson's Column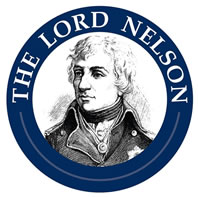 If you want your own famous victory then this is quite a fight to take on; three 8oz beef burgers, 12 strips of smoked bacon, six slices of mature cheddar, three slices of beefsteak tomato, half an iceberg lettuce, five giant onion rings, 500g of coleslaw, four gherkins, and 1lb of homemade chips. In fact, if you manage it they should name a pub after you.
The Challenge; One man… One burger… One hour… Let battle commence!
Weight; Unknown
Prize; You get to skip the bill
Where; 36 Trafalgar Street, Brighton, BN1 4ED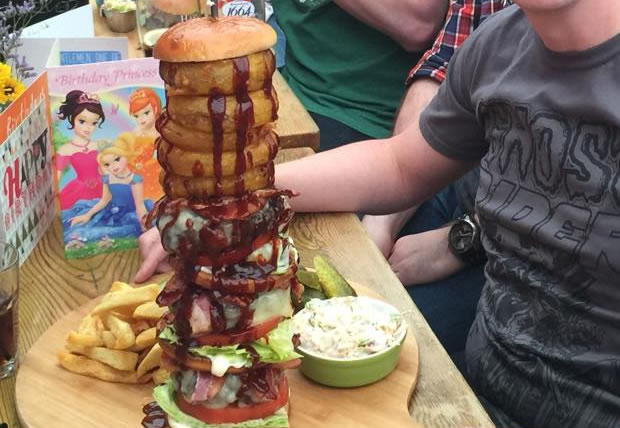 ---
Liverpool
Uncle Sam's – 5lb Challenge Burger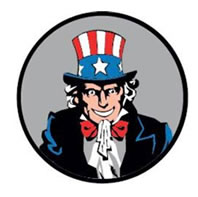 Does exactly what it says on the tin. Weighing in at 5lbs this burger is bigger than many babies! And just in case you're still peckish the brilliant guys at Uncle Sam's serve it with bacon, cheese fries and onion rings. Of course if you're really hardcore you'll order their excellent cheesecake for a post meat sweetener.
Challenge; You have just one hour to eat this giant baby sized burger
Weight: 5lbs/2.28kg
Prize; Medal. Free meal and inclusion on the wall of fame
Where; 94 Bold St, Liverpool, England, UK L1 4HY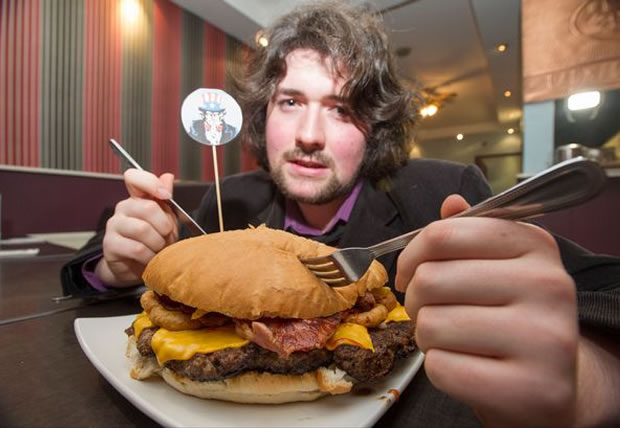 Copyright – Liverpool Echo
---
What's Cooking – Beat the Meat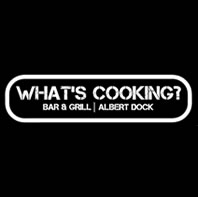 What's Cooking on the Albert Docks have an amazing selection of burgers and steaks to satisfy the greatest of meat eaters but real men will only have eyes for their superb meat mountain. If you're not in a food challenge mood try the Scooby Snack which is so much better than your cartoon fuelled imaginations could ever believe.
Challenge; 40oz of rump steak, 16oz of steak house chips, grilled tomato, garlic mushrooms, onion rings in just 25 minutes
Weight; 4.5lbs/2kg
Prize; Conquer it and you eat for free
Where; 24 Britannia Pavilion, Albert Dock, Liverpool, L3 4AD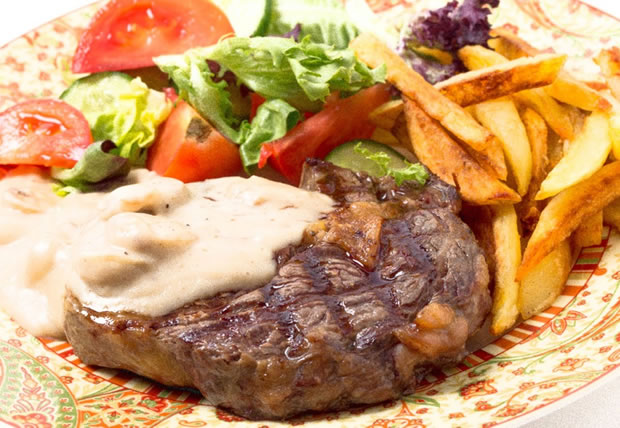 ---
Amalia – Calzone Challenge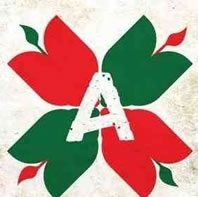 Amalia's serves fantastic, artistic contemporary Italian cuisine. While it's not the perfect place to enjoy a romantic dinner for two it's also home to the 5lb Calzone Challenge. Win and your picture goes on the wall of fame, lose and it's the wall of shame for you. The record is 13.32 minutes.
Challenge; 2kg of meat are the basis of this 5lb calzone, you have just one hour
Weight; 5lb
Prize; T-shirt, free pizza, picture on the wall of fame
Where; 2 Campbell Square, Liverpool, Merseyside L1 5FB
---

---
Blackpool
Genting Club – Tower Burger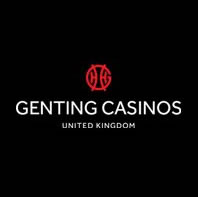 Named after Blackpool's famous tower, the Tower Burger is well worth walking the Golden Mile for. This grand food challenge also happens to be a casino so if don't win at the dinner table at least you can try and again at poker or Blackjack. This challenge is surprisingly achievable so the house doesn't always win.
Challenge; 4 x 6oz steak burgers, 200g of bacon, 100g of cheese, onions rings, coleslaw and a kilo of fries in 15 minutes
Weight; 2kg
Prize; Eat for free, T-shirt, 25% off future meals
Where; 64 Queens Promenade, Blackpool, England, UK FY2 9QG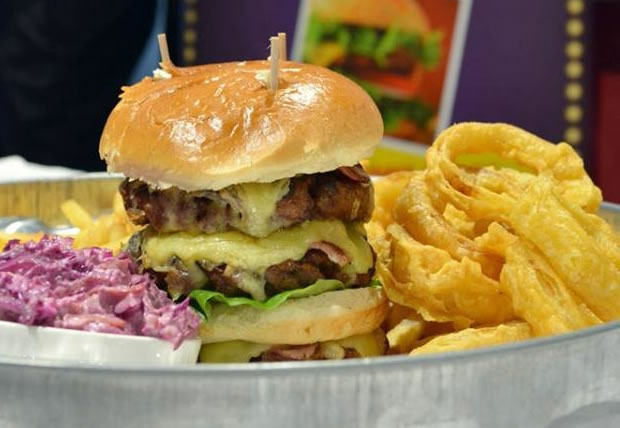 ---
ChilliFest – All You Can Eat?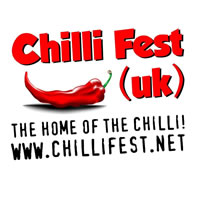 If you like your meat with heat, then Blackpool's ChilliFest if the place to be. Sadly, this unbelievably hot food festival got burned when locals complained to the council about the 'Clash of the Titans' chilli eating contest so there is no official eating challenge on site. But don't let that stop you, there are loads of great growers, stalls and food on offer for you to create your own chilli challenge. Or alternatively send a letter to Blackpool Council and ask them to bring the fun back
Challenge; Set your own
Weight; n/a
Prize; n/a
Where; St Johns Square, Blackpool
---
Nottingham
Rub Smokehouse – Tomohawk Pizza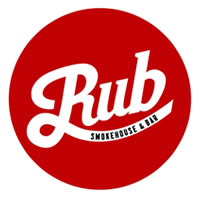 We don't know who the genius is who invented this dish but we really want to shake his/her hand. And let's not forget this is also the man/woman who brought us Pulled Pork Garlic Break and Hardcore Prawn Cocktail appetisers. The Tomahawk Pizza is a giant pizza of cheese, onions, onion rings, BBQ sauce, more cheese, French fries and rather than boring dough, the pizza base is a flattened steak!
Challenge; 40 oz tomahawk steak, fries, onion rings, BBQ sauce, smoked cheddar cheese, mozzarella, garlic field mushroom, more cheese
Weight; 2.4lbs/1.1kg
Prize; T-shirt, wall of fame
Where; 2-4 Adam's Walk, Fletcher Gate, Nottingham, UK NG1 1QQ, also available in Newcastle
Tomahawk Pizza Steak some say it's WRONG what do you say? pic.twitter.com/652ec63MS3

— Rub Smokehouse & Bar (@rubyourselfie) October 14, 2016
---
Last Chance Saloon – Bacon Bad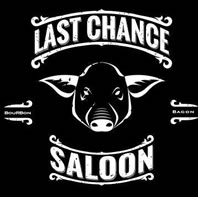 We took one look at the menu and then wrote to the landlord asking if he'd let us move in. He said "No". So we cried, he still said "No." Only now he won't look us in the eye. Thankfully the staff will and they're as brilliant as the menu which includes all you can eat 'Bacon Bad' and Chili Chow Down on select Tuesdays where you eat unlimited chilli dogs. This is as close as we've found to proof that there is a god.
Challenge; All you can eat, so it's not a challenge, more of a lifestyle
Weight; n/a
Prize; n/a
Where; Mill House, 47 Stoney St, Nottingham NG1 1LX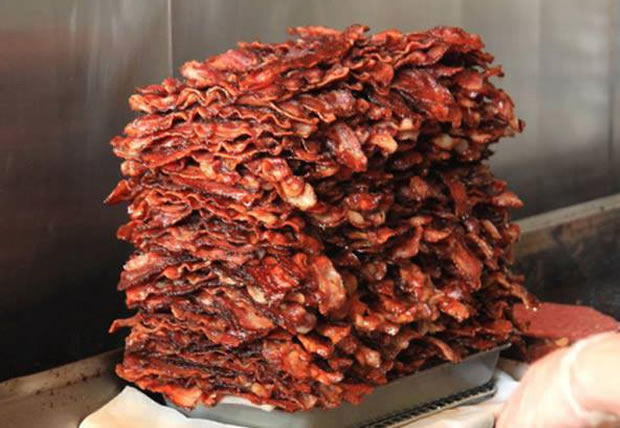 ---
Pit & Pendulum – Tower of Desert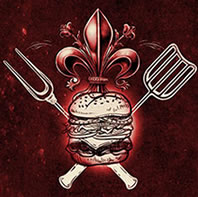 The Pit & Pendulum is a superb boozer, even if you haven't got a giant appetite is a great spot for a pint and a chat, the fact they have a number of food challenges is just the icing on this man-sized cake. Hot nachos, burrito, burger or breakfast challenges are all on offer but surely there's always room for dessert?
Challenge; 12 scoops ice cream, 6 donuts, 3 waffles, & toppings in 12 minutes.
Weight; 3.5lbs/1.6kg
Prize; It's free!
Where; 17 Victoria St, Nottingham, England, UK NG1 2EW
---
Cardiff
Brewhouse – Burger & Wings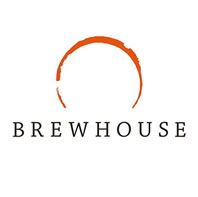 One of the many things we love about the Brewhouse (apart from the superb atmosphere and killer menu) is that their challenges remind us that size isn't everything. Yes, you can get free food for a year in the 32oz Burger Challenge, but the Wings of Fire is just 10 chicken wings which at less than 1kg is perfectly doable. Apart from the heat!
Challenge; 32oz Welsh beef burger
Weight; 32oz
Prize; Eat for free for a year
Where; 49 St Mary St, Cardiff, Wales, CF10 1AD
---
Coco Gelato – The Roman Empire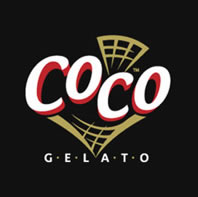 This really is an empirical pudding that could feed a legion. However real foodies don't share, they just bring a bigger spoon and boy are you going to need it. But bring friends too as this is easily one of the UK's best waffle houses, the real creatives will build their own sundae, the rest which watch in awe as you get to work.
Challenge;18 scoops ice cream, 4 hotwaffles, fresh fruit and chocolate bars, chunks of choc fudge brownie
Weight; Unknown
Prize; Satisfaction
Where; 133A Woodville Road, CF24 4DZ
---
Bierkeller – Nacho Tank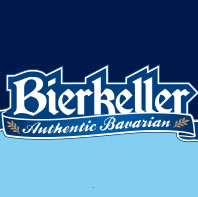 This great venue knows a thing or two about great beer. Being a proper Bavarian style Bierkeller it's also bang on at creating a great atmosphere. It just so happens you can also pit yourself against a fitting food challenge and take on the nacho tank. A giant serving of nacho corn tortilla chips covered in hot sauce, cheese, and chillies. Game on!
Challenge; Giant serving of flaming hot nachos
Weight; Unknown
Prize; Unknown
Where; Ground Floor, Wood St, Cardiff, Wales, CF10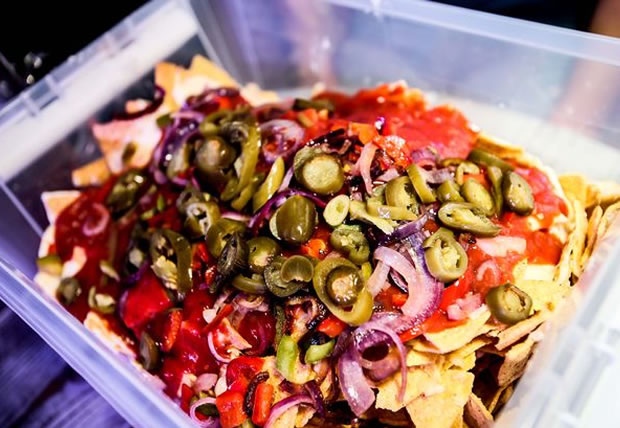 Copyright – Wales Online
---

---
Edinburgh
The Killer Restaurant – The Killer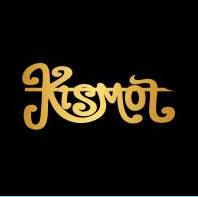 This devastating curry started life at the Kismot Restaurant, it's infamy grew and the UK's hottest curry now has its own restaurant. You simply aren't a real food challenge winner until you've gone up against The Killer and survived. Of course that is a fairly big if. Meanwhile we'll be in the corner talking to the great staff and enjoy something that won't put us in a curry-coma.
Challenge; Eat the Kismot Killer in one sitting
Weight; 1lb/0.5kg
Prize; Free meal, Wall of Fame, Certificate of Completion
Where; 29 St Leonards Street, Edinburgh, EH8 9QN
---
The Boozy Cow – Chilli Challenge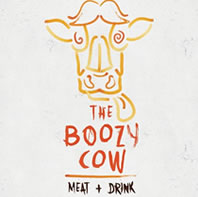 Still not feeling the heat? Then head to the boozy cow and try their chilli challenge. This time to beat their meat you have to consume 3 portions of chilli food in just 15 minutes. This is made slightly easier by two things. Firstly, you get a delicious Oreo shake to help cool you down. Secondly the food at The Boozy Cow is superb and even their chilli challenge is delicious and really doesn't feel like an effort.
Challenge; 1 chilli cheeseburger, 1 chilli dog, 1 portion of chilli fries, 1 milkshake in 15 minutes
Weight; 3.5lbs/1.6kg
Prize; Succeed and its free
Where; 17 Frederick St, Edinburgh, Scotland, EH2 2EY
---
STEAK – Man vs Steak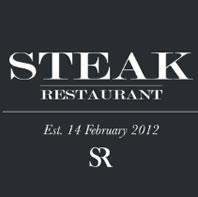 Perhaps the daddy of steak challenges, STEAK will serve you up one of their spectacularly good steaks, but this is no ordinary bovine banquet. Weighing in at 92oz this is virtually an entire cow on a plate served with a selection of sides (so you don't get hungry). Forget the wall of fame, beat this one and you should get mentioned in the Queen's New Year's honours list.
Challenge; Clean your plates in just one hour
Weight; 7lbs/3.2kg (5.75 of steak)
Prize; Free meal, T-shirt, Wall of Fame
Where; 14 Picardy Place, Edinburgh, Scotland, EH1 3JT
---
Bournemouth
Harry Ramsdens – Harry's Challenge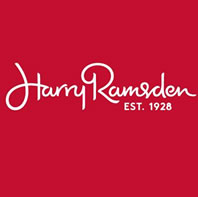 Oh we do like to be beside the seaside, especially when there a waft of fish & chips in the air. Harry Ramsden's are of course the undisputed kings of the batter. They are now challenging others to have their own crowning moment by reigning over a giant fish supper of the very highest quality.
Challenge; 350g battered cod, 200g of chips, two large sides, bread and butter in 30 minutes
Weight; 3lbs/1.36kg
Prize; T-shirt, certificate, gills
Where; Undercliffe Dr, East Beach, Bournemouth, England, BH1 2EZ
---
Southampton
Orange Rooms – Challenge Burger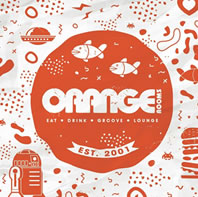 Ok, kind weird to want to marry a burger but yes, this one did feel like a sweet romance, one that we'll treasure forever. It also happens to be served in one of our favourite venues on the South Coast. A really great place to hang out any night of the week and they really do serve fine food.
Challenge; two 6oz beef patties, nacho chicken strippers, melted mozzarella cheese, chilli, crispy bacon, nacho chips, onion rings, sweet potato and fries
Weight; 3lbs/1.36kg
Prize; 'I beat the meat' T-shirt
Where; 1-2 Vernon Walk, Southampton, SO15 2EJ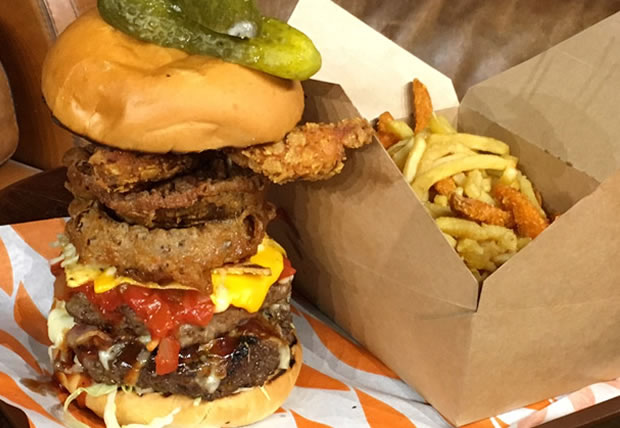 ---
Exeter
UrbanBurger – The Monster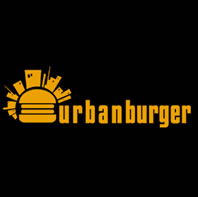 Some people might enjoy parks of flowers, others walking in art galleries, if we were going to sit and stare longingly at a work of art for an hour it would be one of Urban Burgers incredible creations.
Challenge; Seven 6oz burgers, 14 pieces of bacon, seven slices of American cheese, organic burger bun, a little salad and two portions of double fried fries in just 20 minutes.
Weight; Unknown
Prize; UrbanBurger t-shirt, name on the leader board, picture on the website
Where; 44 Queen St, Exeter, EX4 3SR
---