Everyone's favourite scary holiday is nearly here. The Walking Dead fans are already gorging themselves on more apocalyptic horror. But not everyone is pleased to see Halloween (Samhainophobia – fear of Halloween).
We decided to face other people's fears head on and surveyed 1,000 willing volunteers to find out men's biggest fears and how they'd cope in a terrifying situation such as arriving at a stag weekend and finding out the hotel has run out of beer.
Biggest Phobias
What's your biggest fear?
Fear of spiders 24% – Arachnophobia
Fear of heights 19.9% – Acrophobia
Public Speaking 15.1% – Glossophobia
Snakes 11.4% – Ophidiophobia
Failure 11.1% – Atychiphobia
Fear of flying 3.7% – Aviophobia
Surprisingly only 28 of 1,000 people mentioned a fear of clowns (coulrophobia).
Let's Talk About This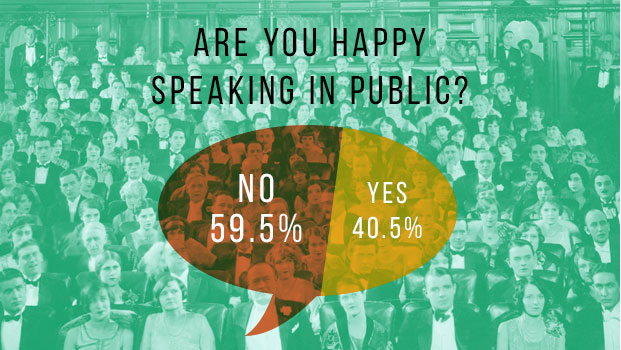 Over half of all men admit to some fear/anxiety talking in front of a crowd.
Are you happy speaking in public (such as a best man speech)?
9 Phobias That Could Come In Handy
As a man its best to have a working knowledge of more obscure phobias, in case of emergencies, "Oh Babe, what a choker, I'd love to but…"
Oikophobia
Fear of household appliances.
"Honestly, I was going to clean up but that Dyson scares the cr*p out of me!"
Mageirocophobia
Fear of cooking.
"…but in my heart I'm cooking you a three course candlelit dinner."
Pedophobia
Fear of children.
"…so you see we can't have your brother and his family round for Christmas and don't get me started on why I can't go with you to your nephews school play."
Chorophobia
Fear of dancing.
"Don't worry about me, (sigh) you go ahead and have fun with your friends, I'll just stand here by the bar…"
Syngenesophobia
Fear of relatives.
"Your mum's coming to stay again? Ok, well I'd best go stay round Dave's and play Playstation until we find a cure for my Syngenesophobia."
Ergophobia
Fear of work.
"… so no matter how much I wanted to do the list of jobs you'd left me…"
Gamophobia
Fear of commitment or marriage.
"Seriously, if I so much as see a photo of confetti I come out in a rash."
Deipnophobia
Dinner parties and dinner conversation.
"It would be great if your Julie and her tax accountant boyfriend could come round but you know how my Deipnophobia plays up."
Luposlipaphobia
Fear of being pursued by timber wolves around a kitchen table while wearing socks on a newly waxed floor.
"…and that's why I can't go visit your mum with you."
Man's Weirdest Fears
Not being scared to tackle the biggest issues, we asked blokes what their weirdest fears were. While some phobias seem perfectly understandable, some fears really are a bit Radio Gaga.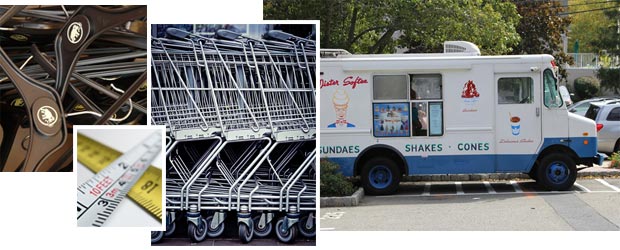 "Putting my phone in the washing machine"
"Shopping trolleys"
"Metal tape measures"
"Bricks"
"Other people's socks"
"People licking the lids of yoghurt"
"Ice cream Vans"
"Licking wood"
"Coat hangers"
"Belly Buttons"
"The sound of opening envelopes"
Other fears men admitted to include.
Sharks (x2), Eastenders (x1), Postman Pat (x1), Birds (x19), Balloons (x12), Cotton wool (x20), Frogs (x9), Rodents (x11), "My wife" (x4)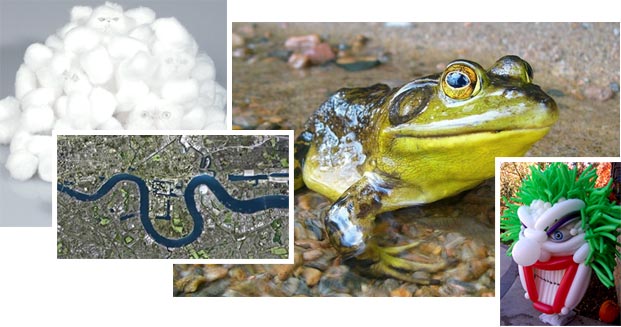 Yes, surprisingly only 4 men actually admitted to being afraid of their wives, though we suspect the real number is probably higher.
Food Phobias
One of the weirdest areas of phobias guys confessed to were food phobias. Fair enough, you might be a bit nervous if Ant & Dec were about to send you on a bushtucker trial but would you lose your cool over a cucumber?
Foodie fears;
Cucumber (x2), Lettuce, Coleslaw, Beetroot, Sliced ham, Jelly, Scrambled eggs, Baked beans (x4), Bacon, Ketchup, Peppers, Mushrooms, Tapioca, Marzipan, Toast, Bananas, Cous cous, Crisps, Milk, Touching cheese, Lolly sticks (x12).
5 out of our 1,000 confessed to a fear of baked beans while 12 admitted to a fear of lolly sticks.
Modern Male Phobias
Here's a list of phobias your grandfather probably didn't suffer with. These are all genuine phobias;
Gynophobia – The fear of women
Caligynephobia – Fear of beautiful women
Kinemortophobia – The fear of zombies
Escalaphobia – Fear of escalators
Nomophobia – Fear of being without your mobile phone
Ergophobia – Fear of the workplace environment
Ablutophobia – Fear of washing
Gamophobia – The fear of commitment
Philophobia – The fear of love
Paruresis – Fear of peeing in public
Petrifying People
6 famous (and apparently scary) faces appeared in the list of things people admitted to recently being scared by.
Donald Trump, Kim Kardashian, Honey G, Jeremy Corbyn, Theresa May, Eamon Holmes
Follow The Leader
We asked our survey if they thought they'd be a Rick Grimes and lead any rabble, even taking charge when the stags hangovers make them look like the cast of the Thriller video.
Are you a confident natural leader?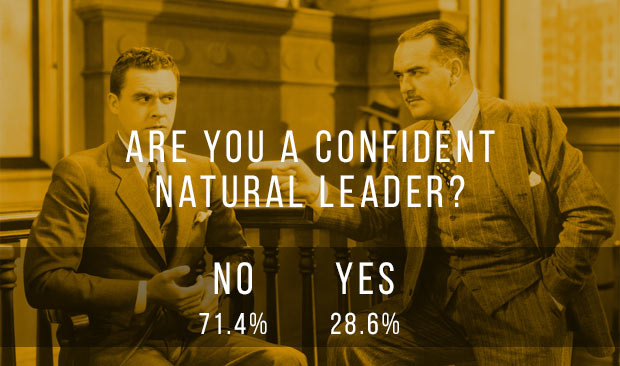 Most Recent Thing That Scared You
We asked our blokes "What was the last thing that scared you?" 4 people admitted to being terrified during a recent speech.
20 people had been scared during an incident while behind the wheel, while 60 scared themselves with a horror movie.
When it comes to home life you're 5 times more likely to be scared by your cat than any other pet. Kids are more likely to leap out to scare you (x19) but our partners aren't far behind (x15). But still the biggest fear factor was a run in with an arachnid.
What was the last thing that scared you?"
Incident with a spider x 175
Horror Movie x 60
Money worries – Recent bill/bank account/earnings x 24
Leisure activity such as an amusement park x 24
Family or personal health scare x 22
Near road accidents/collisions x 20
Child jumping out on you x 19
Partner leaping out on you x 15
'Killer clown' x 9
Seeing your child nearly have an accident x 9
Wife's driving x 5
Seeing the mother-in-law x 4
Job interview x 3
Getting Married x 1
Proposing x 1
Thought of not finding love x 1
Replies direct from our survey;
"Hearing children giggling. I don't have kids and was alone in the house."
"My 6 year old son standing over me whilst I slept at 3am!!"
"Starting my own business."
"My kids being silent."
"A woman doing star jumps in the gym yesterday."
"My other half's face when I thought I was the only one in the house."
"My little boy trying to jump down the stairs."
"A power cut when I was home alone."
Our Results…
Our results are drawn from a survey of just over 1,000 people. The survey was carried out in October 2016.
Don't wimp out, tell us your weird fear in the comments below.