The Declaration of Independents
If you want a taste of the real Las Vegas, you need to step back from the poker chips and head away from the giant sprawling resorts that dominate the Strip where you'll find the coolest bars in town. These proudly independent bars set themselves apart from the sterile confines of the hotels by serving up great food, amazing drinks, good times and the happiest happy hours that Frank, Dino and Sammy would most definitely have approved of.
And to get you pointed in the right direction we've already done the legwork for you (you're welcome). So here are the 31 Best Independent Bars in Las Vegas.
In no particular order…
Evel Pie
508 Fremont Street, Las Vegas
Starting a pizza bar in the name of legendary stunt aficionado Evel Knievel is the kind of bold solo daredevil act that we can't help but put up on a pedestal, applaud and #respect. It also helps that Evel Pie is fast becoming one of the hottest, if not the hottest bar in the entire state of Nevada, packed with a truly thrilling selection of beers and more pizza pies than you've got fingers and toes. Brilliant.
Come here for…… A slice of the "Live hard. Ride Fast. Eat Pizza" lifestyle.
Stay for……"When the moon hits your eye" with a Goblin Sausage pizza pie.
Website | Facebook | Twitter | Instagram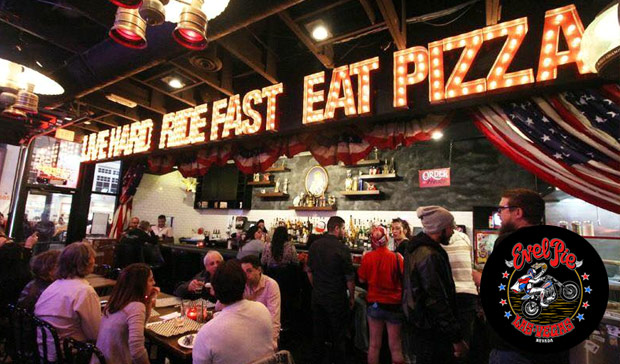 Saddle 'n' Spurs Saloon
2333 N Jones Blvd, Las Vegas
The old-school Saddle 'n' Spurs Saloon claims to be Las Vegas' "last remaining REAL Honky Tonk bar" and we're too busy hollering and throwing down the moves to argue, so just grab yourself a beer and a chicken wing (or eight) and join the country fray. What's more is that this incredibly homely venue is open 24 hours a day, 7 days a week with live music. Every. Single. Night. This is one western throw down that never calls it quits, and long may it sit in the saddle of Las Vegas' greatest nights out.
Come here for……Las Vegas' last remaining honky tonk experience.
Stay for……The delicious food because let us tell you "there ain't no thang like a chicken wing"
Website | Facebook | Twitter | Instagram | YouTube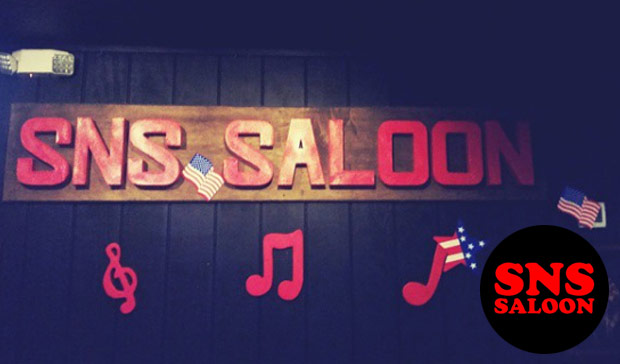 Atomic Liquors
917 Fremont St, Las Vegas
Atomic Liquors is very much the product of when, In the 1950's, the US Army tested atomic weapons in the wastes of the Nevada desert, thinking that there would be no side effects. Instead we got two horrendous Godzilla movies and the oldest free-standing bar in Las Vegas. Beer induced daydreams aside, the amazing Atomic Liquors is laid back, welcoming and eager to meet you. And their spirits? Smooth, tasty and impressively more-ish. While there's a megaton of craft brews if you're that way inclined. Sounds like our kind of bar.
Come here for… Las Vegas' first licensed sellers of liquor (#00001!)
Stay for… A nuclear fallout of food, spirits and brews.
Website | Facebook | Twitter | Instagram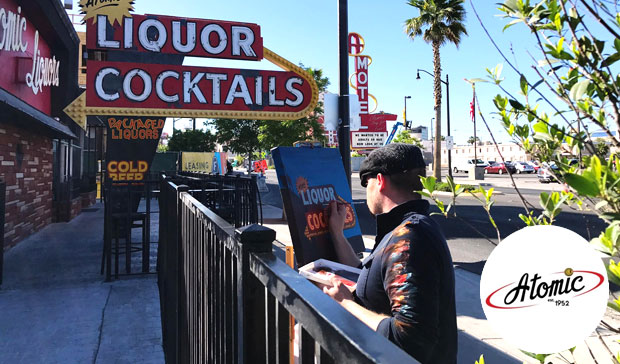 ---
Downtown Cocktail Room
111 Las Vegas Blvd S, Las Vegas
Downtown Cocktail Room is a room filled with delicious booze, cool art-deco design and the kind of relaxed vibe where you could genuinely hold a conversation with a complete stranger and leave best mates (we're talking drunk selfies, Facebook relationship statuses, Snapchat stories, the lot). This bar is hailed as Vegas' self-styled mixology mecca, It's made a believer out of us, and you too should allow yourselves to be converted to the holy ways of DCR.
Come here for… 3000 sq ft of cocktails, cocktails and, yep, more cocktails.
Stay for… Drinks that let you "choose your level of torment!"
Website | Facebook | Twitter | Instagram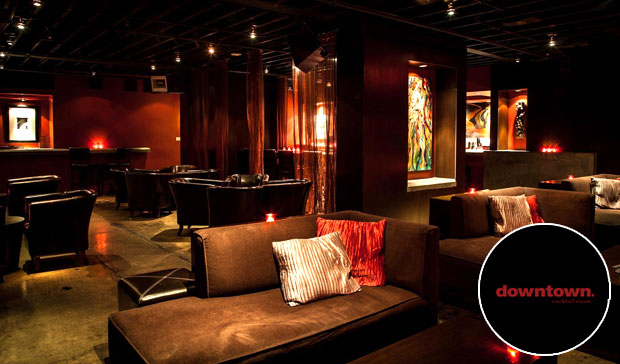 ---
Peppermill
2985 S Las Vegas Blvd, Las Vegas
Possibly one of the only bars on this list to have reached truly iconic status with Las Vegas locals and worldwide travellers alike, Peppermill is a must-visit bar on any big weekend in Sin City. These neon-lit surrounds are perfect for devouring their massive eats and delicious drinks, while there's digital gambling screens literally built in to the bar, so you won't waste valuable drinking time while chasing your next big win. Kerching!
Come here for… Great tastes of America (McDonalds ain't got nothing on these baps).
Stay for… A Newkie Brown cocktail. Yes, that exists.
Facebook | Twitter | Instagram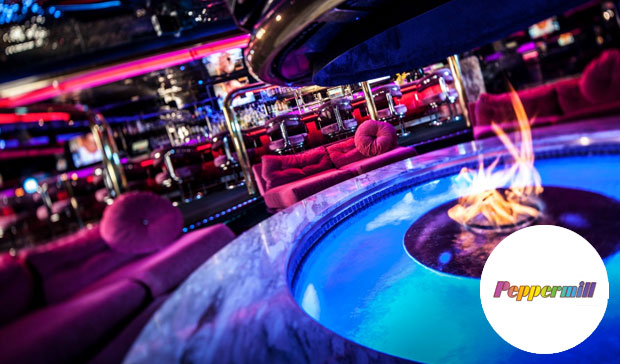 ---
Herbs & Rye
3713 W Sahara Ave, Las Vegas
Herbs & Rye isn't the speakeasy you wanted. It's the speakeasy you need. Mother's ruin, moonshine, hooch, sauce, hard stuff. Whatever "pet name" you like to call your favourite tipple by, this old-school bar has it and it has it by the barrel-load. But these alcoholic artisans will go one step further and get creative with your drink of choice, creating cocktails from throughout history from the Gothic to the Golden age. Tally ho.
Come here for… A place where you can wear your groomed moustache with pride.
Stay for… The history of the cocktail (circa 1776) brought to life.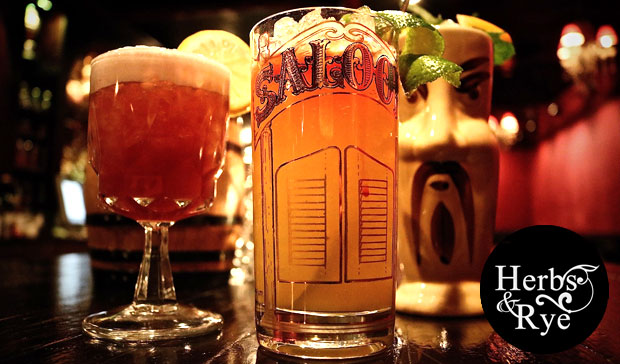 ---
Three Angry Wives
8820 W Charleston Blvd, Las Vegas
The most Irish of all Nevada's Irish pubs, Three Angry Wives will happily slap the poker chips out of your hands and, in their stead, thrust a cool pint of Liffey water (that's Guinness for the uninitiated) for you to make merry long after the sun has set over the desert. Although with that said, there are still 24hr gaming machines on the premises if you really fancy finding out whether the luck of the Irish is an actual "thing".
Come here for… St Paddy's Day… Duh!
Stay for… Guinness and gambling with the luck of the Irish.
Website | Facebook | Instagram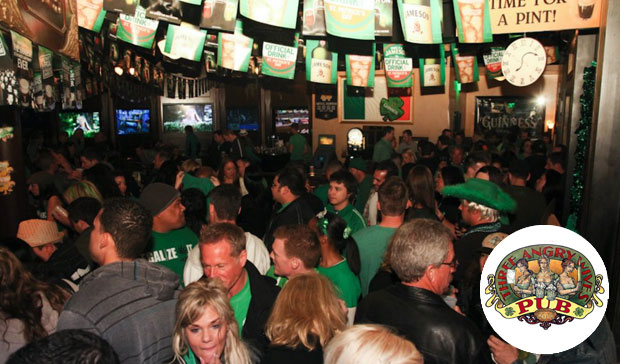 ---
Commonwealth
525 Fremont St, Las Vegas
You spend your days in the vintage section of Urban Outfitters? Commonwealth is for you. Your nights spinning 90s hip-hop vinyl on your turntable? Commonwealth is for you. Each passing moment between wondering whether The Prodigy will ever release an album as good as The Fat of the Land? Commonwealth is for you, friend. This ultra-cool drinking den is where Vegas' bright young things go for a good time, not for a long time. But what a time it is, with a total of 39 different beers and drinks like the Mexican Standoff to satisfy your liquor cravings.
Come here for… A totally unique take on Vegas nightlife.
Stay for… Pre-prohibition era inspired design, including a real speakeasy.
Website | Facebook | Twitter | Instagram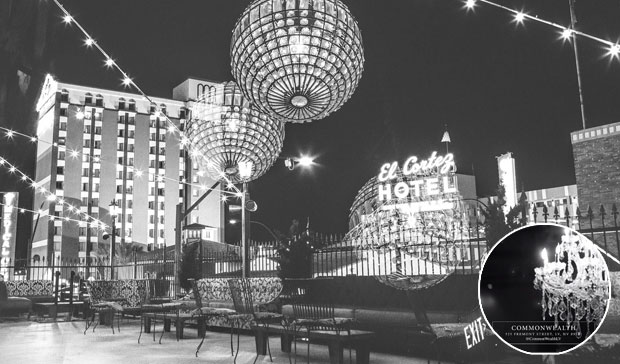 ---
PBR Rock Bar
3663 Las Vegas Blvd S,Ste 730, Las Vegas
Hidden away on the Miracle Mile, PBR Rock Bar has earned a reputation as the place to watch live sports in Sin City but it's so, so much more than just another sports bar. As a "Professional Bull Riders affiliated mega-venue" with their own mechanical bull (it's the ultimate game of Buckaroo), there's ole-fashioned good times aplenty as you party like country boys in the heart of a 21st century metropolis. Yeehaw!
Come here for… Mechanical bull riding while trying to keep your man-credentials intact.
Stay for… Beer pong tables, battleshots and flip-cup. It's like the drinking Olympics.
Facebook | Twitter | Instagram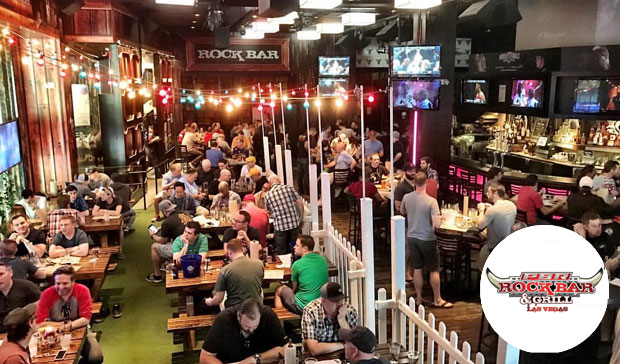 ---
Fuel Bar
3643 S Las Vegas Blvd, Suite 511, Las Vegas
Now we've all dreamt about opening our own bar. But we're willing to gamble that those same dreams never came to fruition. We should all raise a glass to the people behind Fuel Bar, then, as they actually went ahead and lived out their boozy fantasies, opening their own brilliant drinking den amidst the casino resorts of Las Vegas. Regularly upstaging the "mixologists" in the hotels, these notoriously entertaining barmen specialise in drinks with a little more flair than the usual (they've actually made this venue the No.2 "Flair Bar in the World") making this an essential hangout if you even remotely consider yourself a connoisseur in all things alcoholic. Fuel Bar has even featured on several US TV networks including CBS and NBC. Nice one.
Come here for… Cocktails. On fire. Drinks don't get more badass.
Stay for… The bartenders mixing 10 drinks at once. Yep, seriously.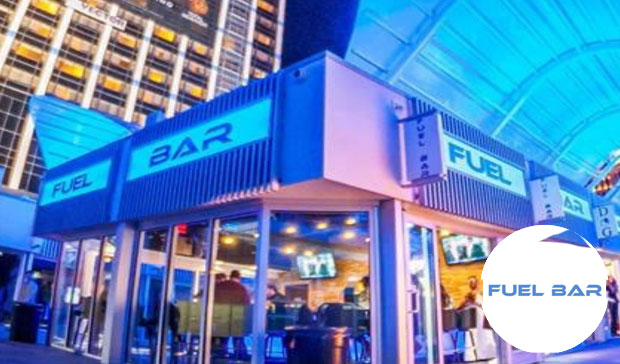 ---

---
Todd English P.U.B.
3720 Las Vegas Blvd S, Las Vegas
As regular patrons of traditional English pubs on our side of the pond, we can confirm that Todd English's P.U.B. is an exceptionally honest attempt at capturing the hearty spirit of our Great British boozers. Although it just misses the mark on complete imitation as this venue is loads better than your average public house at home, taking classic pub grub like bangers 'n' mash, burgers, and our holy, HOLY carvery dinners and putting that Vegas twist on 'em that just makes it all so much tastier. Best. P.U.B. Ever.
Come here for… British pub grub, done better.
Stay for… Over 50 different beers under one roof. Cheers!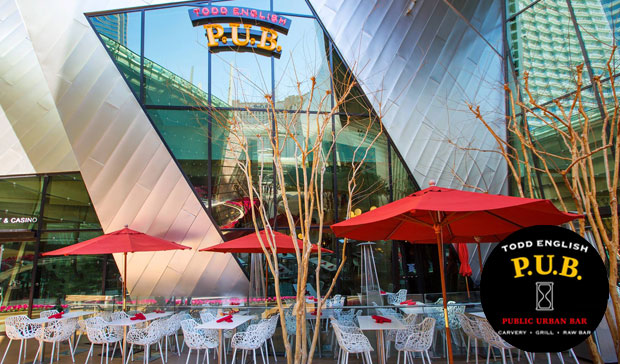 ---
Velveteen Rabbit
1218 S Main St, Las Vegas
An oasis of mixology in the heart of the desert, Velveteen Rabbit is a seriously cool and impressively artistic venue with some of the best bartenders in the state of Nevada. That is judging by their ever-changing seasonal menus, using unexpected herbs, spices and other ingredients to create their totally unique concoctions. While if cocktails aren't your "thing", sister owners Pamela and Christina have you covered with up to 12 rotating speciality beers on tap, as well as 18-20 bottles beers for your lager-loving self.
Come here for… Cutting edge cocktails in the heart of a desert.
Stay for… Zany local art that'll keep your grey matter from turning green.
Website | Facebook | Twitter | Instagram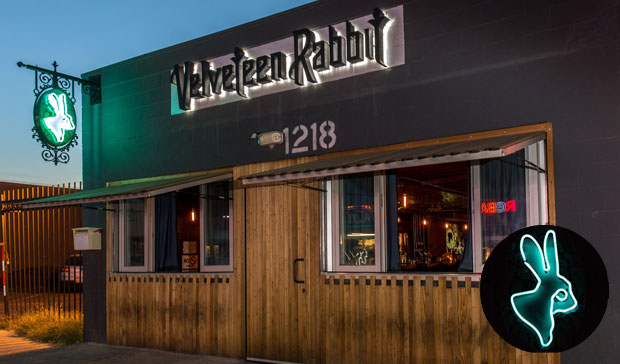 ---
Count's Vamp'd
6750 West Sahara Ave, Las Vegas
"Rock 'n' roll ain't dead". We know we've said it before, but dammit, "ROCK 'N' ROLL AIN'T DEAD!" And Count's Vamp'd, Vegas' self-styled rock bar and grill, proves it. This legendary bar features regular rock shows on its main stage as well as delicious band-themed eats like the Pink Floyd Penne Pasta. But if you wanna be free to do what you wanna do, and you wanna get loaded, and you wanna have a good time, then may we point you in the direction of the speciality Bloodbath, Count's own gory alcoholic creation.
Come here for… Eats and drinks with a side-helping of classic Vegas rock 'n' roll.
Stay for… A Bloodbath… With a humble slice of carrot cake to take the edge off.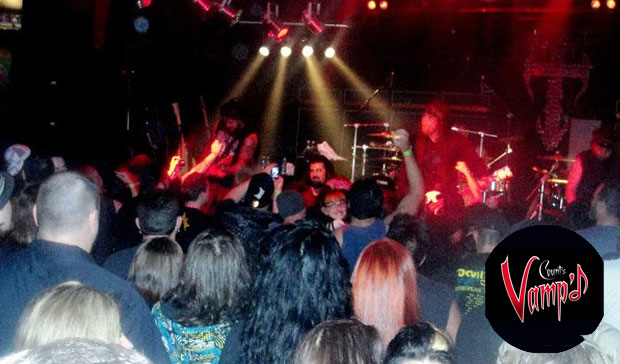 ---
The Golden Tiki
3939 Spring Mountain Rd, Las Vegas
Named after the legendary "Golden Tiki" that was supposedly the ruin of William Faulkner, one of East India's most feared privateers, this Tiki bar with a difference will certainly result in disaster if you're looking to avoid the sauce on a Vegas weekend as these pacific style cocktails are quite simply irresistible. So instead, kick your sobriety to the curb and prepare to explore your way through the "Tiki Twists", a selection of drinks designed to show your paint-stripper abused taste buds how good cocktails can really taste when made by the experts.
Come here for… A quirky tiki backdrop that could've featured in the Scooby Doo movie.
Stay for… A "Flaming Hot Pu Pu" … Stop laughing back there!
Facebook | Twitter | Instagram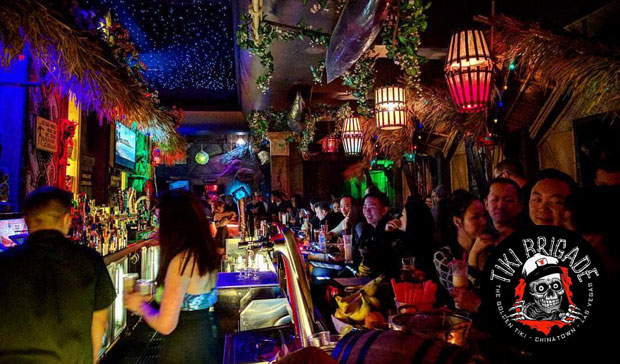 ---
Davidoff of Geneva Cigar Bar
3200 South Las Vegas Blvd, Las Vegas
Davidoff of Geneva is a slick, uber-modern cigar lounge where you can match the perfect whiskey, beer or cocktail with the exact Havana to compliment the great taste with the help of expert bartenders. An ideal rest stop after a late night in the casinos as well as an extremely popular spot for a quick one-and-done before heading on to louder and flashier things, this swanky bar genuinely has a place in every Las Vegas night out. Tip. They deserve it.
Come here for… Cigars and whiskey like the "high rollers" you are.
Stay for… Gentleman cocktails made by expert bartenders.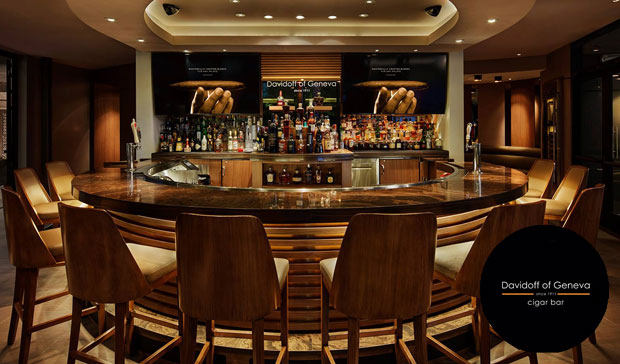 ---
Banger Brewing
450 Fremont Street #135, Las Vegas
Worth visiting for happy hour alone where you can grab yourself a craft beer for the paltry sum of $5 (that's £3.86 in Blighty), Banger Brewing is one of Las Vegas' best independent breweries where you can slake your thirst with delicious ales created in the very same building you're quaffing them in. And unlike some bars, these bartenders are seriously passionate about their craft, so you can expect to find out everything you'd want to know and more about each flavoursome pint.
Come here for… A safe haven to meet other craft-beer-drinking folks.
Stay for… A tour of the facility from the brewing boffins behind the pints.
Website | Facebook | Twitter | Instagram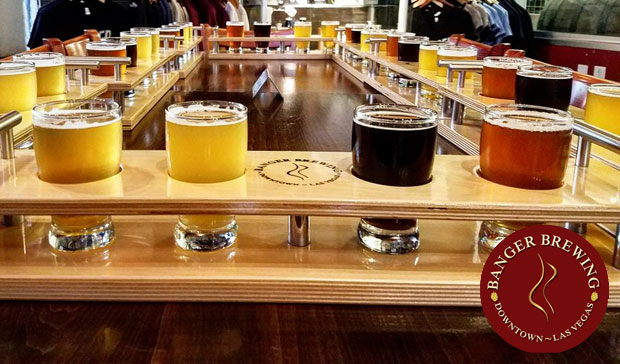 ---
Oak & Ivy
707 Fremont St, Las Vegas
If the words "American craft whiskey cocktail bar" don't raise your pulse then get somebody to check it because you just might be dead. Oak & Ivy is that self-same watering hole, a venue dedicated to giving you all the American style concoctions you can handle and then some. You'll also be treated to some seriously rare beers, but with no fewer than 39 whiskies on offer, you really owe it to yourselves to ask the talented bartenders for their personal recommendations and have a wee glass of the "water of life". You might just find your next favourite blend.
Come here for… The most unique collection of whiskies under the Nevada sun.
Stay for… Barrel aged craft cocktails. You won't regret it.
Website | Facebook | Instagram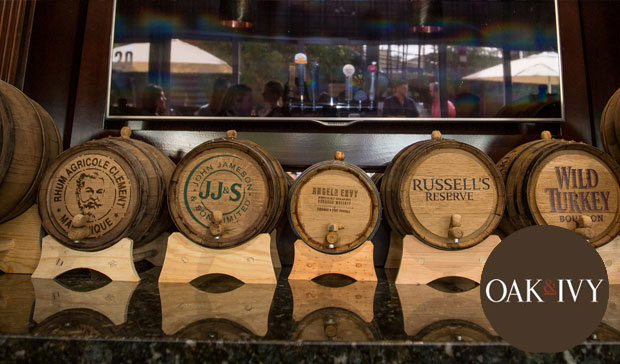 ---
Millennium Fandom Bar
900 S Las Vegas Blvd, Ste 140, Las Vegas
Millennium Fandom Bar is the kind of bar that hosts Baywatch vs Aliens parties. It's the kind of bar that hosts regular mash-up cosplay nights. It's the kind of bar where you won't be judged, nay, scorned for loving the living daylights out of Deep Space Nine. It's the kind of bar where you'll be considered a hero among men and asked to sit down to discuss the intellectual differences (and there are many) between the Vulcan and the Romulans. It's bloody brilliant, and may it live long and prosper.
Come here for… An excuse to finally buy that authentic replica Boba Fett helmet.
Stay for… A group selfie with Spiderman and Deadpool, of course.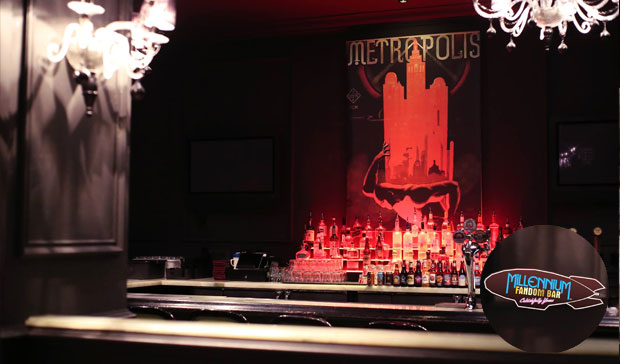 ---
---
Bin 702
707 East Fremont, Las Vegas
A bar built from two shipping containers totalling just 640 sq ft, Bin 702 is utterly unique and utterly brilliant because of it. We could wax lyrical about the grilled cheese sandwiches (the best in Vegas if their menu is anything to go by) but, let's face it, we're all here for the booze and thankfully this bar has plenty of it in such a small space, with a massive range of craft beers, wines and spirits to get stuck into if you're ready to escape the sterile confines of the casino resorts.
Come here for… A chance to say you've sipped craft beer in a shipping container.
Stay for… Round two… and three… maybe four… You get the idea.
Website | Facebook | Instagram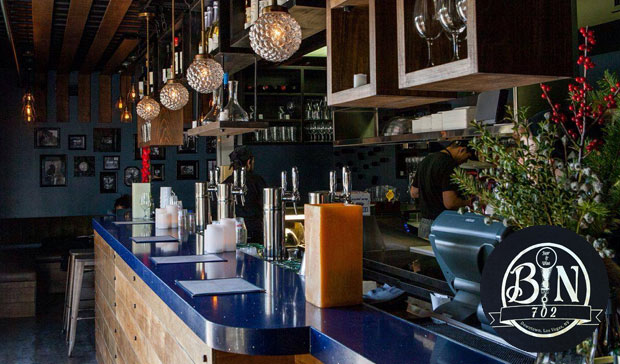 ---
Double Down Saloon
4640 Paradise Rd, Las Vegas
Alternative nights out are few and far between in Sin City, which makes the revolutionary Double Down Saloon a seriously must-visit venue if you're looking for the biggest rock, punk and metal tunes under one roof. This bar is sticky, grungy and unpolished in all the right ways and features free live music several nights a week as well as a mega-jukebox which brings a, and we quote, "24/7 assault of punk garage, surf, lo-fi and rockabilly". And yes, you read that correctly. 24/7. This bar never closes, and we hope it never does. Because it's that. Damn. GOOD.
Come here for… Free live gigs, gaming tables and beer. What more could you ask for?
Stay for… A bacon martini. It needs to be tasted to be believed.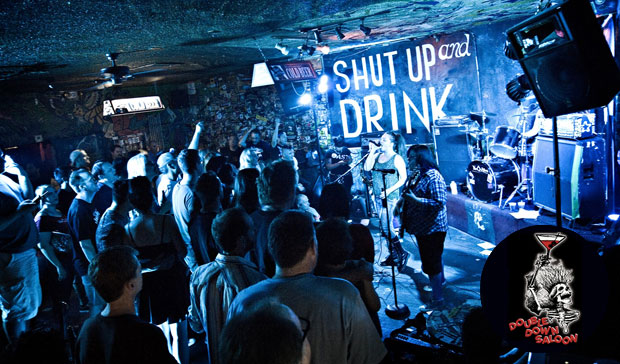 ---
McMullan's Irish Pub
4650 W Tropicana Ave, Las Vegas
Las Vegas' self-proclaimed "Purveyors of the Perfect Pint" are exactly the kind of company you need if you're ready to step away from the glitz and glamour of the hotels and experience the real Las Vegas. For your efforts, you'll receive a huge choice of authentic Irish whiskies, draught beers, American brewed bottles as well as more familiar brands imported from our own green and pleasant shores. All tied up with a healthy amount of gaming craic that'll keep you going right until the top o' the morning. Sliante!
Come here for… An excuse to fill your Guinness quota for the weekend (as if you needed one).
Stay for… The happiest of happy hours!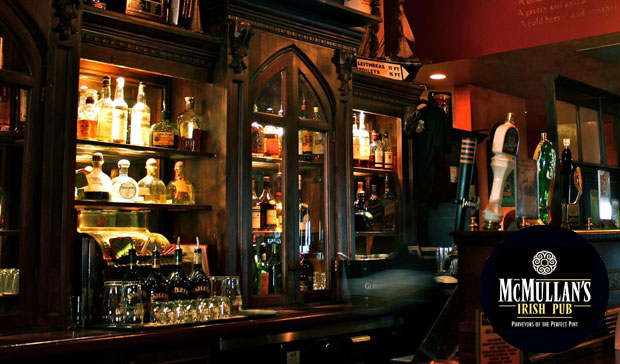 ---
Born and Raised
7260 S Cimarron Rd, Las Vegas
Scott Godino Jr, the main man behind this craft pub, grew up around the casinos and bars of Las Vegas, so when he struck out to make his own mark on this legendary party town, it was never going to be anything less than incredible. And that's what Born and Raised is, incredible. It's a bar that takes the care and attention of the casino resorts, as well as the relaxed, friendly nature of its craft pub concept and combines the two to create a totally unique drinking experience. With a whole wall of TVs devoted to live sport so you won't miss a second of the action while you drink it all in.
Come here for… One of the greatest collections of craft beers on the strip.
Stay for… 'Murican style BBQ eats to go with your perfect pint.
Website | Facebook | Twitter | Instagram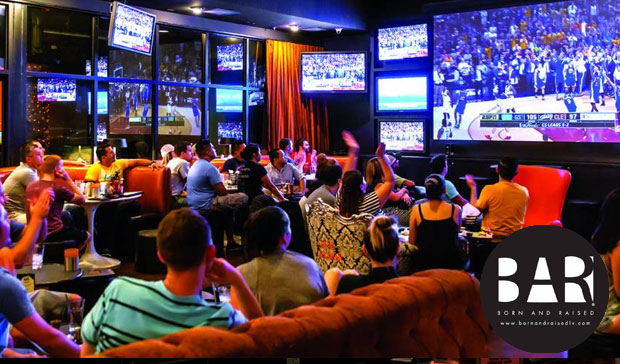 ---
Frankie's Tiki Room
1712 W Charleston Blvd, Las Vegas
No city does kitsch like Las Vegas and no bar does tiki quite like Frankie's. This "Tiki Room" has an infectious pacific atmosphere that softly, softly persuades you to replace all your bodily fluids with delicious rum-based cocktails. And we wholeheartedly implore you to let it, as you'll get to experience some of the tastiest concoctions in the entire Nevada desert, all while indulging in a little gambling action at the bar. Say "aloha" to your new favourite drinking den.
Come here for… A chance to dig out the Hawaiian shirt you bought in '09.
Stay for… Selfies with man-sized tiki sculptures.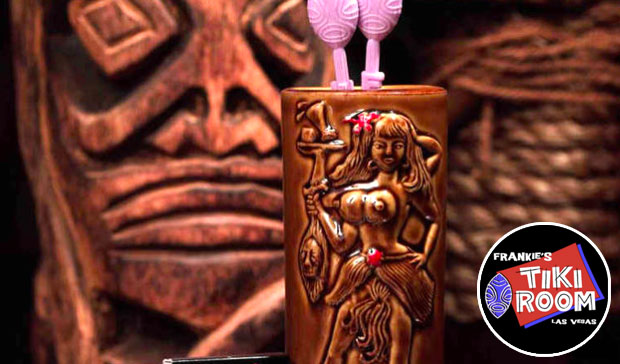 ---
Aces & Ales
3740 S Nellis Blvd, Las Vegas
Whether it's live sports, music or just great beer you're after on your Sin City weekend, Aces & Ales is the home from home you never knew you wanted or needed. This brilliant brewpub is inspired by the London gastrobars you know and love, but as with all things in Las Vegas, the volume is turned up to 11 with no fewer than 70 craft beers to choose from at any one time. Go, go, go!
Come here for… A taste of home in the Nevada desert.
Stay for… You seriously need us to tell you? 70 tap beers. 70!!!
Website | Facebook | Twitter | Instagram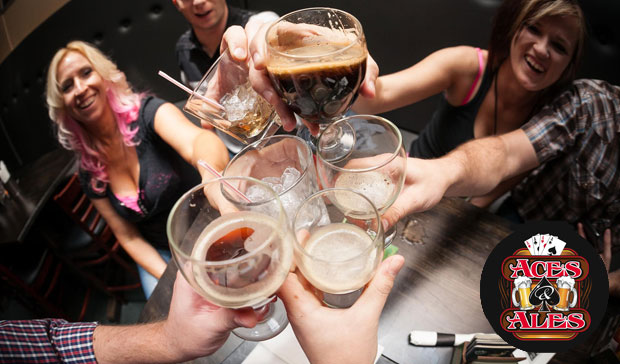 ---
---
Big Dog's Brewing Company
4543 N. Rancho Drive, Las Vegas
Add Big Dog's to your beer bucket list. This Las Vegas based brewery handcrafts all their award-winning brews right here in the desert – so you can bet they're refreshing (see the Red Hydrant Ale for the perfect example) but they're so much more than "just another beer". These pints are meant to be sat down with, taken to dinner and enjoyed, from the surprisingly light Leglifter all the way to the hoppy Dirty Dog IPA which rolls in at a barking 7.1% ABV. Woof.
Come here for… A sample of what award-winning beer tastes like in Las Vegas.
Stay for… A Tailwagger Hefeweizen. You'd be barking mad not to (we'll show ourselves out).
Website | Facebook | Twitter | Instagram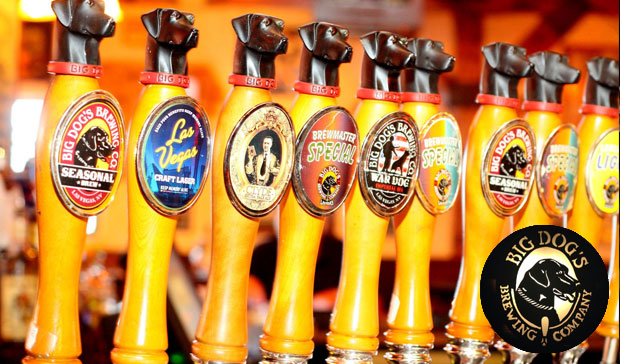 ---
Rockhouse
3355 Las Vegas Blvd S Ste 3200, Las Vegas
Before we encountered Rockhouse, we were simple minded fools who had never even pondered what an "ultra-dive bar" might look like. After we encountered Rockhouse, three things happened. One. We were gutted the night was over. Two. We pondered why there wasn't anything like this in Blighty. Three. We weren't sure if we'd ever look at any bar the same way again. 80 HDTVs provide a window into the world of US sport and Vegas' top DJs scratch the decks to provide a varied soundtrack that ranges from rock to hip-hop. All while quenching your thirst with some of Sin City's finest cocktails. Best house party ever, you heard it here first.
Come here for… The accolade of having partied in the original "ultra-dive bar".
Stay for… Specially designed beer pong tables. Yup, they exist.
Website | Facebook | Twitter | Instagram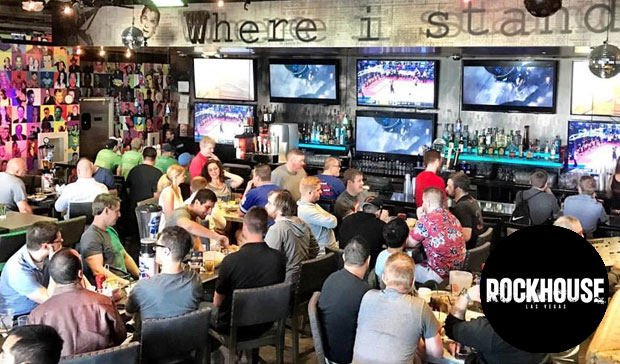 ---
Distill – A Local Bar
Multiple locations
With three separate locations in Las Vegas, you're never too far from Distill's totally unique selection of spirits and many, many cocktails. A good thing too, as they're some of the very best that this legendary city has to offer. The boozy skills of these talented bartenders will colour you impressed as they perform mixology magic before your eyes, all while you either stay on a roll playing on the table top gaming machines or feast on one of Distill's award-winning burgers.
We only have one question. "Why can't this be our local bar?"
Come here for… A chance to find out what your local could be… If you lived in Vegas.
Stay for… Mouth-watering burgers like the Jalapeno Popper and The Cure.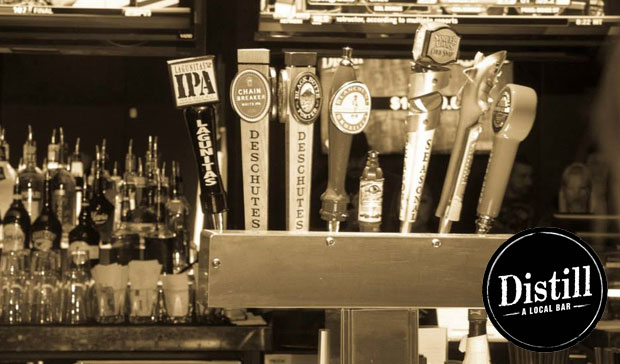 ---
Hogs & Heifers Saloon
201 N 3rd St, Las Vegas
Ever witnessed a hoedown? Nope. Would you like to? Hell to the yes. Get yourselves down to Hogs & Heifers where gorgeous cowgirls dance atop the bar and beer flows freely all day, all night. This is the closest thing to a Sons of Anarchy style hangout you can get without forking out for a Harley Davidson and trying to join the Hells Angels for yourselves. And let's be real for a second, any bar that has a tradition of "bra donation" is surely worth a look-in.
Come here for… A taste of the deep south rock 'n' roll lifestyle.
Stay for… Dancing cowgirls, bra donations and Vegas' best barmaids. Oh my!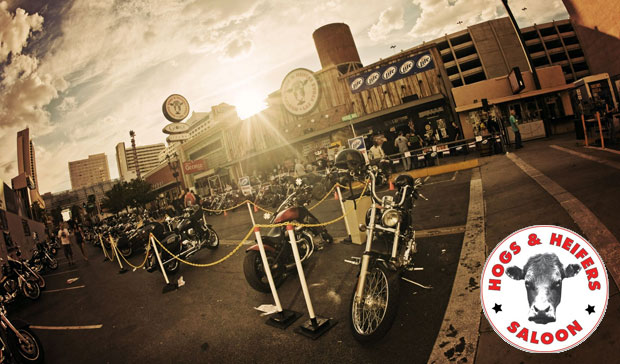 ---
Blondies Sports Bar & Grill
3663 Las Vegas Blvd S, #183, Las Vegas
Blondies claims to have the best happy hour in all of Las Vegas. And we certainly aren't about to argue when this happy hour actually lasts for three, and for the surprisingly low price of $20 you can enjoy bottomless beers and Well drinks. What's not to love? But there's more. Blondies gives sports fans over 60 big screens to enjoy their game of choice, as well as all-day beer pong if you're missing that competitive edge to your drinking session. We think we've finally found our happy place.
Come here for… A Big Breakfast Burrito. A full English… In a wrap… Genius.
Stay for… 24hr beer pong as well as the best live games in the US's top sports bar.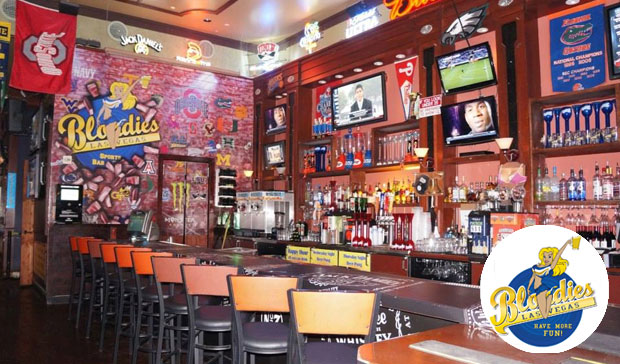 ---
The Sand Dollar Lounge
3355 Spring Mountain Rd, Suite #30, Las Vegas
One of the most iconic bars in all of Sin City, The Sand Dollar Lounge has been rocking out since 1976 and was regularly visited by legendary blues musicians and even Mick Jagger was known to roll by the bar when the Stones played in Vegas. Even when they thought the party was over back in 2007, they couldn't keep the Dollar down for long as this historic venue opened its doors once again only two years later. There's something seriously special about this bar and it's one of the few truly must-visit venues if you're planning a trip sometime soon.
Come here for… A drink in the same bar that The Rolling Stones once partied in.
Stay for… Las Vegas' best live bands taking to the historic stage.
Website | Facebook | Twitter | Instagram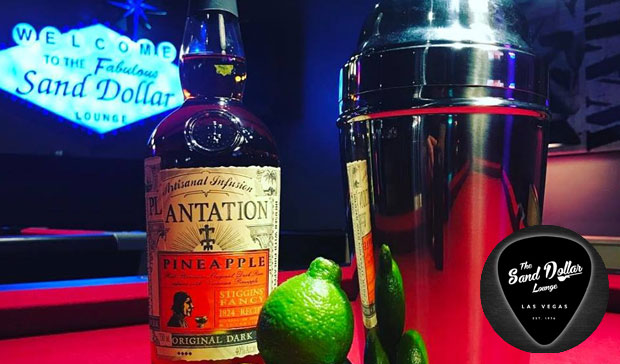 ---
Vanguard Lounge
516 Fremont St, Las Vegas
Google defines the word "Vanguard" as "a group of people leading the way in new developments or ideas". Which perfectly sums up this effortlessly cool bar set on the far end of the Las Vegas strip. These seriously creative mixologists are pioneers taking the humble cocktail to new heights, with one blend even named after notorious US magician David Copperfield. Or if you're not keen on the idea of mixing your drinks, ask one of the bartends to "beer you" and pick from no fewer than 32 unique brews. Bottoms up!
Come here for… The future of the cocktail… In the present day… #MindsBlown
Stay for… Part-ay time with Las Vegas' best DJs to cover up your "singalongs".