The UK has undergone an American revolution, men are putting down their pies and pasties and going all US of A at American style diners. Burgers, dogs, wings and slaw, they're a chance to forget Trump and experience all that is great about the 'Home of the Brave'. And to save your spurs, we've checked out the UK's best diners for you to mosey on down to.
Absurd Bird
54 Commercial Street, London, E1 6LT
There's something absurdly good going on here. The absurdly good amounts of chicken they'll put on your plate at once. The absurdly good list of cocktails that mixes ole fashioned American liquor with just about everything. And then there's the small matter of the absurdly good house classic, chicken and waffles, blending gravy with golden syrup. It's all that's great about American food.
Website | Facebook | Twitter | Instagram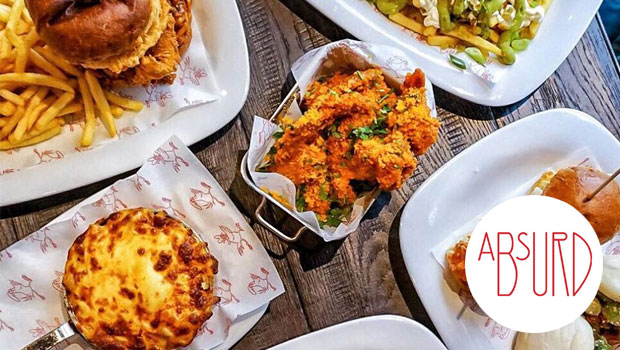 ---
Dirty Bones
20 Kensington Church Street, London, W8 4EP
You enter Dirty Bones through an old converted hot dog stand. From there you can either roll through the restaurant's photobooth entrance for American eats on an epic scale or venture through the restored fridge into a private lounge to take on man-cocktails like the Dirty B*stard (we figure it's Dirty Harry with a hangover, it'll certainly make your day).
Website | Facebook | Instagram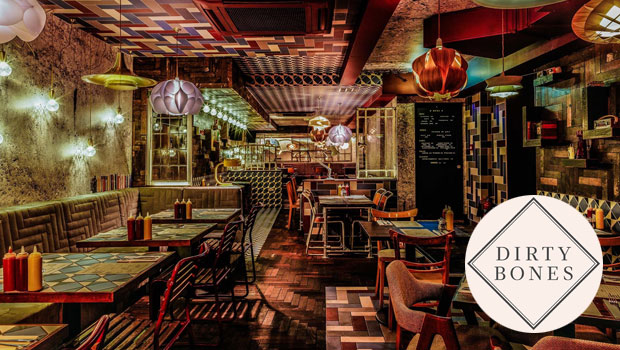 ---
Burger Theory
37-38 St Stephen's Street, Bristol, BS1 1JX
This is a theory we can get on board with. Not only is Burger Theory the home of Bristol's bottomless burger club (yep, that's an actual thing) but their American-inspired menu is packed with meaty creations that even our stretchy-pant weary cousins across the pond would be in awe of. Add a drop of Bristolian cider and you've captured the true Wild West.
Website | Facebook | Twitter | Instagram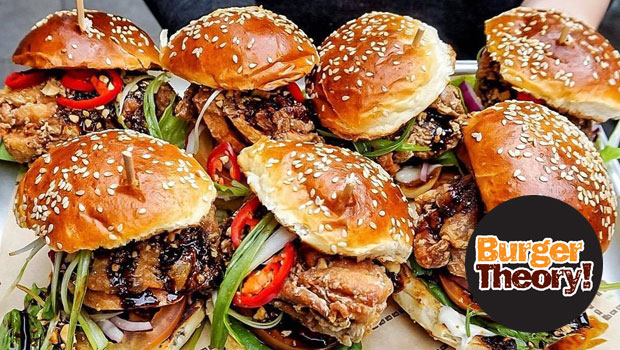 ---
Belushi's
9 Green Street, Bath, BA1 2LY
Belushi's American style menu brings the big tastes of the America to the heart of Britain's Roman City for a party that involves, and we quote 'a truckload of burgers and a mammoth choice of local ales, ciders, spirits and international craft beers'. And the reason those burgers are so damn good? They're handmade daily using 100% Red Tractor assured Scottish Beef, the secret to their fresh taste.
Website | Facebook | Twitter | Instagram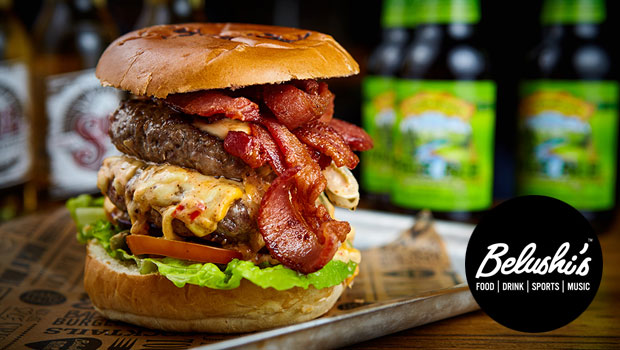 ---
The Smoke Haus
Mary Ann St., Cardiff, CF10 2EN
Cardiff's Smoke Haus is a festival of meat descending from the tradition of deep south American BBQ. The end result? A temple of all things fried, grilled and pulled to perfection. It's rare that you find dishes that live up to the mouth-watering image of juicy ribs/chicken/beef in your head, but The Smoke Haus manages that and then some. Yeehaw!
Website | Facebook | Twitter | Instagram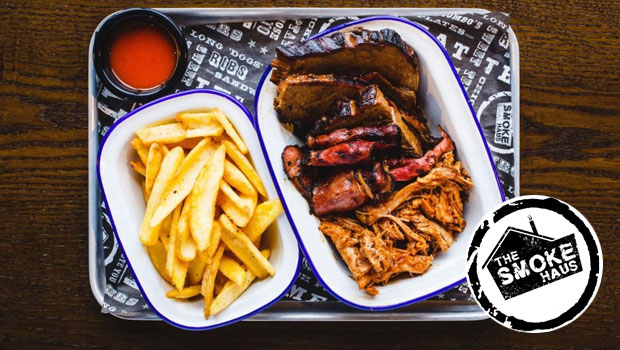 ---
The Bucket List
19 Wind Street, Swansea, SA1 1DY
A bar so good, you really should add it to your bucket list. A beer-fuelled, burger flipping, paradise. This American inspired diner encourages sharing with massive buckets of finger-lickin' eats or if like Joey from Friends you don't 'Share food', you can demolish a doubled-up all beef stack for one. There's even ping pong, basketball hoops, pool, arcade games, beer pong and more…
Website | Facebook | Twitter | Instagram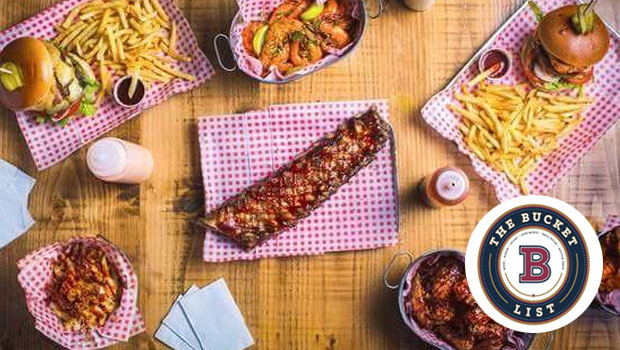 ---
Smokey Joe's
16 Bennington Street, Cheltenham, GL50 4ED
When Cheltenham's locals need to satisfy their meat cravings they come to Smokey Joe's. This retro style diner would look at home on any Hollywood backlot, with its neon lights on the walls and framed posters of movie icons. But A-lister diets fly out the window when you're confronted with the epic menu, loaded with burgers, dogs, fries and calorie-crushing milkshakes.
Website | Facebook | Twitter | Instagram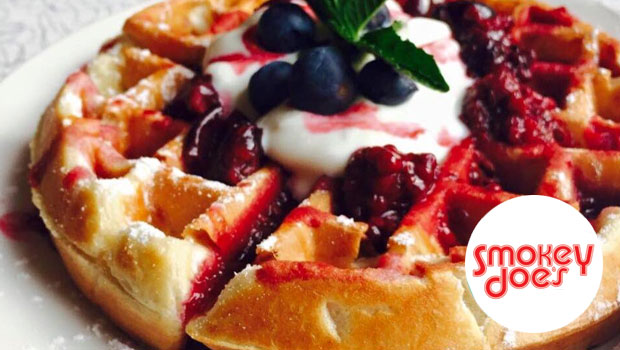 ---
JD's Grill
17 Derrys Cross, Plymouth, PL1 2SW
This is food with soul, brother. Whether it's the relaxed feel of the restaurant, the deep south hospitality or the melt-in-mouth hickory smoked pork that's been held over the hot coals for 12 hours. JD's Grill believe that great things take a long time, and boy will a plate of meat that tastes this good is worth the journey.
Facebook | Twitter | Instagram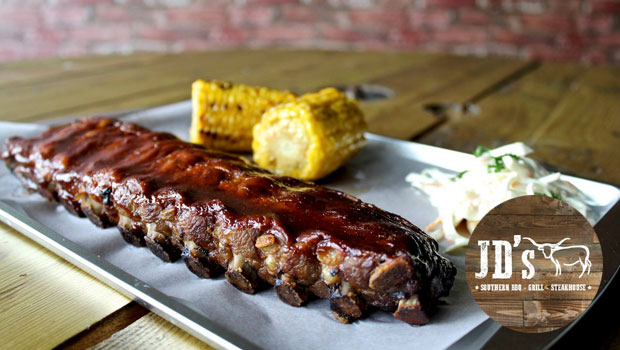 ---
Coast to Coast
3 The Waterfront, Brighton, BN2 5WA
Unless continental drift takes a surprising turn for the worst, Coast to Coast is the best California style beach grill you can pop into without crossing the pond. Lose yourself in the American vibe and laid-back surroundings, a dangerously tempting array of man-cocktails and a menu filled with all-American dishes no matter the time of day. Like totally!
Facebook | Twitter | Instagram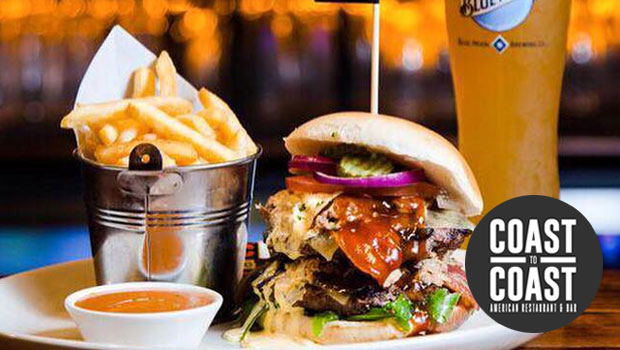 ---
Red Dog Saloon
3 The Waterfront, Brighton, BN2 5WA
The platters of meat, the stacks of burgers and the piles of fries that Red Dog Saloon produce need to be seen to be believed. If your 'special relationship' marries mountains of delicious ribs, wings, steaks, slaw with some of Britain's finest craft beers then this is the place for you. It's the kind of venue you wish you had your own permanent table at. "Norm!"
Website | Facebook | Twitter | Instagram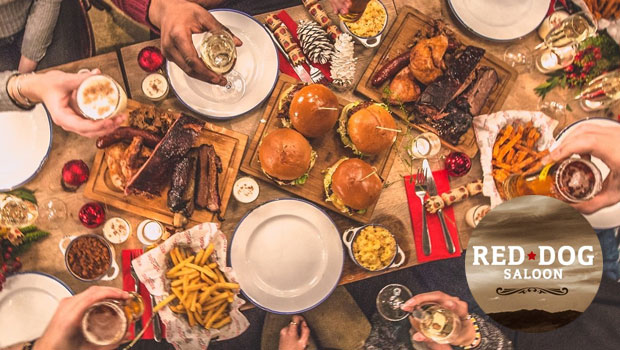 ---
Big Society
95 Cowley Road, Oxford, OX4 1HR
Big Society claims to be 'Oxford's freshest hangout' and who are we to disagree? We're too busy marvelling at the fusball, ping pong, beers list and incredible menu loaded with what the locals believe are the best hot wings, cheeseburgers, hot dogs and fried chicken in the world. Yep, this is the kind of place that Uncle Sam would be proud of.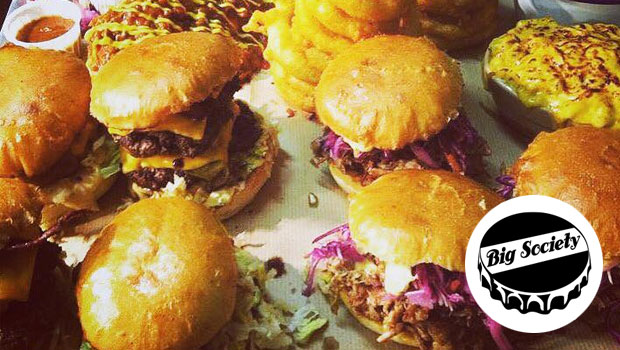 ---
Rocker's Steak House
30 Clifton Way, Cambridge, CB1 7DY
It's the steak house that rocked! This brilliant restaurant brings America's most famous rock anthems, their biggest eats and super-friendly service together for a taste of the USA in the heart of Cambridgeshire. You can demolish a New York Strip Steak or chow down on a Californian Burger while checking out the Bon Jovi signed guitar and the rest of the rock memorabilia spread all over the walls. Legen-wait-for-it-dary.
Website | Facebook | Instagram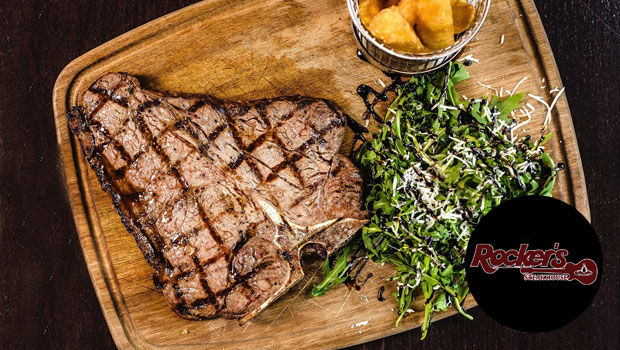 ---
Zaks
119 The Street, Poringland, Norwich, NR14 7RP
As Norwich City own Delia Smith would say, Zaks, "Let's be 'aving you!". This Norwich-based diner is a holy shrine to the best transatlantic meaty eats, with perfect burger patties, impressive beef dogs and house specials that include the 3 Steps to Heaven, a chicken, chilli and rib combination that makes for a hunger-conquering man vs food challenge.
Website | Facebook | Twitter | Instagram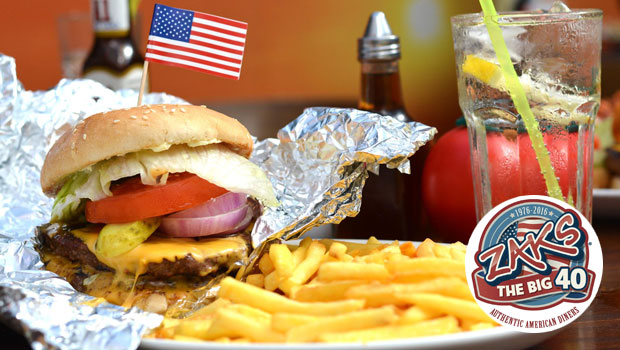 ---
Tinseltown Diner
32 Watson Road, Birmingham, B7 5SA
Walking into Birmingham's Tinseltown is like wandering into a genuine Hollywood diner. Think Grease but instead of John Travolta, there are Empire State-sized dinners. This is the kind of place that considers giant buffalo chicken wings as a starter. If you've still got room after that, it'll be time to wrap your jaws around one of the mighty challenge burgers with up to 1lb of meat between two buns. It's time to get your game face and elasticated trousers on.
Facebook | Twitter | Instagram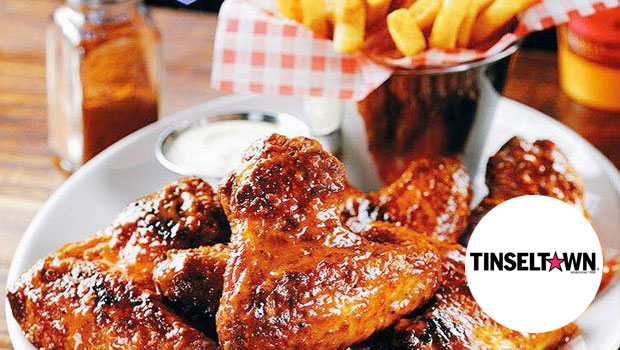 ---
Buffalo & Rye
11 Bennetts Hill, Birmingham, B2 5RS
This is the kind of food that you think only exists on Instagram. You're not just wrong, you're damn wrong. Buffalo & Rye are that darn good. Their American inspired menu ranges from smoked meats to gourmet dogs, all the way to their signature 'dirty burgers' including the mega-feast of the Buffalo Brisket, a beef patty topped with (you guessed it) brisket, emmental cheese, burger sauce and red cabbage. One for the burger-bucket-list for sure.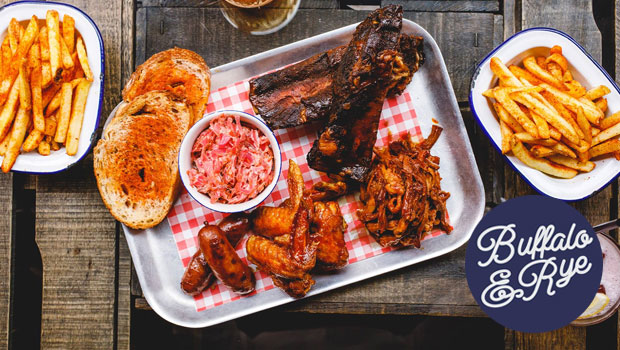 ---
Original Patty Men
9 Shaw's Passage, Digbeth, Birmingham, B5 5JG
Birmingham's OG "patty pimps & purveyors of filth" take much of their inspiration from across the Atlantic whether they're layering burgers on bagels or loading their incredibly more-ish fries with onions and cheese. Make no mistake, this is the burger joint that England's second city deserves, so order an Alabama Slammer and prepare to feel yankee doodle dandy!
Website | Facebook | Twitter | Instagram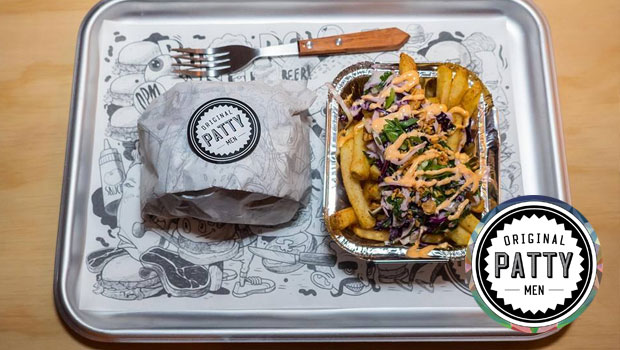 ---
LUCKYFOX
72 Division Street, Sheffield, S1 4GF
LUCKYFOX's famous fried chicken has its roots planted firmly in the deep South's food culture and we can't think of anywhere better to shamelessly fill your face. Proving that there's nothing fried chicken can't be paired with, this creative kitchen will have you covering your waffles, fries, halloumi, bacon, eggs (we could go on) with their succulent wings.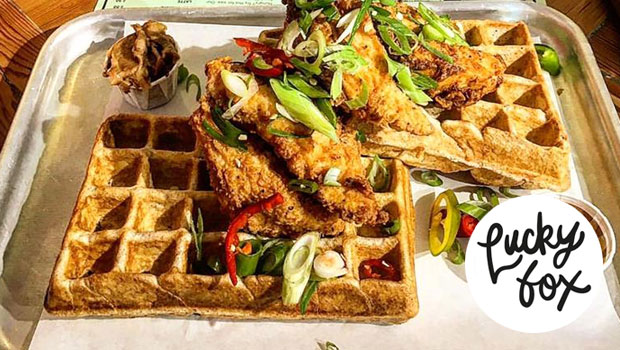 ---
Rub Smokehouse & Bar
2-4 Adams Walk, Nottingham, NG1 1QS
If you want the perfect example of Britain and America coming together to achieve great things, then look no further than the Yorkshire pudding burrito. That's just how the Rub Smokehouse & Bar roll. But not simply content with making your jaw drop, they intend to fill it with their mighty meaty creations like the Belgian Waffle burger or, if you're feeling brave, two 6oz burgers layered with taco shells.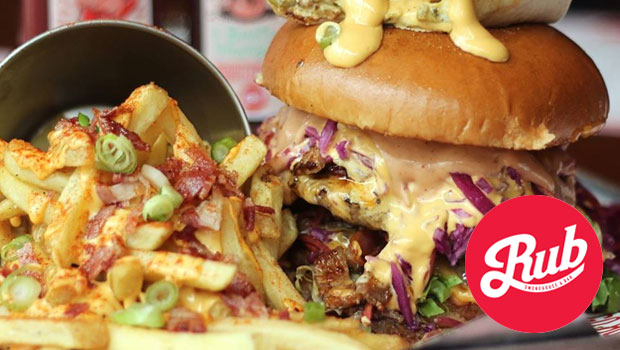 ---
East 59th
Victoria Gate, Leeds, LS2 7AU
For a New Yorker night out in Leeds, there's only one place to go. East 59th is a rooftop bar and grill that could've been taken straight from the core of the big apple and planted in the heart of Yorkshire's party capital. But you're not here for the hype. You're here for the food. And East 59th has lots of it. Whether your style is flat iron steak or smoked chicken wings, they'll satisfy your meat cravings in home-grilled fashion.
Website | Facebook | Twitter | Instagram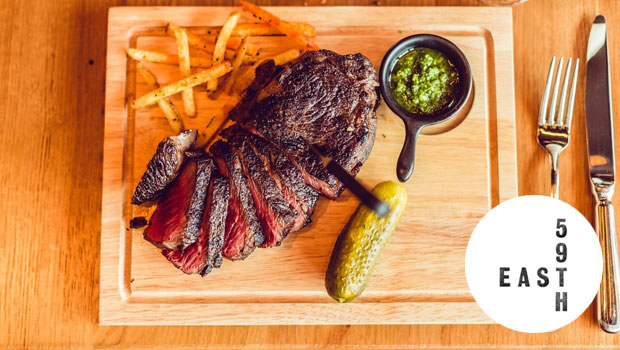 ---
Free State Kitchen
No.1 Maryland Street, Liverpool, L1 9DE
Looking for real 'Murican eats in the heart of Merseyside? Look no further than the Free State Kitchen. Combining the big food of the USA with Liverpool's booming independents scene, this fantastic restaurant is uber-laid-back and even has a menu section titled 'handhelds' settling the debate once and for all that you should NOT eat burgers with a knife and fork. Can I get an 'Amen'?
Website | Facebook | Twitter | Instagram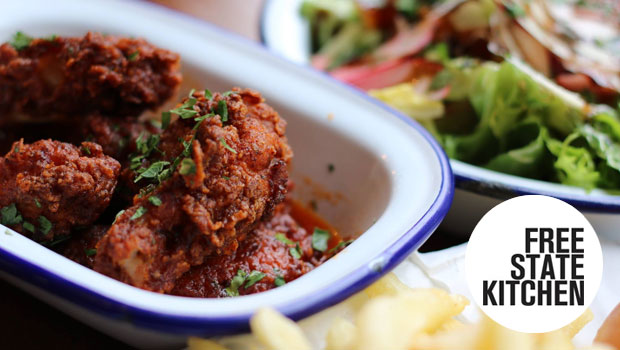 ---
Alabama's All American Eatery
10 Newton Street, Manchester, M1 2AN
To eat American, you've gotta think American and you've gotta demand more. And that's exactly what Alabama's All-American Eatery gives you, more. More meat, more milkshake, more fries, more toppings, more, well, everything. It's a living, breathing example of how the States took dinner time and made it great again.
Website | Facebook | Twitter | Instagram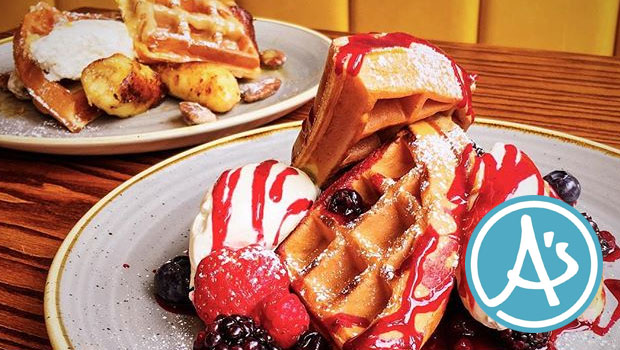 ---
Cane & Grain
49-51 Thomas Street, Northern Quarter, Manchester, M4 1NA
Cane & Grain could've been pulled straight from New Orleans's world-famous Bourbon Street with its cool, low-lit style and understated boho vibe. But they truly understand that the food remains the MVP and star of the show, with epic 'pimped-up' fries smothered in pulled pork, bacon and mustard as well as a massive range of burgers and meaty cuts. Let the good times roll.
Website | Facebook | Twitter | Instagram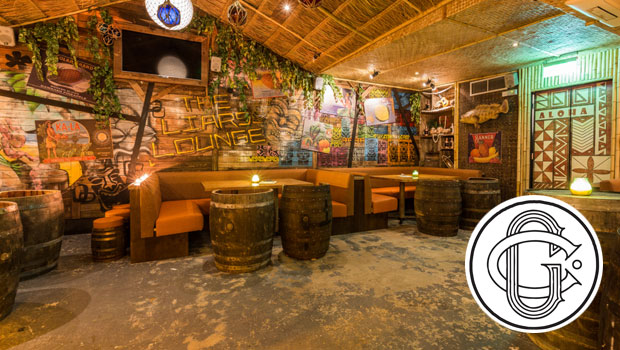 ---
Red's True Barbecue
S6 Unit 6 Greys Quarter, Intu Eldon Square, Newcastle upon Tyne, NE1 7AP
We can't think of many cooler places in the UK to devour a pound of meat than Red's True Barbecue. This laid-back American inspired diner has an awesome industrial vibe with metallic tables, neon lights and naked bulbs creating the perfect atmosphere for taking on burgers, dogs and ribs this damn filthy. It's lunch, just not as you know it.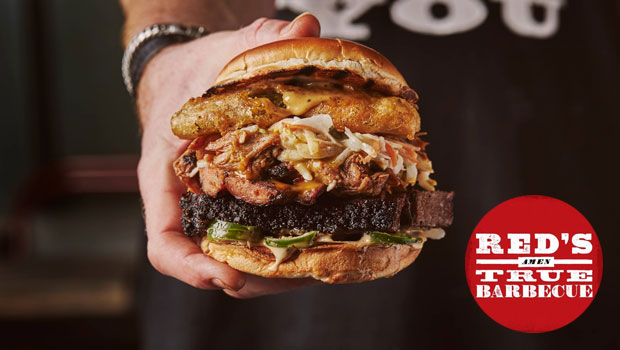 ---
Holy Moly
Malton Road, Flaxton, York, YO60 7SG
Bringing the hearty flavours and MASSIVE portion sizes of America's deep south to York, Holy Moly is the place for wannabe man vs food champions to put themselves to the test. We simply don't have enough page space to describe the list of challenges on offer. But know this, you'll need to be fond of brisket, burgers, wings, fries, macaroni cheese, hot dogs… *fades into drooling hypnotic state*.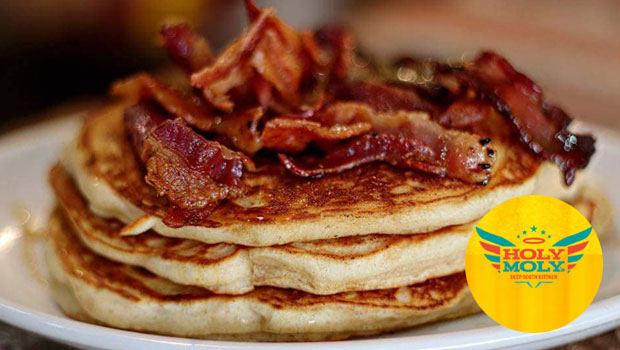 ---
Man vs Food Grillhouse
300 Linthorpe Road, Middlesbrough, TS1 3QU
And the eating challenges just keep on coming! Middlesbrough's decidedly American Man vs Food Grillhouse warns you from the off that this is 'Only for the brave' and you'll need a stomach of steel to defeat their meat platters and foot-long hot dogs. P.S. We hope you've got room for dessert, because it's waffles covered in M&Ms, Oreos or Mars Bars. If there is a God, he devised their desert menu!
Website | Facebook | Instagram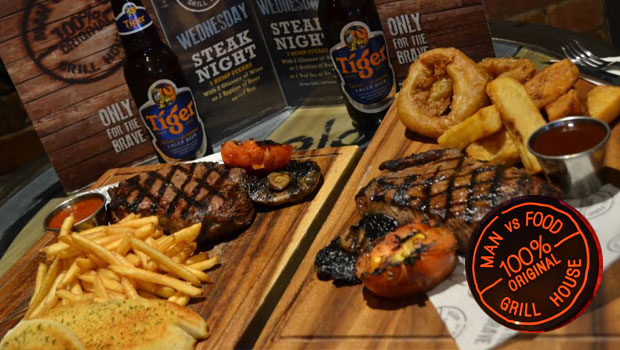 ---
The Brooklyn Social
34-35 Sadler Gate, Derby, DE1 3NR
Just like New York's booming neighbourhood, The Brooklyn Social is no frills, no fuss and no hassle, just good times and effortlessly cool. The brickwork interiors are tricked out with neon light signs and off-kilter artwork, giving it the feel of a burger-flipping, cocktail-mixing speakeasy where anything is possible. Yes, even an all-day Breakfast burger, complete with a hash brown and fried egg. Natch.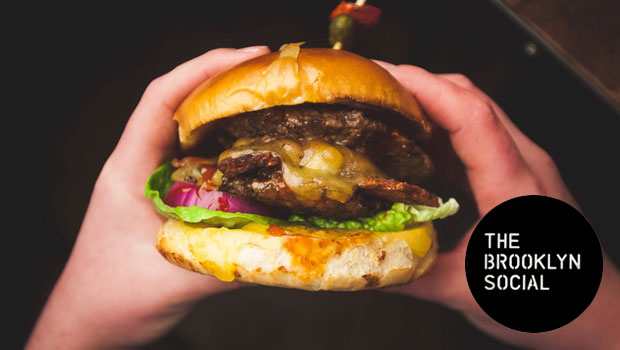 ---
Filling Station
28 Greenside Row, Edinburgh, EH1 3AA
We can't think of a more appropriately named diner than the Filling Station. The 'tank' is your stomach and the 'gas' is the massive range of all-American burgers, rib dishes, wings and thighs that come steaming forth from this kitchen. Add a beer, whiskey or classic milkshake to lubricate your throat and you're all ready for an edible road trip across the states – without leaving Edinburgh's city limits.
Website | Facebook | Twitter | Instagram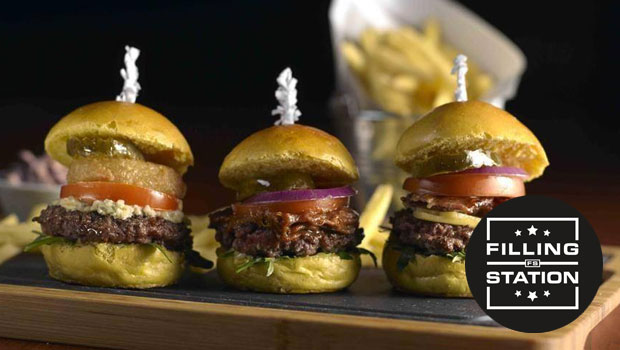 ---
Bread Meats Bread
104 St Vincent Street, Glasgow, G2 5UB
This burger joint has found the scientific equation for human happiness (take that Einstein). It's bread x meat x sauce + heat = smiles all round. Simples. Bread Meats Bread are brilliantly creative, taking burgers inspired by those across the pond and reworking them to impress Glasgow's meat loving locals. The result? Some of Scotland's most delicious edible creations. Dive in!
Website | Facebook | Twitter | Instagram