Hunting for travel inspiration has never been easier thanks to these incredible Instagrammers, sharing amazing cities, awesome cultures and foreign landscapes. Break up the selfie-stream of your feed, escape somewhere new through your screen and get inspired with the 29 Best Travel Instagrams of 2018.
Prepare to hit that follow button. A lot.
---
Travelling across the globe, Vicky is a fantastic personality to follow as she ventures along the road less travelled. Her Instagram is packed with amazing photography of the places she's lucky enough to visit and if you're a fan of more tropical destinations then you're in luck. Vicky is (coco)nuts for them. No, don't worry, we know where the door is.
Also on…
Website | Facebook | Twitter | Pinterest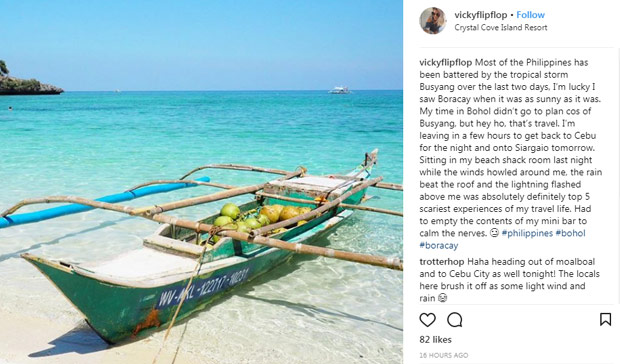 ---
Whether she's on a great American road trip or standing at the base of Mayan pyramids, Emily Luxton's adventures take her far and wide across the globe and you owe it to yourself and your Instagram feed to follow her. It's like an online bucket list of must-visit destinations ready made for you.
Also on…
Website | Facebook | Twitter | Pinterest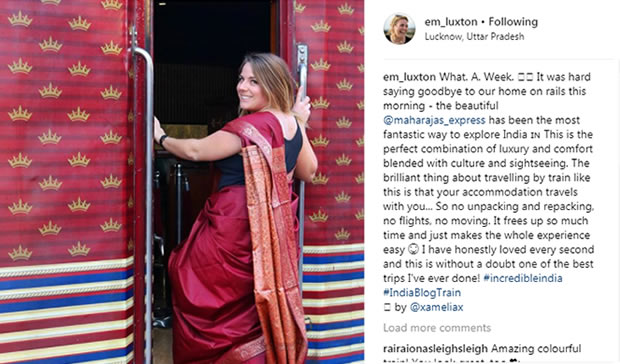 ---
travelsofadam is largely Europe-focused, showcasing the rarely-seen sides of some of the continent's greatest cities. Rome, Paris, Berlin all feature but if you're wanting to travel further afield during your coffee break, Adam's more recent adventures in India will be the must-watch Instagram stories of your month.
Also on…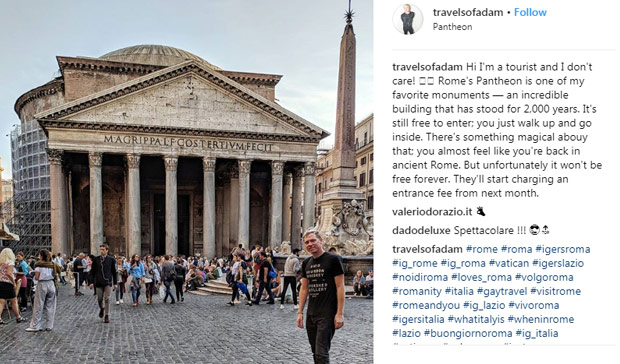 ---
If we could travel across the world with anybody from the list, it would probably be the double act of Yaya and Lloyd. Self-professed "travellers, foodies and dance ninjas", this crazy partnership is definitely one to follow on their globe-trotting adventures. Their Insta is loaded with epic shots of their favourite locations although we still haven't seen any of their ninja dance moves feature (come on guys!).
Also on…
Website | Facebook | Twitter | Pinterest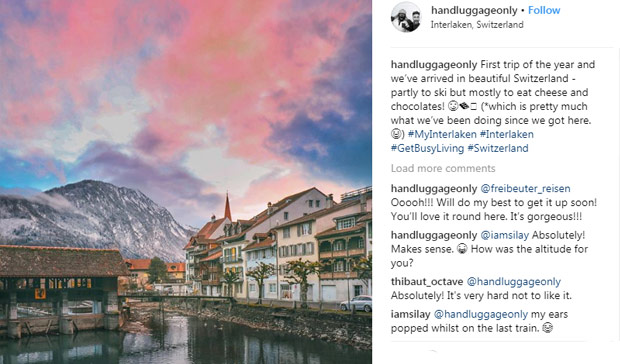 ---
Described by British Vogue as 'expertly curated', Jordan Bunker's grid is like having your own personal lifestyle, male fashion and travel guide in one incredibly cool place. But don't let the fancy tags put you of, he's still an ordinary guy, heading to extraordinary locations. He just happens to take astounding shots of the world's greatest cities in his own unique signature style.
Also on…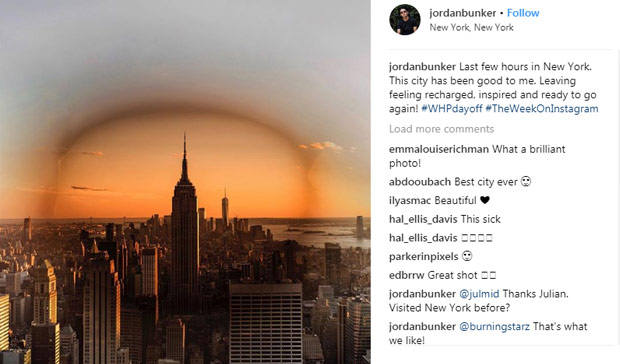 ---
Aftab of Fresh & Fearless fame is London based, not that you'd know that from a glance of his awesome Instagram feed. It's a virtual collage of the world's brightest and best travel-worthy destinations taking you from the Middle East all the way to the snowy tundra of the Italian Alps and everywhere in between. A fantastic break from the printer-whirring-soundtracked office 9-5.
Also on…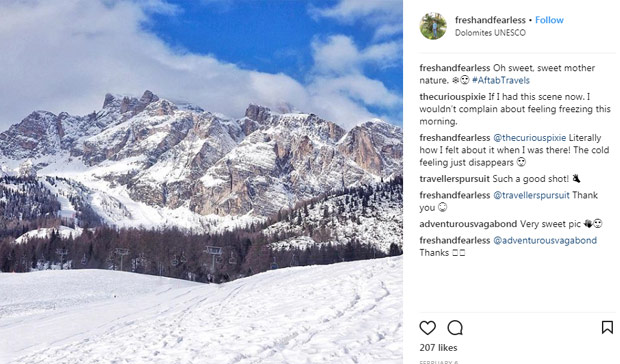 ---
You'll find weekend break inspiration (stag weekend anybody?) aplenty on Travelling Tom's Instagram with bite-sized city guides for every destination he features. What's great about his feed is he shows you all sides of the locations visited, including the best nightlife and sporting action (see the post about CSKA Moscow fans taking off their shirts in sub-freezing temperatures #OnlyInRussia).
Also on…
Website | Facebook | Twitter | Pinterest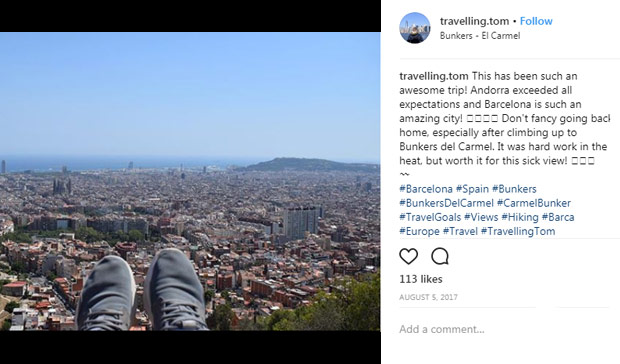 ---
Global Help Swap
Stemming the tide of British holidaymakers whose mantra seems to be, "Arrive, drink, leave", Global Help Swap encourages and inspires you to embark on responsible, authentic and local travel. Leaving the streets of the resorts behind, you'll be carried away on an eco-friendly journey across India, into the French Alps and even as far as Japan. All without getting up off the sofa.
Also on…
Website | Facebook | Twitter | Pinterest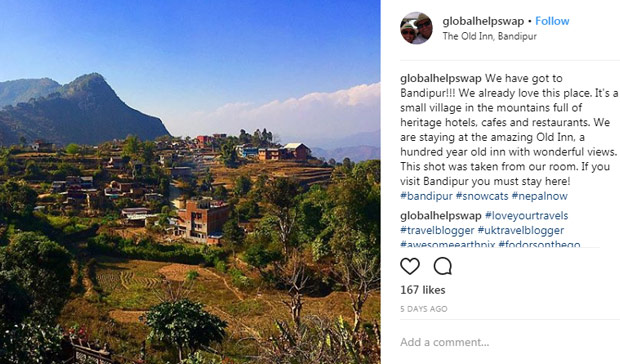 ---
Travelling the world, one day at a time. Chris, the leading man behind Backpacker Banter, is the perfect personality to follow whether you're planning your own global travels, or you're just stuck on the train wishing you could be anywhere else. You'll find stunning imagery with an added touch of the real people Chris comes across on his journeys. Simply brilliant.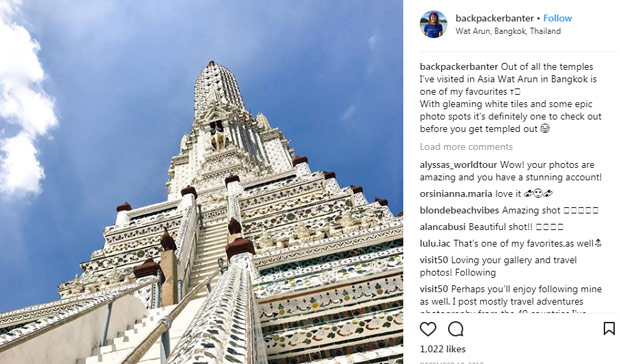 ---
Having started fairly recently, Adventure has fast become one of the must-follow Instagram accounts for 2018. With a unique style featuring awesome woodland photography and the coolest treehouses ever! Perfect escapism when you're knee-deep in work, on your last latte sachet and the weekend is, yes, still not here yet. Follow, follow, follow.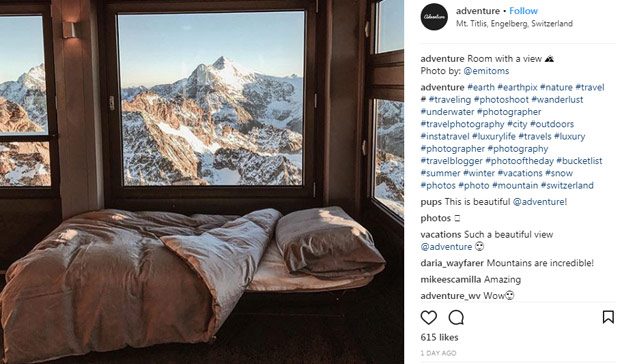 ---
One of the UK's most talented and instantly recognisable travel photographers, Steve Booker is an essential follow for anybody wanting to add 'world traveller' to their CV without actually leaving their sofa. Whether he's traversing the wilderness of Iceland or living it up in New York City, Booker's 'gram is packed with inspiration and ideas for your future global adventure.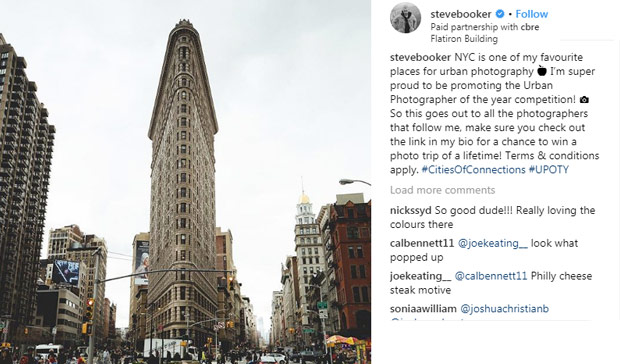 ---
The views are incredible on Claire Menary's Instagram whether it's a landscape shot of the Portuguese countryside or a selfie in her native London. Crowned as one of the Evening Standard's Top Travel Influencers, Claire's feed is a foodie travellers dream companion as the top-down snaps of the foreign eats she tries will make you want to put down that Big Mac, jump on a plane and get head to your dream location in time for dinner.
Also on…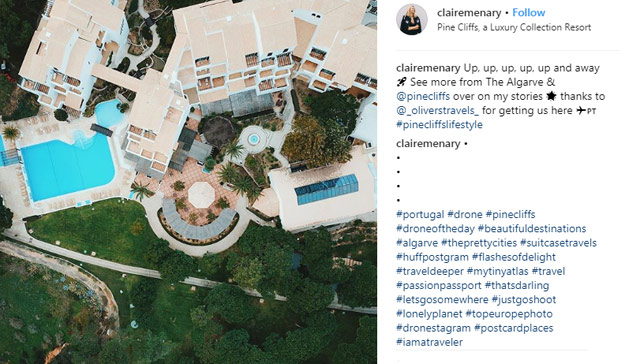 ---
And now for something completely different. Johan's Instagram takes travel to the next level with some astounding shots of wildlife in rural Africa. Following Le Backpacker is like inviting an episode of Planet Earth onto your timeline complete with giraffes, leopards, elephants and stunning photography. The only thing that's missing is David Attenborough commentary.
Also on…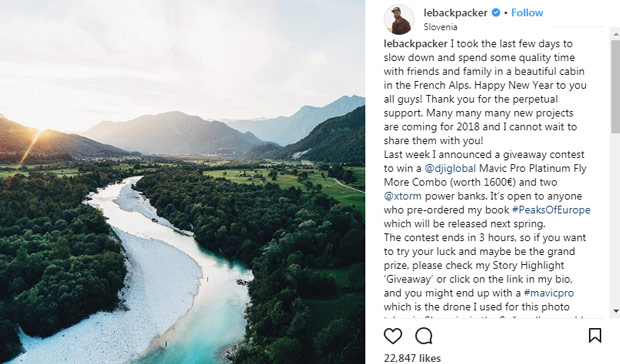 ---
Something of a legend in Instagram's travel community, Jack Morris' grid is picture perfect to the minute detail whether he's encamped in an arctic resort, riding through America's Wild West or wandering through the barren wastelands of Namibia. A visual adventure experience that goes beyond the norm, Do You Travel is essential Instagram viewing.
Also on…
Website | Facebook | Twitter | YouTube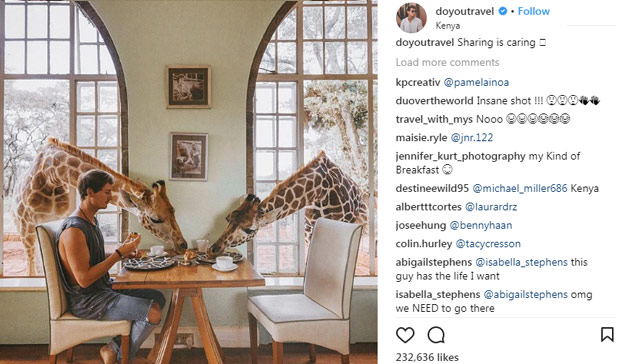 ---
Steve Hänisch's signature style is rocky, open landscapes with some epic sightseeing thrown in for good measure. If you're planning your own travels or just fancy a Bohemian escape from reality to make those boring morning commutes/sales meetings less tedious, feed your mind and treat your travel bug.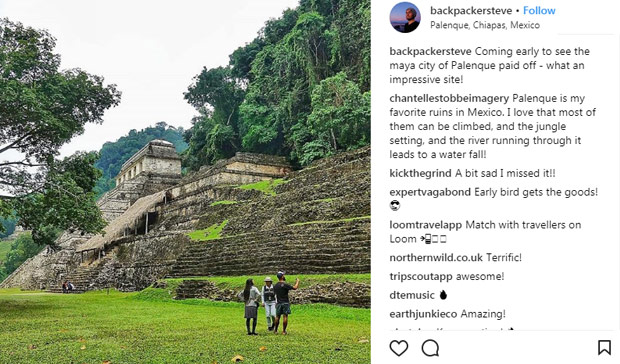 ---
Adventures in Machu Picchu, weekends in Belgium and classic cars in Cuba all feature on Joe's brilliant Insta grid with a fantastic blend of both rural and metropolitan destinations to get your #wanderlust going. His witty musings on the places he visits also make for entertaining reading and if you're a fan of bloody massive buildings then hew boy are you in for a treat.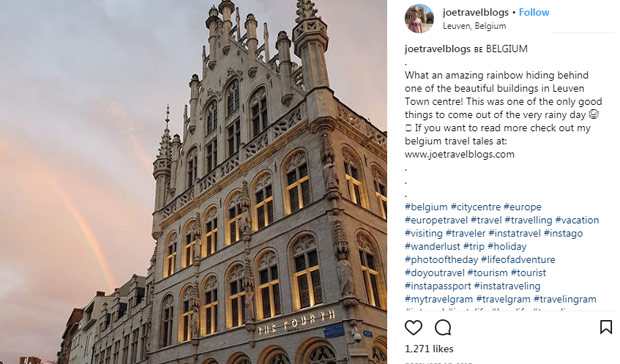 ---
Erick Prince, the leading man behind Minority Nomad, has a mission to become the world's first African American to visit every country on our pale blue dot of a planet. Join him as he Instagrams the entire journey, taking you every step of the way whether he's walking the streets of London or experiencing the chaotic atmosphere of Istanbul's Grand Bazaar (some say it's busier than Poundland in a 50% off sale).
Also on…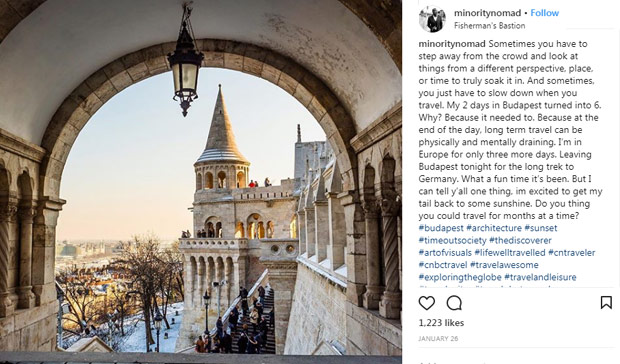 ---
Travel Dave, we salute you. Hailing from our very own green and pleasant land, Dave shows you the kinds of amazing places that you thought only existed in films like Star Wars. Spoiler alert: They do exist and no, that camel isn't plodding through the deserts of Tatooine. Add a touch of Dave's own unique brand of humour and you've got one of the most relatable travel 'grams on the web.
Also on…
Website | Facebook | Twitter | Pinterest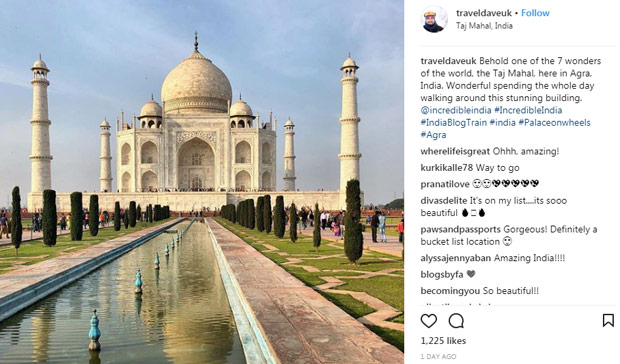 ---
You'll struggle to find another Instagram account quite like Justin Carmack's. Chronicling his scuba dives around the world, True Nomads will fill your phone screen with some of Earth's most unusual and striking aquatic life. Finally, you can stop your umpteenth re-watch of Blue Planet and discover some brand new, awesome shots of life beneath the waves.
Also on…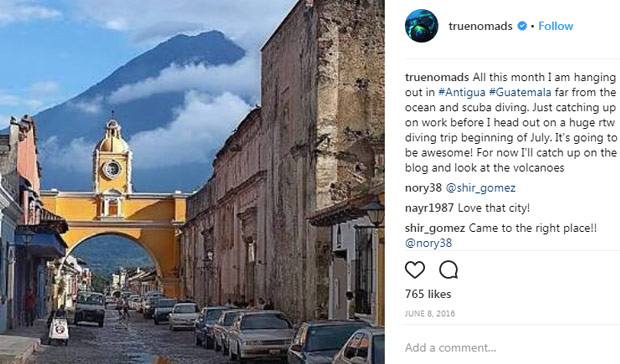 ---
Another travelling Instagram grid that goes beyond European borders, The Travel Camel takes your timeline on safari as you join Shane Dallas's adventures across Africa and beyond. He's already clocked up over 100 countries and counting. Kick off your shoes, pour yourself a coffee, tap the Instagram app and prepare for your mind to be well and truly opened.
Also on…
Website | Facebook | Twitter | Pinterest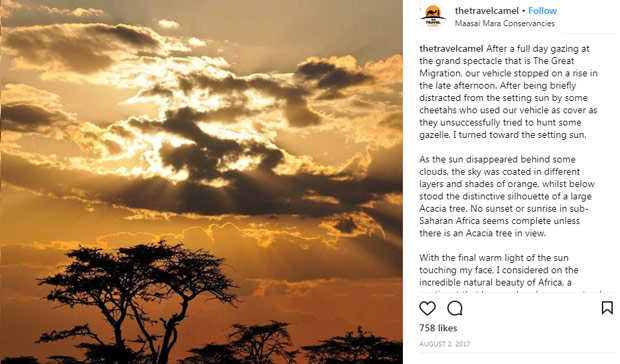 ---
We fell in love with Akvile Stan's feed from the moment she confessed she was a fan of everybody's favourite footballing fairy tale movie 'Goal' (an underrated classic by all accounts). A Lithuanian-Russian blogger now living in Newcastle, Akvile travels across the world and is gracious enough to let us come with her through the expertly curated lens of her Instagram grid.
Also on…
Website | Facebook | Twitter | Pinterest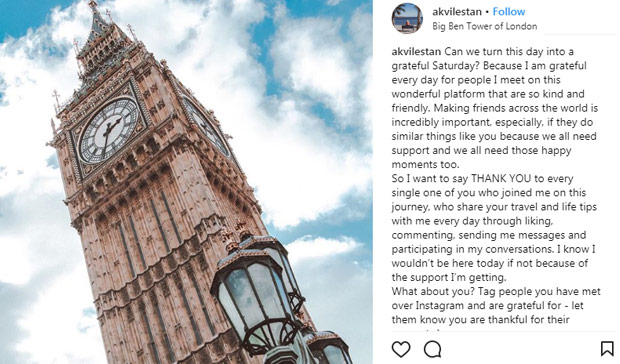 ---
It's mid-March. You've finally escaped the financial shadow of the festive period and you're ready to book your next weekend away. Who do you look to for inspiration? Best City Breaks. This fantastic account managed by photographers Mike Clegg and Alan Chakota is simply brilliant, showing you the best bits of some of the world's most visited cities.
Also on…
Website | Facebook | Pinterest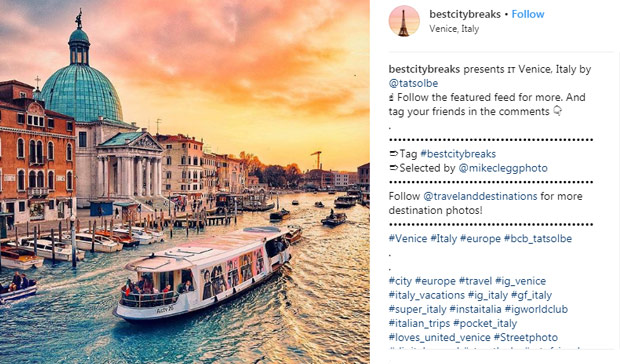 ---
A partner account to Best City Breaks, Travel and Destinations is not afraid to break the city limits with their stunning photos and head into the far-flung corners of the globe to add an international flavour to your Instagram feed. From Monaco to Amsterdam, Tallinn to Hong Kong, this grid is extremely diverse and will certainly break up the endless stream of Saturday night selfies on Sunday morning.
Also on…
Website | Facebook | Twitter | Pinterest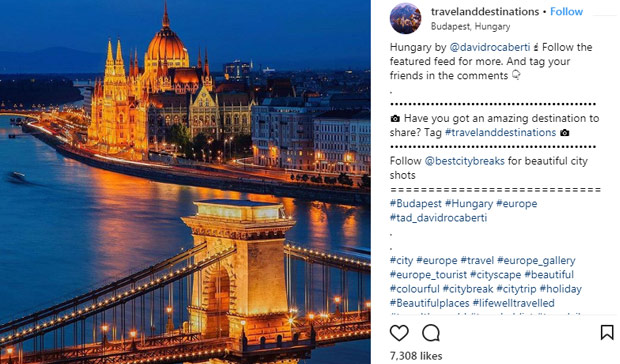 ---
A seasoned travel writer, journalist and blogger, Lucy McGuire is a fantastic personality to follow as she ventures across the globe, offering her experienced take on some of the most taking-time-off-work-to-visit-worthy destinations on our planet. The perfect account to browse through when you're horrified at the prospect of heading on another Benidorm beach break and in dire need of fresh inspiration.
Also on…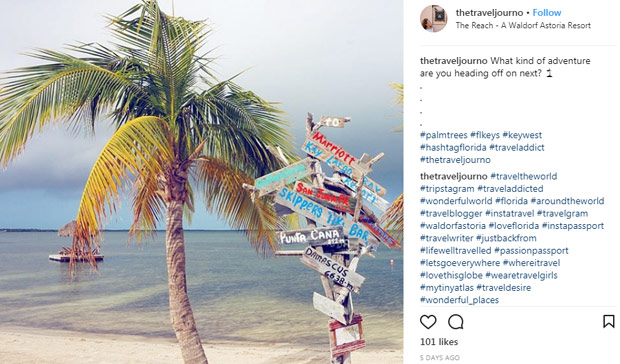 ---
The next time Netflix throws up that "Are you still watching?" screen, tell it, "Hell no I'm not!" and save your grey matter by heading over to Becki Enright's brilliantly curated Borders of Adventure Instagram. A fantastic alternative to the traditional travel blogger, Becki instead highlights the different cultures, societies and histories that she encounters on her adventures. You never know, you may actually find your next must-visit destination.
Also on…
Website | Facebook | Twitter | Pinterest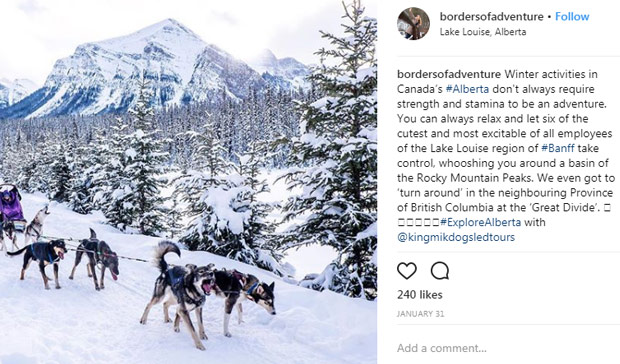 ---
Neil sounds like the kind of guy we'd want to be pals with. A trained UAV pilot, he visits some of the most visually spectacular destinations in the world. Any questions? No? Good. His Instagram profile, Travels with a Kilt, makes for excellent viewing. Plus, when he's not abroad, he's taking incredibly shareable shots of his native Scottish Highlands.
Also on…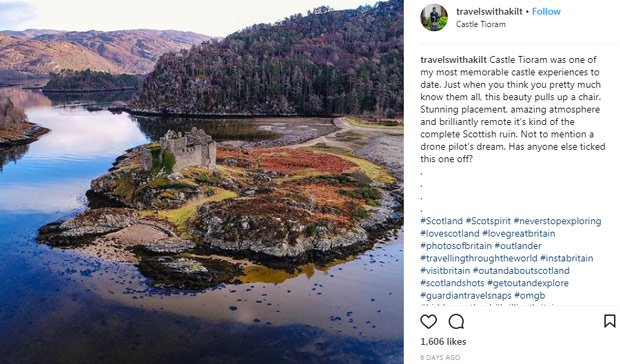 ---
If you needed any more motivation to dust off your own passport and dig your gap year backpack from the loft then Passport Needed is it. This awesome account curates the best travel images on Instagram into one easy feed, making it the perfect shot in the arm for your timeline.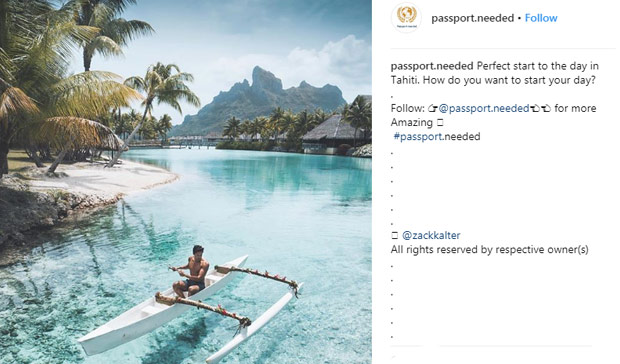 ---
Epic locations, action-packed videos and gorgeous Instagram models… Oh my! If the party playboy lifestyle seems a world away on a typically rubbish British Tuesday afternoon, then you can lose yourself in this luxury grid packed with awesome shots, videos and banter about all things world travel related. Joining the mafia has never been so appealing.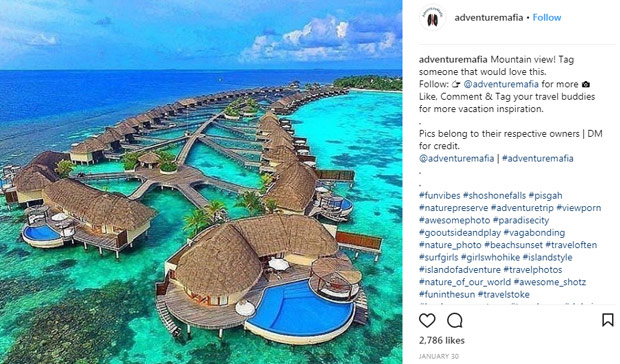 ---
Johnny Ward's Instagram features stunning photography of wildlife and epic destinations that you won't find in your typical travel brochure. A window into the life and mind of one of the world's foremost travelling entrepreneurs, Onestep4ward is a brilliantly inspirational grid and a must-follow account for any self-respecting man traveller.
Also on…