We did it. Hands up. We ate all the pies. But in our defence, it was all in the name of highlighting the amazing culinary minds reinventing the not-so-humble-pie for the 21st century. #NoRegrets. Join us as we bite into the crust of the best British pies and celebrate the geniuses who made them.
Piebury Corner
Where? London, various locations
Pie of choice? Steak & Guinness
Arsenal might've been on the other side of 2017's infamous 'Piegate' scandal but this Highbury-based pie shop has planted its flag firmly in the crust of their epic creations. A favourite among Gunners fans, Piebury Corner have perfected all the classics while our pie of choice, the Steak & Guinness, is a mouth-watering twist on a traditional recipe. Pie and Guinness? A match made in heaven.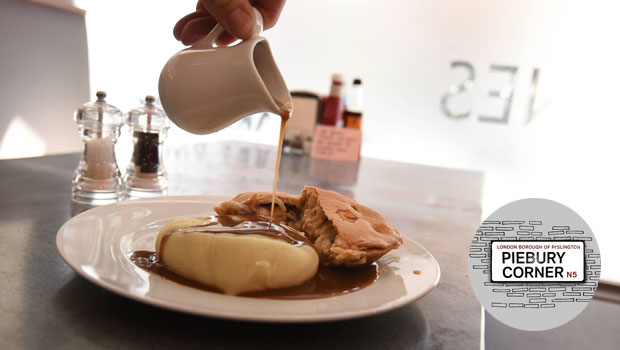 ---
Goddard's at Greenwich
Where? 22 King William Walk, Greenwich, SE10 9HU
Pie of choice? Chilli Minced Beef
The brilliant Goddard's pie shop is a firm favourite with Londoners and it's clear to see why, with classic pies and their own unique creations filling up the menu and whetting your appetite, it's practically love at first sight. And when you get that first spicy, pallete tickling taste of their Chilli Minced Beef, it's not hard to see why Goddard's are so celebrated.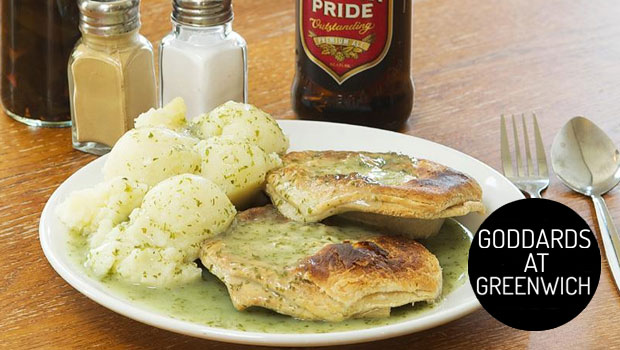 ---
Mother Mash
Where? 26 Ganton Street, London, W1F 7QZ
Pie of choice? Aberdeen Angus Steak
Sure, Mother Mash is famous for its titular creamy delights but it's time to give props and a percentage of your daily meat intake to their amazing pies. A small but perfectly formed selection of bakes, these are pies with soul, character and a singular task to make your stomach happy. We can report that the Aberdeen Angus Steak should certainly succeed in doing so.
Website | Facebook | Twitter | Instagram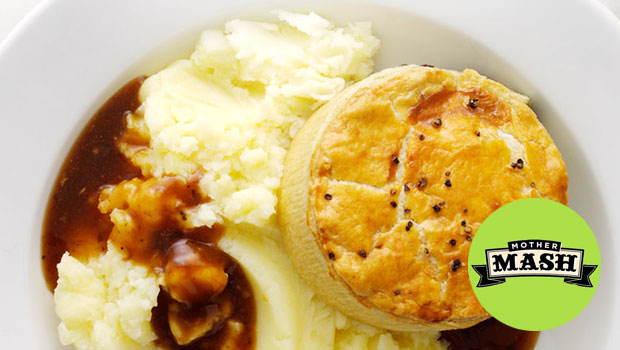 ---
Walkers Pies
Where? 4-6 Cheapside, Leicester, LE1 5EA
Pie of choice? The Walkers Pork Pie
There's another famous Walkers satisfying our hunger in the midlands. Leicester's family-owned pork pie shop have been working at the crusted edge for over 193 years and in that time, they've learned a thing or two about how to create their perfect combination of crumbling pastry and mouth-watering meat. Have a bit of that, Gary.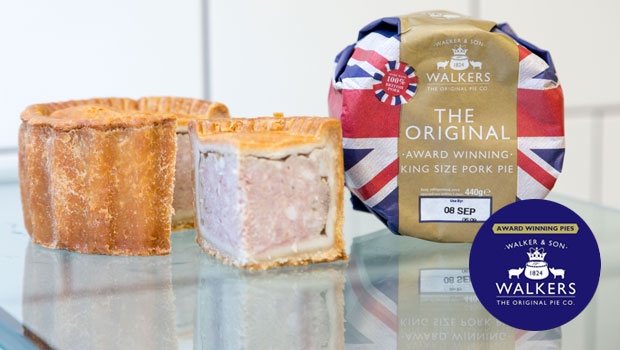 ---
Pukka Pies
Where? Nationwide
Pie of choice? All Steak Pie
Pukka Pies are legendary, found in supermarkets, chip shops and football stadium cafes all over the country for one good reason. They've perfected the pie like only few others can. From the moment you put that first flaky bite of pastry into your mouth and you take your first taste of the melting steak and gravy, you know that your 'buds are in Pukka's capable hands. And they're about to be taken for a delicious ride.
Website | Facebook | Twitter | Instagram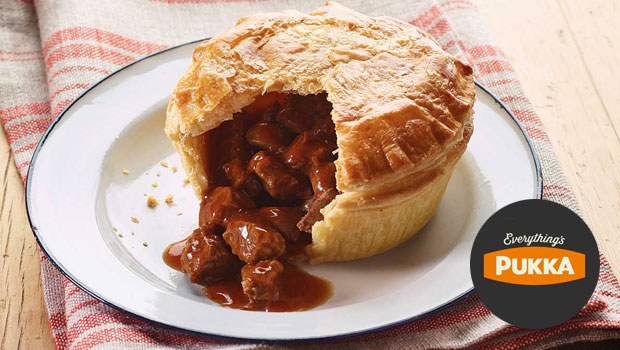 ---
Dickinson & Morris
Where? Ye Olde Pork Pie Shoppe, 10 Nottingham Street, Melton Mowbray, LE13 1NW
Pie of choice? The Pork Pie (obviously)
Dickinson & Morris are masters of the pork pie and have been sending Melton Mowbray locals away full of their speciality bakes since 1851. A lot's changed since then but their legendary pies have remained a constant high over the years, and while you might be able to find them in your local supermarket, they're always best fresh from their base in Ye Olde Pork Pie Shoppe in the centre of town. Proper hearty fare with impressive portion sizes, just the way we like it.
Website | Facebook | Twitter | Pinterest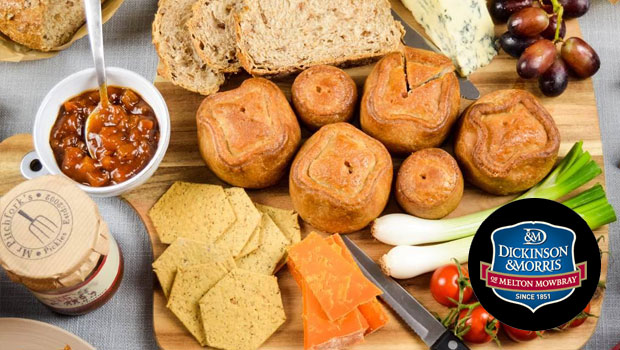 ---
Lord of the Pies
Where?
42 St Petersgate, Stockport
19 Chestergate, Macclesfield, SK11 6BX
559a Barlow Moor Road, Chorlton, M21 8AN
Pie of choice? Roast Chicken & Mushroom with Soft Herb Sauce
Bow down, peasants. For we are proud to present to your taste buds, the Lord of the Pies. Considered culinary royalty amongst Stockport locals, this team have recently sired a branch in nearby Manchester, but the original is still reigning supreme. With delicious bakes like the Roast Chicken & Mushroom with Soft Herb Sauce, we don't see anybody knocking them off their throne anytime soon.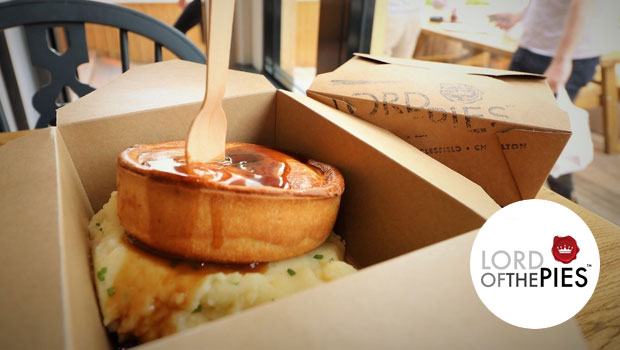 ---
Pie and Ale
Where? Unit 1&2, The Hive, Lever Street, Manchester, M1 1FN
Pie of choice? Jerk Chicken and Duck
Put this under, 'Does what it says on the tin'. Pie and Ale do both of their key ingredients incredibly well. The latter is sourced from independent breweries throughout the north while the former, created in their own innovative kitchen, are the perfect partners for a foaming brew. Fancy a change? Order a Jerk Chicken and Duck, you won't regret it.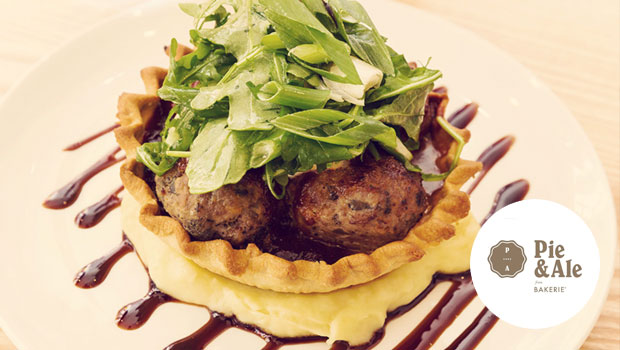 ---
Satterthwaites Bakehouse
Where? 51 Coronation Road, Liverpool, Merseyside, L23 5RE
Pie of choice? Pork Pie with Chorizo
If you're looking for a Premier League pie on Merseyside, then we heartily recommend you make your way to Satterthwaites Bakehouse. All the classics are here as well as a Scouse Pie for a local flavour, but you're really doing your taste buds a disservice if you don't treat them to one of their pork pies with genius twists like black pudding, pickle, apple or chorizo.
Facebook | Twitter | Instagram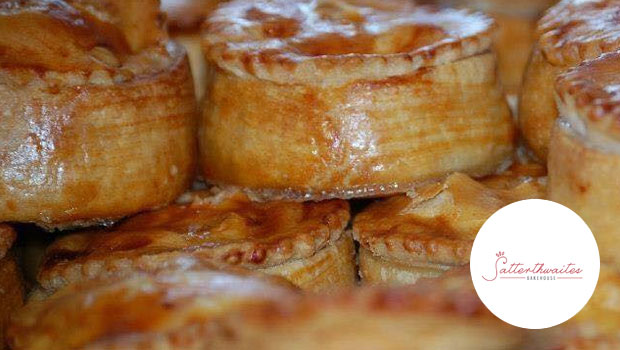 ---
House of the Trembling Madness
Where? 48 Stonegate, York, North Yorkshire, YO1 8AS
Pie of choice? Steak & Stout
Fed up of cookie cutter pubs? Looking for a place with soul in which to quaff your favourite pint? The House of the Trembling Madness is here for you, friend. Set in a building that's stood since 1180 AD, this pub is a favourite amongst locals and York's travelling visitors, and their superb pies are certainly worthy of their reputation. Our recommendation? The Steak & Stout, a crazy-good combo of award-winning Yorkshire steak and hearty stout.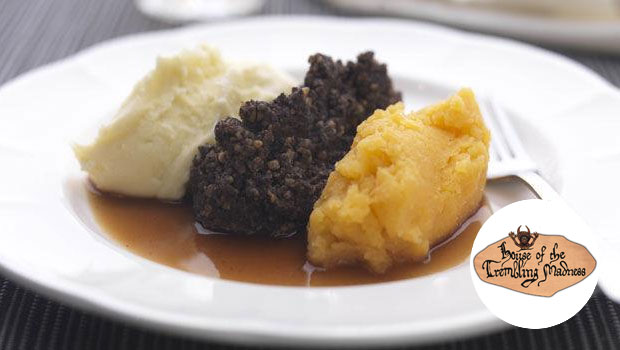 ---
Wilson's Butchers
Where? Can be ordered nationwide
Pie of choice? Huntsman Pie
Pie can be immensely personal and for Wilson's Butchers, crafting their brilliant bakes has always been a family affair. Having won awards for their tasty creations, the team at Wilson's aim to take the meats used in their pies 'from field to fork', guaranteeing a fresh taste and you can feel all warm and fuzzy about the fact you've chosen locally sourced, Yorkshire meat over supermarket own-brand averageness. You legend.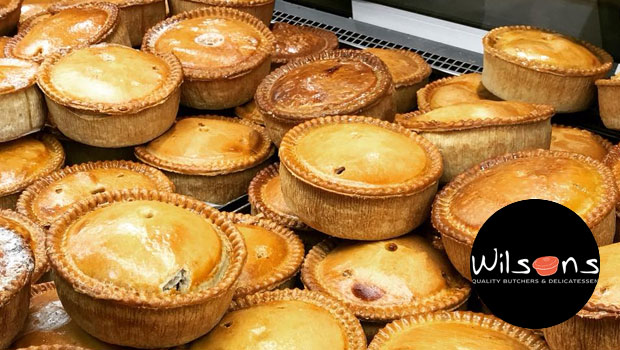 ---
The Redhouse
Where? 32 Sandhill, Newcastle upon Tyne, NE1 3JF
Pie of choice? Sausage, Apple, Cider & Onion
Showing us how pie can be traditional and incredibly cool (it's one of the most Instagram friendly restaurants on this list) The Redhouse has been treating Newcastle residents to its holy trinity of pie, mash and liquor since 2012. Made by the team at Amble Butchers, their handmade bakes are some of the best in 'toon and if you've yet to taste a Sausage, Apple, Cider & Onion pie then you're missing Tyneside's best creation since the Cheryl [insert second name here].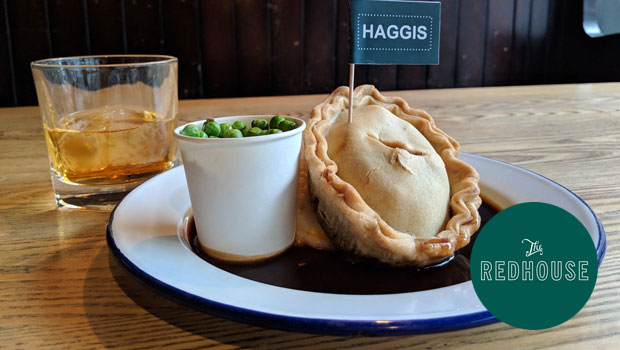 ---
Geordie Pie & Mash
Where? West Percy Street, North Shields, NE29 0DJ
Pie of choice? Chicken Balti
The Geordie Pie & Mash isn't tiny portions of pie with fancy beetroot jus. It's big, hearty food or as Newcastle locals call it, 'proper scran'. It's time the rest of the country woke up and saw what real pie looks like, so feast your eyes. Then feast your face as you wrap your jaws around a delicious Chicken Balti pie. Yep, they went there.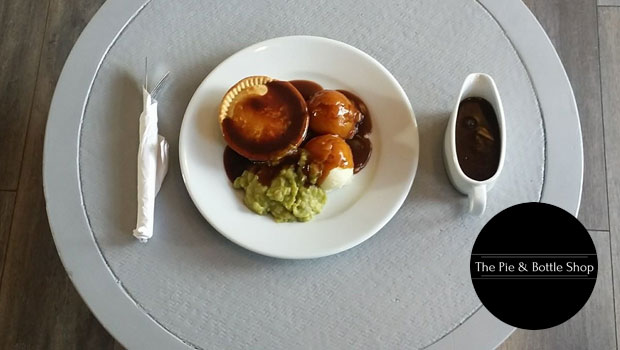 ---
Pie & Brew
Where? (Under) Abode Glasgow, 129 Bath Street, Glasgow, G2 2SZ
Pie of choice? Backed Mac & Cheese Crumble
Everything's bigger in Glasgow and the same can be said for their pies. For the uninitiated, Pie & Brew's epic creations are all made in the city and combined with the neon-lit restaurant design, a stellar line up of craft brews and a choice devilishly tempting man-cocktails, they're a completely unique experience. Get here, be hungry and fill your face with the Baked Mac & Cheese Crumble. Mmmmmmmmmmmmmmmm.
Website | Facebook | Twitter | Instagram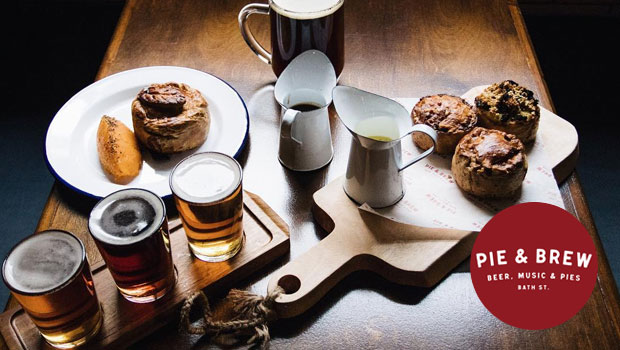 ---
Mum's Great Comfort Food
Where? 4a Forrest Road, Edinburgh
Pie of choice? Pumpkin & Sage
Sure, you can manage a hangover. But can your cooking completely obliterate it like mum's can? That's what makes Mum's Great Comfort Food so unmissable. This Edinburgh team are all about warming your soul, quashing the stresses of the workaday 9-5 and making sure that you don't leave that door without feeling utterly content with your pie choices. Which, if you order the vegan-friendly Pumpkin & Sage, we're sure you will be.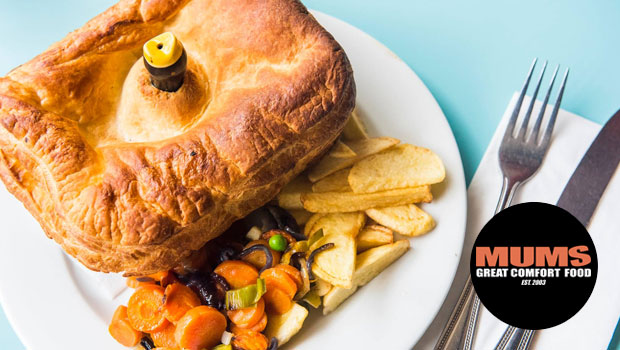 ---
The Crown and Tuns
Where? New Street, Deddington, OX15 0SP
Pie of choice? BBQ Beef, Cheddar & Smoky Bacon
The Crown and Tuns' pie perfectionists are constantly innovating the humble pie, reinventing classic recipes and creating new flavours for those in need of a major upgrade for their weekly fix of meat and pastry. Sure, you could go for the Beef and Bitter, but if you did, you'd be missed out on unique choices like the BBQ Beef, Cheddar and Smoky Bacon. It's a summer weekend in pie form.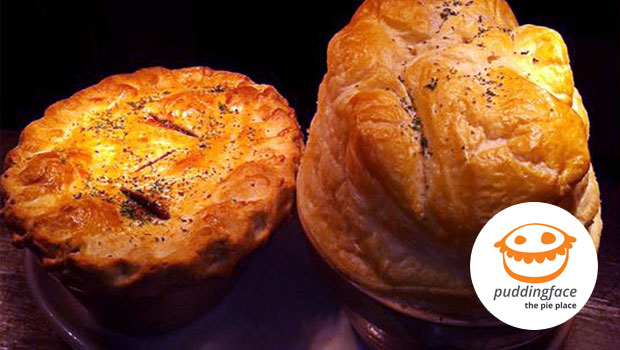 ---
The Real Pie Company
Where? Can be ordered nationwide
Pie of choice? Steak & Cheddar
You don't always need to reinvent the wheel and The Real Pie Company don't necessarily need to reinvent the pie to impress you, as their classics are so good that you'll just keep coming back for more. Available for order nationwide, everybody from John O'Groats to Lands End can join in the real pie party and fill face as the food gods intended.
Website | Facebook | Twitter | Instagram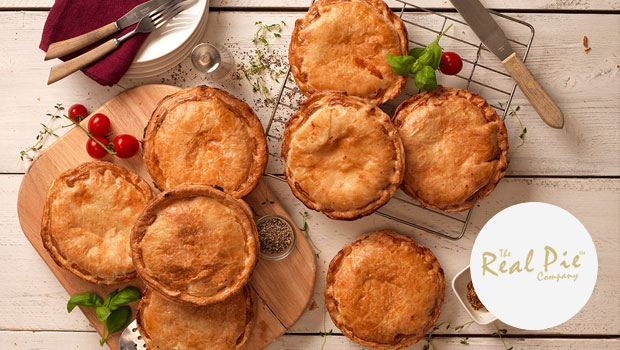 ---
Higgidy Pie
Where? Nationwide
Pie of choice? Spinach, Feta & Toasted Pine Nut
Forward thinking pie for forward thinking people, Higgidy Pies cater for all diets keeping carnivores mighty and meaty while vegetarians can get lean, green and mean with a delicious Spinach, Feta & Toasted Pine Nut pie. Best of all, you can usually find these great creations in your local supermarket so keep an eye open for one of these pie-shaped revelations.
Website | Facebook | Twitter | Instagram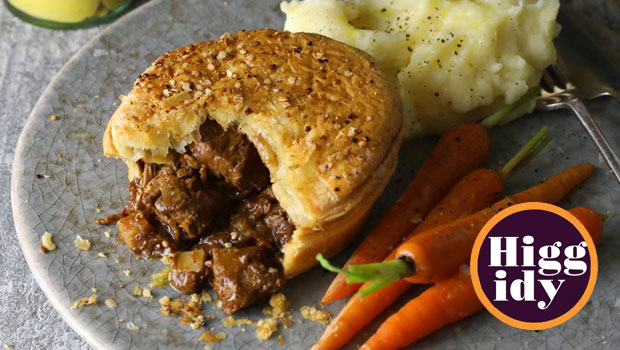 ---
Pieminister
Where? 10 Brunel Square, Bath, BA1 1SX
Pie of choice? Mexicow
Now we aren't biased. We're supporters of equal op-pie-tunity. But as we're based in the South West, we simply can't talk about the UK's best pies without mentioning Pieminister. One of the nation's most innovative pie brands, they'll happily swap out traditional ingredients for chili con carne, cauliflower cheese and chorizo 'n' olives. With a new restaurant in our hometown of Bath, the time is right to administer Pieminister into your food stream.
Website | Facebook | Twitter | Instagram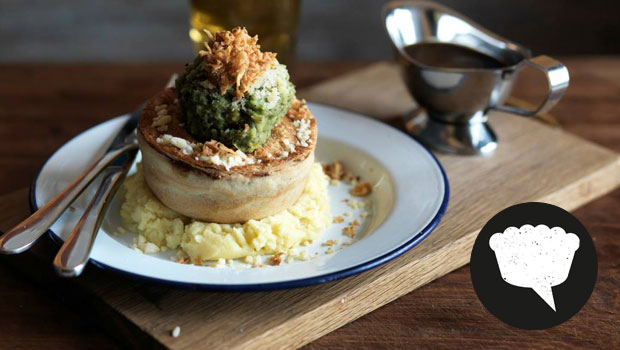 ---
Lovett Pies
Where? Unit 3, Cargo, Wapping Wharf, Bristol, BS1 2WE
Pie of choice? Beef & Blue Cheese
If Somerset is at the forefront of a pie revolution then Lovett Pies are one of the front runners, waving their gravy-soaked flag for the masses below. Whether they're stuffing their deliciously flaky pastry with blue cheese and beef or vegetarian friendly ingredients like truffled mushroom, for Lovett it's all about taking pie places where it's never been before and most importantly, sending your taste buds home happy.
Facebook | Twitter | Instagram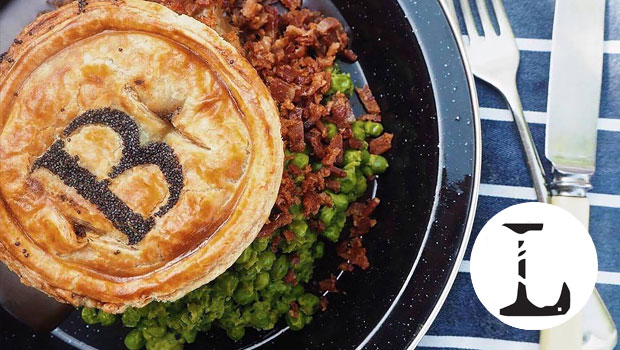 ---
Stable
Where? 40 Clarence Street, Cheltenham, Gloucestershire, GL50 3NX
Pie of choice? The Wild Rooster
Born from the South West's love of cider, the Stable couples the tangy tastes of their tasting boards with a small but impressive selection of inventive pies (proof that size doesn't always matter). You can keep the minority foodie groups happy thanks to vegetarian options while carnivores can unleash themselves on bakes like The Wild Rooster, a pie combining chicken, gammon and leek with pickled onion and tomato chutney.
Facebook | Twitter | Instagram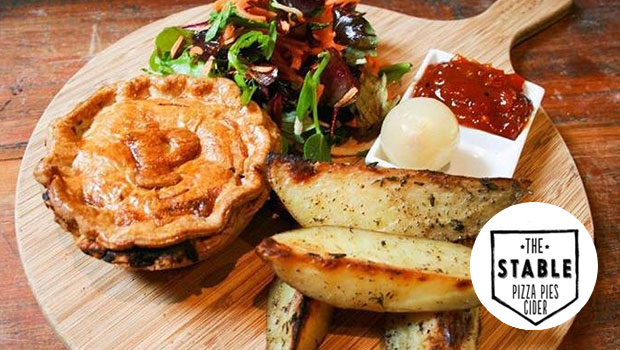 ---
Tom's Pies
Where? Heathfield Farm, Oil Mill Lane, Clyst St Mary, Devon, EX5 1AN
Pie of choice? Lamb and Chickpea with Chorizo
Working from a 40-acre farm in the heart of Devon, Tom's Pies have fast perfected their pie making game and now have to be considered among the UK's elite. Standing for honesty, quality and artisan taste, each pie is made with complete devotion to the craft using only fresh ingredients. Ah, so that's why the Lamb and Chickpea with Chorizo looks so good…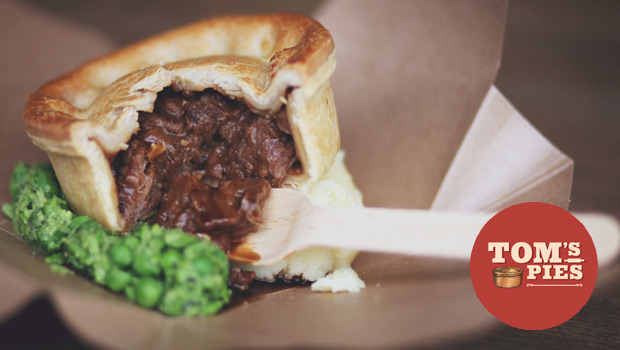 ---
The Pie House
Where? 181 Tuckton Road, Tuckton Village, Christchurch, BH6 3LA
Pie of choice? Spicy Bean
Yes, even the South Coast has been seduced by the pie craze sweeping the nation and we couldn't celebrate British Pie Week without giving a nod to The Pie House. Championing delicious pie for the people of Bournemouth, this superb team keeps things simple and the results are impressive, creating awesome takes on classic recipes for traditionalists while if you're feeling adventurous, order a Spicy Bean vegan pie.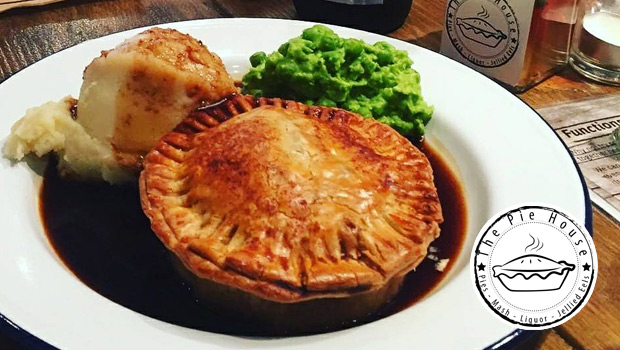 ---
Piecaramba!
Where? 30A Carlton Place, Southampton
Pie of choice? Spicy Bean
The brainchild of Rob Litchfield and Phil Linssenn, Piecaramba! Is what happens when you combine a serious love for pie with an even more serious love for comic books. Guess what? It's bloody brilliant and the perfect mash-up in which to, well, eat mash and an Avengers team of pies that brings traditional bakes into the 21st century 'kicking and screaming'. Piecaramba! We salute you.
Website | Facebook | Twitter | Instagram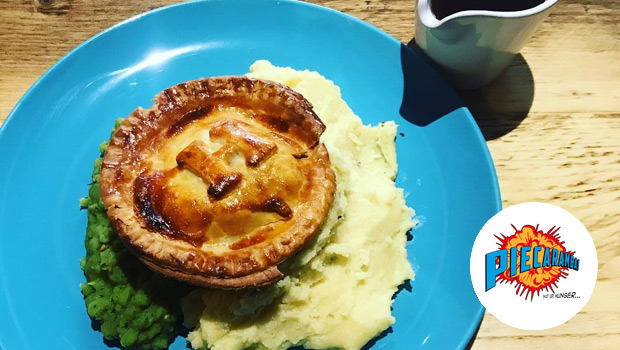 ---
Lewis Pies
Where? Can be ordered nationwide
Pie of choice? Chicken Balti
One of the UK's most respected pie-makers, Lewis Pies been perfecting their delicious recipes since 1936 and in that time, we think it's safe to say they've learnt a thing or two about what makes a great pie, but they aren't afraid to branch out to surprise you once in a while. Curry in a pie? We are not worthy!