You could travel the country tasting the tastiest burgers or you could let StagWeb take that bullet for you. You're welcome. It was a tough gig, we came, we saw, we ate and we usually stuck around for dessert because we're troopers!
Yes, it's possible our cholesterol levels are in need of some TLC (pre-season football training will knock us back into shape) but man, that was some good eating! We've put down our serviettes, packed up our supersized tasting plates, released our belts a notch and can now whole-heartedly present the UK's 40 Most Bad-Ass Burgers 2018.
---
SOUTH EAST
Half Man! Half Burger!
"Mother frickle!" Yeah, wash our mouths out with chilli sauce but HMHB bring out the nasty in you, it's just so lip licking, hotplate sizzling good. This really is food porn, the burgers are stacked, the fries are big and chunky and while it feels so wrong, it tastes so right. You have NEVER seen cheesy fries like this before and they come with the a really funky dipping sauce. And eventually, when our plates were empty, we died a little bit inside.
Baddest Burger
Bacon Mother Frickle – Two beef patties, Half Man! Half Burger! burger sauce, smoked bacon, American cheese, deed-fried pickles, caramelised red onions, iceberg lettuce.
Where to find them
43 Grove Road, Eastbourne, BN21 4TX (also in St Leonards)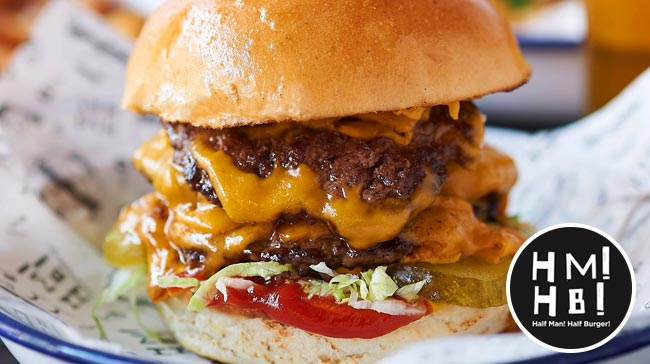 ---
Burger Brothers
Weight watchers look away now! You don't go to Burger Brothers for your health, you go purely for happiness and the Brothers deliver it topped with cheese between two buns. This isn't a hipster hangout where people take up seats while growing their beards, this is for people who love food and love burgers. Expect plenty of spice and big, big flavours.
Baddest Burger
Chicken Bazingo – Marinated chicken fillets, crunchy beetroot salad, chunky guacamole, caramelised onions, spicy cheese, garlic mayo.
Where to find them
97 North Road, Brighton, BN1 1YE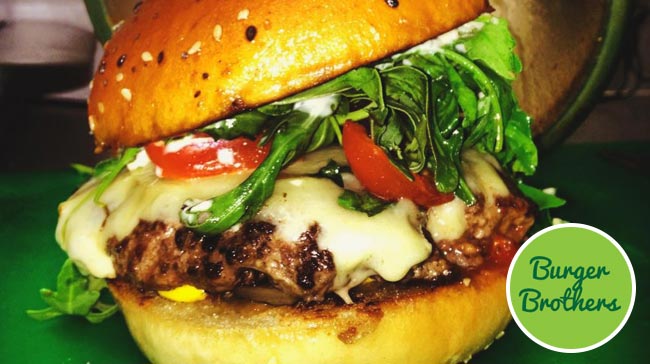 ---
Dirty Bones
Take three of your favourite things, old pubs, stacked burgers and music and bring them together and you have the perfect setting for an exceptional few hours enjoying delicious NYC-inspired comfort food. Serving a great selection of truly dirty food ("you've been a bad, bad burger…") these guys make kinky food and make it even more filthy, like their cheesy truffle fries which are a thing of beauty. The setting is boho, laid back and just hipster enough, without trying to rub its lumber jack shirt and beard in your face.
Baddest Burger
The Mac Daddy – Dry aged steak and double brisket burger, pulled beef rib, mac & cheese, espresso-spiked BBQ sauce on seeded brioche.
Where to find them
Various London locations including Shoreditch, Carnaby, Soho and also Oxford.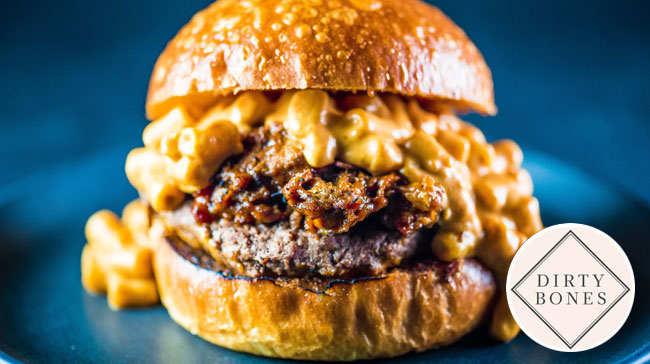 ---
MEAT Liquor
The name says it all, two great things brought together in perfect harmony with a cool soundtrack setting the mood. The food is rebellious, it feels like its part punk, part Che Guevara, it's like your brother's cool friend you always wanted to hang out with but knew he'd get you in trouble. It's hot, packed with flavour and there's plenty of it. And anywhere that serves Jagermeister Ripple Ice Cream and 'Filth Pie' has got to be worth a visit!
Baddest Burger
Dead Hippie – Two French mustard beef patties, minced onions, cheese pickles, lettuce and dead hippie sauce.
Where to find them
22 – 23 York Place, Brighton, BN1 4GU (also London, Croydon and Leeds)
| Facebook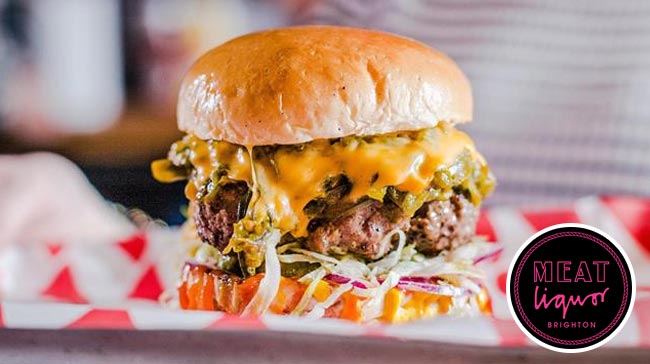 ---
The Burger Bros
With a definitive nod to the New York deli scene, this is friendly dining, with communal benches and a "come and join us" kind of vibe. This is real comfort food with a beachside setting that just adds to the (already awesome) flavour. The beers are cold, the fries are chunky and the burgers are more stacked than your high school French teacher. You'll also find an amazing selection of cocktails and ice creams.
Baddest Burger
The Sloppy – 72 day dry aged beef patty, brisket chilli, Sriracha, jalapeno sour cream, coriander and pickled red chilli.
Where to find them
51-3 Beach Street, Deal, Kent, CT14 6HY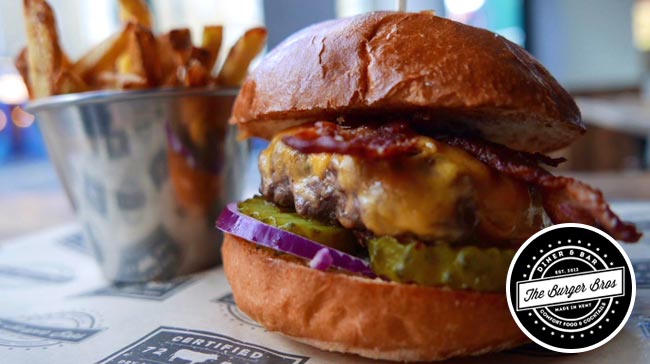 ---
Brioche Burger
Burger as art? Yes, it can be done and Brioche Burger are true artists. Their mission is to take the humble burger and elevate it to a new level. They've matched all that with amazing fries, shakes, desserts and cocktails. Inside the cool looking frontage you'll find a 50's homespun diner feel. Everything is paired back allowing you to focus your attention on the towering burgers. You will take photos, you'll probably even want to get one tattooed on a bicep. They're just that damn good!
Baddest Burger
Betty Boop – Two beef patties, double American cheese, crispy chicken rashers, lettuce, tomato, caramelised onions, gherkin, secret sauce, super soft brioche.
Where to find them
154 Hoe Street, Walthamstow, London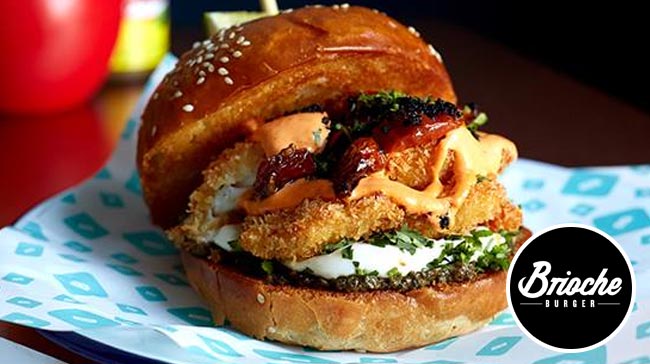 ---
Prime Burger
You know those photos you see of the kind of places you want to be seen in, well this is it! So cool, you already feel smarter before you've even ordered. And then the magic happens as you lock eyes with the menu. They offer a huge range of burgers and also some fantastic fries (we went for the chorizo cheese and chilli fries). These are burgers you will be uploading to Instagram and then deleting again when you realise Prime Burger should be your new secret 'happy place'.
Baddest Burger
British beef burger, jalapeño peppers, chilli salsa, onion, tomato, lettuce and mayo.
Where to find them
St Pancras, Euston and London Excel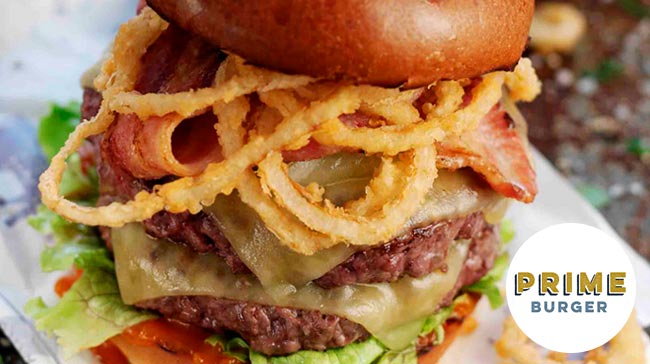 ---
Honest Burgers
If we could draw our perfect burger joint it would look a lot like Honest Burgers (but with shakier lines and weird stickmen). Let's start at the top, the bar, which is properly stacked. Then lets get down and dirty with the burgers…. although it's not dirty, Honest Burgers have taken everyone's favourite 'bad thing' and made it wholesome, bursting with flavour and instead of sneaking off for a little 'alone time' this is somewhere to share amazing burgers with good friends.
Baddest Burger
Kentucky BBQ – Beef patty, candied bacon, onion ring, cheese, lettuce pickles bourbon BBQ sauce, Kentucky mayo, served with rosemary salted chips.
Where to find them
Various locations across London.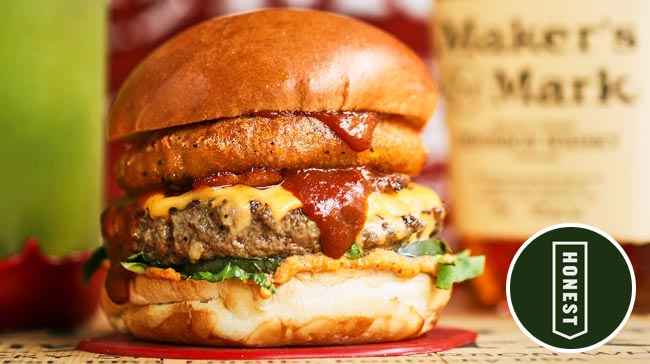 ---
Bleecker Burger
Ok, we admit, we're suckers for good shakes and these are gooooood shakes but that takes nothing away from the burgers that we'd sell our brother for (he's kind of annoying anyway). These aren't angry, shouty burgers, dripping in grease and stacked for effect, Bleecker's are all about the flavour. Seriously, you'll want to sell our brother to afford a second stack. We can also recommend the sweet potato fries, which are better for you and taste amazing.
Baddest Burger
Bacon Double Cheeseburger – Double beef patties, double cheese, bacon, onion, and sauce.
Where to find them
Spitalfields, Bloomberg, Victoria, Southbank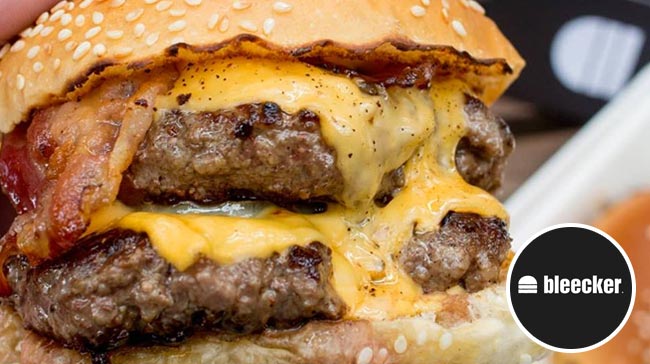 ---