It's true, not all are bars are created equal. Nowhere is this truer than in London. But which themed bars are the best and which are just pretending? Like a bloodhound chasing the hair of the dog, we pounded the pavements looking for the best themed bars for your next London stag do.
Below are some of the greatest themed bars London town has ever produced!
---
ABQ London
One for those who can't face Breaking Bad not being on the air any more but there's so much more to ABQ London than their indoor cocktail making RV. There's a chance to be a Saint, the name of their plant powered pizza bar from which you can order anywhere in the venue, AND a sinner, the name of the mezzanine area stocked full of banging hip hop and arcade machines. All the while you enjoy a Dry Walter or a Bloody Pool.
Where is it?
18 Bohemia Place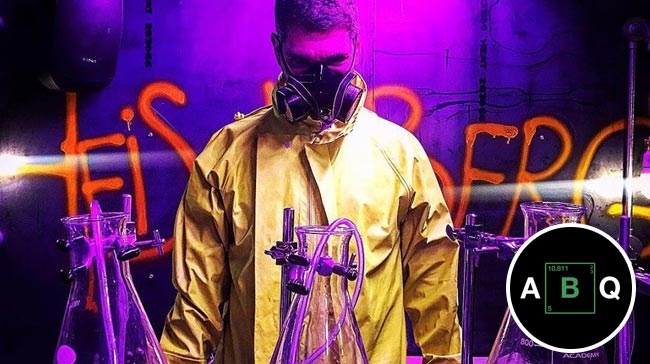 Breaking Bad Cocktail Lab
"It's all in the chemistry…"
---
Secret Weapon
Yes, this is a video game themed bar but there's more to it than a clever name. Go inside and you'll find some of the friendliest staff in the capital, a wide range of themed cocktails (try the Skyrum) and enough consoles to satisfy your entire LAN party. They even host launch parties and Marioke which is karaoke except the lyrics are doctored to be about video games. More fun than an arrow to the knee!
Where is it?
West Ham Lane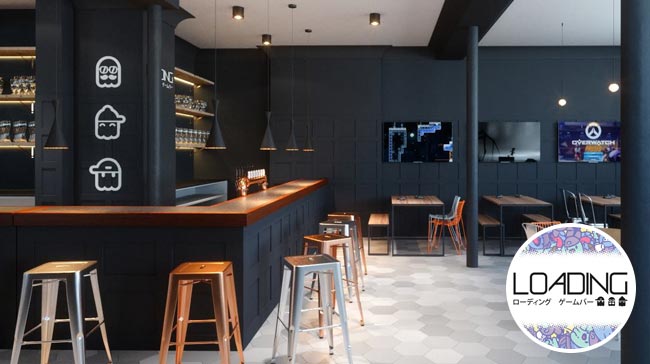 ---
Flight Club – Social Bars
Darts might be the pinnacle of pub sports but where can you go to learn the art and still have a good time? Flight Club, a social darts bar for a new generation who love a game of arrows, has you covered! Seriously though, Flight Club has totally reinvented darts, bringing in a digital interface making it easy to score and play with your friends. There's also sharing food and a quiver of cocktails.
Where is it?
2a Worship Street
Website | Facebook | Instagram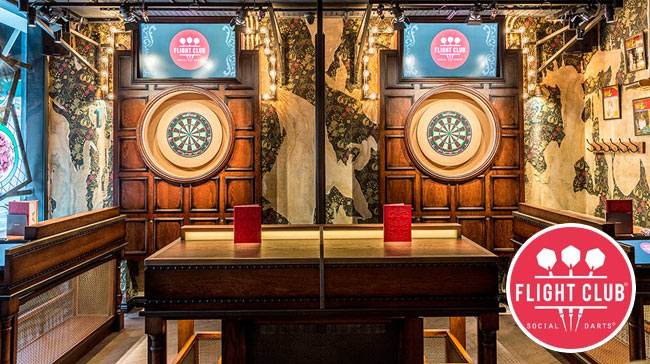 ---
Evans & Peel Detective Agency
This one might go all the way to city hall! The Evans & Peel Detective Agency is a bar so exclusive that you need an appointment. But trust us it's well worth it. Head to their website, invent a crime, maybe you suspect your cat is a Russian spy or that the missus put polonium in your protein shake, and make a time to meet at the bar. You'll be greeted with food, drink and a private table to do all that god damn paperwork!
Where is it?
Seriously they don't tell you until you book but it's somewhere in Chelsea!
Website | Facebook | Instagram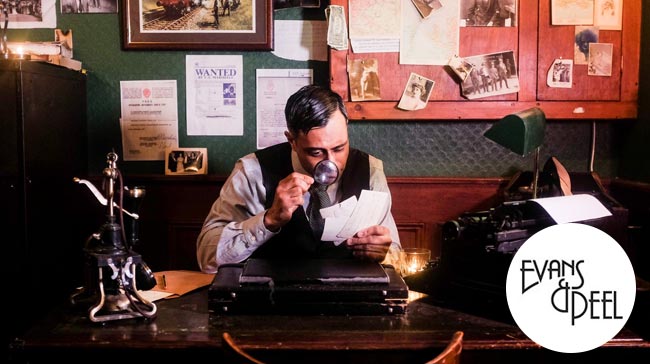 ---
The Escapologist
The first rule of attending The Escapologist is…oh wait. It's located in the old headquarters of a secret society that ran London two centuries ago. But don't worry, we're talking more Masonic lodge than Eyes Wide Shut. Reserve a table and hear stories of the bar's founder, vagabond and all-round Victoriana Russell Brand, Baron Von Took, who took his last drink in this very bar. And if it all gets a little too Rasputin for your liking you can cling onto the 21st century with one of their amazing pizzas.
Where is it?
35 Earlham Street
Website | Facebook | Instagram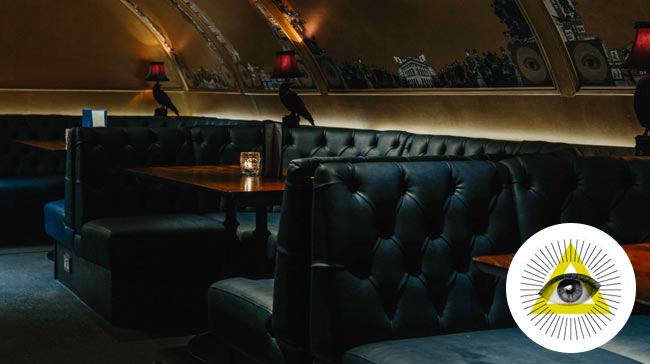 ---
Looking Glass Cocktail Club
This uber cool Shoreditch speakeasy is one for those who dabble in the sleight of hand and can forgive the odd jabberwocky. With plenty of excellent cocktails, table service and more than enough comfy armchairs you could be forgiven for thinking this was it but take a trip through the hidden door (no we're not telling you where it is) to indulge in a haven of debauchery that feels a million miles from the streets of North London.
Where is it?
49 Hackney Road
Website | Facebook | Instagram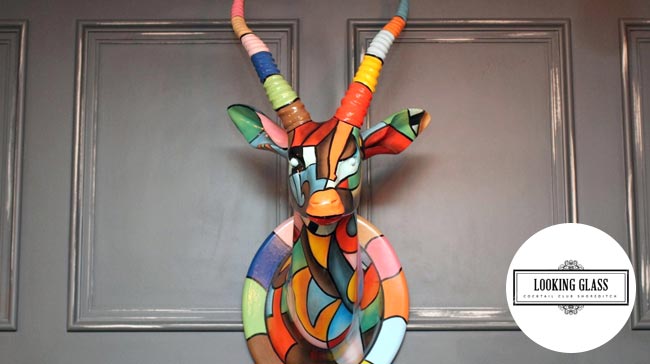 ---
PimpShuei
Was there ever a time or place when everyone was Kung Fu fighting? Yes, Pimpshuei, an underground martial arts themed bar that's funkier than James Brown's box of capes. The walls are filled with vintage movie posters, tv screens and retro arcade machines while at the bar you can enjoy a Pimp's Cup cocktail or even a Bangkok Dangerous. We defy anyone to spend an evening here and not at least try a Bruce Lee impression.
Where is it?
59 Mount Pleasant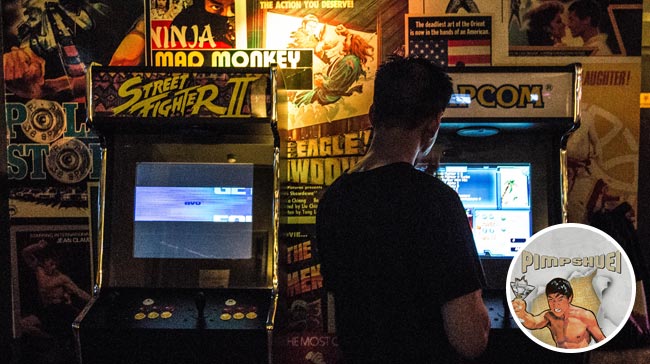 ---
The Bletchley
Holmes, Bond and Turin your way through this spy themed cocktail bar filled with the greatest team of mixologists ever assembled by the British government. Once inside you'll need to solve puzzles (you can choose how hard they are) using your very own enigma machine to be rewarded with your next drink. You're even given your own trench coat to wear for the duration of your service…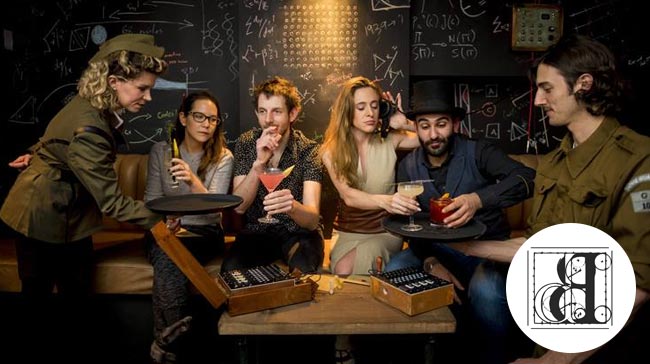 Cocktails & Codebreakers
"Your Stag Party Needs You!"
---
Little Nan's
Ever wanted to get drunk with your Nan without having to watch Countdown on repeat? Come to Little Nan's, a nan themed boozer in Catford. Decorated with the owner's nan's furniture you can sit down and have a nice cuppa. And by cuppa we mean one of the signature cocktails served in a teapot among other things. They'll even name a cocktail after you on your birthday!
Where is it?
Catford Road, Deptford & Fitzrovia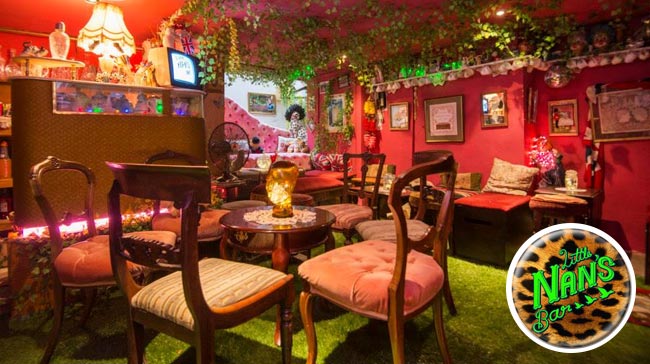 ---
Meltdown London
Mad for Mario? Head over heels for Overwatch? Silly for Smash Bros.? 100% dedicated to gaming, this bar is a must visit for anyone who's ever dreamed of playing an Overwatch tournament while nursing a 'LEEEROOOOY JENKINS' cocktail. And yes, all the drinks have names prized from gamer folklore. Other classics include the Kirby, Finish Him and the Headshot. The staff are all gamers, there's screens everywhere and there's something happening every night.
Where is it?
342 Caledonian road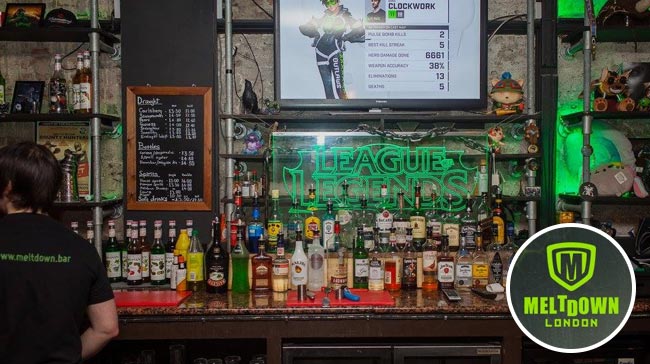 ---
The Bootlegger
What is it about prohibition that makes you thirst for a pint? The Bootlegger has you covered. This 20's themed speakeasy has live jazz, fast talking waiters and sloe gin, everything you need to time travel. The perfect venue for cheeky half after work or a full-blown stag do, you'll come for the booze but stay for the untouchable atmosphere.
Where is it?
Lime Street (but don't tell anyone)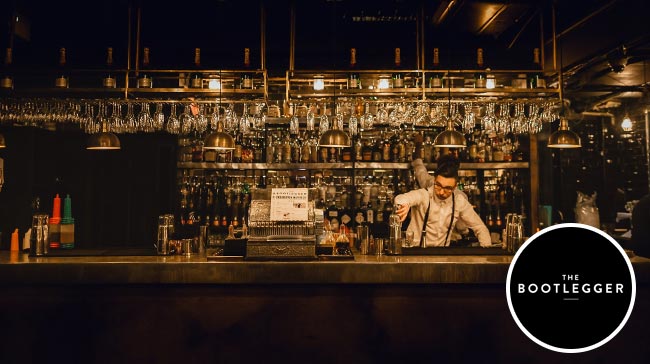 ---
Kona Kai
But…but…Fulham doesn't have a coastline. Well thanks to Kona Kai you can now enjoy all the fun of a Polynesian cocktail bar in stylish West London. The décor is as loud as you'd expect but you'll still be able to hear the variety of live music and DJ's while chowing down on some deep fried calamari. But the main event is the Mango Bango sharing cocktail which is served in a boat…yes…it's a boat full of vodka, lime and mango. Oh, and you can drink rum from an actual pineapple.
Where is it?
Fulham Road
Website | Facebook | Instagram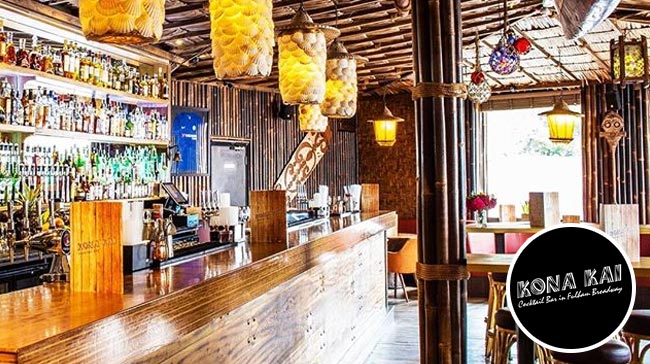 ---
The Schoolhouse
No catchment zone, no suspicious PE teachers and Bobby Jones won't tell the whole school you wet the bed, need we say more? Okay so it's a trip down memory lane for anyone wanting to enjoy an evening of boardgames and their more-than-generous bottomless dinners. The latter includes back to school favourites like the ever nostalgic fish finger roll and Harissa Chicken Skewers for those of you who went to the posh school up the hill.
Where is it?
137-139 St.John's Hill
Website | Facebook | Instagram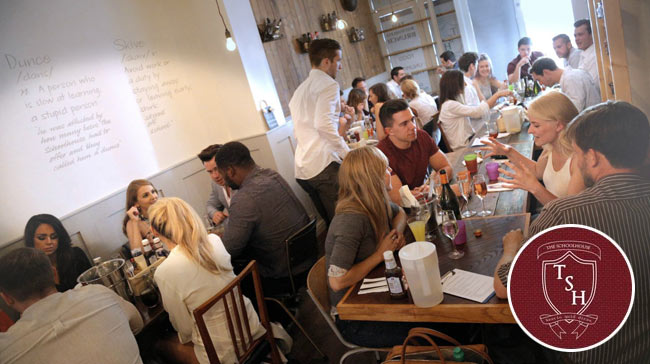 ---
Bobby Fitzpatrick
Remember the 70's? Us neither but we imagine there was lots of deepcrust pizza, rum and grooooooovy wallpaper. The Bobby Fitzpatrick bar has all that and more to (Chelsea) boot. More of a weekend venue, you'll want to come in, hang out and enjoy one of the many signature dishes that Bobby (Yes he's a real person) has created for his establishment. So grab your bellbottoms, Led Zeppelin LP's and stripy shirt because things are gonna get groovy.
Where is it?
273 West End Lane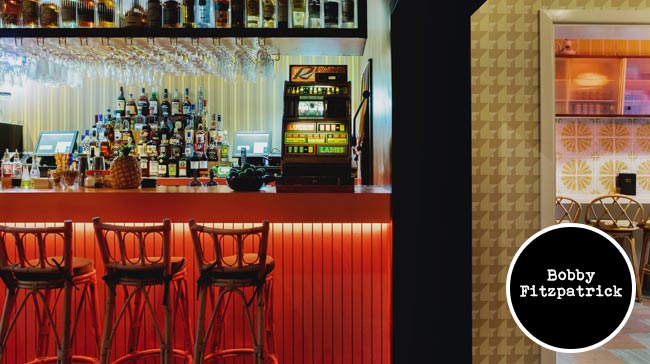 ---
The Mayor of Scaredy Cat Town
Are you here to see the mayor? Okay good, just head towards the fridge. No really. Hidden behind a Smeg fridge, and accessible thanks to a request to see 'The Mayor' at the Breakfast Club bar, descend the stairs into a basement to enjoy whole host of 'dirty little special' cocktails and delicious bar foods. We recommend trying the heavily topped disco fries.
Where is it?
12 -16 Artillery Lane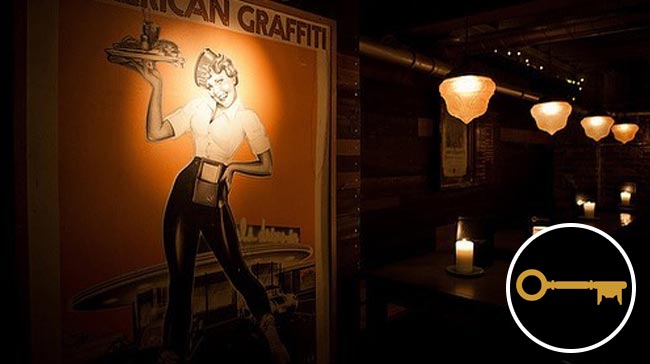 ---
The Churchill Bar & Terrace
"I am easily satisfied with the very best" So sayeth Winston Churchill and after visiting this Marylebone bar you'll find it hard to disagree. There's a range of craft cocktails, original memorabilia and a drinking terrace, but most impressively the bar even has the blessing of Winston's extended family. Enjoy a Sacred Churchill Craft Gin next to a life size bronze of the man himself or just sit back and take in the luxe art deco décor.
Where is it?
30 Portman Square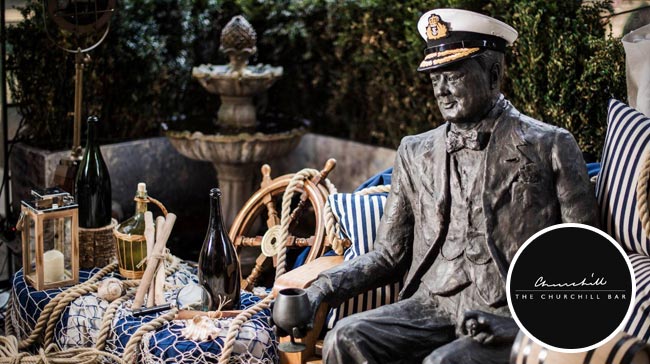 ---
Floripa
Get yourself ready for a carnival because there's one hidden in Shoreditch! Floripa brings the pounding craziness of the Brazil's nightlife to London's streets complete with extravagant cocktails, great live music and an insatiable party atmosphere. There's also some crazy good bar food to suit every taste and, should you be planning a big one, you can rent out certain areas of the club for you and your buddies.
Where is it?
91-93 Great Eastern Street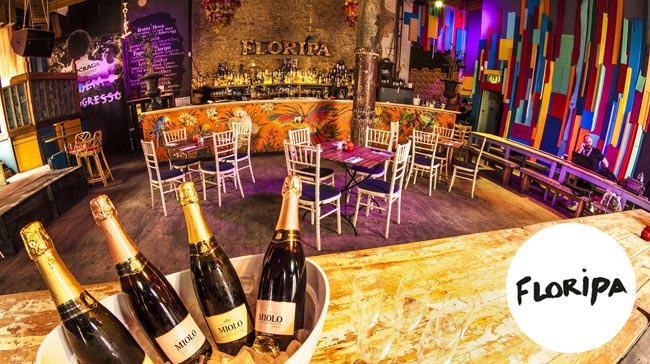 ---
The Maple Leaf
Pretty big sports bar eh?! From the friendly doorman Ricky to the awesome spicy wings this cool Canadian sports bar is one for those who enjoy all things north of the border. But just in case you're not a sports nut, The Maple Leaf offers more than enough Canadian brews to keep you ticking over. Think beers called things like Moose Head…no really.
Where is it?
Covent Garden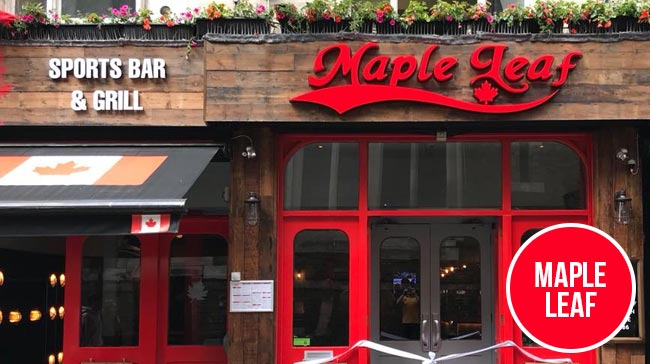 ---
Mr Fogg's Residence
No doubt, Mr Fogg's Residence in Mayfair is more sophisticated than a movie with subtitles. Themed around explorer Phileas Fogg this upmarket cocktail bar offers you the chance to travel the world without leaving your chair. The range of cocktails are picked from various countries visited by the fictional explorer and there's even four more locations spread across London. See if you can visit them all in 80 days!
Where is it?
This one's in Mayfair but there are two more in Covent Garden, one in Fitzrovia and another in The Strand.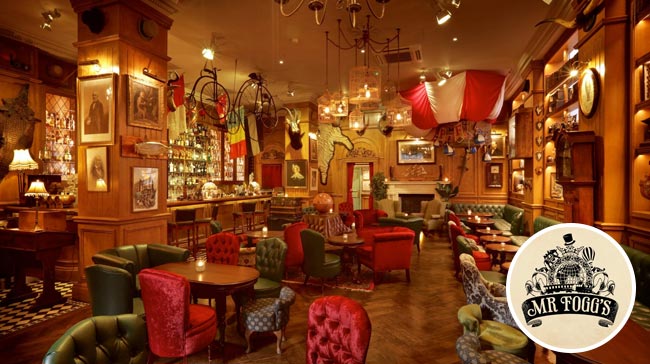 ---
Bar Kick
Did anyone ever stick to the 'no spinning your table footballers all the way round' rule? Well here you'll need to keep your game face on as you and your mates take to one of the many Bonzini football tables that line the walls. There's finger food, live sport on the box and a veritable league table of booze.
Where is it?
Shoreditch High Street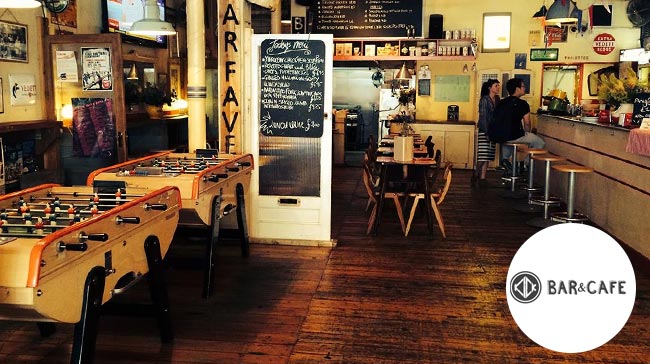 ---