Looking for a slice of the action? In the market for a pizza something delicious? On the hunt for the upper crust of… okay we'll stop. Seriously though, we all know that pizza is a soul satisfying experience but where can you find the best of the best?
At StagWeb we put in the hard work so you don't have to and have sourced 50 of the UK's best pizza restaurants. Come in, sit down, we're about to get cheesy!
Midlands
Pizza Storm
Pizza, ice cream and beer. Need we say more? Okay, so Pizza Storm are all about you having your pizza your way and offer a mind blowing 'Create Your Own Pizza' range where you can customise everything from the pizza sauce to the seasoning. Pizza Storm also have a range of thick shakes, indulgent sides and ice cream. There's also a create your own salad if you're that way inclined…
Where is it? 37 Milton Street, Nottingham, NG1 3EN
Their best slice? The All-Day Breakfast pizza – Bacon, sausage, mushrooms, baked beans and a free range egg.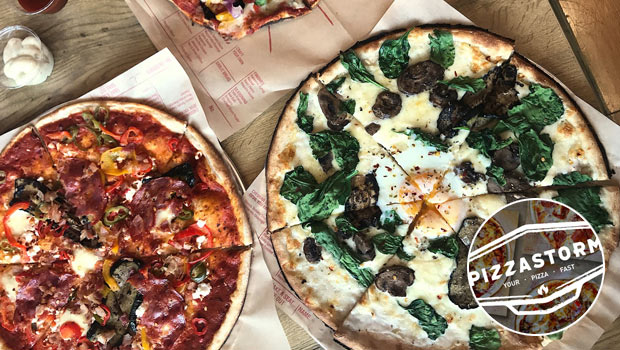 ---
La Pizza
The good folks at La Pizza give 100% passion and trust us it shows. Everything you eat is either sourced locally from independent suppliers or directly from Italy. Most impressive are the menus' 'special pizzas' which include a star shaped pizza, a different topping on each point, and La Pizza Metre which, yes you guessed, is a meter long pizza which can be shared between four people…or one.
Where is it? 38 Friar Gate, Derby, DE1 1DA
Their best slice? THERE'S A METER LONG PIZZA!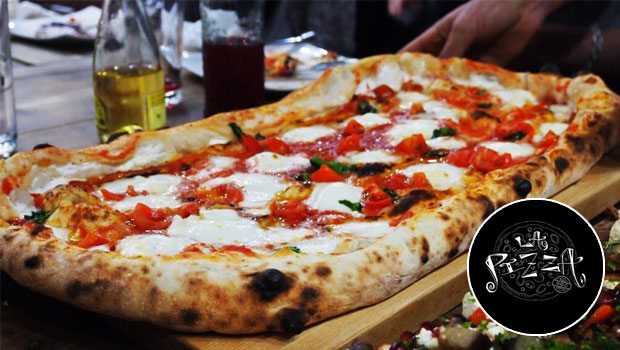 ---
Dough & Brew
Like many a rapper, this place is all about the dough. Genuine sourdough that is, left to prove for 72 hours and then hand stretched into 12 inches of gooey goodness. All their pizzas have their own name and personality. The Clark is manly meaty feast while the Lois is a collection of Mediterranean vegetables and truffle oil. You get the idea…
Where is it? 45 Brook Street, Warwick, CV34 4BL
Their best slice? The Sir Winston – Rib beef, caramelised onion, stilton and mozzarella.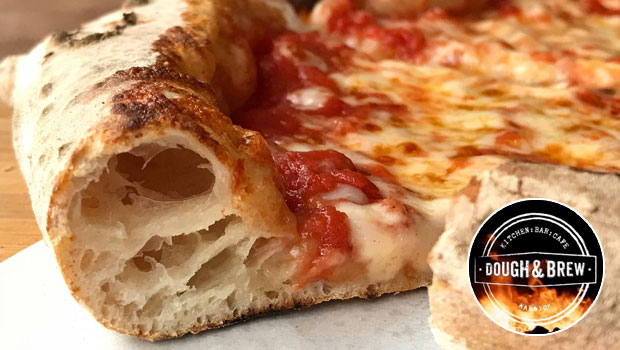 ---
Suede Bar
With the Grim Reaper as their mascot and a promise of "death by pizza" on the menu, the Suede Bar is not a pizza place to be entered lightly. An impressive menu with something for every taste is made even better by the awesome establishment that hosts live music on Fridays and Death by Disco live DJ nights on Saturday.
Where is it? 34 Heathcoat Street, Nottingham, NG1 3AA
Their best slice? Roast aromatic duck, spring onion, cucumber on a hoisin sauce base.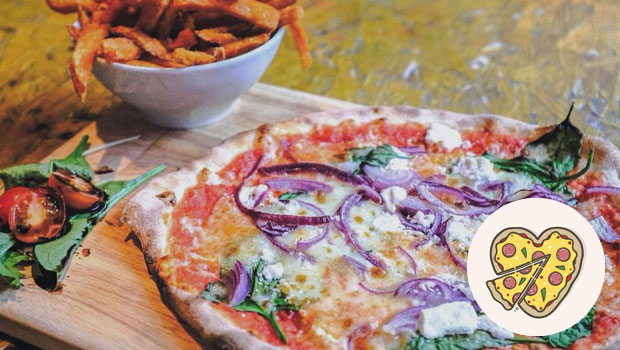 ---
The Pear Tree
Like the world's best football teams, this Loughborough based pizza place has taken things to a new level; great ingredients, a chilled village inn atmosphere and selection of simple but classic pizzas. Not content with mastering pizza they also provide more than a couple of mind blowing desserts and sides that will make you want to loosen your belt just that little bit more.
Where is it? 8 Church Hill, Loughborough, LE12 8RT
Their best slice? The Salami – Tomato, mozzarella, salami and chilli (because what else do you need?).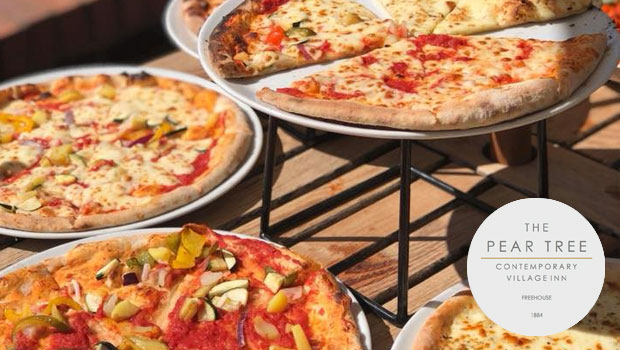 ---
Peel & Stone
Hidden (at least for now) in the arches of Birmingham's Jewellery Quarter, Peel & Stone create cheesy masterpieces from the sourdough base up. How do they get the base so good? Simple, they're bakers first and pizza makers second. But this adds up to some truly epic tastes when they combine the two!
Where is it? 22 Great Hampton Street, Birmingham, B18 6AQ
Their best slice? The Mardi Gras – Cola baked ham, tomato, mozzarella and peaches.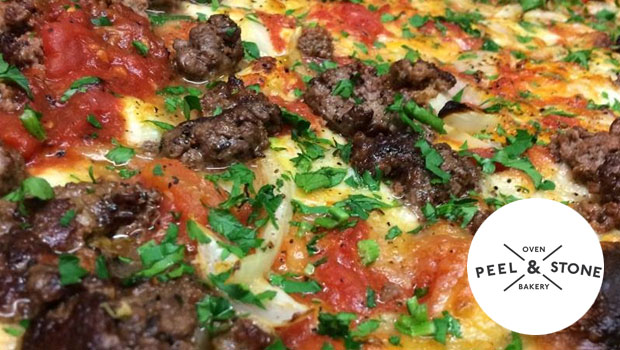 ---
Happy Dough Lucky
If you didn't at least smile at the name seek help now. If you're looking for something perfectly round, keep walking! This cool pop up eatery has a cult following in Nottingham (the jewel in the Midlands' pizza crown) and boasts a chilled vibe, friendly staff and a menu of rustic classics that'll satisfy veggies and carnivores. Just make sure you book because tables go fast!
Where is it? 14 Broadway, Nottingham, NG1 3AL
Their best slice? Sausage, Prosciutto, Mushroom, Egg, Tomato and Mozzarella.