Rumour has it, after chasing all those snakes out of Ireland, St Patrick was gasping for a delicious pint of Guinness. Unfortunately, he didn't have a clue where to go to get one. If only he'd been able to check out our list of the UK's Best Paddy's Day Pubs, ey?! Here at StagWeb, we've found some great regional boozers where you can go for a good old-fashioned 'Oirish' knees-up and finally answer that age-old question, what is the plural of Guinness… 'Guinnesses… Guinnii… Guiieenouaa?'
But let's craic on…
The Duke of York | Belfast
Chock-full of character, tradition and reportedly the largest selection of Irish Whiskey in the whole of the Emerald Isle, The Duke of York is the place to go for St Paddy's celebrations if you're in Belfast. Located in the quirky Commercial Court, you'll love the buzz about this place which is fast becoming one of the hottest spots to check out in the city. But don't take our word for it, head on down there for yourselves. You don't want to be that guy who misses out, do you?
7-11 Commercial Court, Belfast, BT1 2NB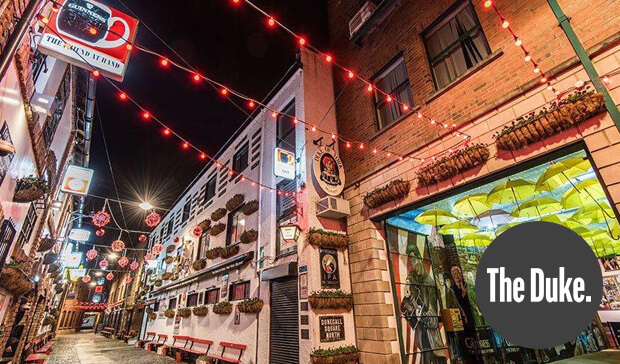 ---
The Old Crown | Birmingham
Who'd have thought this quaint, Grade II listed building would be the host of one of Birmingham's biggest St Patrick's Day celebrations? Well, believe it guys. The Old Crown goes off, not just on Paddy's Day, but the whole week leading up to it, with quizzes, tasting sessions and club nights. They'll be opening up their famous Guinness Village which is being joined this year by a Jameson's Irish Whiskey beer garden. On the day, they host the Parade Day Party which is £5 on the door.
188 High Street, Birmingham, B12 0LD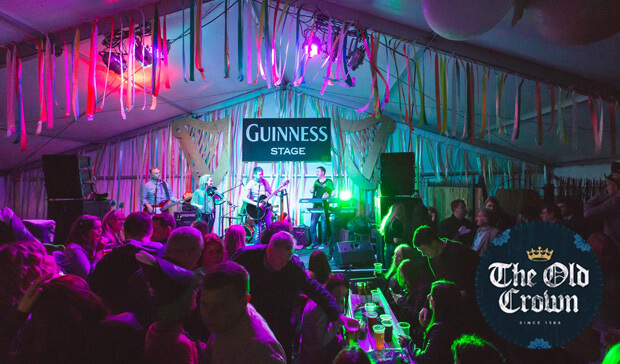 ---
Fiddler's Elbow | Brighton
The pub where every day is St Patrick's Day. So, when it actually is Paddy's Day it's guaranteed to be at least double the amount of entertainment. You're going to want to give your mates a nudge and get on down to The Fiddler's Elbow on the 17th to sample what's said to be the best pint of Guinness in the city (we'll let you guys be the judge of that!). Not only that, they claim it's probably the cheapest, too. We'll drink to that!
11 Boyce's Street, Brighton, BN1 1AN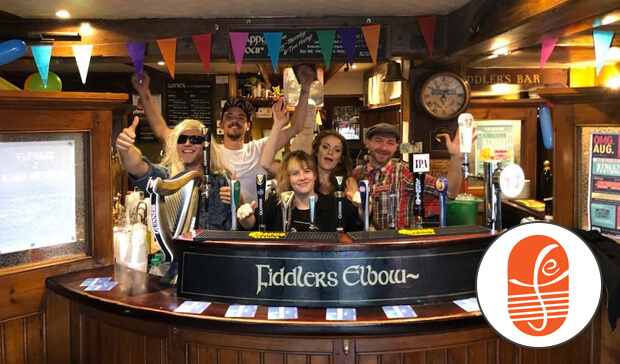 ---
Seamus O'Donnell's | Bristol
Though Bristol is famously located in the heart of cider country, if there's one day of the year when it's acceptable to pull yourself away from those appley beverages, it's Paddy's Day. At Seamus O'Donnell's the party starts at 11am and goes through until 2am the next day. There'll be plenty of Paddy's merch being dished out with Guinness hats, Seamus key rings and other goodies on offer. Plus traditional Irish bands on all day to really get you into the spirit of things.
13 St Nicholas Street, Bristol, BS1 1UE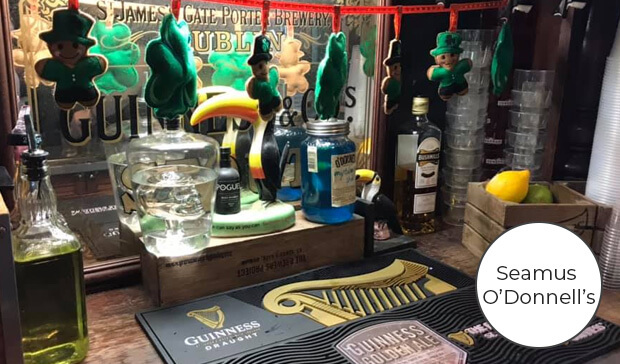 ---
O'Neill's | Cardiff
Irrespective of the score between Wales and Ireland in the rugby the day before, the Irish party celebrations are still going to be in full swing at O'Neill's in the Welsh capital. There'll be live music, screens showing all the day's sport and a great party atmosphere. Not only that, fancy dress is actively encouraged, so get creative. For anyone who still has a lingering hangover from the night before, they'll whip up a delicious Irish breakfast to give you some fuel for the rest of the day.
85-87 St Mary Street, Cardiff, CF10 1DW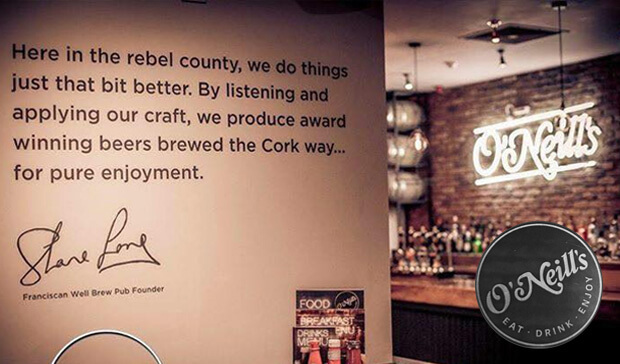 ---
The Four Provinces | Coventry
One of Coventry's best Irish venues, The Four Provinces know how to throw a St Patrick's Day celebratory bash – and then some. The 'Four Ps', as it is known, frequently have great live music events, show all the sporting action and put on unmissable Paddy parties. So, grab those Guinness hats, prepare for the great craic and get ready to paint the town emerald green as you celebrate the right way – with a superb pint of Guinness, some Irish whiskey and an incredible party vibe.
19 Allesley Old Road, Coventry, CV5 8BU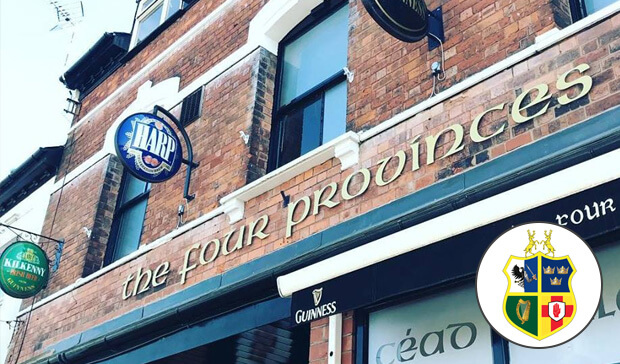 ---
Biddy Mulligans | Edinburgh
Part of the #CowgateStPats group, which put on the city's biggest St Patrick's Day celebrations, over three days and four venues, Biddy Mulligans is certainly one of Edinburgh's key Paddy's Day party hubs. They've lined up a great selection of live musicians for Irish flavoured entertainment throughout the day and they've also stocked up on Guinness to keep everyone in the party spirit. Forget the fact it's Monday the next day, get the boys together and celebrate in style.
94-96 Grassmarket, Edinburgh, EH1 2JR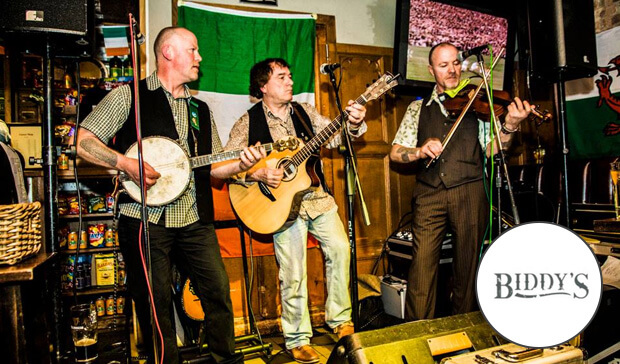 ---
Jinty McGuinty's Irish Bar | Glasgow
If you're in Glasgow on the 17th March, you're going to want to check out the epic, award-winning, Jinty McGuinty's Irish Bar and their famous St Patrick's Day celebrations. Over the course of the entire weekend, there'll be live music, Irish dancers and an outside Guinness Bar to keep everyone refreshed and entertained. This pub prides itself as a supporter of local talent and helps to promote them with their live music sessions, so you'll be treated to some of the best resident Irish Musicians.
21/29 Ashton Lane, Glasgow, G12 8SJ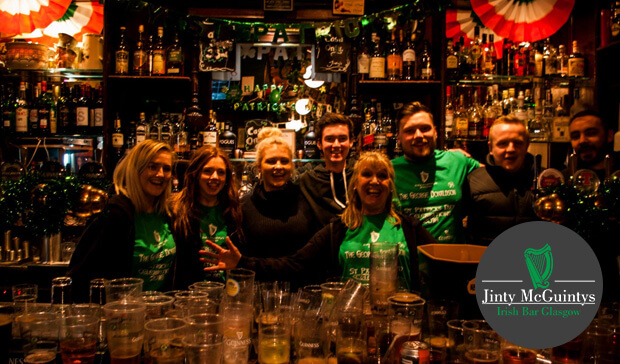 ---
The Mustard Pot | Leeds
The quirky Mustard Pot is the place to be in Leeds for some alternative Paddy's Day fun. With live music from The Sea Whores, who love a bit of 'old world folk songs, bawdy ballads and junkyard skiffle', there's going to be a great twist on traditional celebrations. They have a huge outdoor area, so there'll be plenty of space to kick back and relax in, and they also have a great array of drinks and a brilliant food menu on offer. You'll be smiling through those Guinness-tinted teeth in no time.
20 Stainbeck Lane, Leeds, LS7 3QY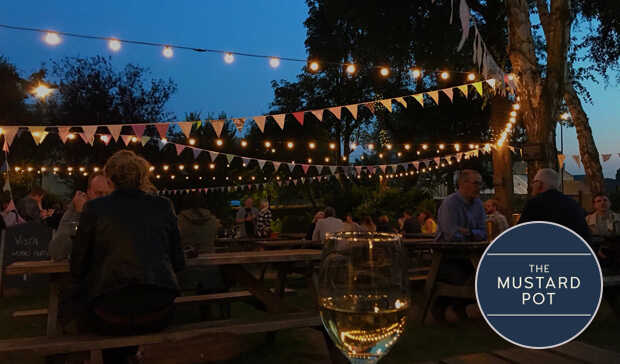 ---
Flanagan's Apple | Liverpool
Flanagan's Apple is reportedly Liverpool's oldest Irish bar and 'serves the best Guinness in town'. Do you need more of an excuse to head down there for some traditional Paddy's Day fun? Well if for whatever reason, you did, it's also located on the vibrant Mathew Street in the heart of the city, so you'll be right in and amongst all the action, they love a bit of live music, and the food is spot on. Count me in!
18 Mathew Street, Liverpool, L2 6RE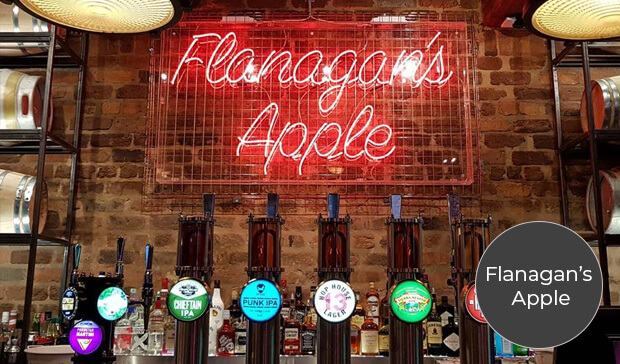 ---
Porterhouse | London
Why have St Patrick's Day when you can have St Patrick's Festival? Forget the daily celebration, the guys at the Porterhouse in London are going all out and having a week-long tribute to all things Irish, with live music, whiskey tasting events and plenty of Irish craft beers and traditional food on offer. This Irish bar is one of the largest bars in London, split over three main floors. What's more, their beers are handcrafted in Dublin and shipped over. I'm there!
21-22 Maiden Lane, Covent Garden, London, WC2E 7NA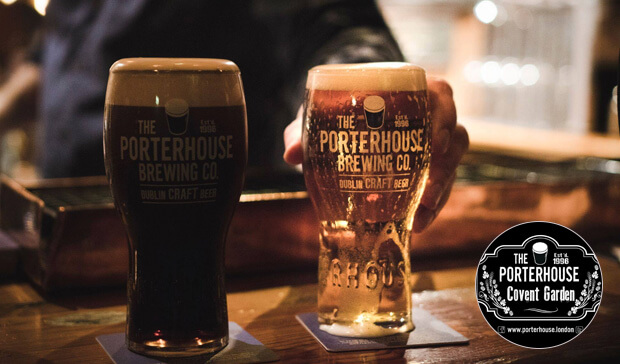 ---
O'Shea's Irish Bar | Manchester
Good food, live music and a great selection of Irish gins, O'Shea's Irish Bar in Manchester is the perfect place to kick off those Paddy's Day celebrations. It'll be free entry during the day and then ticketed from 7.30pm when the party seriously kicks into gear. There'll be live music from Green Hot Clover who cover every genre of music from Irish traditional to modern pop hits. There's a chance to win four free tickets and a £50 bar tab. Head over to their Facebook page for more info.
80 Princess Street, Manchester, M1 6NF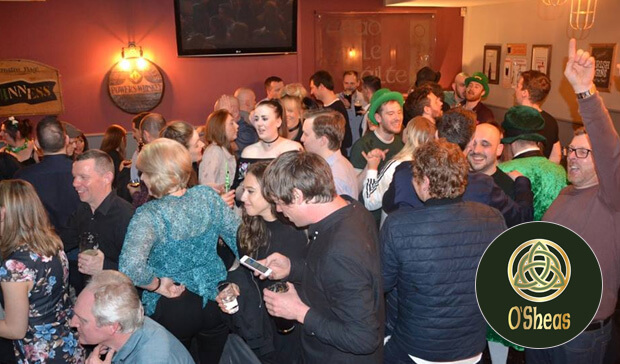 ---
Butcher Bhoy | Norwich
Opened in October 2018, Norwich's new Irish bar's inaugural Paddy's Day bash is set up to be mega. Forget one day of epic celebrations, the Butcher Bhoy have a weekend jam-packed full of festivities. There'll be live music and river dancers, so you can pull out all your best Lord of the Dance moves, an extensive Irish menu on offer, including Irish stew and Irish seafood chowder, and, of course, plenty of Guinness. So, get on down there and check out Norwich's hottest new venue.
10 Exchange Street, Norwich, NR2 1AT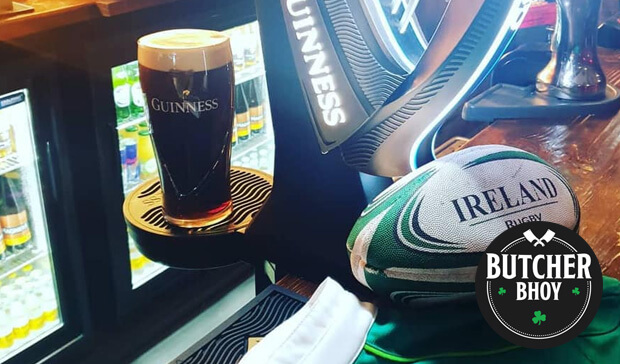 ---
Raglan Road Irish Bar | Nottingham
If you're looking for a brilliant atmosphere and great entertainment, then the Raglan Road Irish Bar in Nottingham is the place to be on March 17th. The guys here know how to serve a great pint of Guinness and they also serve up a hearty, all day Irish breakfast. Proof if proof were needed, you don't need to be in Dublin to enjoy a big Paddy's Day bash, this rockin' Irish bar is the ideal alternative if you can't be on the Emerald Isle itself.
69-73 Derby Road, Nottingham, NG1 5BA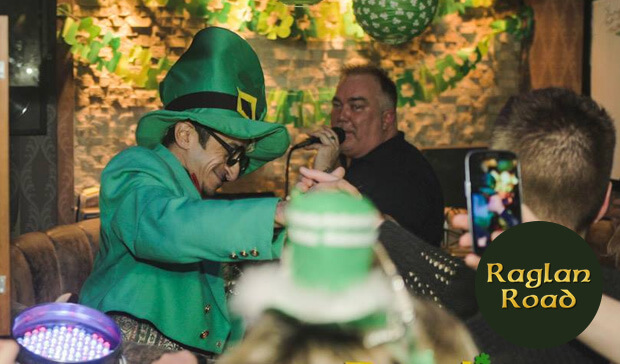 ---
Isis River Farmhouse | Oxford
Get ready for a four day St Patrick's Day extravaganza at the Isis River Farmhouse in Oxford. There's going to be loads of live music over the course of their festival and on Friday night there'll be an Irish trad disco until late (a chance to channel your inner Michael Flatley). On actual Paddy's Day, they really take the party up a notch with a full programme of music, some great Irish food and drink – including special Irish cocktails, and they finish it all off with a late night, Pogues heavy DJ sessions.
Haystacks Corner, The Towing Path, Iffley Lock, Oxford, OX4 4EL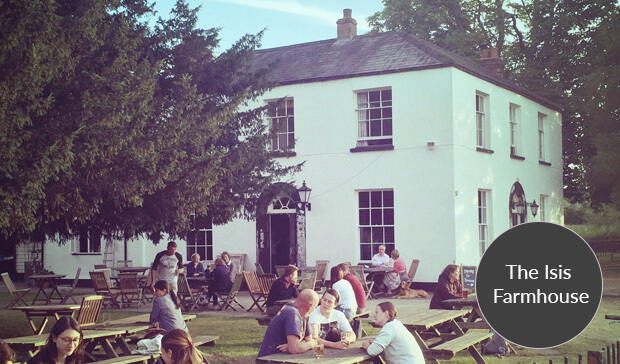 ---
The Fleet | Portsmouth
A classic pub with modern twists, The Fleet is a great venue on a normal day, but on Paddy's Day, it goes above and beyond. With live bands from midday and then DJs from nine, the party will be pumping from noon 'til late. They serve a great selection of cocktails and ales if Guinness isn't really your thing (though, I'd keep that one to yourself on the day), and there's a huge beer garden for you all to enjoy.
1 King Henry I Street, Portsmouth, PO1 2PT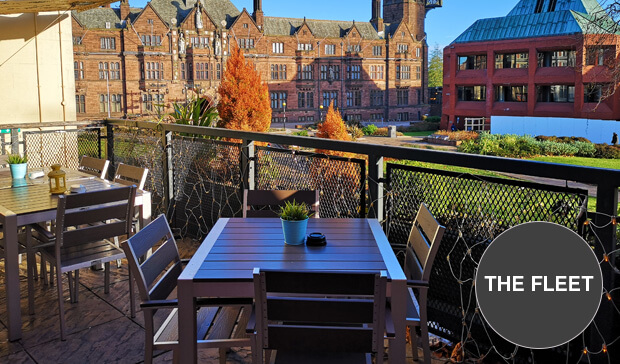 ---
Kitty O'Hanlon's | Plymouth
Standing on the oldest pub site in Plymouth, Kitty O'Hanlon's has occupied the space since 1994 and was the first Irish pub in the city. Well, what better place to go and celebrate our favourite patron saint, then?! With plenty of Guinness on offer and great live music, Kitty's is the place to be on the 17th. Traditional Irish celebrations in a traditional Irish boozer, what more could you possibly want for some St Patrick's Day shenanigans?
5 St Andrew Street, Plymouth, PL1 2AH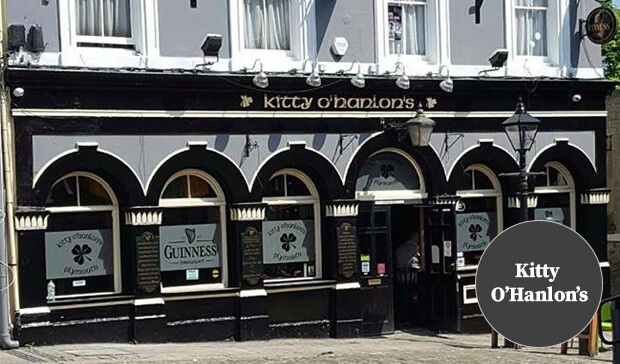 ---
The Dog and Partridge | Sheffield
A great little pub, right in the heart of the big city! The fantastically named Dog and Partridge are hosting a big Paddy's event which they are pumped for. Whilst they regularly host great events, including a weekly Game Night (Mario Kart tournament, anyone?), their Paddy's Day will be huge with a great selection of whiskey, real ale and, arguably the best pint of Guinness outside of Ireland all on offer.
56 Tippet Lane, Sheffield, S1 4EL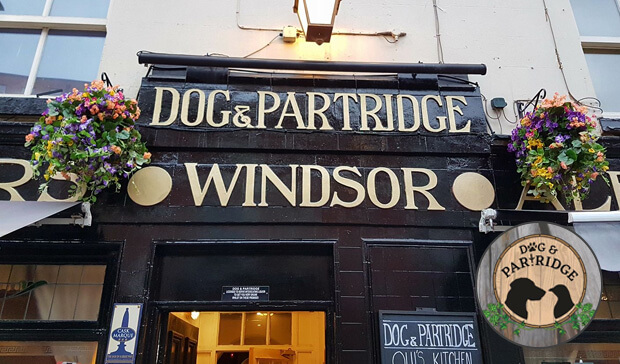 ---
Life of Riley | Sunderland
The North East has huge Irish connections, so St Patrick's Day is often celebrated in style. At the Life of Riley in Sunderland, they're throwing a big celebration with live music and DJs throughout the day. As well as some corking entertainment, there's going to be free Irish stew and free giveaways, face painting (so you can really get your Irish on), and, naturally, plenty of Guinness. 'Another pint of that dark, velvety nectar please, barman!'
4 Green Terrace, Sunderland, SR1 3PZ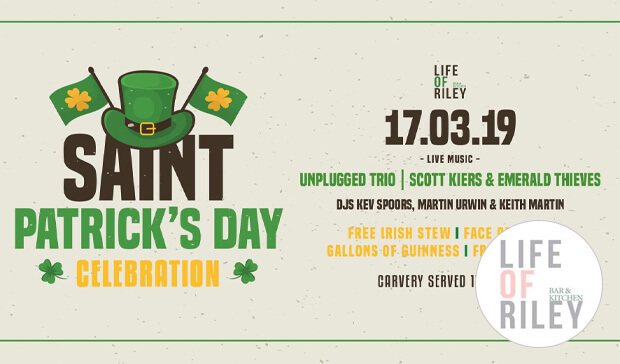 ---
The Royal London | Wolverhampton
Forget one day of St Patrick's celebrations, forget a weekend of it even, The Royal London in Wolverhampton are taking things to the next level with St Patrick's week. That's a whole lot of partying and a whole lot of Guinness. You can sign up for their reward cards and gain triple points between the 11th and the 17th. Winner! And this pub is a renowned party hub, so when Paddy's Day rocks around it's one of the best places to be in the city.
4-6 Wulfruna Street, Wolverhampton, WV1 1LX