Money can't buy you happiness, apparently, but we seem pretty happy when we're getting our gobs around some delicious pizza slices and a few ice-cold beverages. Maybe whoever coined that phrase had only ever tasted second rate slices. Because, here at StagWeb HQ, pizza is happiness.
So, on that note, we went on a happiness hunt around Britain to see if we could exchange some of our hard-earned dough (not sorry!) for a few slices of joy to find this year's coveted UK's 50 Best Pizza Places. If one of these fine establishments is on your doorstep, stop dithering and get ordering, you're in for a treat!
MIDLANDS
The Plough Harborne
📍 21 High Street, Birmingham, B17 9NT
This vibrant eatery in the heart of Harborne has been dropping flavour bombs since 2003 and continues to dazzle Birmingham to this day with its delectable menu and unrivalled atmosphere. The Plough's homemade stone-baked pizzas are made with precision and passion and it shows with every mouthful. Throw in their brilliant drinks' menu and you've got yourselves a winning combo – well, to be going for sixteen years, you've got to be doing something right!
Best slice 🍕 #12 – Candied bacon, pine nuts, fig and sun-blushed tomatoes.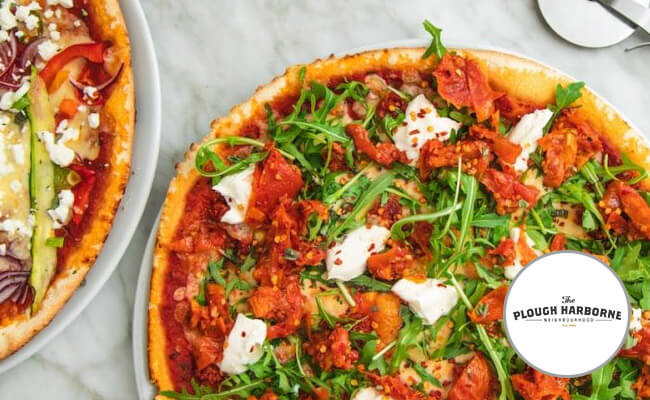 ---
Baked in Brick
📍 The Custard Factory, Gibb Street, Birmingham, B9 4AA
A venture that started with a hand-built, wood-fired pizza oven in a shed at the bottom of the garden quickly progressed to a converted Mini with said oven in the back, to their very own restaurant in Birmingham. Yes, the guys from Baked in Brick have embarked on one helluva journey in their three-year existence but have been turning heads and tantalising taste buds all the way. Who knows where they'll be in another three years? Best in Europe? Global domination?
Best slice 🍕 Blue Stilton Dip – Best street food dish 2016-2017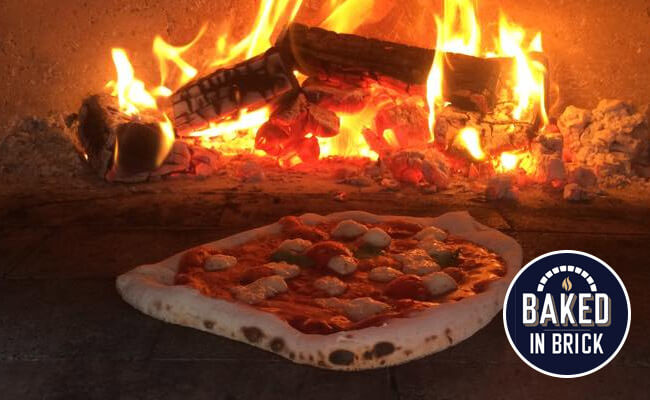 ---
Oscar & Rosie's
📍 8 Stoney Street, Nottingham, NG1 1LP
'Pizza as it should be'. If it should be giving you mouth-gasms then, yes, Oscar & Rosie's do pizza as it should be done. With everything made from scratch to guarantee freshness and a great array of flavour-filled concoctions on offer, they are at the forefront of the Nottingham pizza scene… actually, scrap that, they're blazing a national trail and other restaurants would do well to take a note at what these guys are doing.
Best slice 🍕 Boom Chicken Wah Wah – Baked chicken thigh, award-winning streaky bacon, caramelised red onion, flat mushroom and Rosie's original BBQ sauce.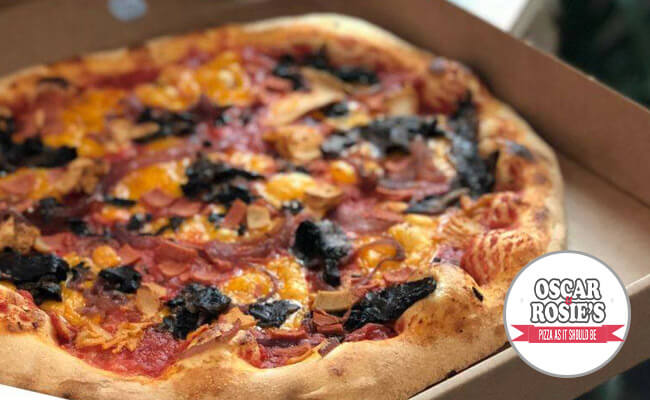 ---
The Lodge Bar & Dining
📍 222 Rykneld Road, Derby, DE23 4AN
The Lodge Bar & Dining installing an authentic pizza oven has caused the biggest buzz about an Italian arrival in the city since Derby County signed Champions League-winning forward Fabrizio Ravanelli in 2001. Whilst Ravanelli was unable to save Derby from relegation, the new addition to the Lodge Bar's culinary line up has taken them from strength to strength and they are firing out epic discs of deliciousness with impressive frequency.
Best slice 🍕 The Volcano – Tomato sauce, mozzarella, spicy beef and chicken tikka.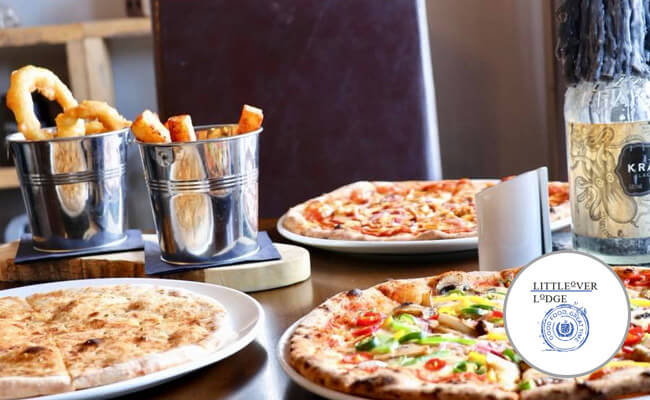 ---
Basement Browns
📍 77-79 Warwick Street, CV32 4RR
Basement Browns consider pizza making to be art, and if their pizzas were art, they'd be the equivalent of the Sistine Chapel and their pizza painters would be gastronomic Michelangelos. With an ancient dough recipe, they leave the base to rest for days before they work their magic with the toppings and the results are sublime. Real pizza crafted impeccably, fire down there to see what the buzz is about!
Best slice 🍕 Tokyo Drift – Chicken Teriyaki with smoked streaky bacon.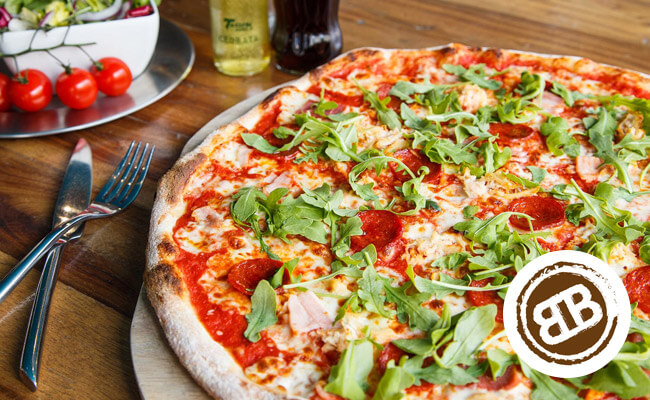 ---
Klay Pizzeria & Bar
📍 52 Piccadilly, Stoke-on-Trent, ST1 1EG
Everyone loves a good mashup, and the lovely folks at Klay Pizzeria & Bar have dropped a flavour megamix with their zinging rum cocktails dancing side by side with some magnificent cheesy creations, the results of which are superb. Whether you're there for a solitary slice or the full works, you'll be able to satisfy your pizza cravings and bask in the chilled vibes as you're transported to new levels of food heaven.
Best slice 🍕 The Klay Mac – Klay Pizzeria's version of a Big Mac on a pizza.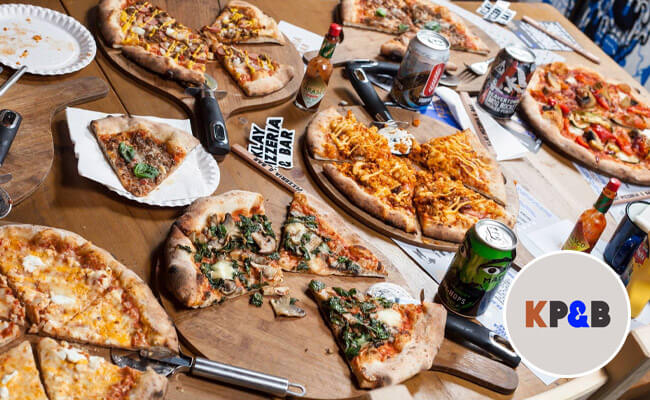 ---
Dough & Brew
📍 45 Brook Street, Warwick, CV34 4BL
Hitting up our list for the second year on the spin, Dough & Brew simply could not be omitted. Last time around we were waxing lyrical about their sourdough constructions and we're gonna go ahead and bang that drum twice as loud this time because the world needs to know just how good their pizzas are. Not only do they maintain their impeccably high standards, but they also seem to get better year after year (if that's even possible!). Keep up the good work, fellas!
Best slice 🍕 Dragon – Hot 'nduja salami, spicy pepperoni and chillies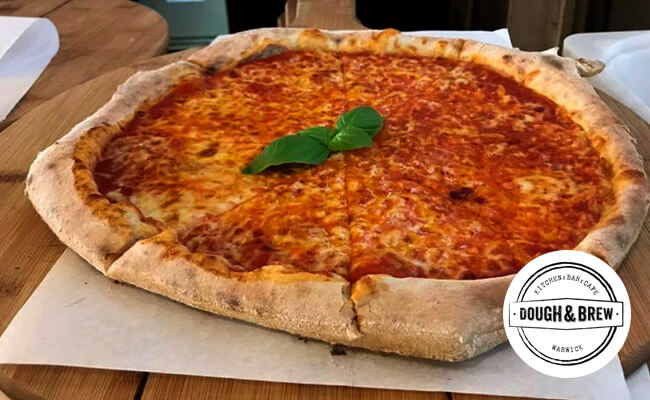 ---