Ho Ho Ho-ly moly have we had a tough old year trawling around the country in search of the best boozy and foodie hangouts about!
From the best pizza joints to belly-busting burger bars to incredible boozers, cider makers, craft brewers, hangover-curing breakfast establishments, St Patrick's Day pubs and much more.
It was a long old year with a lot to take in (literally), but we came, we saw and my lord, we conquered, just to bring you some of the best man grub and beery haunts this fine island has to offer… and now, if you'll excuse us, we're gonna go for a much-deserved lie down before we have to do it all again next year (it's a hard life, ayy!).
The Food
Oscar & Rosie's – Pizza
📍 Nottingham
Not a day goes by since we discovered them that we don't stop to think/drool over the incredible flavour discs the pro-dough slingers at Oscar & Rosie's knock up in their expansive pizza oven. With everything made from scratch, it really is pizza done properly. These guys not only wowed us to make our Top 50 Pizza Joints, but they've found a special place in our hearts to make our best of the best blog too! Keep up the good work, fellas!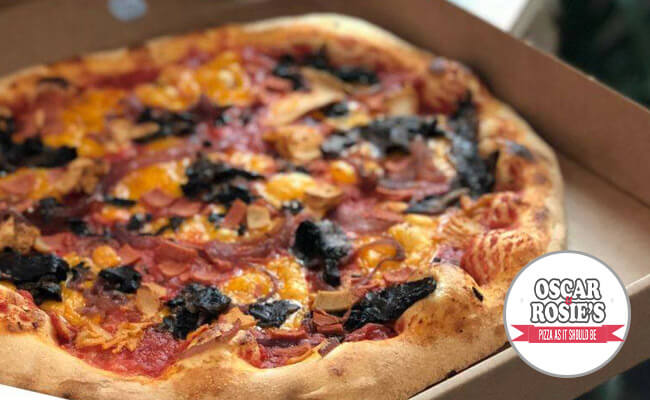 ---
Stefani's Pizzeria – Pizza
📍 Blackpool
What more can we say about the head chef at this incredible Blackpool pizzeria?! Nico made the long, arduous trip to Naples, the home of pizza, to learn all the secrets and wonders which go into creating the perfect cheesy concoction and brought it all back to the shores of Blighty to dazzle our flavour-deprived taste buds. Not all heroes wear capes, but this hero turns his around, wears it as an apron and gets to work crafting some of the finest pizzas in the land!
---
Dough & Brew – Pizza
📍 Warwick
Two-time members of the StagWeb Top 50 Pizza elite, Dough & Brew have taken pizza making to the next level with their irresistible sourdough concoctions. Regularly up for awards, they are recognised in the industry as one of the best creators about and who are we to say otherwise?! All we know is that they taste mighty fine and they have an equally impressive drinks menu to compliment them. Ideal!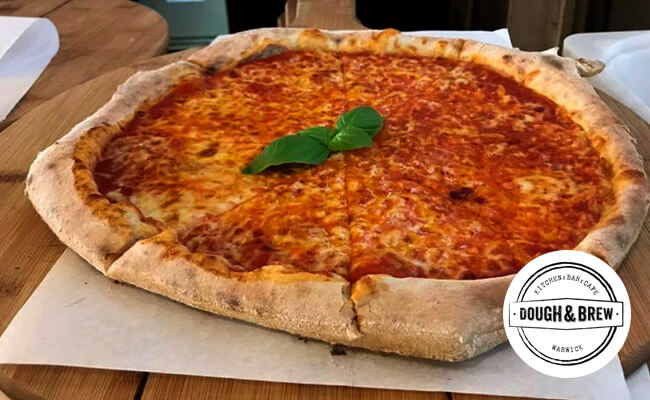 ---
The Beefy Boys – Burgers
📍 Hereford
We shouldn't have favourites, but we do, so everyone just deal with it. The Beefy Boys have been up there as one of our much-beloved burger joints for a few years now and if you haven't taken a trip to taste one of their monumental stacks yet, what have you been doing with yourselves?! Seriously succulent, seriously juicy, seriously sublime, seriously… what more do we need to say! Get down there and see for yourselves.
---

---
Flames Smokehouse – Burgers
📍 Manchester
Their jet-black charcoal buns revolutionised the burger game for good, but don't be fooled into thinking that this is a mere publicity gimmick, they're a taste explosion, especially when you combine them with the incredible ingredients Flames Smokehouse pack into the centre. What started off as a small venture well and truly ignited and is burning brightly at the front of the stacked patty scene.
---
Three Brothers Burgers – Burgers
📍 Bristol
Honest burgers done well, it really is as simple as that! The dynamic burger creators behind the scenes at Three Brothers Burgers set their standards high and meet them with unerring frequency. They get the basics spot on and build on these solid foundations to add flair and panache to their creations with spectacular results.
---
Annie's Burger Shack – Burgers
📍 Nottingham/Derby/Worcester
In our previous review of Annie's Burger Shack, we said you hadn't lived until you'd experienced one of their incredible burger joints, and on reflection, we were absolutely correct. If you've never had the pleasure of devouring one of their towering patty stacks then there's a massive burger-shaped hole in your existence. They have three joints in three locations, so there are no excuses!
---
Jamaican Jill's Upland – Caribbean Food
📍 Swansea
Who doesn't love Caribbean cuisine?! Especially when it's rustled up by the best Caribbean Restaurant in the whole of Wales! Yes, the award-winning Jamaica Jill's Uplands deservedly grabbed the accolade as the best of the best in Wales for 2019 with their glorious menu, their amazing service and their wonderful restaurant! We predict 2020 will be another fantastic year for these guys! Get down there and see for yourselves.
---
Oink – Hog Roasts
📍 Edinburgh
The sizzling pork sarnies at Oink are so good, you'll never be able to enjoy a traditional sandwich ever again. Seriously, we're even considering upping sticks and relocating to the Scottish capital just so we can get our daily fix of these pulled pork delights. Pitch up, put your order in and chow down! Trust us, you'll be as happy as a pig in…umm… mud.
---
Calabrisella – Italian
📍 Cardiff
Calabrisella is the home of Italian cuisine. Nestled in the heart of the Welsh capital this fantastic eatery is flying the flag for the Mediterranean nation and they're doing their fellow countrymen proud. From pasta and pizza to Italian wines and a welcoming atmosphere, it's as if someone has picked you up and plonked you in the middle of Calabria. Bellissimo!
---

---
The Yorkshire Wrap – Yorkshire Wraps
📍 Leeds
If you could wrap these slow-roasted Yorkshire pudding wraps up and give them as Christmas presents, everyone in our contacts list would be getting one of these bad boys. Alas, they're so juicy and delicious it would be sacrilegious not to eat them as soon as we got our hands on them, plus they'd probably make a bit of a mess. Such a simple concept, yet so incredibly genius at the same time, the guys here execute them to perfection.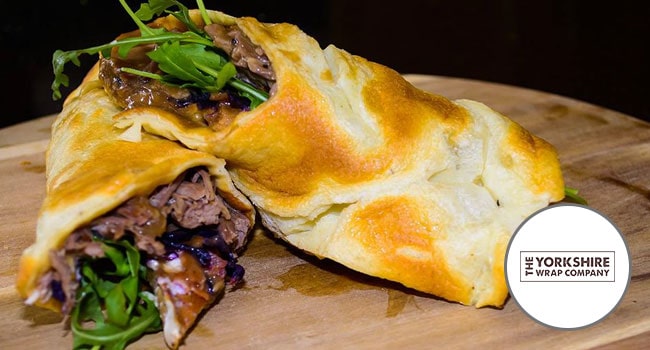 ---
Culto – Italian
📍 Leeds
This superb eatery boasts an authentic array of delicious Italian bites, but it was the pizzas that really caught our gluttonous eyes with their striking charcoal bases dazzling us from afar. Made with veg oil, these crunchy, cheesy, flavour-packed concoctions are a slice of Italia brought to Yorkshire. With experienced chefs, welcoming staff and incredible cuisine, Culto offers a complete dining experience.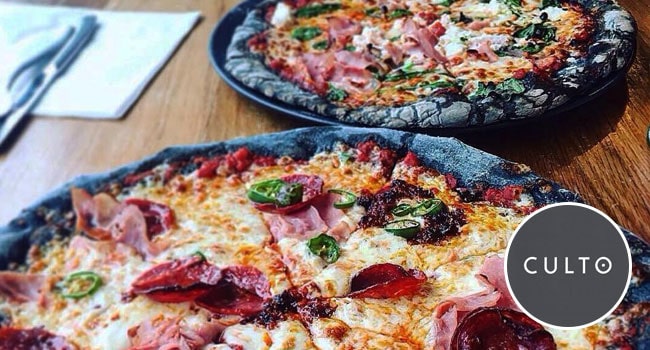 ---
Brewski Mosley St. – Breakfast
📍 Manchester
Breakfast… brunch… either-or, we aren't fussy. Brunch is just an epic late lunch! And the guys at Brewski Mosley St. in Manchester do one of the biggest and baddest brunches this fine island has ever seen. If there's a group of you, you can grab the monstrous Brewski Brunch Board which features an outrageous range of delectable breakfast bites!
---
Harland Cafe – Breakfast
📍 Sheffield
A fantastic little venue with very friendly staff and a few magicians in the kitchen, Harland Café is everything you want and more when you're on the hunt for a hangover-busting breakfast. We didn't even have to think twice about their inclusion in our list of the best of the best, they've deservedly worked their way into our thoughts themselves!
---

---
Aidan's Kitchen – Breakfast
📍 Newcastle
It's no coincidence that Aidan's Kitchen strongly recommend booking before you go, they're always packed to the rafters with hungry punters looking to satisfy their hefty cravings with one of the famous breakfasts on offer. From pancake stacks to egg variations to other fantastic concoctions, this really is breakfast 2.0!
---
Compass Café Bar – Breakfast
📍 Blackpool
A full English straight out of the frying pan. Literally. You eat your full English out of the frying pan! It does the same job as a plate, but, actually, it does it better. They're bigger than plates, so you can get more on; they have nice rounded edges, so you don't have to worry about spillages, and; they keep in the heat! If only these guys were running in the election because that's the kind of ingenious thinking we need to take this country forward.
An exclusive offer for you…