'To find extraordinary things, go to the ordinary streets!' – Mehmet Murat Ildan
We hear you, Mehmet! Forget all those over-salted, under-flavoured fast food joints and get out and taste some of the finest bites in the land with the help of StagWeb as we give you the lowdown of the best Street Food Vendors in the UK. Kick back, relax and try not to drool all over your phone!
Street Food in London & South East
BBQ Dreamz – London
From the mean streets of Manila to the shores of Blighty, BBQ Dreamz is a Filipino taste sensation reverberating through the capital. With a delectable selection of fragrant Asian cuisine, it really is the stuff of Dreamz! Causing flavoured-filled shockwaves as they go these guys show no signs of slowing up. Be sure to keep an eye on their social channels to see where they'll be popping up next!
Best Bite: The Crispy Baboy – Pork belly, jasmine rice, pickled cucumber, chicharron and a sesame green bean salad.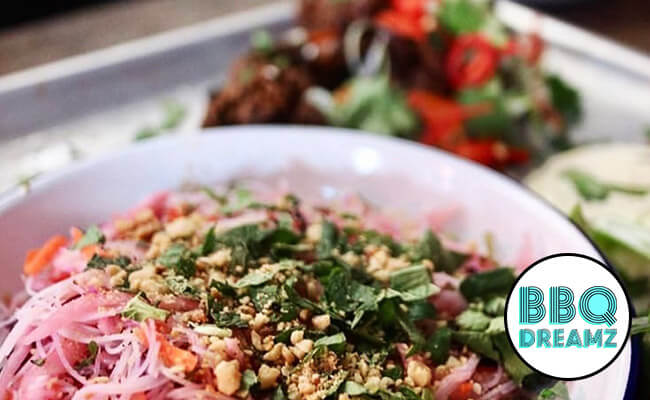 ---
Mother Flipper – London
These mother flippin' burger slingers are reinventing the stacked patty game and taking it to new heady heights. Oozing with cheese, stuffed with delicious ingredients and charred to perfection, Mother Flipper have turned burger-making into a fine art. Forget a royale with cheese, we'll take one of these bad boys any day!
Best Bite: The Candy Bacon Flipper – Cheeseburger with red onion, pickle, lettuce, ketchup, mustard and bacon fried in maple syrup.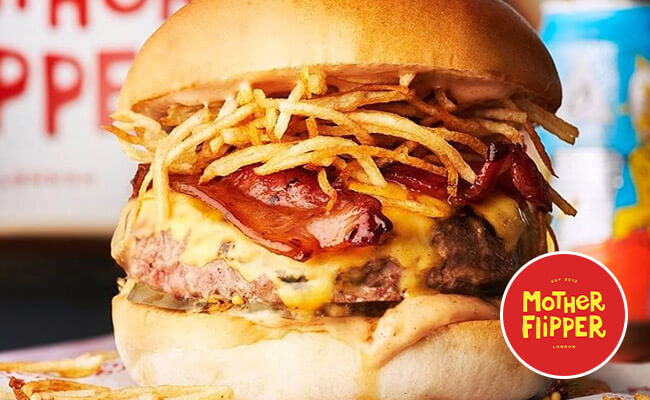 ---
Only Jerkin' – London
They may be Only Jerkin' but we're not jerkin' when we say this is some of the tastiest Caribbean food to ever grace our taste buds. Most of their family flavour-secrets are kept under lock and key, but they've revealed that their chicken is left to marinate for two whole days before they unleash it on the demanding public – hence why it is just so tender and tasty.
Best Bite: Jerk Chicken Nugget – Fried jerk chicken nuggets dipped in a ginger beer batter.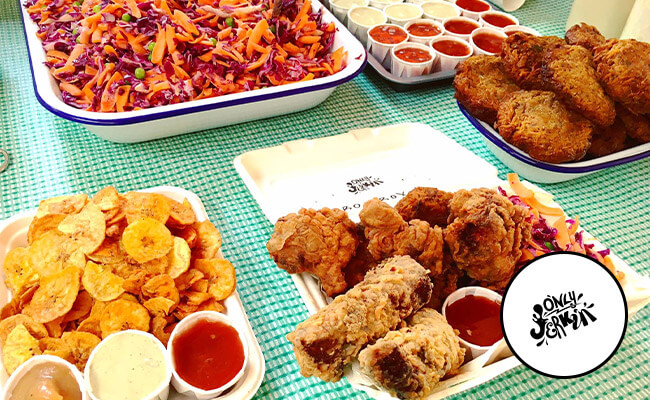 ---
Curry Leaf Café – Brighton
Did you know Indian street food isn't actually from India? No, it's actually sent down from heaven by the gods and Curry Leaf Café is the messenger dishing it out to their loyal disciples… probably! Well, that's conjecture really, but the divine food from this fantastic eatery is so damn delicious, it's the only possible explanation we can think of!
Best Bite: Paneer Cheese Biriyani Rice Box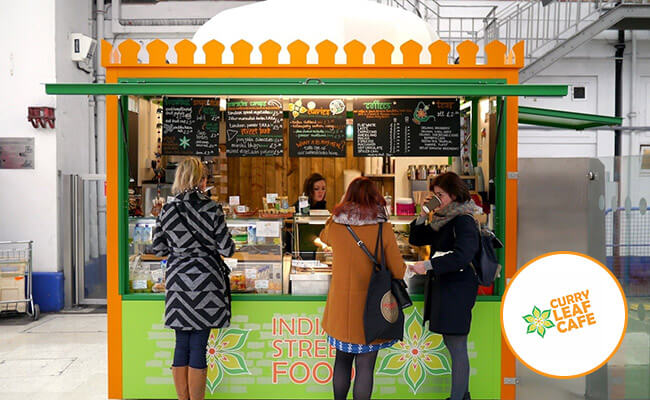 ---
The Bus Café – Margate
Making our list for the second year on the trot, The Bus Café are still knocking this street food malarkey right out of the park. Delicious, quirky, and quintessentially British, it's an unmissable experience. Why go anywhere else when you can enjoy phenomenal falafels and stupendous bites out of a red double-decker?! Check. Them. Out.
Best Bite: A Custom-Topped Salad Wrap!
Website | Facebook | Instagram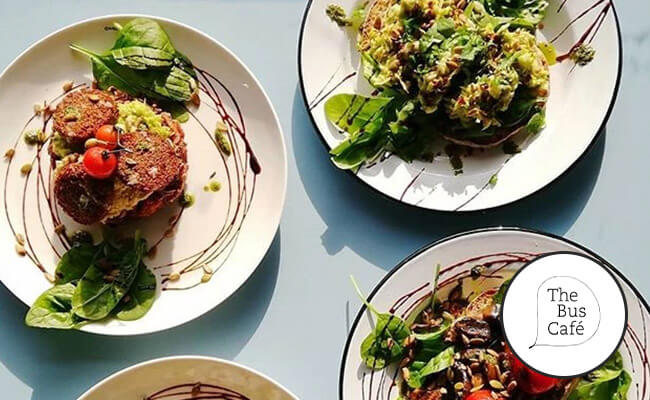 ---
Street Food in the South West
LJ Hugs – Bath
Big hitters in our hometown of Bath, the queue is always humungous even when it's absolutely chucking it down: the hallmark of top quality street grub, right there! Their Cajun delights are the stuff of legends around these parts, and we're here to spread the word far and wide. They're too good not to tell the world about!
Best Bite: Their Signature Beef Chilli!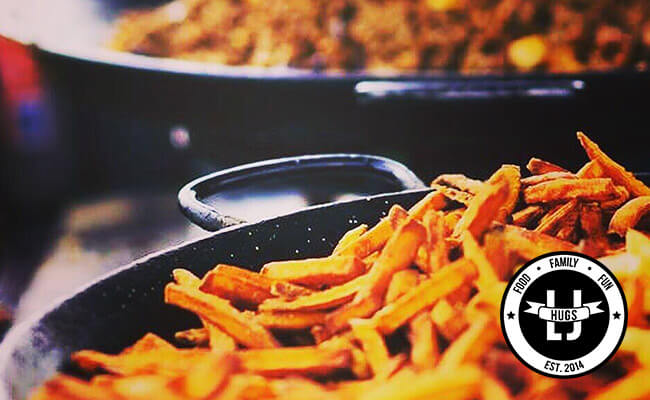 ---

---
Brother Thai – Bristol & Cardiff
Food to Thai for (you're welcome)! Brother Thai are whipping up a storm either side of the Severn with their Bangkok street grub dazzling customers left, right and centre. Multi-award winners, these guys have been on the up and up since 2015 and don't look like relenting any time soon. Big flavours, big Thai bites, they're the big brothers we've always wanted!
Best Bite: Sticky Spicy Beef – Stir-fried beef in a chilli paste!
Website | Facebook | Instagram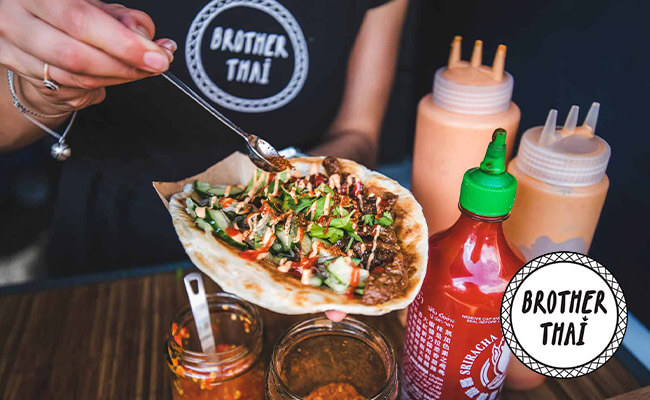 ---
Meat and Greek – Cardiff
These souvlaki spinners are passionate about their Greek cuisine and the proof is in the pudding – well, in the pitta, hummus and meaty skewers to be more precise! Lisandro's and Sophie, the couple behind the name, have brought a taste of Greece to the Welsh capital (shame they didn't bring the weather!) and it has been a big hit amongst the hungry public. Simply delicious!
Best Bite: Souvlaki – Any of it, all of it!
Website | Facebook | Instagram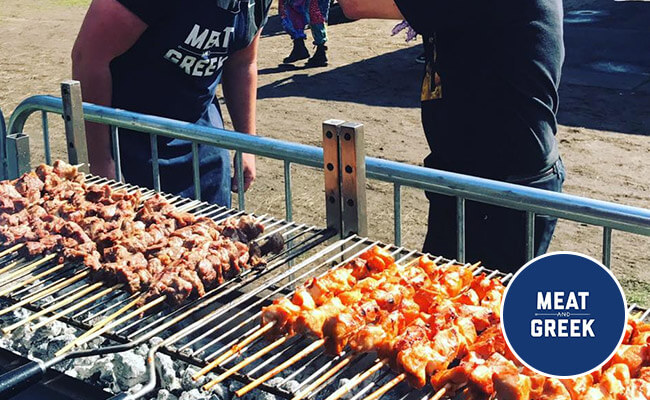 ---
Craftworks Street Kitchen – Cornwall
For six months of the year, the guys at Craftworks Street Kitchen serve up an amazing array of burgers and Mexican-inspired bites out of their epic food van! For the other six months, we used to go into hibernation until their hatch flung back open, but then we discovered they had a full-time restaurant down in Truro and we no longer have to sleep/weep for half of the year!
Best Bite: Foghorn Leghorn – Buttermilk chicken, smokey bacon, BBQ sauce, lettuce, mayo, tomato, bun!
Website | Facebook | Instagram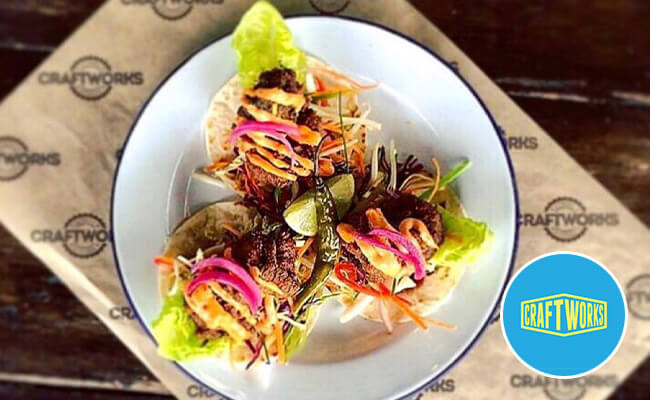 ---
Ojo Rojo – Bournemouth
Ojo Rojo is giving us the mojo, baby! If you like your tacos, if you like your platos, if you like your nachos, this fiery Mexican street food gaff is where you're gunna wanna head. It just so happens this place also doubles up as one of the best bars in town. So that's two reasons to visit, do you really need a third? No? We thought not!
Best Bite: Chicken Tinga Tacos – Slow cooked chicken, marinated mango and green chillis on tortillas!
Website | Facebook | Instagram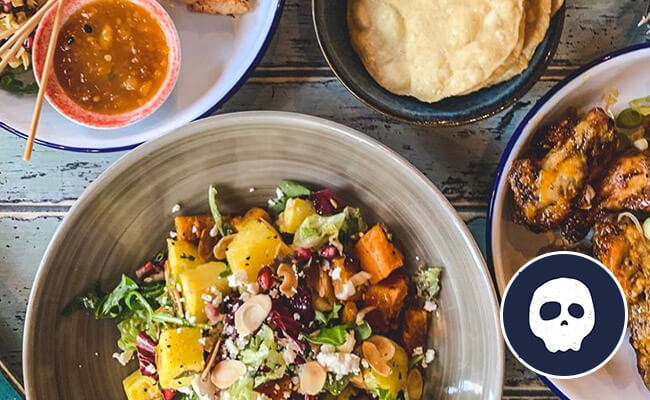 ---
Street Food in the Midlands
Raja Monkey Indian Street Café – Birmingham
Life without Indian street food would be a slog but, luckily for us, we live in a world where places like the Raja Monkey Indian Street Café exist and they brighten up our lives exponentially with their flavour-packed food creations. Now, we probably can't factually say they're the best Indian street food vendor Birmingham has ever seen, but, it is a fact, let's face it.
Best Bite: Masala Aloo Dosa – A Southern Indian crepe with potato, turmeric, mustard seeds and curry leaves.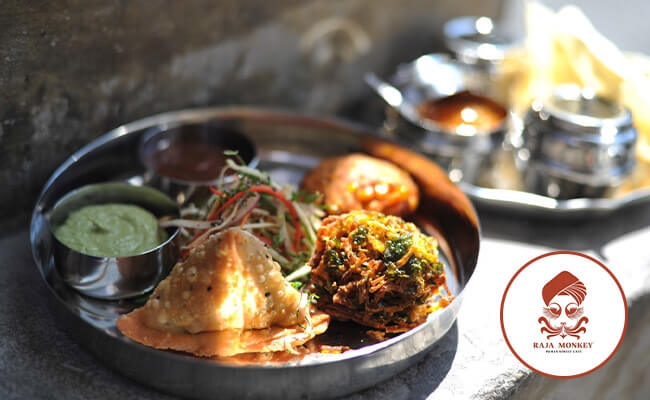 ---
The Patty Freaks – Birmingham
Buy the ticket, take the ride! Freak Power is back with these patty slammers whipping up mega concoctions which are slaying Birmingham one bun at a time. The Patty Freaks craft monstrous burger towers which are as delicious as they are juicy – which is very! Grab one of their classics or you may be lucky enough to catch them when they're doing an amazing collaboration.
Best Bite: Impossible to narrow down, their varied menu is a veritable smorgasbord of deliciousness.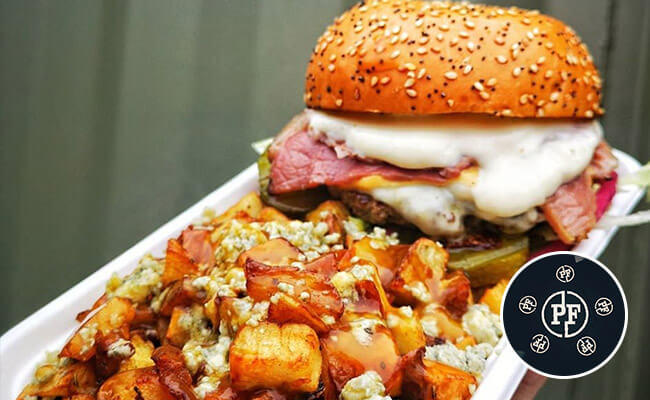 ---

---
Clean Cut Kitchen – Nottingham
The guys at Clean Cut Kitchen are redefining the fast food/street food game with their healthy spreads proving you don't need to buy something with the calorie count which would debilitate a fully grown bear to enjoy a tasty bite on the go! Yes, people, it's possible to enjoy a guilt-free, healthy meal packed with a punch of flavour!
Best Bite: Jerk Chicken Wrap!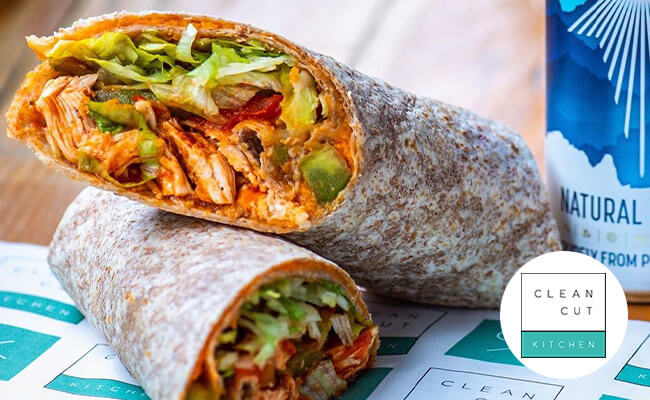 ---
Street Food in the North
The Hip Hop Chip Shop – Manchester
"You never thought that hip-hop would take it this far!" In fairness to the Notorious B.I.G., who'd have thought a hip hop chip shop mashup would be such a grand-masterstroke. It's not just a genius play on words, the guys at the Hip Hop Chip Shop take pride in their grub and rustle up some of the best nautical cuisine in the whole of Manchester. These guys are climbing the ladder to success, escalator style!
Best Bite: Feastie Boys – Battered fish, chunky chips, minty mushy peas!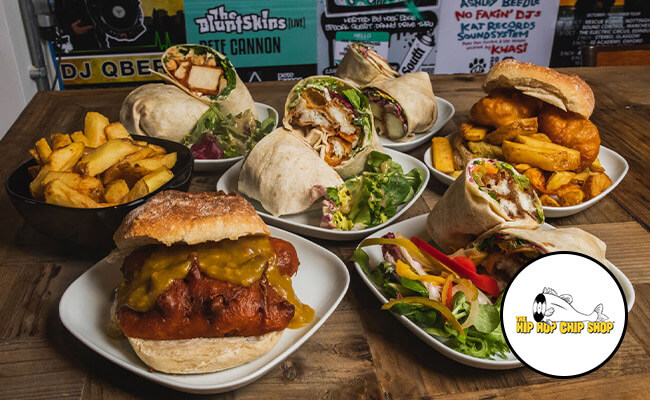 ---
Shazia's Street Food – Manchester
Roaring back onto our list for a second successive year are the fine folks at Shazia's Street Food, who are still bringing their A-game with their clean and healthy Indian and Pakistani eats. With fragrant homemade curries to burgers, wraps and even breakfasts, you can satisfy all cravings in one wonderful swoop!
Best Bite: Lamb Karahi!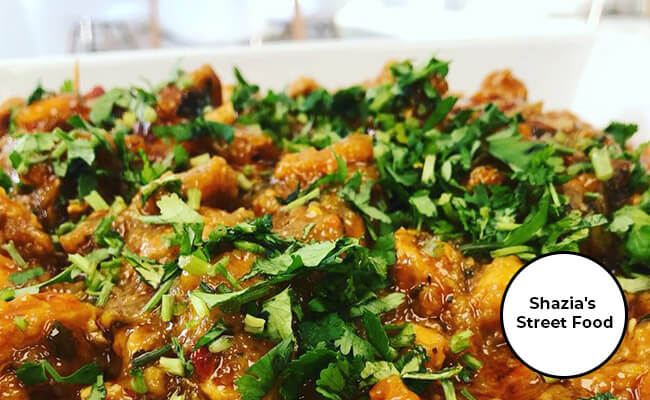 ---
Mac Daddies – Manchester
There's a strong case to say the macaroni and cheese from Mac Daddies is the best combo to come out of Manchester since Dwight Yorke and Andy Cole (or Sergio Aguero and Edin Dzeko depending which side of the city you hail from!). Whilst people may think mac and cheese is easy to make, Mac Daddies' dishes are sublime and honed to perfection, proving that to get it tasting phenomenal takes real talent.
Best Bite: July 14th – 4 cheese macaroni, streaky bacon, crispy bacon bits and hot jalapenos!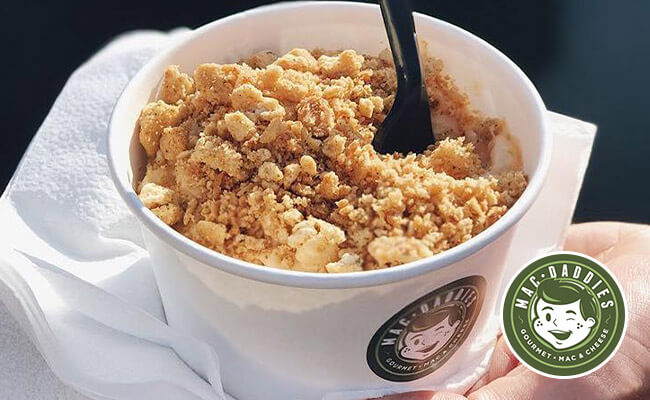 ---
Holy Crab – Manchester
There's certainly something spiritual about Holy Crab's seafood eats! From snack pots to big bursting brioche buns, these guys have trawled the depths of the ocean to bring you the freshest, juiciest, fiercest seaside snacks about. With a wonderful, friendly team who pour their pride and passion into every meal, it's no surprise that these guys are making waves in the Manchester street food scene.
Best Bite: Crayfish Tails – In chipotle mayo with lettuce, tomato, dill and lime!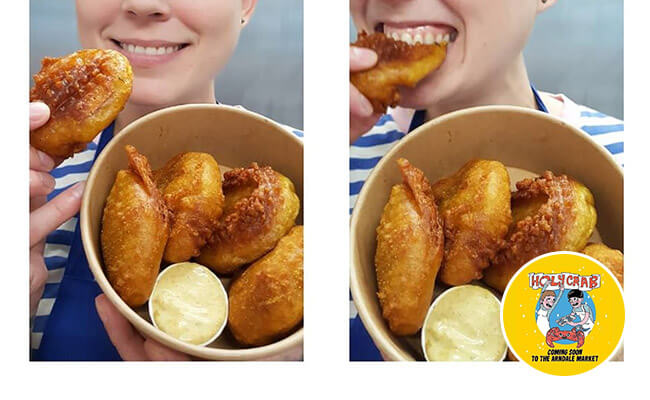 ---
Evil Eye – Beer & Burrito Shack – Liverpool
Mexican street food is king and the fantastic Evil Eye – Beer & Burrito Shack in Liverpool do an incredible job in replicating its Latin-American authenticity in their bursting burritos. Throw in open mic nights and delicious beers and you've got yourselves one helluva fiesta. Down to earth and seriously good sizzling dishes, what's not to love?!
Best Bite: A burrito!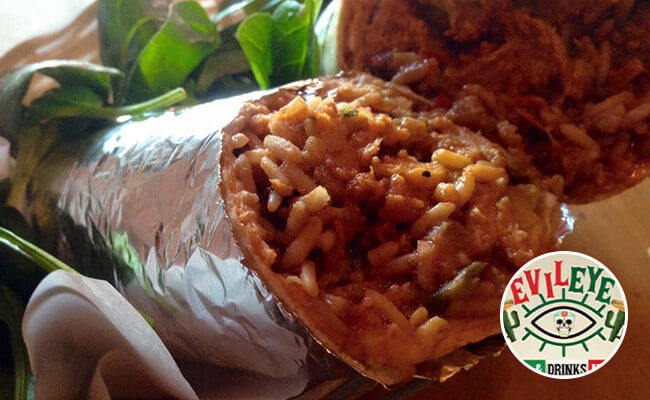 ---

---
Humpit the Hummus and Pita Bar – Leeds
The Great Pyramid of Giza, The Great Wall of China, Machu Picchu… Humpit the Hummus and Pita Bar! Yes, we've just submitted an application to the powers that be to extend the 'New7Wonders of the World' to include this chickpea mashing, flavour palace. Their hummus is so good it's rumoured that God uses it as butter, so check them out! Luckily they have bars from Brighton to Newcastle so you can find them, wherever you are (almost!).
Best Bite: Shakshuka – Tomato, aubergine, fava beans, tahina, pita
Website | Facebook | Instagram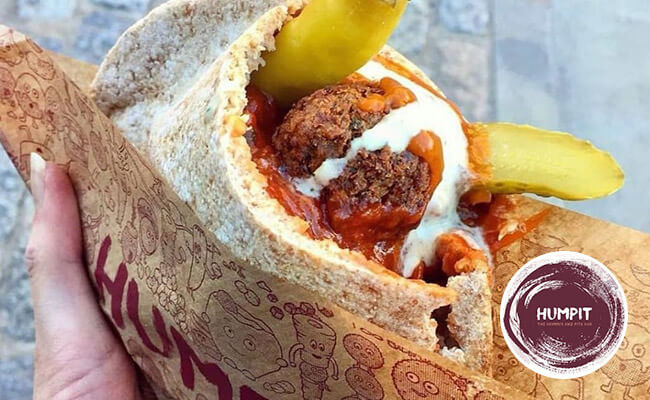 ---
Stam & Maria Greek street food – York
Another one of our champs from last year are returning with renewed vigour! Stam & Maria Greek street food are still dazzling the public with their incredible Greek dishes to such an extent that the county will soon be famous for their incredible gyros rather than Yorkshire puddings! Don't take our word for it, check out their Trip Advisor which is five-star review after five-star review. Or, better yet, head down there for yourselves!
Best Bite: Gyros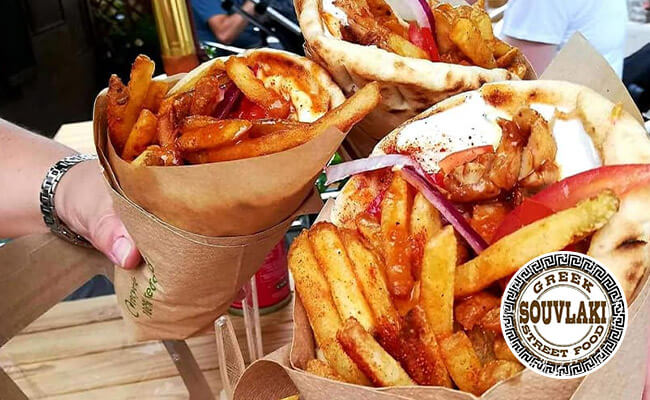 ---
My Delhi – Newcastle
Get in my Delhi! Taking its inspiration from the streets of the vibrant Indian city, My Delhi are turning heads with their light lunch snacks and incredible dinner dishes. The new kids on the block, they've grown a stellar reputation in six months that most restaurants wouldn't earn over the course of a lifetime.
Best Bite: Delhi 6 Roadside Curry!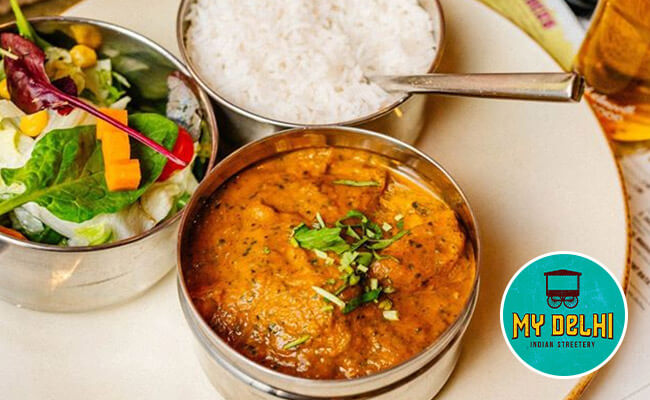 ---
Street Food in Scotland
Barnacles & Bones – Edinburgh
Causing a splash in Edinburgh, Barnacles & Bones have sent a flavour tsunami crashing through streets of the Scottish capital and we're gunna let it wash all over us. Boasting a small but insanely delicious menu, they have got each dish down to an exact science and are stunningly consistent. These guys will continue to extend their tentacles in the next few years, that's for sure!
Best Bite: Fife Crab of the Day in a Homemade Lemon Mayo & Tarragon-Salted Chips.
Website | Facebook | Instagram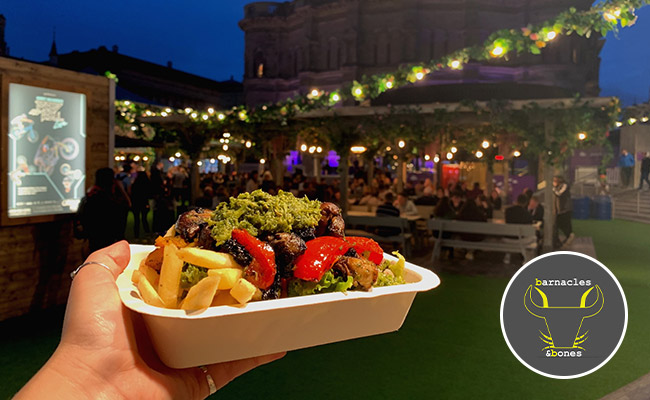 ---
The Civerinos Food Club – Edinburgh
Award-winning dough spinners, this buzzing pizza joint has upped the street food ante by devising a larger pizza with a more robust crust so it's easier to eat on the go. Talk about ingenuity! This is proper pizza crafted by people in the know and they've brought a brilliant mashup of New York and Italy to the heart of Edinburgh!
Best Bite: Getting Piggy With It – Mozzarella, pork shoulder, pineapple, onions, BBQ sauce!
Website | Facebook | Instagram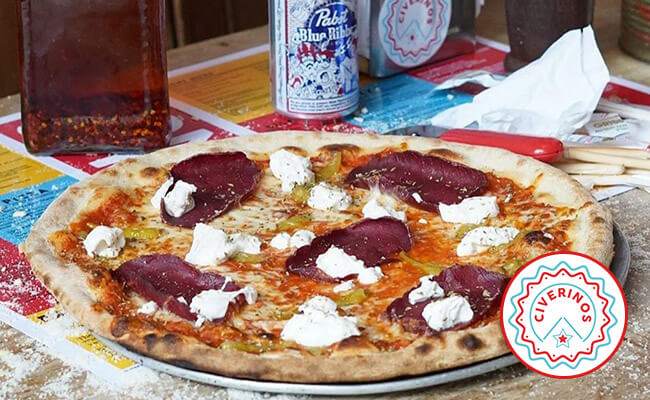 ---
Street Food in Northern Ireland
Cuban Sandwich Factory – Belfast
Yes, anyone can make a sandwich, but very few people can make them as well as the insanely talented sarnie assemblers at the Cuban Sandwich Factory in Belfast. With recipes passed down through generations, these hearty bites were perfected over many many years to form the incredible flavour towers that stand before you today!
Best Bite: Slow Roast Pork!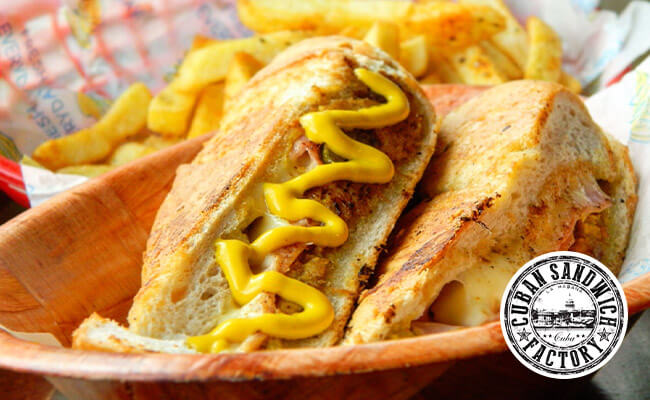 An exclusive offer for you…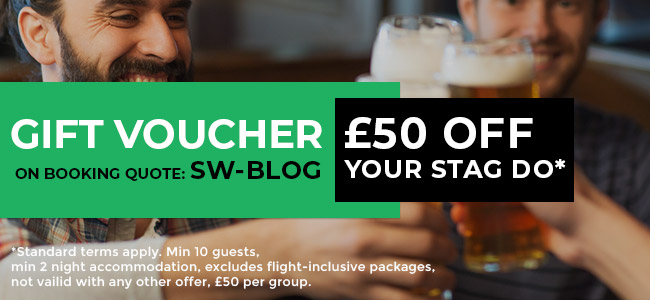 Simply quote the code when you book a stag party with us! Find out more about Stagweb.