We aim to please everyone here at StagWeb, and what we hope you 'takeaway' from our blog featuring The 45 Best Vegan Takeaways in The UK is that veganism is for everyone – and it's a lot easier than you thought! Opinions on the lifestyle vary, but there is no denying that the plant-based life is better for the planet, better for your health and (a lot) better for animals. So, whether you've made the change already or are thinking of cutting down your meat and dairy intake, this Top 45 'delivers' on flavour and will prove that you can still get all your fast foods without compromising on taste.
Get everyone together for a takeaway that's all plants and no pain. And before you even go there, yes, yes you CAN live without cheese!
London
Temple of Seitan – Camden
If there's a Mecca for veganism, then this is it. 'Have you been to Temple of Seitan yet?' is the vegan alternative to 'how are you?'. A fast-food option if you want a cruelty-free bite in the buzzing capital that'll do less damage to the Earth (and your blood pressure).
Delivery or Takeaway? Both!
Best Bite 🌱 Temple Deluxe – 1/4 patty, burger sauce, cheese, bacon, lettuce and pickles.
Website | Facebook | Instagram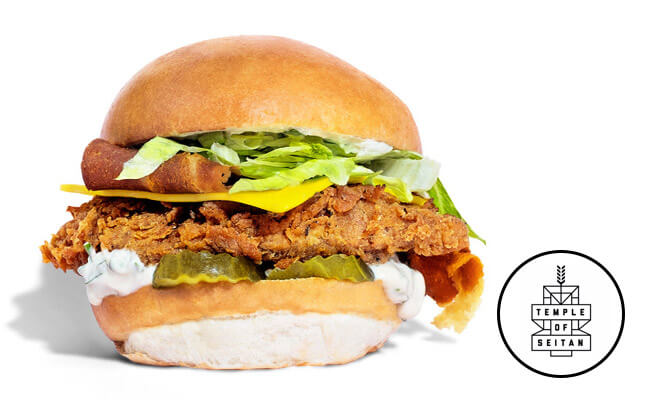 ---
Mooshies – Spitalfields
Looks like junk food? Smells like junk food? Tastes like junk food? BUT…there's not a drop of junk to be seen in this vegan joint. Mooshies is 100% plant-based and we're pretty sure you could take a so-called carnivore here and they'd never know – try it!
Delivery or Takeaway? Both!
Best Bite 🌱 Fillet-Om-Phish – panko aubergine, tartar-sauce, nori seaweed, cheese, lettuce.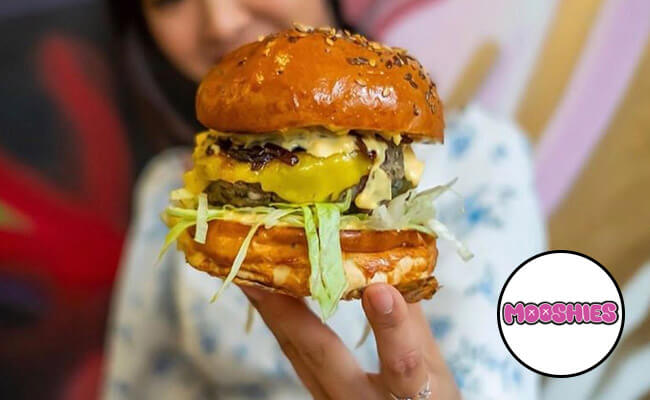 ---
The Vurger Co. – Shoreditch
Fast-food that brings both quality and speed to greedy customers in two London locations. Ever get asked: "but what do vegans even eat?!"? Show them The Vurger Co.'s social media and shut them up instantly. A drool-worthy London calling that'll make you rejoice that you're alive at the same time as this joint.
Delivery or Takeaway? Both!
Best Bite 🌱 Buffalo Vurger – Buffalo "chicken", cheese, gherkins and crispy onions.
Website | Facebook | Instagram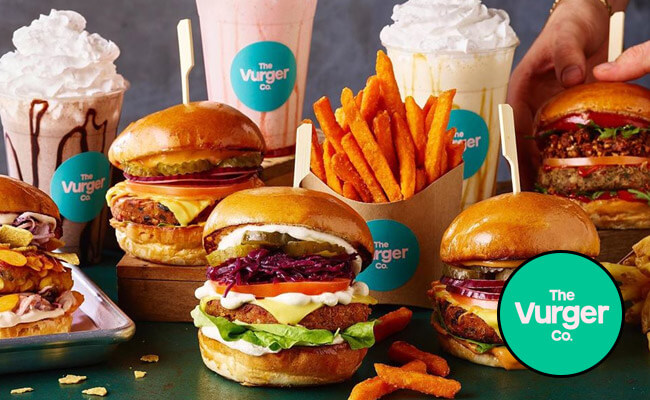 ---
What The Pitta – Shoreditch
Switch up your usual late-night dinner with a vegan döner that won't put a dent in your karma. These vegan treats boast Turkish inspiration and are loved by even the most adamant meat-eaters (and they've been endorsed by a bunch of sporting celebs).
Delivery or Takeaway? Both!
Best Bite 🌱 Vegan Döner – soya pieces, freshly made wrap, salad, hummus, tzatziki and jalapeno peppers.
Website | Facebook | Instagram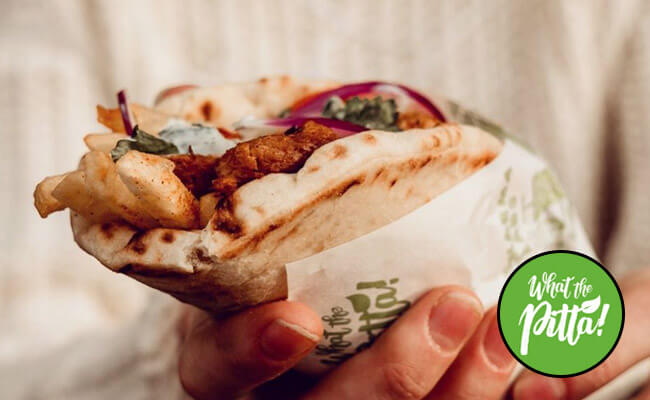 ---
Biff's Jack Shack x BrewDog – Dalston
Is there anyone who still hasn't been to a BrewDog? And this one is extra ale-mazing as it's the first vegan branch. Expect loaded fries, banging burgers, and nachos piled high. They've even created their own beer cheeze – don't even try to tell us you're not tempted.
Delivery or Takeaway? Both!
Best Bite 🌱 Fully Loaded Nachos – tortilla chips covered in jackfruit chilli, lime yoghurt, pico de gallo, guacamole and PUNK IPA cheese sauce.