Ahh, Brighton, we don't know how you do it, but somehow, as the years pass by, you just keep getting cooler, and so do your awesome eateries!
Trendy cafes are as commonplace as Doc Martens, hipster beards and flannel shirts in this renegade city and though going out for breakfast might seem like a piece of cake, it can sometimes be hard to see the wood for the trees!
So, here at StagWeb, we decided to make hay while the sun shines and delve deep into the world of poached eggs, pastries, and pancakes to find the top 20 breakfast spots in Brighton for 2020!
The Flour Pot
As these artisan bakers know, the best things in life are simple. These highly-skilled dough-slingers create fresh pastries starting with just three magic ingredients: salt, water and flour. Their vegan rolls, fennel and pork sausage rolls, and almond croissants are well worth rolling out of bed for! In fact, people like them so much, they decided to spread the love and open multiple cafes across Brighton, so you don't have to trek too far to get your hands on their heavenly baked goods.
Best Brek: Cinnamon and Orange Morning Bun
Address: 40 Sydney St, Brighton BN1 4EP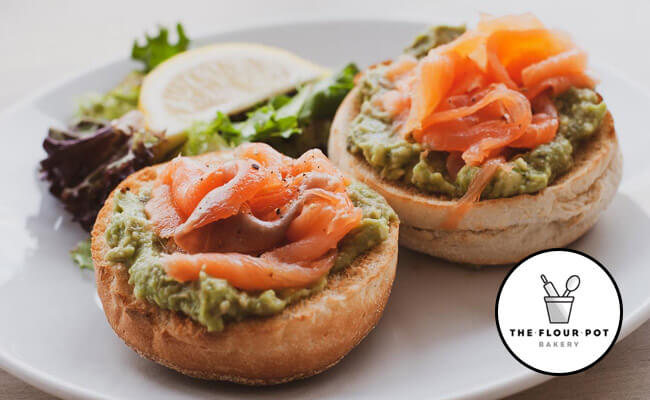 ---
Small Batch Coffee Roasters
Chinchillas, Apple Watches, Lionel Messi – everyone knows that the best things come in small sizes, and the same goes for coffee! This ethical, sustainable company have certainly made their mark in the coffee capital of the UK. And their brunch is as delicious as their coffee! From avocado on toast to eggs benedict and French toast, they have all the best breakfast dishes under the sun. Small Batch encourage everyone to come in and enjoy a savoury muffin, cooked breakfast and caffeine-based brew of their choice!
Best Brek: Mushroom Toast – Creamy garlic mushrooms on toasted sourdough with parsley dressing
Address: 17 Jubilee St, Brighton BN1 1GE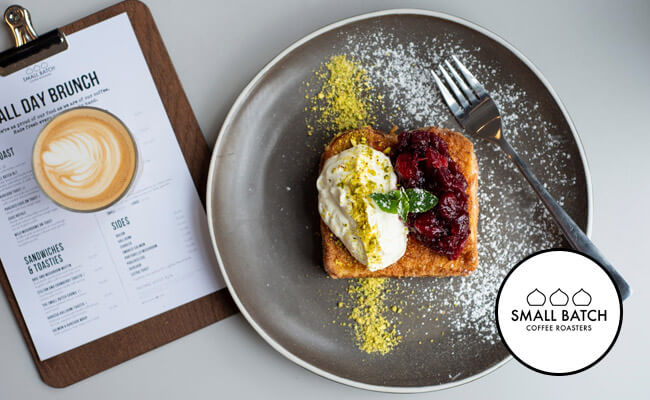 ---
Marwood Bar & Coffeehouse
If Brighton was a coffee shop, it'd look like something like Marwood. Toys on doors, doors on the tables, amazing DJs, staff as friendly as they are trendy: this funky café/bar is the epitome of the indie city by the sea. They welcome everyone from everywhere to come in, study upstairs in the laptop room, party downstairs in the evening, or simply enjoy a generously-sized slice of cake, a coffee, and a catch up with your mate/date/grandma. It's virtually impossible not to fall in love with this hipster haunt!
Best Brek: Vegan sausage rolls!
Address: 52 Ship St, Brighton BN1 1AF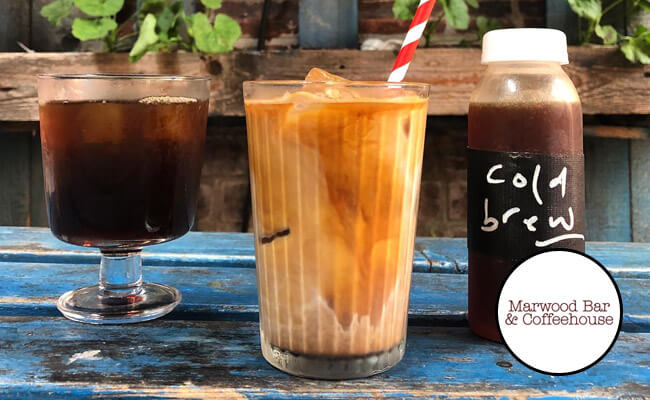 ---
Kooks
Inspired by the brunching bunch over in Melbourne, Kooks aim to deliver some of the best brekkie experiences in Brighton. As they know, it's not just the Melburnians who need their poached eggs and avocado on toast! No no, Brightonians(?!) also need their big, nutritious breakfast-fix too. With a homely ambience, a brilliant soundtrack and some bangin' all-day brunches, you can set yourselves up for a day in the city, and treat yourself to breakfast done properly!
Best Brek: Eggs Royale, smoked salmon, poached eggs, sourdough, hollandaise sauce
Address: 56 Gardner St, Brighton BN1 1UN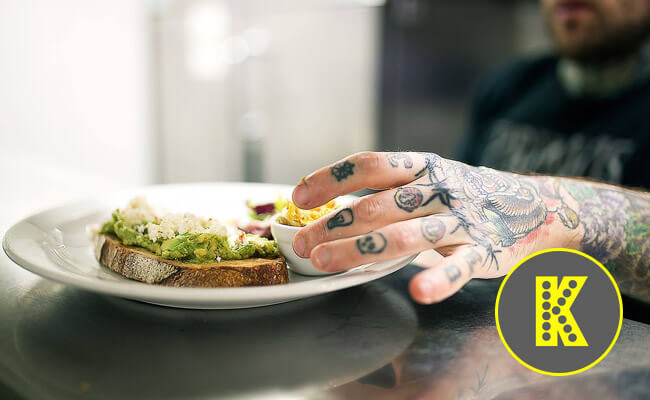 ---
Starfish & Coffee
If you're on the hunt for a hangover-curing breakfast, then let Starfish & Coffee be your guiding light! Their colourful, artistic plates taste as amazing as they look. Flavour-packed food, generous-size portions, boozy cocktails: Starfish & Coffee truly celebrate everything that the breakfast-lunch hybrid stands for. If you fancy something sweet, they also offer a range of pastries from local artisan bakeries, which get delivered fresh every morning. If you like local, lovely, quality food, don't miss 'em!
Best Brek: Chorizo – Pan-fried potatoes, spicy chorizo and two fried eggs
Address: 32 Egremont Pl, Brighton BN2 0GA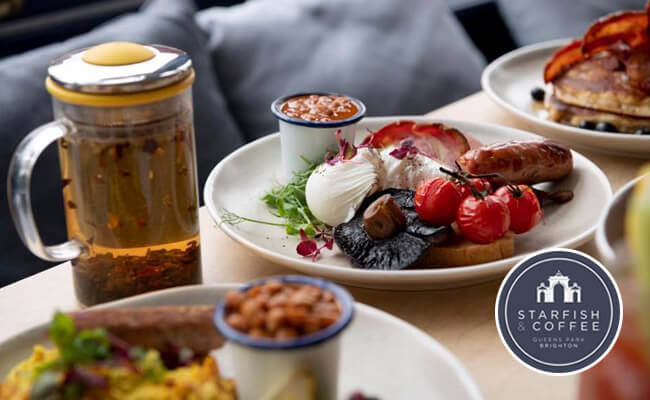 ---
Moksha Caffee
This humble little café serves food that's as tasty as it is Instagrammable! If it's true that 'you are what you eat', you'll be feelin' fully-English after one of their mega breakfasts! They use fresh, quality local produce to create their blooming delicious plates. However you like your free-range eggs in the morning, they'll cook them to perfection! Their flavour-packed shakshuka, superfood salads, grilled goods and vegan treats will well and truly set you up in style.
Best Brek: Moksha Breakfast – Free range award-winning Sussex Cumberland sausage, free-range bacon, free-range eggs of your choice, grilled flat mushroom, grilled beef tomato, homemade baked beans and toasted sourdough
Address: 4-5 York Pl, Brighton BN1 4GU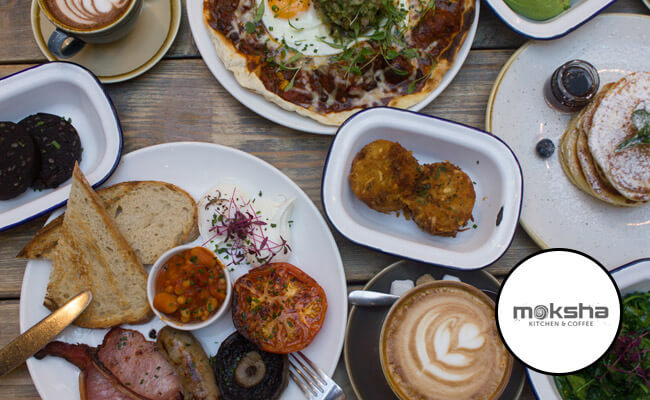 ---
Mange Tout
As the saying goes, we should 'eat breakfast like a king, lunch like a prince, and dinner like a pauper.' Forget starting the day with a soggy Weetabix or going out for a greasy spoon, when you're walking the same streets as Fatboy Slim, David Gilmour and Steve Coogan, you must brunch in a suitably stylish fashion! Start the day as you mean to go on at this fantastic independent bistro. The chefs work with high-quality, sustainably sourced ingredients in order to bring you some of the best bites in Brighton!
Best Brek: Ham, Emmenthal cheese et bechamel croissant
Address: 81 Trafalgar St, Brighton BN1 4EB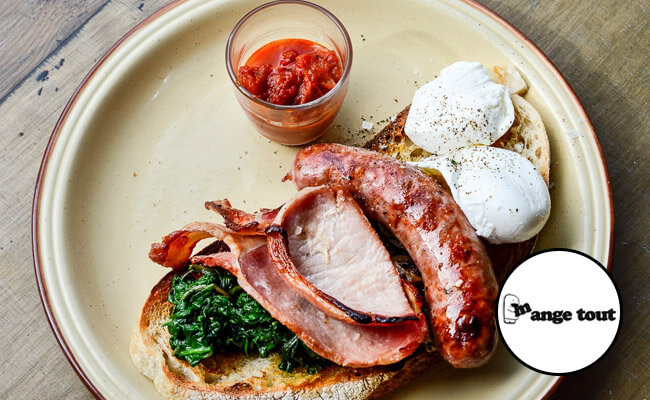 ---
Nowhere Man
'They're a little Nowhere Man, sitting in their nowhere land, making all their tasty breks for everybody…' (We're pretty sure that's how the song goes, right?!). If indulgent American-style breakfasts are 'a bit of you', this vibrant hangout is the perfect place to chill out and enjoy some naughty but (incredibly) nice sweet or savoury pancakes. Sit back, relax, and focus on the only things that matter: coffee, music and pancakes! Insta-friendly, vegan-friendly, gluten-free friendly: if you want to satisfy your sweet tooth, go no-where else, man!
Best Brek: Chocolate Banana Pancakes – 3 stack of fluffy blueberry filled pancakes with blueberry compote, cinnamon and maple butter
Address: 53 Upper N St, Brighton BN1 3FH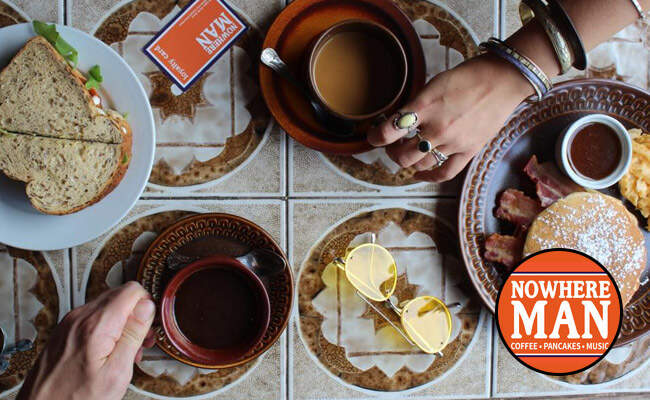 ---
Kensingtons The Balcony Café
As far as hangover-curing breakfasts go, this is up there with the very best of 'em! Their chips are as cheesy as Pryzm's tunes, their Big Meat & Big Vegan breakfasts are famous in B'town, and their prices are as friendly as their staff. As great as super smoothies may be, nothing quite hits the spot like a proper full English! Head to the bustling North Laines, pop inside and relax in this awesome cafe as they turn up the tunes and silence your rumbling stomachs.
Best Brek: Big Vegan – Sausages, hash browns, grilled tomatoes, baked beans, salad and hummus
Address: 1A Kensington Gardens, Brighton BN1 4AL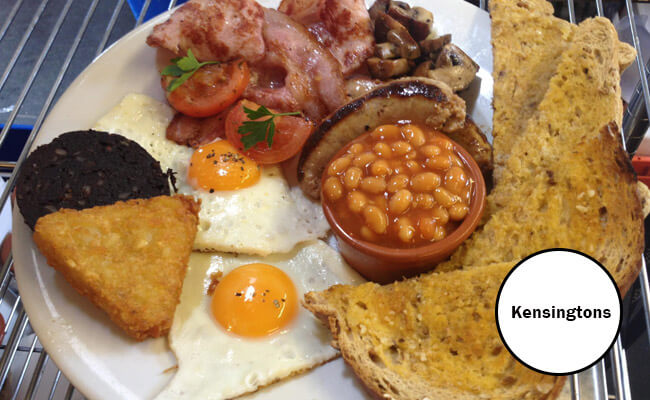 ---
SIX
Either these chefs have a sixth sense, or they're in cahoots with the big man himself, as this café is all our foodie-dreams come true! Purple potatoes, beetroot hummus, hash browns, vegan feta, pretzels buns… their menu reads like poetry! From healthy breakfasts to indulgent sweet treats, SIX know how to show your tastebuds a good time! If, like the very best of us, you're partial to some fizz with your breakfast, swing by on a Friday, Saturday or Sunday morning and enjoy bottomless prosecco or Champagne with your brekkie!
Best Brek: French Toast – French brioche dipped in lemon, vanilla and organic eggs, pan-fried and finished with either fresh fruit and Chantilly cream or bacon and maple syrup
Address: 102 Western Rd, Hove BN3 1FA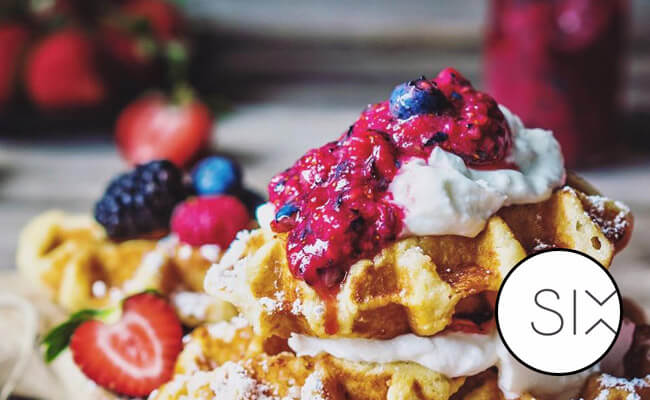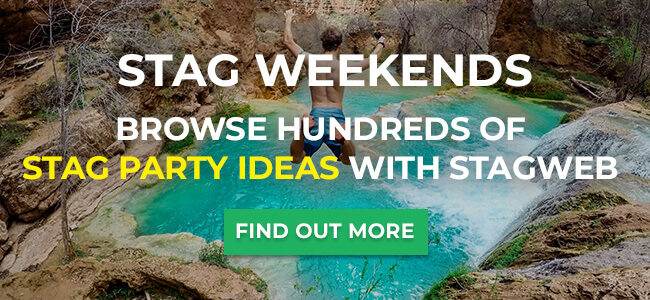 ---
Lucky Beach Café
Does life get much better than enjoying a smoky fry up as the sun rises over the sea? We don't think so. If you don't come to Brighton for the brunch, you come for the beach! Situated on the seafront, this café allows you to experience the best of both; tuck into their incredible dishes and take in the stunning seaside views. They source locally, offer exciting vegan alternatives, and lead the UK's One Plante Plate initiative. How lucky we are indeed to know this brilliant beach café!
Best Brek: Baked Eggs – Stew of tomatoes, deep spices, two eggs, charred peppers, feta, olive, onions, toast, (can be made vegan with tofu)
Address: Kings Road Arches, 183 Kings Rd, Brighton BN1 1NB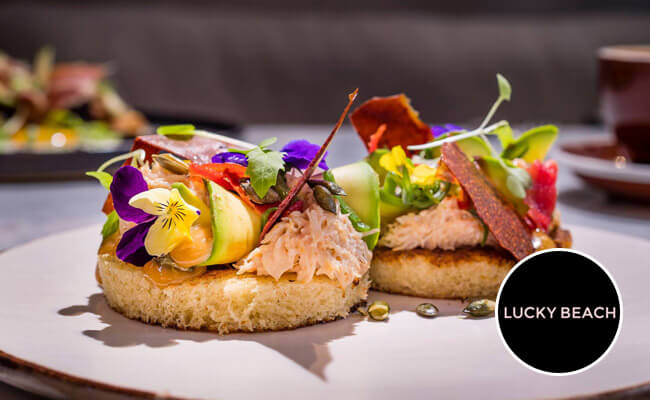 ---
Pelicano Coffee
If fresh pastry, huge slices of cake, and a hot cup of coffee sounds like your perfect morning, then head to the lanes or the level and have a cheeky slice of cake for breako! Pelciano use the freshest beans in their micro-roastery: they serve only the best! Their coffee (as with anything in life), is best enjoyed with a big fat moist slice of cake. Feast your eyes on their smorgasbord of sweet treats: you'll find buttery pastries, and cakes as impressive as the chocolatey beast in Matilda! (Don't tell me it's just us who find that bad-boy incredibly tempting).
Best Brek: Beetroot and chocolate cake
Address: 28 Sydney St, Brighton BN1 4EP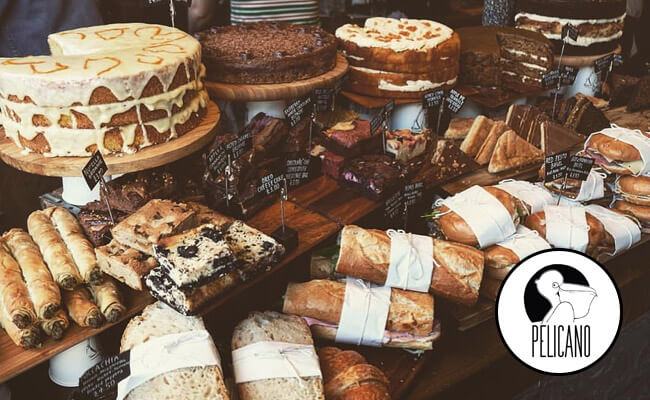 ---
The Coffee Counter
Omnivores, herbivores, and javaphiles (what the cool kids are calling coffee lovers) can get their caffeine fix and enjoy a tasty brekkie at The Coffee Counter. Local artists have graced the walls with their hipster murals and the friendly staff will bless your tastebuds with their scrumptious breakfasts. If you want a traditional fry up, a sweet treat, bagels, toasties, or a chance to say hello to their doggo, pop into this cosy little joint, you'll be glad you did!
Best Brek: Mantango – Balsamic mushrooms, cheddar cheese, poached egg
Address: Stroudley Rd, Brighton BN1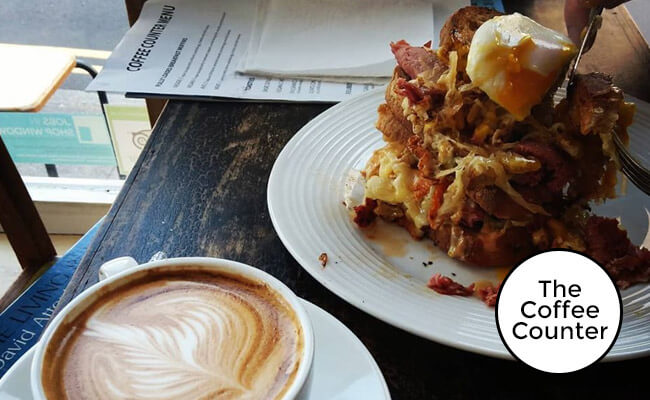 ---
North Laine Brewhouse
If you're coming to Brighton to par-TAY, then you're in luck! Not only does this city by the sea boast a variety of colourful clubs, amazing party people and an abundance of hipster bars, but they also have some of the best places in the world to enjoy a boozy brunch! North Laine Brewhouse offers the ultimate bottomless brunch experience. With hilarious *not PG* drag entertainment, a variety of free-flowing tasty tipples and a bangin' full English/Veggie/Vegan breakfast, you can start your day the Brighton way at North Laine!
Best Brek: Vegan English – Tofu, mushrooms, tomato, baked beans, spinach, toast
Address: 27 Gloucester Pl, Brighton BN1 4AA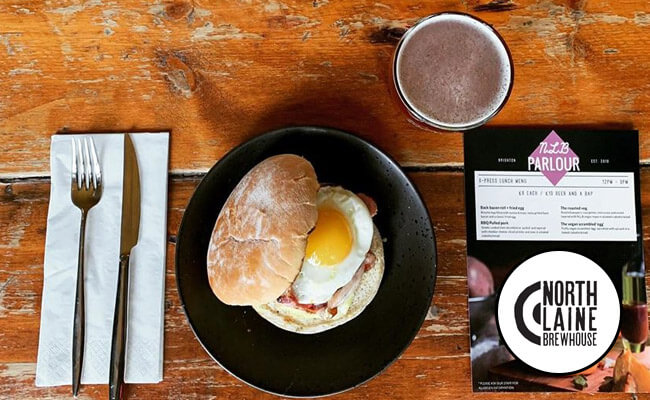 ---
Idyea
This cosy café blesses Brighton with its wholesome, exciting, environmentally friendly dishes, which all come at an amazing value. If you're a regular bruncher, you can tell when a café uses quality ingredients and fresh food. How? 'Cos it tastes exceptional! They want everyone to start their day the right way, which is why their prices range between £1.20 and £6.95. It's one of the best things about being in Brighton/England/Earth, you get the idyea! We've got nothing but love for this lot!
Best Brek: Tuscan Eggs – Poached eggs with baby spinach, feta and mint on a buttered muffin
Address: 17 Kensington Gardens, Brighton BN1 4AL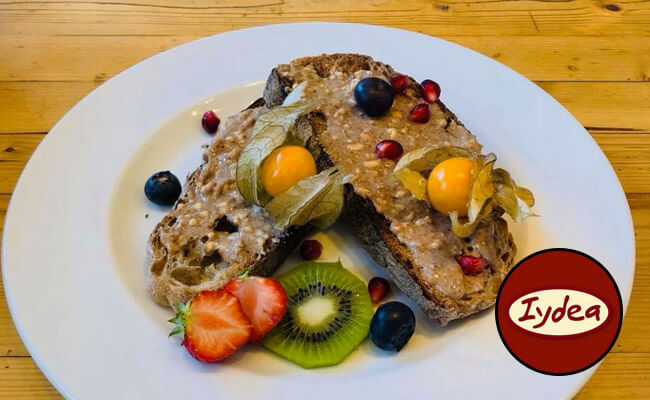 ---
The Plant Room
The veggie way of life is becoming more and more popular, and so too is The Plant Room café! Hidden in the lanes, this stunning café offers impressive, insta-grammable brunches, complemented by fresh tea and speciality coffee from NZ. They've made their home in the land of coffee drinkers and plant lovers, and, as we settle into 2020, our love for this tropical hangout continues to grow. Just a heads up, they're also the perfect spot for working or freelancing if you're in need of some inspiration as well as delicious brain food!
Best Brek: Shakshuka – Spiced pepper, bean ragu, baked eggs and labneh
Address: 17-18 Brighton Square, Brighton BN1 1HD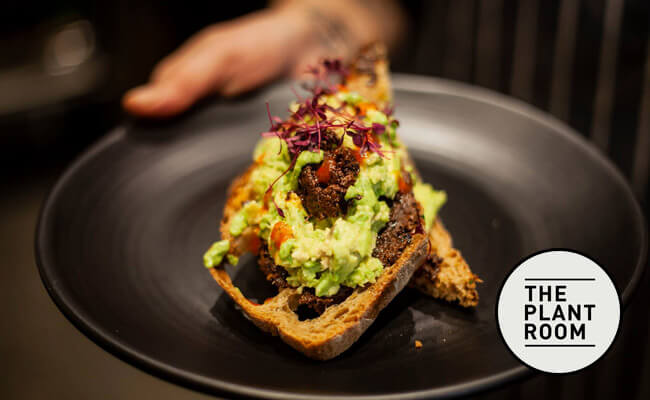 ---
The Longhouse Café
Delectable sweet treats, stunning smoothie bowls, feel-good breakfasts, The Longhouse Café are sure to brighten up a rainy day in the city. If you're a fan of foliage and can't get enough of vegan treats, then you'll lose your proverbial marbles when you step inside this caf! Spider plants on the ceiling, incredible brunches, indulgent Notella pancakes, glazed doughnuts, they have it all! Good for the planet, your tums, your insta-feed and your taste buds… this plant-powered place is a must-visit.
Best Brek: Smokey maple tempeh bacon, mushrooms, baked beans, tomato and avocado on toast with toasted seeds
Address: 16 York Pl, Brighton BN1 4GU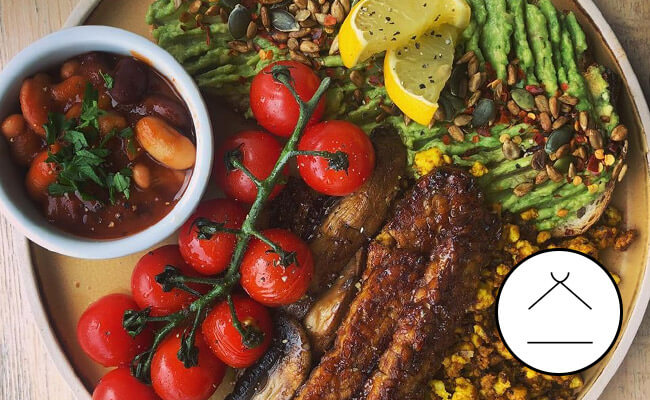 ---
Green Kitchen
'It's not easy being green'… as much as we love Kermit, we have to disagree with him on this one! It's easy when vegan food tastes this good. This cosy café boasts a diverse, dreamy breakfast menu (which we highly recommend working your way through!). It's available all day, it's really fairly priced and it's god-damn delicious! The legends at Green Kitchen have teamed up with the legends at The Retreat Animal Rescue, so every time you buy their meat-free rashers, 10p will go to help pigs live out their lives at a fantastic sanctuary.
Everyone's a winner!
Best Brek: Breakfast Bap – Two Lincolnshire style sausages, scrambled tofu patty, homemade rasher and griddled tomato in a toasted bun
Address: 8 Preston Rd, Brighton BN1 4QF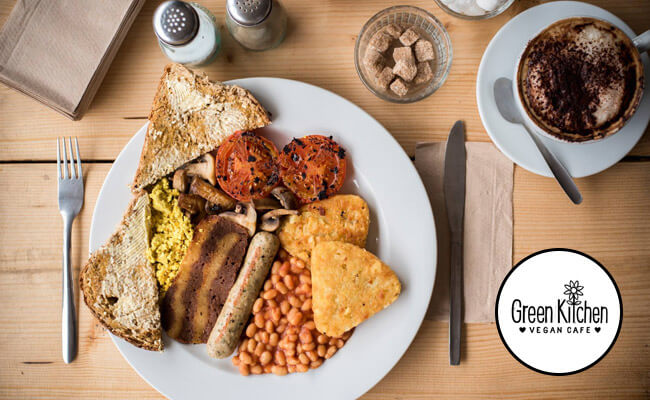 ---
LoveFit Café
Good food, good mood! LoveFit Café supply the super juice you need to live your best life, be your best self, and feel invincible! They whiz up some delicious protein drinks and fry up some nutritious food so you can boss it in Brighton. As they have nothing to hide, they put all the nutrition info on their menu so you know what you're putting in your body. Pancakes, granola, porridge, American breakfasts, they're perfect if you're looking to get fit or simply treat your taste buds!
Best Brek: Full English – Two grilled smoky bacon medallions, a grilled Sussex Farm shallot and smoked chicken sausage, scrambled eggs, baked beans, mushrooms, roasted vine tomatoes, hash brown, granary toast
Address: 110 Queens Rd, Brighton BN1 3XF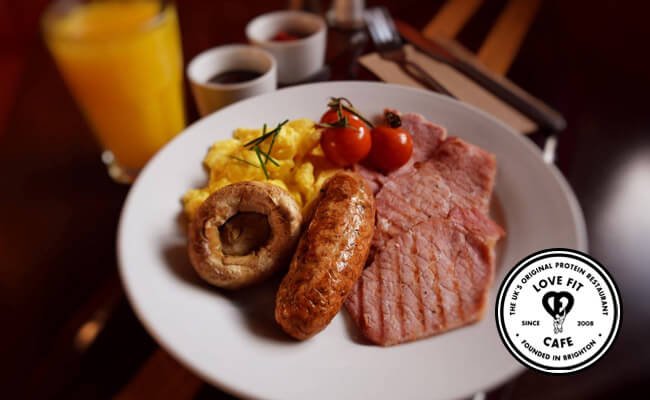 ---
Nostos Café
If you're looking for breakfast with a difference, then we highly recommend Nostos. If anyone knows how to create fresh, delicious food, it's the Greeks! This brilliant restaurant brings a taste of the Mediterranean to the city and offers the people of B'town some truly beautiful breakfast dishes. If you want to kickstart your day with a celebratory meal, this bright, buzzing restaurant is the perfect place to treat your tastebuds. Nostos is based in Hove (actually), but that's close enough to Brighton for us, and they're too good to miss!
Best Brek: The Greeklish Breakfast – Giant butter beans, Greek sausage, sweet potato rosti with mint and feta cheese and auga matia (fried eggs)
Address: 63a Holland Rd, Hove BN3 1BA