What ROX don't know about engagement rings simply isn't worth knowing. One of the UK's leading jewellers and expert carat crunchers, we went on bended knee and asked them, "Will you…"
"…tell us how to pop the question?"
They may all look like big sparkly things to you, but there are so many facets to consider – what are the best engagement rings, what are the types of engagement ring, how to buy an engagement ring –picking out the perfect ring can be tough.
Luckily, our good friends at ROX have put together a quick list of the ten top things to consider when shopping for an engagement ring.
Top 10 Tips on How to Pick Your Engagement Ring
Consider the 4 Cs of diamonds: cut, colour, clarity, carat weight
The carat gets misconstrued as the size of the diamond when it is actually the weight of it
Size isn't everything: make sure you're getting a well-rounded, quality diamond that encompasses all 4 Cs to a certain extent
Popular diamond cuts include round, oval, emerald, cushion, princess and pear. TIP: round diamonds sparkle the most
The old rule is to spend at least three month's salary on a ring, but you should really look at your budget and spend wisely
For added sparkle, go for either a cluster or halo engagement ring with a pave band
Platinum is the most popular engagement ring metal as it is rarer and more durable than gold
Look for the hallmark inside the band to ensure the metal type is authentic
Don't rush when buying a ring, make sure the jeweller is credible and informative
And, most importantly, choose a ring that suits your partner's style – whether that's classic, bohemian or untraditional – and consider a ring that will flatter her finger
Want to know more? Check out these amazing engagement ring facts from ROX:
---
What We Asked ROX…
What should we look for when choosing a ring?
Finding the perfect engagement ring can be a daunting task, no matter how well you know your partner.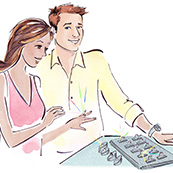 Consider whether your partner has a distinct style. Perhaps they love eye-catching, distinctive jewellery that makes them stand out from the crowd, or maybe they prefer more traditional, elegant and understated styles. Some people even look to the stars for some much-needed engagement ring inspiration.
Pay attention to any little hints that your significant other may be dropping – have their eyes lit up while window shopping? Or have they complimented a celebrity's ring recently?
Take all these things into consideration and choosing a design that captures their personality will become far easier than you think.
---
How much should you spend on an engagement ring?
It sounds cliché, but it really is the thought that counts, and you shouldn't let preconceived notions (such as spending two months' salary on an engagement ring) guide your decision. The amount you want to spend is an entirely personal thing and focusing solely on the price tag not only takes the romance out of picking the ring but can also cause unnecessary stress. In a survey we ran, over 70% of brides-to-be expected their partner to spend less than or around one month's salary.
Depending on the jeweller, there are often ways of spreading the cost, such as paying on finance or interest-free credit. Whether you spend £100 or £10,000, what's most important is the look on your fiancé-to-be's face when you present them with a ring they'll love – priceless.
---
Any tips for how to find out ring size without giving away what we're up to ("your finger looks sore, here, let me tie this strangely marked and measured piece of cotton around it")?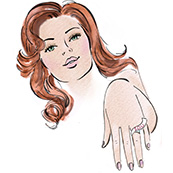 There are a few tricks you can use as a guide, such as bringing in a ring from the same finger on the opposite hand, but it's not guaranteed to be completely accurate. You could also try and tie a piece of string or use a ring gauge around their finger while they sleep – but this might be a tricky one to explain if they wake up (and a bit weird).
Size 'M' is the average ring size for women, and 'U' for men. The most important thing to remember is not to panic if you pick the wrong size. Most rings can be adjusted to be made larger or smaller, and we offer the first resizing free of charge.
---
What is a carat and why does it matter?
Carat is one of the 5 Cs that determine the quality and price of a diamond – along with cut, colour, clarity and certification. Referring to the weight and size of the stone, carat is probably the most talked-about aspect of a diamond. Most people think the bigger the diamond, the higher the carat number, however, a smaller diamond with a superior cut can be more valuable.
The diamond cut is actually the most important factor to consider. If you want to swot up, you can check out our guide to understanding the 5 Cs.
---
Do engagement rings have to be a diamond?
At ROX, we're passionate about diamonds and think they are the make most sentimental and mesmerising choice for an engagement ring. The great thing about going for a diamond ring is that there is a myriad of styles available, from shimmering pear halos to colourful multi-stone options. That said, diamonds are not the only option. If you've got something else in mind, you could consider a bespoke ring design service that will ensure your creation comes to life.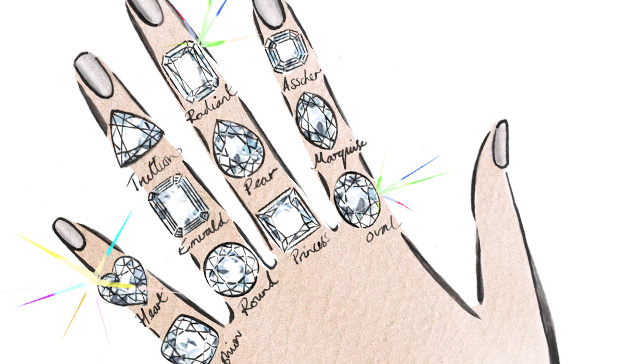 ---
What is the best metal for engagement rings?
This depends on your partner's preference – the classic choice is white gold or platinum, but rose or yellow gold is equally stunning. If they have sensitive skin, opt for platinum as it's hypoallergenic. If they work with their hands, then a low set diamond on a platinum band is a great choice as it will be less prone to damage.
---
Are there any classic mistakes to avoid when choosing an engagement ring?
Panic buying – we've all been there. If you are really struggling to find 'the one', consider popping the questions with a token ring. This allows for a grand gesture without any potential awkwardness.
Gone are the days when the fiancé-to-be has no say in the matter. In recent years, we've seen a huge increase in couples whose proposals took place without a ring. This way, couples can opt to shop for the ring together.
---
When doing the deed, should we go down on one knee? Is that expected or old-fashioned?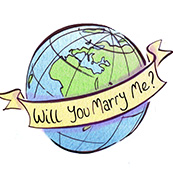 The whole down-on-one-knee thing apparently stems from chivalrous knights, which is pretty romantic. Plus it gives you a chance to steady yourself if you're nervous. Another fun engagement ring fact: the concept of an engagement ring is thought to have originated in Ancient Egypt, where the shape of the ring was considered a symbol of eternity.
---
What's your top tip for popping the question?
Enjoy the moment – it should be just as special for the person asking the big question. Also, try and get someone with a camera to capture the moment – your adrenaline might cloud your memory!
---
What's the worst engagement story you've heard?
A friend of a friend's boyfriend whisked her off to New York, and for a whole week, she was hoping he'd pop the question. They went out for romantic walks, meals, picnics in Central Park – every time he bent down to tie his shoe, she'd be thinking: 'this is the moment'. He ended up popping the question on the last day, in the hotel bathroom… wearing his boxers. Every couple is different and the moment was still special and private for them – but I can't help thinking it was a missed opportunity.
---
 And the best engagement story?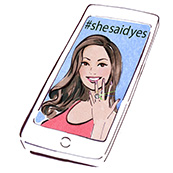 We've actually had a few surprise proposals in store – which is pretty special. Thinking that you're picking out a pair of earrings for your mother-in-law and leaving with a ring on your finger. We love being part of a couple's journey and doing what we can to make it extra special.
---
And finally, flash mob proposals. A brilliantly romantic way to wow your partner(and become a YouTube sensation) or a brilliantly devious way to ensure they can't say 'no'?
I think this is really dependent on your partner's personality. Will they enjoy being the centre of attention, or would an intimate proposal be more their thing? A flash mob proposal would have to be pretty well executed – there are actually companies that specialise in this, so unless you're friends with a choreographer maybe get the professionals in. It's certainly thoughtful and still beats the avocado proposal trend.