If the locked-down man can't go to the boozer, then the boozer must come to the locked-down man.
Yes, fellas, whilst we're all dreaming of getting our desperately parched lips around a pub-poured pint, we're still seemingly a fair way off that just yet. So, here at StagWeb, we thought we'd show you thirsty stay-at-home-heroes how you can bring the pub to your gaff.
Whether you're after a quiet ale in a quaint countryside tavern or you're looking for a bouncing party pub, our Lockdown Guide to Making a Man Cave Bar will show you how – whatever budget you're operating on!
From low-key ideas (beers and snacks to signs and openers) to more extravagant additions (like beer pumps, fridges, pool tables and pizza ovens), we've scoured the web for 19 must-have pub components to create your own stay-at-home bar.
Jump to section:
---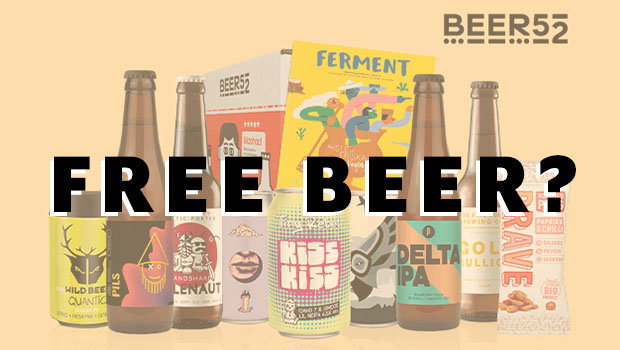 We've teamed up with our friends at Beer52 who are offering 8 beers for free, all you have to do is pay £5.95 postage!
The Quiet Pint – Low Key Man Cave Bar Ideas
---
Perfect for a little makeshift back kitchen boozer
What You'll Need
Beer
Snacks
Beer Glasses
Bottle Opener
Bar Sign
Bar Mats
The Quiet Pint ideas section is for those looking to cultivate a pub-like beer drinking experience, but without having to construct an entire bar or splash out a huge chunk of change. This is about getting the right beer, the right snacks and creating the right atmosphere.
---
Beer
If you're going low-key, at least treat yourself to some stellar (no, not Stella) beers to elevate the drinking experience to new heights otherwise it's just another lockdown evening at home.
Beer Hawk will swoop in and drop off an incredible array of beers straight to your door. Get a load of their squawking deals here.
---
Snacks
It's not quite a man cave bar without some pub-style snacks to capture the salty essence of your local. Snack-Box offer the ultimate array of pub nibbles for you to work your way through.
Check out their classic Beer Snack Box for those pining for the public house.
---
Beer Glasses
No, a boring, bog-standard pint glass won't do (and you can forget about using that Sports Direct mug, too). You need a proper drinking vessel to enjoy your delicious beverage to its fullest.
Traditional / Tankard / Personalised / Extravagant / Childish (but funny)
---
Bottle Opener
Imagine splashing out a few quid on some delicious brewskis and not being able to locate a bottle opener or, worse still, the one you got in that Christmas cracker snaps clean in half. Get yourself this wall-mounted bottle opener which not only looks great but also collects up all your caps up – it's the little extras which elevate the overall experience.
Keep the gaff tidy with a wall-mounted bottle opener.
---
Bar Sign
It's not a man cave unless you have a man cave sign. Sorry, but you'll have to call it something else. Legally* you can't call it a man cave. You can pick one up for less than a tenner, so no excuses.
*OK, it's 'technically' not illegal, but it definitely should be.
Don't cheat the man cave code – grab yourself a lockdown bar sign.
---
Bar Mats
Yes, you can't run the risk of spillages or beer rings – particularly if you're using that nice wooden table your partner is weirdly attached to! Grab some personalised beer mats and ensure you stay in the good books.
Steer clear of the doghouse here.
It's a 10-minute walk from my house to the pub,
but a 30-minute walk from the pub to my house…
the difference is staggering!
---