Do you love beer?
… yeah, us too.
Do you sometimes struggle to know what's good these days with all the choices on offer?
… yeah, us too.
That's why, here at StagWeb, we're going to be interviewing some of the best and brightest breweries about to get the lowdown on their top brews to help you pinpoint some new favourites.
You'll also get to have a peek behind the beers to see the passion and innovation which goes into their flavour-packed creations.
So join us as we embark on a boozy discovery mission and avoid that beer buying regret next time you come face-to-face with countless IPAs, APAs, Pilsners, Porters, Saisons, Sours, et al.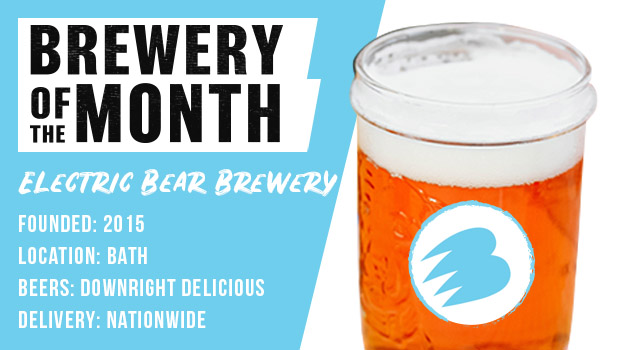 Disclaimer: No bears were electrocuted during the course of this interview… or at any other point for that matter… it's just a name… and a cool one at that!
So, tell us about Electric Bear?
Electric Bear started in 2015 with Chris [the founder], forming from a love of craft beer and home brewing. Over the last 5 years, we have grown to be an experimental brewery who strive to brew a wide variety of different beer styles and break the mould of craft beer.
We do not take ourselves too seriously and this comes across in our beer names and artwork. We are proud to be a small team who are all passionate about our beer and our customers.
Love it! So, how much do you guys love beer?
Amongst the team, there is a lot of love for a lot of different types of beer: from juicy IPAs to thick imperial stouts, to the sourest of sours (even Laurie, who for some reason is obsessed with double bock!). We have every style covered and get a bit nerdy when breweries release specials.
What makes you stand out from the crowd?
We like to have a lot of fun with our brews and, generally, it is a team effort when it comes to naming and deciding on what styles we do next. We are also experimental with our flavours, often putting things together that on paper shouldn't work but are amazing!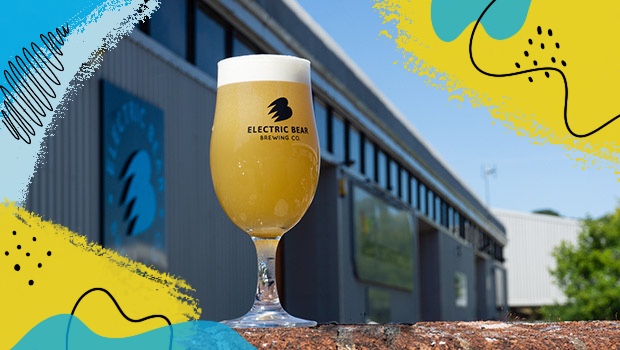 With summer around the corner, what's your best beer to enjoy in the blazing sunshine?
Werrrd! Our 4.2% American pale ale is a summer staple with orange, mango, and pink grapefruit flavours. It's one you can just go back to time and time again.
And what's the best to enjoy in the depths of winter?
We are kind of renowned for our stouts. We rotate them often and, in the winter, have a few lovelies to choose from. Two choices come to mind: 48 Hours Later, our 13% vanilla imperial stout, and Inspector Remorse, which is our favourite 4.7% porter we bring back every year.
But stouts are for life, not just for Christmas.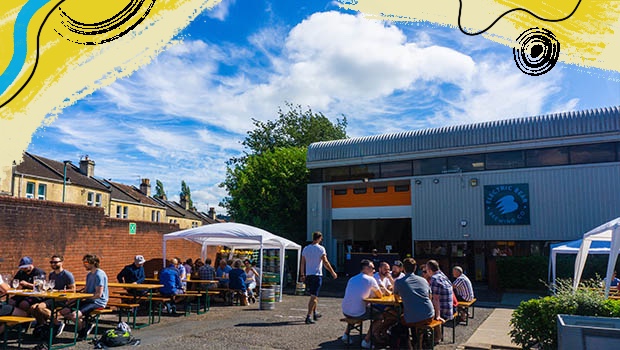 How about giving us a rundown of three other favourites?
Our IPAs are banging, if we do say so ourselves. Our favourite is Above the Clouds, a 6.2% IPA with flavours of pineapple, citrus fruit, and a well-balanced bitterness.
We brew great sours and push the boundaries of fruit puree to the max. We have just released a black forest gateau sour – 5.5% Never Mind The Buzzwords. It's heaped with cherry puree and added cocoa nibs, which give it a subtle hint of chocolate after the sharp whack of cherry.
Our gluten-free pale ale Zorbing. This is a core beer and is a great staple supper. At 4.1% it is sessionable, easy-drinking, and has flavours of melon, tropical fruits and a light piney finish.
How did you manage during the pandemic?
We were in an extremely fortunate position of own a canning line, so found the transition of canning all our beers straightforward. Then we just had to sell it!
We had to adapt our business model fast and grew an online presence and amazing customer base, to whom we are incredibly grateful for supporting us through this journey.
We don't plan on slowing down our online platform even after bars reopen. We have just launched our subscription service, Bear Club, and are excited about the opportunities for the future.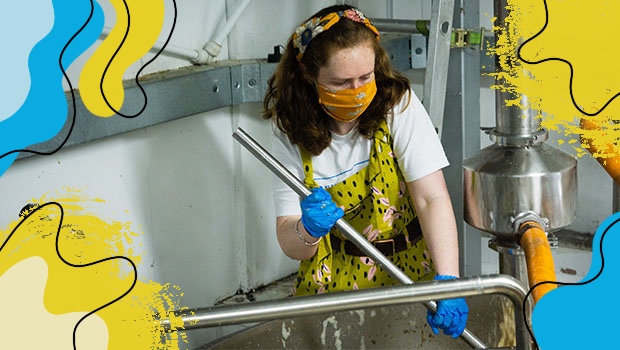 How far do you guys deliver?
We are delivering across the UK. Free delivery over £35 for mainland UK. We are keen to get back to delivering into Europe as soon as possible. Hopefully, the sh*t will all get sorted out soon!
When will you be welcoming people back to your taproom?
As soon as we can really, along with government guidelines. We are working towards the 16th of April and will be open Friday-Sunday with regular food truck guests and lots of beer on tap! Can't wait!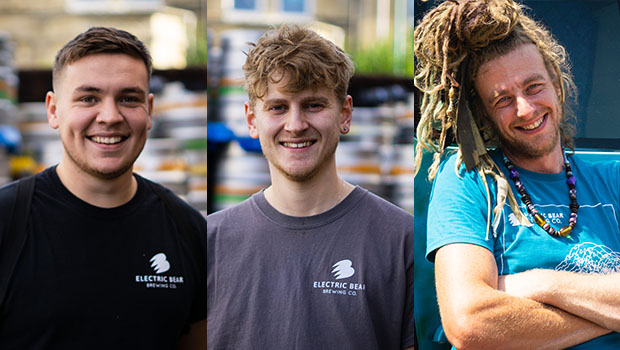 Is there another craft brewery you guys love?
To limit this to one brewery is nearly impossible as the UK scene is so incredible, we just want to drink them all! We have made many good friends over the years doing collabs, and we can't wait to organise some new ones.
We have just done our first virtual collab for International Women's Day, organised by our sales and marketing hero, Bec. We have joined forces with Arbor, New Bristol Brewery, Good Chemistry, Pigs Ears and Good Libations to brew a tropical IPA with 30p of each can going to Women's Aid.
We are launching this mid-April and will hopefully get all the breweries and fantastic women together socially distanced at the taproom.
---
You might also like our blog Top 50 Craft Breweries in the UK 2020