For some unknown reason, the hot dog never gets the credit it deserves.
These days, people talk about burger creation like it's a whole new art form; like you need to have a Master's in Patty Stacking and a PHD in Bun Positioning to be qualified to talk about it… but not the humble hot dog.
Well, no more are we going to sit idly by as the hot dog cowers in the shadows. Here at StagWeb, we've gone and scoured the country for those who are passionate about dog creation and have put together our official Top 11 Best Hot Dog Joints in the UK (yes, we're doing a Top 11, get over it!), so like-minded sausage enthusiasts can get together and enjoy the mighty hot dog in its finest form.
Hot Diggity DOG!!
---
Oprha's Gourmet Hot Dogs
Best Hot Dogs in London
There's far more that goes into crafting a delicious hot dog than slinging a sausage into a bun and sending you on your way. Yes, the guys at Orpha have taken the classic dog and elevated it to outrageous gourmet-inspired heights. Made from fresh ingredients, adorned with drool-inducing toppings and cooked to perfection, these guys are setting the standards in the food-loving metropolis of London.
📍 Where: Mercato Metropolitano, 42 Newington Causeway, London, SE1 6DR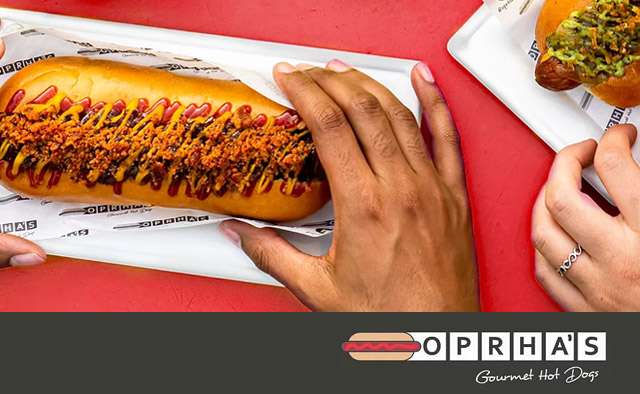 ---
Dog Town
Best Hot Dogs in Bristol
Hot damn, these dirty creations on display at Bristol's premier dog joint are getting us all in a flap. We can't concentrate, we can't sleep, and we certainly can't eat anything which isn't one of their stacked snacks. Their topping game is unrivalled, their fries are feisty and the discovery of their beer slushies will go down as one of the big milestones in our lives. Next time you're Harbourside, check these guys out!
📍 Where: Unit 2, Cargo 2, Wapping Wharf, BS1 6ZA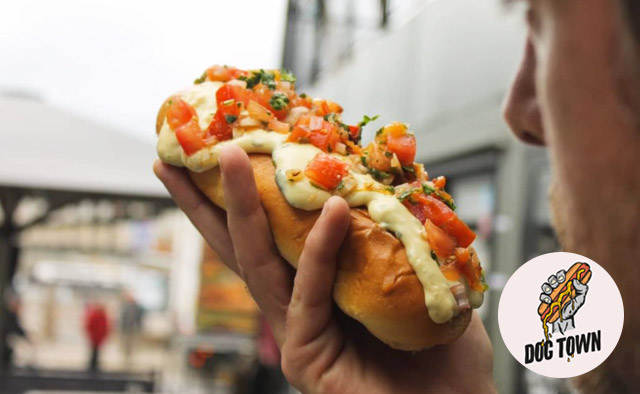 ---
3 Three's Coffee
Best Hot Dogs in Birmingham
Coffee with a hot dog station? Now you're talking our language! At 3 Three's Coffee, you can select one of their dogs from the menu and then head off-piste adding toppings as you please. Whether that takes the form of some sexy sauces or whether you're throwing in an extra frankfurter, you'll be able to craft the hot dog of your wildest foodie dreams. All their dogs are plant-based, too, so veggies and vegans can enjoy the full range on offer!
📍 Where: 17-19 Martineau Way, Birmingham, B2 4UW
Website | Facebook | Instagram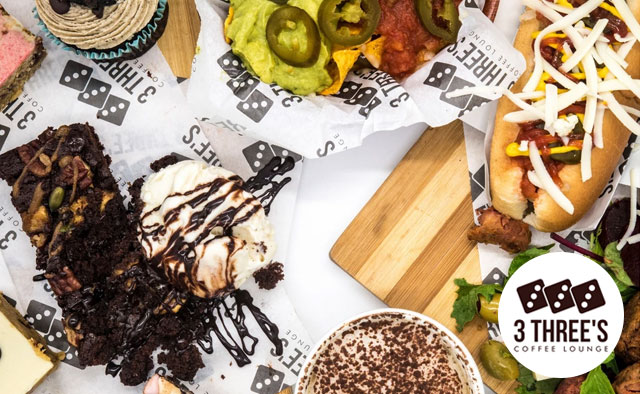 ---
The Hanging Bat
Best Hot Dogs in Edinburgh
There's no one-size-fits-all when it comes to hot dog desires which is why The Hanging Bat allow you to construct your own as you choose up to three slamming toppings and a selection of sensational sauces. They also have some outrageous craft beers on tap to wash it down with, so apologies in advance – you're never going to want to leave this joint.
📍 Where: 133-135 Lothian Road, Edinburgh, EH3 9AD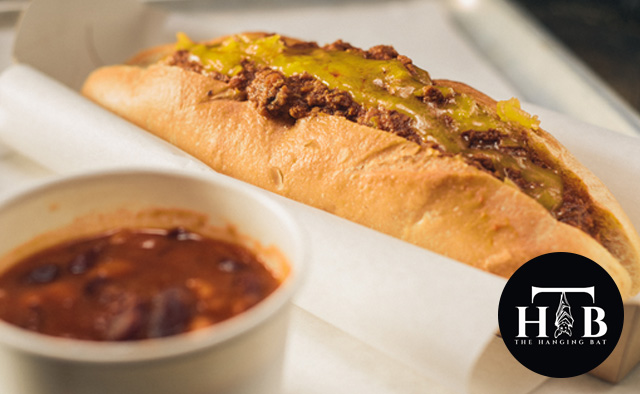 ---
Salt Dog Slim's
Best Hot Dogs in Liverpool
A dive bar serving dirty dogs, Salt Dog Slim's have 10 tongue-loving variations on offer, including the Suicide Dog (which contains f**king hot sauce), the Cheese Eating Surrender Monkey, Texas BBQ and more outrageous flavour combos. What's more, the vibe is top-drawer, the staff are incredibly welcoming, and they don't half know their way around a cocktail. In our eyes, Dog Slim's is certainly worth its salt.
📍 Where: 79 Seel Street, Liverpool, L1 4BB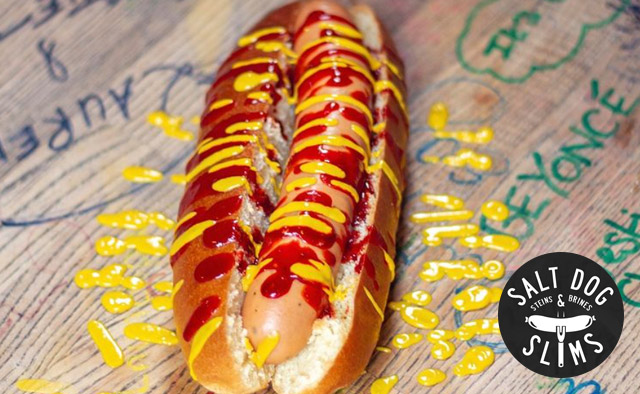 ---
Broncos Rodeo Bar & Grill
Best Hot Dogs in Sheffield
Home to a 3ft long, super-sized, sauerkraut-adorned monster dog, Broncos Rodeo have really pushed the boundaries of hot dog creation with this chonky fella. But this is no mere gimmick, this here is a delicious feat of food-based engineering which deserves to be talked about far and wide. Without wanting to tell you how to live your lives, it's probably best to share this bad boy (though, if you're super hungry, who are we to judge?!).
📍 Where: 53-59 West Street, Sheffield, S1 4EQ
Website | Facebook | Instagram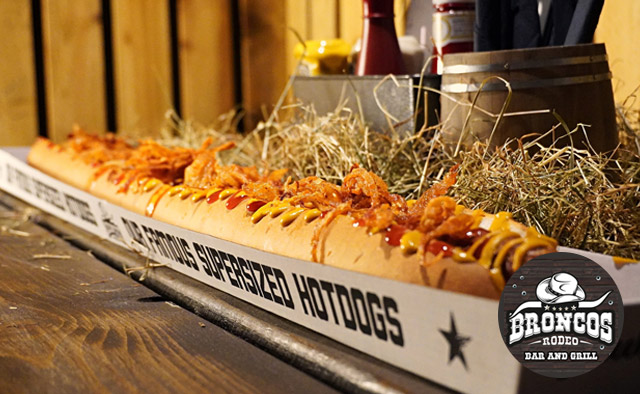 ---
Fat Annie's
Best Hot Dogs in Leeds
This New York-inspired dog shack which set up shop in Leeds in the halcyon days of 2017 went through a m-a-s-s-i-v-e change in the back end of 2020. They went… wait for it… meat-free! Whilst naysayers (and meat-eaters) may describe it as a 'bold move', it seems to be a gamble that's paid dividends as their dogs are still as de-oinking-licious in their new veggie form. Hats off to Annie's, these guys are crushing it.
📍 Where: Leeds Kirkgate Market, 28-34 George Street, Leeds, LS2 7HY
Website | Facebook | Instagram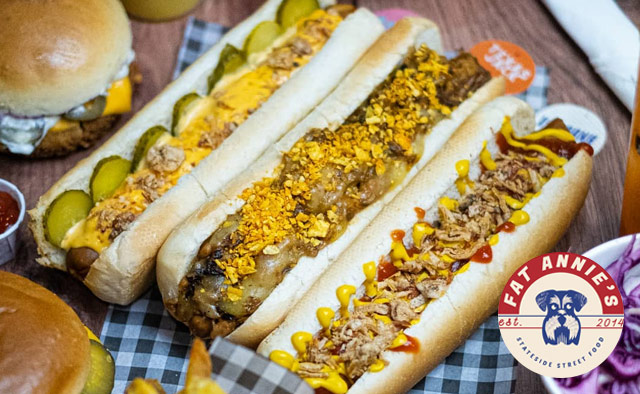 ---
Banger
Best Hot Dogs in Belfast
Banger boomed onto the Belfast foodie scene in July 2021, and they're already establishing themselves as the go-to joint for dogs in this mighty city. 10 hot dogs, five types of fries, outrageous wings – what's not to love? These are no measly bites, either. You definitely get your money's worth in size, taste and service. People, listen up: if you're yet to try this outrageous dog restaurant, we urge you to do so with the utmost urgency!
📍 Where: 24-26 Church Lane, Belfast, BT1 4QN
Website | Facebook | Instagram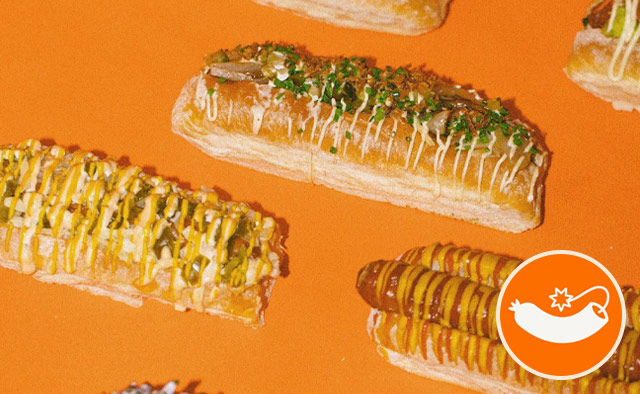 ---
Got No Beef
Best Hot Dogs in Cardiff
No beef? No problem! This vegan eatery in Cardiff serves up two colossal foot-long dogs: The Classic, which is topped with a double whammy of grilled and crispy onions, and the Loaded Sloppy Joe which is stacked with Nashville BBQ 'beef', cheese sauce, onions and jalapenos. We're salivating just writing about them – we can't help it, they're just so damn delicious. Yes, vegan dogs are here to stay, and they're just as tasty as their meaty counterparts.
📍 Where: 8 Barrack Lane, St Davids Centre, Cardiff, CF10 2FR
Website | Facebook | Instagram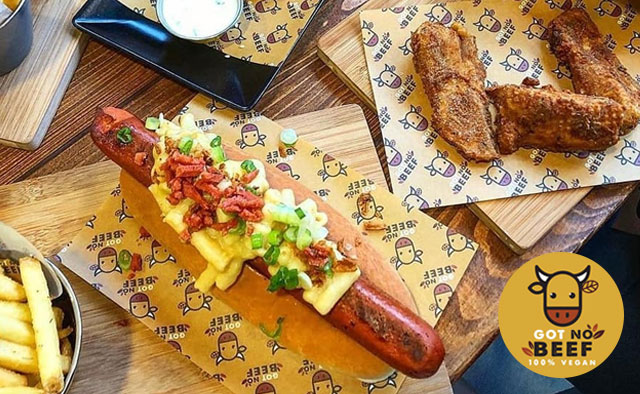 ---
JB's American Diner
Best Hot Dogs in Brighton
Nobody does the hot dog better than our Transatlantic cousins, and JB's has brought that American flair to our very grateful shores with their superb range of bites. But it's not just the dogs that hit the spot in this eatery – the whole atmosphere is sublime and the place is decked out like a '50s American diner with rock memorabilia on the walls, stars and stripes banners draping from the ceiling and Tom and Jerry cartoons on repeat. They also make an outrageous shake to wash down their sensational creations, too.
📍 Where: 31 Kings Road, Brighton, BN1 1NR
Website | Facebook | Instagram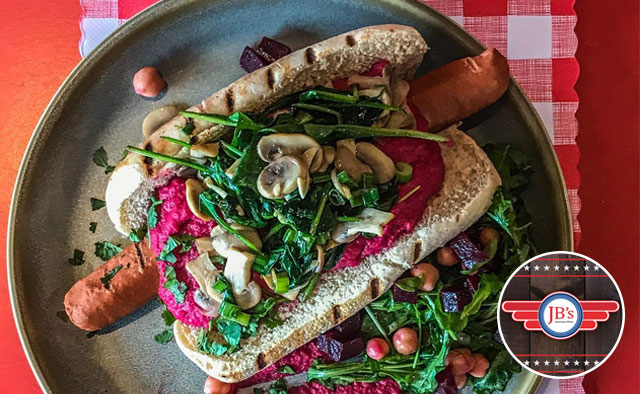 ---
NY American Grill
Best Hot Dogs in Glasgow
Not only are the dogs on offer at NY American Grill packed with flavour, but they also ooze style. Yes, not usually synonymous with high-end, gourmet cuisine, the guys behind this here Glaswegian grill have added a certain finesse to their sausage creations and, quite frankly, we're huge fans. Be sure to grab a cocktail whilst you're there and really kick back in this boujee New York-inspired eatery.
📍 Where: Princes Square, 48 Buchanan Street, Glasgow, G1 3JN