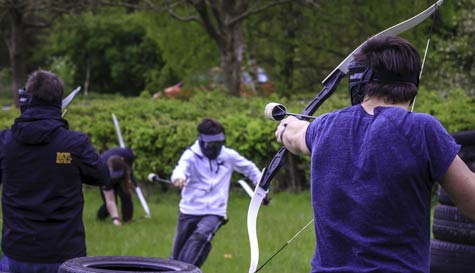 Paintball is definitely one of the greatest stag activities ever but it does have a couple of flaws;
One - Shooting 250 completely panicked rounds in under 5 minutes (without hitting a thing!). Not only are you out of ammo and 'dead', you have to pay up for more.
Two - Hearing the groom whinging about getting paint in his precious hair do.
But there's a new pain game in town, stag party archery tag offers all the fun of paintball but won't leave a nasty mess when all the stags shoot their load.
Stag party archery tag is quite simply epic! It's like playing out an action movie where you get to totally kick ass. Not only that but how many chances do you get in life to legally point and shoot projectiles at your mates without any repercussions. There really is nothing better than hearing a whoop of "Right in the happy sacks!" as you watch another of your opponents crumble to the ground as you charge on to victory.
The basic premise of stag party archery tag is simple;
You'll be split into two teams. Each team has its own set of fortifications to defend. The fortifications are set with targets and between the two areas is a neutral zone. Each team scores points by shooting out all of their opponent's targets. Alternatively (and much more fun) teams can win by wiping out the opposing team.
The battlements include bunkers and all kinds of obstacles/safety. Both teams are allowed to enter the neutral zone but only to collect arrows. Players cannot shoot from within the safety zone but can be shot at.
For the bloodthirsty among you we should point out that these are special arrows with safe soft tips, you can't actually skewer anyone during Archery Tag and all players must wear facemasks to protect their good looks.