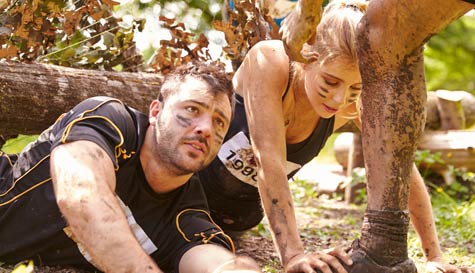 Ok let's face it, some of you are already past your best (you know which of your mates this applies to... and possibly you?) but if they're all man enough (putting hair products and aftershave addictions aside here) then a stag weekend obstacle course is an epic pre-wedding challenge for the groom and his assorted squad of mates irrespective of their shape, size, physical condition or varying degrees of alcohol/nicotine/fake tan dependency.
This is a professionally designed course incorporating obstacles that have been part of military training for decades. You'll face all the usual suspects: scramble nets, Burma bridge, rope swings and a high wall, which will test your physical and mental abilities to the limit plus a few other nasty surprises.

But it's not just the course you'll be doing battle with, you'll also be going head to head against each other, with bragging rights to the winners and pint penalties for the losers. You'll certainly all have earned a pint or two at the end of the day.

This is a great day and a fantastic ice-breaker if not all the groom's friends have met before. You'll also get some great photos of the group during the main man's weekend, ones you can happily put on Facebook without landing any of the lads in trouble.