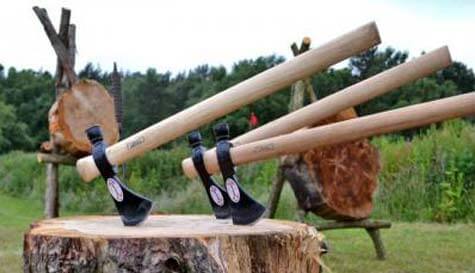 It's a sad but indisputable fact: men are just not as manly as they once were. Years of refrigerators and supermarkets and pizza delivery have softened us. We'd bet you've never once wrestled a bear, crushed rock between your bare hands, or stared down an eagle just for the fun of it. Wimp.

Well, that's all about to change. With our axe-throwing activity, you and the lads are able to get back to that primal hunter state. With targets, obviously, not actual animals. We're not barbarians.

It combines those natural instincts men hold close; sharp things and throwing sharp things wildly. With a slight competitive element too (you don't want to be the only lad who couldn't take down a wild boar with an axe if the situation ever arose), as well as the thrill of learning a useful survival skill (axe would be an excellent weapon of choice in a zombie apocalypse), it's the perfect activity to get all the lads bonding and having fun.

There's no better time for enjoying such masculine pursuits than on a stag do, after all. It's a men-only manly right of passage, treasured bonding time for you and the lads without any women (well, we can think of a few exceptions...), and so it's the perfect time for you all to unleash your inner mad axemen.