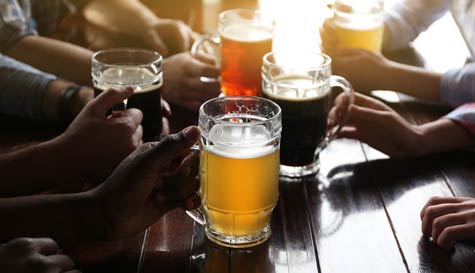 Some people say 'There ain't no party like an S-Club Party' but those folk have clearly never been on a StagWeb weekend. Because we know how to party, we know what gets a stag party truly united and focused and that is lovely ice cool beer.
This great session will line up seven fabulous local beers for you and the guys to get your laughing gear round. You can then note the subtle differences and flavours between each brew. After all being with mates is a great time to sink a beer or two but that is even better if you're on a Barcelona stag weekend.
The session will take place in a private bar with your very own sexy hostess to talk you through the session and tell you all about the beverages. Not only will you get great flavours, you'll also walk away with some useful beer knowledge all delivered by a far more attractive beer guide than the usual cardigan-wearing, moustachioed beer bore you find back home.
The Beer Facts
Cenosillicaphobia is the fear of an empty beer glass.
The world's strongest beer (Snake Venom) has a 67.5% alcohol content.
The prize for winning the World Wife Carrying Championship is your wife's weight in beer. So a light wife means you're more likely to win but get less beer... Doh!
The Wat Pa Maha Chedi Kaew temple is entirely constructed from beer bottles. Over a million of them!
In 1963 Heineken invented and produced beer bottles that could also be used as a brick to build sustainable housing in poor countries.
Beer is one of the world's oldest drinks believed to date back as to 6,000 BC.
At many times in history, beer was actually healthier than water as many water sources were exposed to, well everything and couldn't be totally purified while beer was brewed hygienically.
Beer is rich in silicon that increases calcium deposits and minerals that strengthen bones. So you're not getting drunk, you're getting stronger.