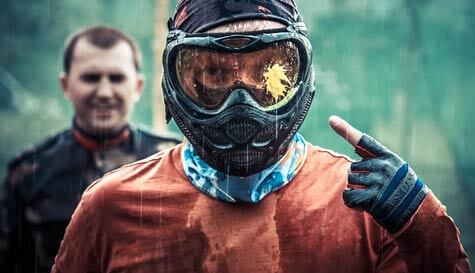 Paintball remains an absolute stag party classic and with good reason, where else can you shoot the groom in the man bags and laugh about it afterwards?

Our Barcelona paintball site is epic! There are a number of great game scenarios and missions for you to fight it out in:
Capture the Flag
Bunker, Castle
The Trenches
Savannah
The teams will be kitted out with state-of-the-art weaponry and given protective masks, coveralls and 100 paintballs each (you can opt to purchase more ammo throughout the session) to get the party started. This is non-stop, adrenalin pumping action from start to finish where all the lads can finally put all those hours spent honing their skills on Call of Duty to good use.
The site covers 2 acres of a carefully designed battleground with obstacles, battlements and perfect positions to ambush unwitting stags. It is of course also every stag's duty to make sure the blushing-bridegroom is tickled pink... and every other shade as he gets a complete Dulux makeover from the rest of the guys.

For more stag madness and to give the losers a chance of revenge you can take things onto the track at the Indoor Go Karting Track which has been visited on numerous occasions by the Barcelona FC squad including Neymar and Messi.
Stag Prank - Make sure you look after the groom by making him wear a bright pink onesie to keep him warm, or perhaps hi-viz trousers and jacket so he doesn't wander off and get lost. See more epic stag do pranks.