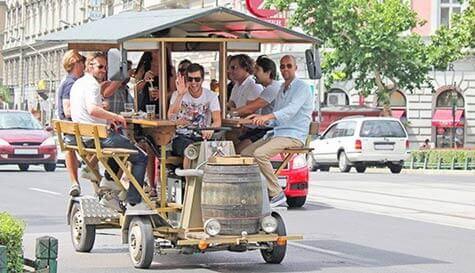 Pedal, pour and take the pilsner out of the groom with a stag party beer bike. Fresh air, exercise, and beer. Lots and lots of lovely beer.
If you're visiting a new destination you want to make the most of it and get out and about, but if you're on a stag do then you don't want to lose time you could be spending at the bar. Well, now you can do both!
Each bike seats up to seventeen and comes complete with a bar top, pint glasses and the all-important beer keg containing 'hop fuel' which is a great way to power your legs. Pour as you pedal ("It's my round, chaps, what's everyone having?") and take to the mean streets of your chosen destination while taking an entire bar with you. We can even add on a dancer to liven things up a bit more. Wine and soft drinks can also be available.
This really is a fantastic opportunity to make the most of your trip and enjoy some good beer and great banter with your mates. In fact, we'd go as far to say that the beer bike is possibly the greatest mode of transport ever invented. And we once went to Wigan in a Nissan Micra.
Please note:
Beer bikes are hugely popular so book early to avoid disappointment.
Amounts will vary depending on location.