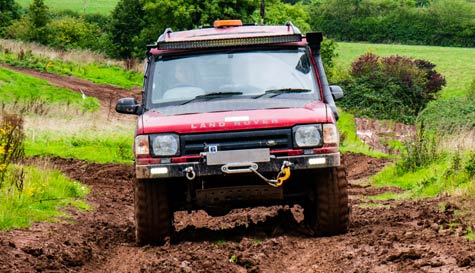 Everything should be bigger on the groom's last weekend of single living and frankly when it comes to a set of wheels, it doesn't get bigger or better than an awe-inspiring Land Rover. On our Birmingham stag party 4x4 driving you can discover for yourselves why these classic off-roaders have stood the test of time while enjoying some of the trickiest all-terrain driving obstacles around.
This activity is set on an epic multi-activity site. Book two challenges for a full day of action, choose from:
After a quick safety briefing, you'll learn how to take on some of the most brown-trouser obstacles you could possibly come up against when behind the wheel, including mud pits, unstable embankments, steep slopes and more.
The competition between rival petrol-heads will be fierce, although, with expert tuition, you shouldn't be too surprised if any dark horses rear their heads as they discover off-roading skills that they never knew they had.
If driving on some of the toughest terrain that Blighty has to offer is second nature to you (we doff our caps in congratulations) then you can put an epic twist on your session by making the boys take on the course backwards...yes, backwards.
This is an awesome test of your co-ordination and ultimate driving skill as well as a great chance for the stags to have plenty of laughs at the groom's expense, "well I'd seen him parallel park before but he's clearly ended up arse-first in a ditch here..."
For motorised thrills and spills that the boys might not have tried before, our Birmingham stag party 4x4 driving is ideal. Get out of the city and back to mother nature for a four-wheeled challenge that wouldn't look out of place on an episode of Top Gear.