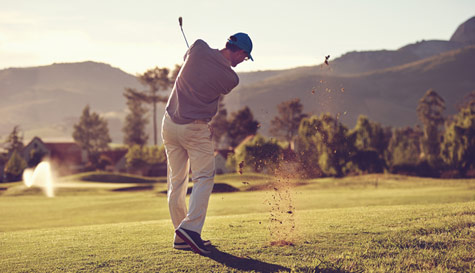 Golfing is a classic stag party activity for lads after a heavy night out on the town, who want to relax while still continuing to try and convince their mates they are literally the best at anything. Our golfing stag party in Birmingham is perfect for those suffering with a killer hangover that just won't budge who fancy trying their hand at a few easier holes or those special kinds of stags who can go eight pints down the night before and spring back in the morning (those lucky buggers).

After getting kitted up for your session, you'll embark on this 18 hole course that gets tougher as you go along, so you can guarantee that you and the boys will be challenged to the max on this course. Set in the scenic midland countryside, this golfing battleground is littered with rough patches; sand dunes as well as rocketing fairways that you can belt that little white ball down as hard as you can.

Our golfing stag party in Birmingham is a great way to put a little friendly banter into your big weekend as well as offering you a chance to get some rest and relaxation before the next round of drinking begins. And just to help you with that, there's an awesome club house where you can scratch that itch after you're done. Although we'd recommend that any lads who've shown they really aren't worthy of the clubs they're carrying pick up the tab...