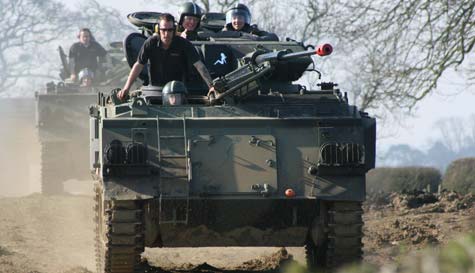 Soldiers, prepare for all-out warfare. Paintballing and tank driving have long been popular with adventure-loving, battle-ready stags, allowing men to engage in armed combat without actually damaging the groom. But now StagWeb have taken things to the next level...

We've combined tank driving with paintball for the mother of all stag warfare battles! Yep! You can actually shoot at your mates through a tank's gun turret. Stag dos just don't get better than this.

You'll get behind the controls of one of 15 fully armoured FV432's (if you're not up to speed on your military hardware, the FV432 is an armoured vehicle still used by the army today), which have been fitted with turrets and cannons capable of firing 40mm paintballs at high velocity. You'll need tactics, technique and accuracy as you do battle and give the competition's tanks a complete Dulux make-over with round after round of paintball projectiles.

Split into teams, you and the guys will take it in turns to negotiate a course set inside a World War 2 bombing range, before engaging the enemy in battle! Each tank will have a 3 man crew responsible for driving, loading, aiming, firing, and ultimately annihilating the opposition.