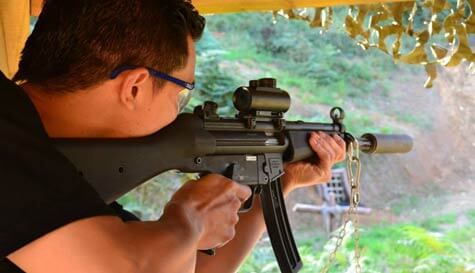 Some say it's only a matter of time before the zombie apocalypse arrives and we should all be ready for action. Our Bournemouth stag party zombie survival training will have you beating off zombies in no time (stop giggling at the back). This isn't just an epic Bournemouth stag do challenge where you'll be taking on your mates, its also a chance to get your hands on some really big weapons (I won't tell you again!) and great training for zombie munching D-day.

You will be trained and assessed on the following zombie-slaying tasks to see if you've got what it takes to kill the undead... Er... again.

Assault Rifles (30 shots) - Taking aim at a range of exploding targets and bleeding zombie torsos with some awesome firepower such as; MP5, UZI and Heckler & Koch 416.

Axe Throwing - Forget Shaun of the Dead, throwing crap records won't even give zombie's a headache! If you want to open up your opponents empty head in a single throw you need a Native American tomahawk.

Crossbow - Certainly more likely to take out the undead than a Showaddywaddy album, these lethal bows have a draw weight of 80lbs.

Archery - Forget Robin Hood and heraldic chivalry, we're going to set you up with exploding targets! Boom!
Weird Zombie Facts
World Zombie Day is in the first week of October.
Zombies are so feared in voodoo loving Haiti that's actually illegal to turn someone into a zombie there. The law states that if you bury someone then dig them up and bring them back to life it is still considered murder.
The first zombie movie was 1932's While Zombie starring Bella Lugosi.
Until George Romero's classic Night of the Living Dead reinvented the genre, zombies were considered to be victims (ie; someone might turn you into a zombie) rather than brain munching villains.
Zombification does occur in the animal world, gypsy moth caterpillars suffer from a virus that causes them to wander strangely and head high up into trees where they die, putrefy and drip the 'zombie virus' onto other caterpillars below.
Perhaps the worst zombie movie of all time is 2008's Zombie Strippers. No one wants to see undead strippers on their stag weekend.