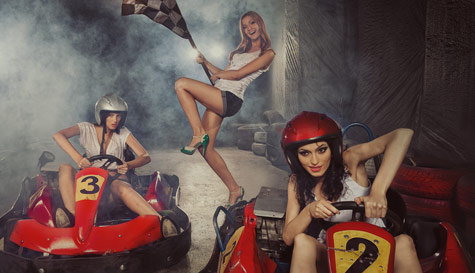 Go karting in all of its many forms has long been a sure-fire stag party classic, and that's because it's truly epic! This is one of those few opportunities you get to determine once and for all who the best drivers of the group are without breaking any laws or totalling your pride and joy. Once you've split up into teams, it's up to you to show off your racing credentials by pulling off awesome overtaking manoeuvres, blocking anyone from coming past with a defensive driving master class or going wheel to wheel as you try to come out on top with each new corner.

Our Brighton stag do indoor go karting centre has two epic tracks of over 400m in length each to race on. Designed by professional circuit engineers, these tracks promise fast, demanding and physical races from the start of your session through to the end. With a top speed of 40mph, these 270cc karts are no jokes and will definitely give you that Need for Speed feels. The track also boasts a rare split level design, which means you'll be tackling inclines and declines as well as stomach-churning corners and twists.

Indoor go karting is a great way to get the adrenaline pumping. There are overtaking options throughout both tracks, so you can push each other to your racing limits before the inevitable wipeouts and tyre wall crashes begin. There'll be winners to declare at the podium finish, so we suggest bringing some bubbly along for that true F1 feeling.