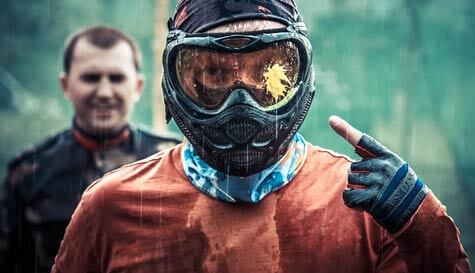 It would be no great revelation if we were to tell you that paintball is one of our most popular activities. However, if you are looking for a site that takes paintball to the next level and offers an unrivalled, kick-ass experience then our Bristol stag party paintball course is definitely for you.

Separate the stags from the boys and get the lads away from their game consoles to answer the stag party Call of Duty. While they might think they're tough guys from the comfort of their armchairs, how will they cope once the paint starts flying? There are 20 great game scenarios created by paintballing experts to experience.

All safety gear is included, full camouflage overalls, padded head guards, full face paintball goggles and the latest semi-automatic guns. Of course, you can still bring along extra safety equipment for the groom like a high viz jacket and trousers so everyone can see him, or maybe a bright pink onesie so he doesn't get cold. He'll appreciate the extra thought you're giving him.

You will be given 100 paintballs to start off your epic session. With half-day or full-day slots available, it is pretty much down to you how long the day goes on, and which game zones you want to play. Please speak to your account manager for bespoke options.

All this is topped off by a delicious 2-course meal to ensure you stags are well-fed and prepared for the rest of your epic weekend!
Double bubble...
Why not add even more laughs to your day with a second activity? Ask our team for more details.