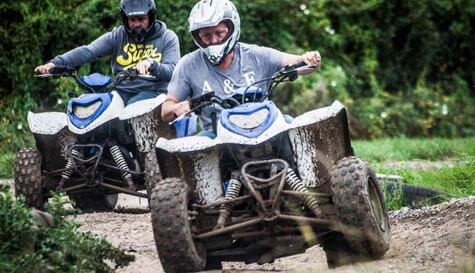 Every good stag do needs a few basic components; beer, stag competition and a chance to see the groom do something spectacularly bad, which can instantly be captured on video and uploaded on YouTube faster than he can say "I hope nobody caught that on... oh crap!"

We can certainly help you with the beer count and our epic Bristol stag party quad bikes will give you plenty of chance for stag competition and potential danger factor.

You'll be mounting up on 200cc Polaris quads which are designed with these kind of tough conditions in mind. Being automatic, all you need to do is master the throttle and brake, then as long as you're pointing them in the right direction and don't fall off, they'll chew up pretty much any terrain you point them at. But that's easier said than done, we're not going to lie to you, this course is definitely NOT for the fainthearted and we'd politely request those of a nervous disposition or don't feel tough enough to tackle this unforgiving 450-metre course to look elsewhere. This bone-shaking ground really will test all the lads to the max.

Once you've gotten to grips with the controls and are all sitting facing the right direction you'll be put through a series of skills challenges to see who the best driver is. But if its speed that counts then you'll be champing at the bit for the time trials where you'll be racing to see who clocks the best time. All we request is that you do your best to keep the quads shiny side up at all times and make sure you get the groom home in one piece.
Double bubble...
Why not add even more laughs to your day with a second activity? Ask our team for more details on creating an epic Bristol stag do.