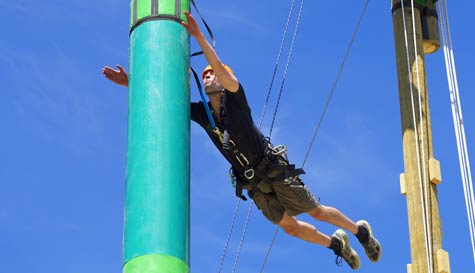 If you're a group of lads that love a challenge and can laugh in the face of danger while your closest mates are standing around taking the p*** and hoping you'll bottle it so they can put you on a pint penalty for the night, then this is the Bristol stag do activity for you!

There are three phases to this epic activity:
- Climbing
- Power Swing
- Leap of Faith

Now when we mention a 'leap of faith' we're not questioning the groom's lemming-like leap away from the safety of his single life and onto the rocky shores of married life below. Of course not. This Leap of Faith and indeed our whole Bristol Sky Adventure is an adrenaline-pumping test for even the brownest of trousers.

Climbing

Consisting of a range of climbing activities from bouldering, climbing tower, 30-foot high wire ladder and the gladiator inflatable challenge this will soon wake up any hungover heads. The majority of our climbing activities use state of the art safety kit ("auto-belay") meaning should anyone miss a foothold they'll simply glide gently back to terra firma while the rest of the lads get to laugh at their expense.

Leap of Faith

30 foot up a wooden pole up is a small platform with an inflatable bag suspended a short distance away. All you have to do is climb up the thin pole, balance on the platform and then make the leap of faith to reach and hang on to the bag. Bowel-looseningly simple.

Power Swing

Quite simply awesome!!! After being strapped into a paragliding harness, you'll be winched to your chosen height, then pull the rope and let gravity go to work!

The site also has a licensed cafe and changing facilities. We have a feeling some of you might need to use both!