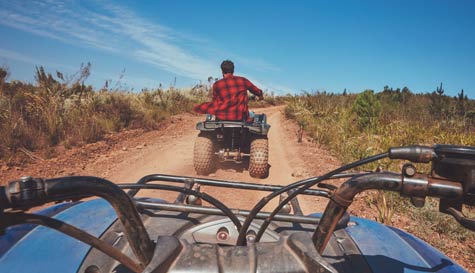 As a group activity, quad biking is hard to beat, it has everything a great stag activity needs; big engines, competition, a chance of the groom landing on his backside and a few beers to wash the dust away at the end.

In Budapest we have a fantastic facility where the riding is rough and ready, there's no swept clean tarmac and 3mph speed limits. This is a hardcore track where you can open the throttle on the straights and get sideways when cornering.

For this superb stag activity, your guide will meet you at your accommodation for your inclusive transfers to the site where we will include all the necessary safety equipment and post-event beers.

After a safety briefing and instruction, you and the lads will hop on board the bikes for a 2-hour trek around the site, which has an abundance of open spaces and woodland. You will encounter humps, bumps, hills, tight woodland tracks and open spaces where you can open up the engine and outpace your fellow riders. "Eat my dust!"

Bear in mind, that though you will need a great deal of nerve, skill and balance to get around the challenging terrain successfully, you will be rewarded with stunning views of the Hungarian capital - as well as Hungary's F1 track, which is overlooked by the course.