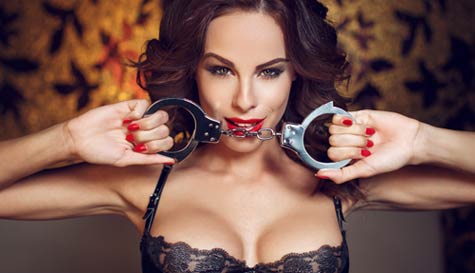 This is quite possibly one of the cruellest yet most hilarious groom pranks known to stag-kind. If the groom is up for a laugh, but the rest of the stags want to laugh more then this is perfect for your Budapest stag do. And it's not all bad for the groom either as he will get the attention of an unbelievably hot Hungarian stripper!

The setup...
All is well in the world, the groom is on his stag do, he's having a few drinks with his best mates and soon to be marrying the woman of his dreams. Life couldn't be better.

But then a sudden tap on the shoulder, flash of warrant cards and a "Could you come with us please Sir..." and he's being pulled by his elbows, escorted outside where he'll be accused of some sort of trumped-up charge or local bylaw of which he had no idea.

Bundled into the back of a car he might start to question police tactics as, as well as the handcuffs he's suddenly forced to wear a blindfold.

The payoff...
While he's being taken on a blindfolded tour of, well, it could be anywhere for all he knows, we'll let his imagination come up with its own nasty conclusions, the rest of you will hot foot it to a local lap dance club. You'll be given a free beer each and then just need to wait for the "prisoner" to arrive. You'll need to keep schtum as his tied to a chair ready for his blindfold to be removed.

And watch the smile, relief and "Bloody hell!" come into his eyes as he's not just greeted by the smiling coppers and his cheering mates (with their beers in hand) but an incredibly hot stripper who'll be taking down her own particulars for questioning.

This really is the ultimate stag prank and something the blushing bridegroom will never forget. It's also the kind of prank that will propel you from stag organiser to stag legend!