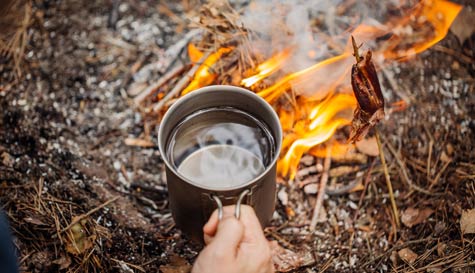 Bear Grylls, Ray Mears, Joey Essex, over the years us stout-hearted Brits have learnt how to adapt and overcome to survive in even the toughest of conditions. Whether its drinking your own pee like Grylls, eating deer heart like Mears and running out of fake tan like Essex life can be tough. You need to adapt to survive and sometimes that means going back to basics.
So what would you do if you found yourself on the run or in the middle of a disaster zone? If push came to shove could you survive life with just your hands, a knife and no takeaway pizza numbers? It really is the ultimate test and right here is your chance to learn all the skills you need in the wild.
Destinations and instructors vary but you can expect to master skills such as;
Fire Building/Starting - Out in the wild and no matches? It's not as easy as you think.
Shelter Construction - One of the most basic yet most important elements of survival is constructing a dwelling. You can add the en-suite, hot tub and games room later.
Orienteering - How to get from A to B... without Google Maps or a TomTom.
Knife Skills - With just this one simple tool you can achieve so much if you know-how.
Axe Skills - Another basic survival tool that can be a lifesaver.
Hunting - When the chips are down... how do you find something to replace your chips?
Nature's Kitchen - There's whole larder of natural delights out there if you know where to look.
Food Prep - You've caught or foraged dinner but would you know how to prepare it?
Climbing - Overcome the odds... and that there mountain.
Abseiling - What goes up...
Bushtucker Trial - Put the groom's stomach to the ultimate test as he faces and consumes a number of disgusting morsels.
But the fun doesn't have to stop there. You can push yourselves even further with overnight courses, where you'll actually be staying in the wild. Or you can add more stag manliness to your weekend of testosterone-fuelled fun.
Canoeing/kayaking
Rock Climbing
Abseiling
Archery
Axe Throwing
Coasteering
Caving
Assault Course
Raft Building
White Water Rafting
Zip Wire
High Ropes
Mountain Biking
Gorge Walking
Cliff Jumping
Bungee Jumping
Please ask our team for more details.
*Tasks will vary depending on your destination.