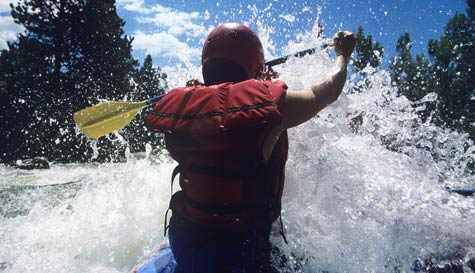 A stag do is the perfect time to wet the groom's head and with an epic stag party canoeing adventure that could be a bit more literal than he hoped for (but potentially something for Facebook/YouTube posterity). Canoeing is ideal for stag weekends, it's adventurous, sporting, you can get some great challenges going between the lads as well as all getting the stags out of the pub doing something you possibly don't do too often.

Canoeing isn't just about paddling lamely down some slow running stream any more... it's not quite white water rafting, but there's a real challenge and skill to it, and you and the lads will have the opportunity to master the art.

Our stag party canoeing varies in each location, so on the off chance that the lads have tried it before, they're guaranteed a different experience this time. There are many varieties of river stretches to try, of varying length and difficulty, as well as challenges and some organised tests of skill and daring (such as lining all the canoes side by side and then having the stags walking along the line of canoes without taking an early bath). It's the perfect way to blow away any stag induced hangovers or work up a thirst for a big night ahead.

We've also got our team of experts on hand, to teach you all you need to know about canoeing. With all the tasks and challenges to complete, you'll need to make sure you're top of your game - it might make the difference between executing the perfect Eskimo roll or flapping about underwater while the rest of the stags make jokes at your expense and start mentally sharing out your share of the drinks kitty between them.

As stag do organiser you can set the pace and quite literally lead the lads up sh... creek without a paddle. Game on!