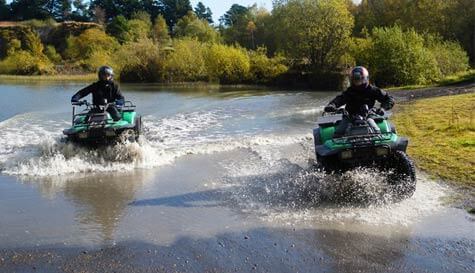 Don't settle for less, if you're thinking of quad biking for your stag weekend then these 300cc beasts will literally eat up and spit out any terrain you point them at. Which is just as well as this 30 acre Chester stag party quad bike safari is designed with hard riding at the forefront of the quad safari.
You can expect to get wet and wild as you belt through the stunning rural location at full throttle. After some initial training from the experienced instructors and once even the most Sunday driving stags have grabbed the basics (that's the front, this is the back, please don't crash) you'll take to the course where you'll then learn a little more about how to handle the toughest obstacles.
You can expect to face water hazards, hair-pin turns, rough ground, and all manner of obstacles. This is just about the most fun you can have on four wheels without appearing on "Police Camera Action". You'll also get the chance to really let fly and open the massive engines up to really get the most out of this thrill ride.
Not only is it epic fun, there's also the added bonus of possibly watching one of your fellow stags park it in a tree. We would ask that you kindly try to keep the quads shiny side up at all times. This really is some epic riding but it's probably best you bring the groom home in one piece ahead of his big day. However on our superb and unforgiving Chester stag party quad biking course, that's easier said than done.