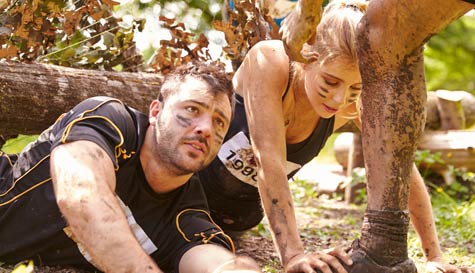 The ultimate test of man credentials and your very own Iron Man challenge this is one activity that really will separate the stags from the boys.
The session will start with a safety briefing from the military-style instructor. Like the world's angriest Mr Motivator wannabe, he'll be there to gee you all along and tell you exactly what he thinks of you. He's also on hand to keep everyone safe and make sure that the groom (aka "Mummy's little soldier") doesn't get an owie during his big Dublin stag do.
After the safety briefing you'll come face to face with the unforgiving course which includes;
Climbing walls
Rope climbs
Cargo nets
Balance beams
Crawl tunnels
And more...
This is 2km of punishment that stands between you and your next pint. But it's not just about completing or merely surviving the course. Against your fellow stags no one will want to be the last man standing, failure is for blimps!
Depending on your numbers the stags will all starts at the same time or run on a staggered start. Will the guys still have the strength for a sprint finish? Or will some be found hiding under the cargo net and gasping for oxygen like landed fish? There's only one way to find out and that means signing the lads up to what is sure to be the highlight of your weekend.
You can set your own prizes and forfeits for the winners and losers. Also, you might want to prepare a few words for those stags that fall by the wayside "We raise this glass to our fallen brother Steve, who isn't actually dead he was just too heavy to pick up so we left him where he was..."