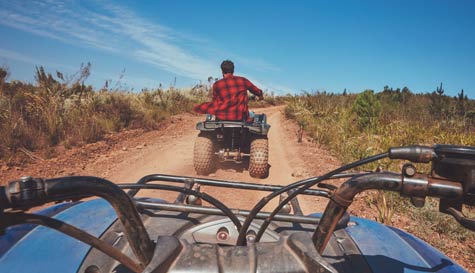 A couple of hours outside of the Irish capital, our quad bikes stag party in Dublin is certain to thrill any stag party. You and the lads will each have your own bike to take as you progress through the various off-road trails that the course has to offer you, but be warned, this isn't child's play. You certainly wouldn't want to embark on this adventure without preparing yourself to feel like you've spent a night out in an Irish pub afterwards. This is full-on, action-packed off-road quad bike action of the highest quality.

This course has something for everyone. If you aren't too confident at first, try one of the more obstructed tracks and focus on your driving control, trying your hardest not to leave half your quad in a tree as you go. However, there's plenty here if you fancy yourself as the next hot rally star as this course gives you and the lads plenty of opportunities to really tear up the track (and send a poo load of mud into the groom driving behind you). You'll be negotiating muddy ditches, tight corners, large circular tracks, a water splash drive and even an underground cave for you to explore on your own four-wheeled beast.

You'll be treated to a snack lunch and refreshments will be available throughout the day (no beer, unfortunately, that'll have to wait till later) and you'll have your own bikes for the whole day to explore at will. This quad bike experience just outside Dublin is action-packed, exhilarating and guaranteed fun for any stag party. After all, who doesn't want to see their mates covered in brown stuff?