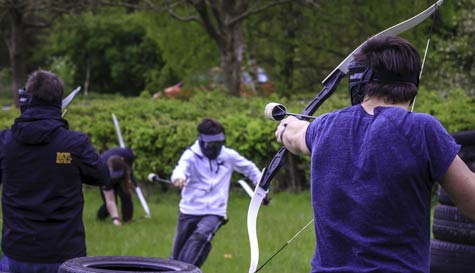 If you've ever looked at paintball and thought it just wasn't deadly enough for you then you'll love our Edinburgh stag party archery tag. It's all the full force, combat fun of paintball with the added excitement of dodging flying arrows!
Unlike conventional paintball, you won't be rushing back to your Edinburgh stag accommodation to wash paint out of your ears (or have the lads moaning about paint getting into their hair wax).
The basic gameplay is fairly simple, two teams line up on a specially designed battlefield fully kitted up ready for war. Each team has 5 specially designed bunkers which are separated by a red zone that no player can shoot from within. On the sound of the whistle, the teams will sprint into the red zone to collect arrows, then sprint back to safety and its game on!
Each of the teams' bunkers have target cones placed in front of them and teams can score points a number of ways;
30 points for eliminating a player
50 points for hitting a cone
If a player catches an arrow in their hand they can bring back one of their eliminated players (thereby rubbing off the other team's points).
Tactically teams need to decide whether to focus on hitting the cones or shooting their opposition. But of course one of these options is much more fun. There are two umpires who will be responsible for the scoring.
Each game lasts up to ten 10 minutes (or until a team has completely wiped out their opposition or cones), at the end of each game the umpires will count up the scores before the teams switch end and the chaos kicks off again.
The arrows themselves are adapted with soft ends to ensure none of the stags feels a prick (if you'll pardon our French) as well as player's having safety goggles.
The Kit:
Bow
Arrows
Armguard
Finger guard
Coveralls
Protective goggle
This is full-on stag madness and a superb activity for adventure-loving stags. So grab your merry men and get set for a battle royale!